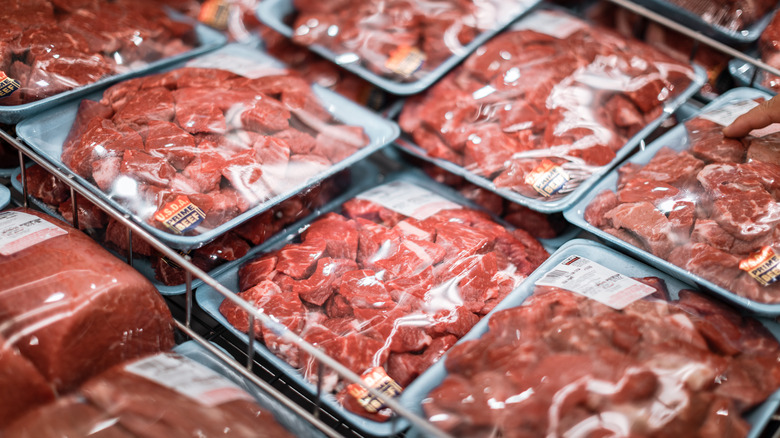 When it's time to re-up on food in the most massive way you can imagine, there's one spot that certainly leaps to the front of customers' minds – Costco. Anyone who's ever been inside a Costco knows just how overwhelmingly large the place is. You can get lost for hours perusing all the aisles and fighting the constant temptation to spend money on things you don't really need, but hey, you're at Costco so you might as well go big or go home. Costco certainly does.
Costco has a huge variety of pretty much anything your home needs, and that includes a ton of food to stock those cabinets and refrigerators to the brim. And, if meat is your thing, you'd be doing yourself a huge favor stocking up on some of the delicious options Costco offers. Of course, with a variety so vast, not every item can be a gold-medal winner. Some of the stuff there is definitely not worth your time and money, so keep this list in mind if you're heading out the door to scoop up some meat at the nearest Costco.
Shouldn't buy: Texas Tamale Co. Beef Tamales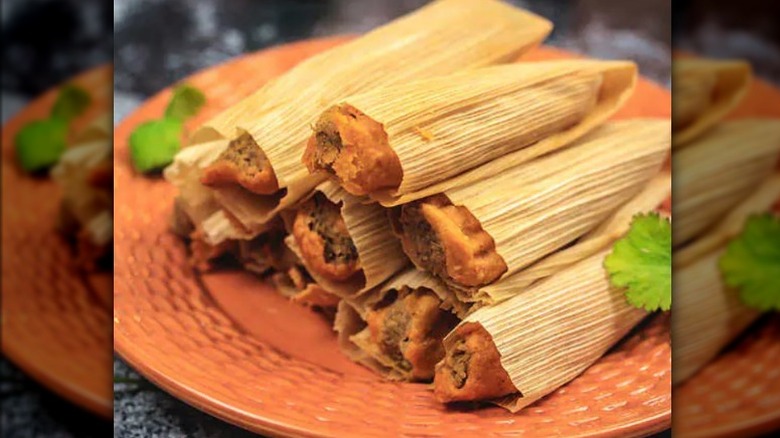 Texas Tamale is certainly a fun company name. The alliteration rolls off your tongue perfectly, and who doesn't want to think about delicious, savory beef tamales from Texas when they're hungry? Sadly, the Texas Tamale Co. Beef Tamales at Costco aren't able to take the fun of the company name and translate it into a fun eating experience.
One of the big issues, as several customers point out in the reviews, is that the tamales are "very small," which is always a bummer when you're expecting something that's gonna fill you up properly and you end up having to eat a dozen of them to fulfill your appetite. While that's definitely a downside, what makes it worse is the supposedly seasoned beef is super bland, so you're getting something really small and bland with each box. And, at 550 milligrams of salt for every two tamales, your blood pressure might not feel thrilled you're tossing back a bunch of these.
Should buy: Japanese Wagyu New York Strip Loin Roast
When it comes to A5 Wagyu, you normally eat it in small amounts simply because the intense marbling makes every bite super rich. But, that doesn't mean you can't fork over the money to get a huge slab of the stuff. Costco, being the come-here-for-huge-amounts-of-stuff kinda place, offers an 11-pound Japanese Wagyu New York Strip Loin Roast for anyone who needs a boatload of Wagyu beef in their life. One look at this chunk of meat tells you you're in for a fabulously rich steak dinner with all the run-down-your-chin juices you can picture.
While this slab of meat doesn't come cheap — just a single pound is around 90 bucks — the majority of customers who ordered it were more than satisfied. It holds almost a five-star rating on the Costco website, with customers saying things like, "Each bite does melt in your mouth and the flavor is so intense and rich," and, "No regrets. Completely satisfied." Whether you're a Wagyu connoisseur or someone who simply wants to have a mind-blowing meal, this might just be the beef play for you.
Shouldn't buy: Rastelli's Turkey Craft Burgers
With our society becoming increasingly health conscious, trying to cut red meat out of the diet is a popular way to avoid spiking those cholesterol levels. But, not everyone wants to cut out meat entirely, and that's where turkey swoops in like a winged superhero to give them that meat fix without the guilt of a fatty ribeye steak. One of the turkey options Costco offers customers is Rastelli's Turkey Craft Burgers, but people looking for a red meat substitute should steer clear of this option.
Besides the $99 price tag for 10 pounds of meat, the huge issue here is the bland flavor, with one customer commenting the burgers were "tasteless and had a weird texture." Not good. When you decide to ditch the red meat, which can have a lot of fatty flavor, you need something that's still gonna pack a flavorful bite, and these just don't make the cut. You do get a lot of protein, and that's a plus, but the overall tastelessness is such a letdown. You're going to be better off buying ground turkey and making your own tasty turkey burgers at home.
Should buy: Rastelli Market Fresh Tomahawk Steaks
If there's one cut of steak that could intimidate every other cut, it's without a doubt the tomahawk steak. These things literally look like weapons, hence their name, and they could easily instill fear in the hearts of every other cut of beef. A tomahawk steak means business, and Costco offers customers Rastelli Market Fresh Tomahawk Steaks to all those looking for an aggressively meaty way to quell their appetites. And, quell them they certainly do.
These steaks are made using USDA Choice Black Angus Beef, so you know you're getting quality meat. There's a solid amount of marbling that runs through each steak, and that means all that flavor-packed fat is going to seep deep into the steak while it cooks to make each bite super tender. Each tomahawk steak runs anywhere from 38 to 42-ounces, so these things are huge. Tons of Costco shoppers who made this purchase were absolutely delighted, calling the quality of the meat "superb," and one person saying they were the "best steaks we ever had so far."
Shouldn't buy: WestEnd Cuisine Mediterranean Style Grilled Chicken Skewers
When you think of something made Mediterranean style, you expect it to pack a lot of deep robust flavors. That's exactly what draws so many people to Mediterranean restaurants and cuisine. They want that burst of lemon and parsley and cumin and black pepper. Well, don't let yourself be led down a path of disappointment with the WestEnd Cuisine Mediterranean Style Grilled Chicken Skewers, because it's definitely easy to read those words "Mediterranean style" and get excited.
While some Costco shoppers applauded the convenience of the product, we personally found the lack of Mediterranean flavors super frustrating. When you're standing in line at Costco ready to check out, you picture a near future where you bite into a succulent skewer of chicken that's erupting with a potpourri of tastes. That's exactly what you don't get. And, not only are the Mediterranean flavors barely noticeable, but there sure is one hefty smack of salt in each bite. Two skewers pack nearly a third of the daily recommended sodium intake, which makes these a hard pass.
Should buy: Kansas City Steak Company Filet Mignon
If you're in the mood for steak and want something that makes you feel a bit bougier than normal, enjoying a filet mignon is certainly one way to do it. Filet mignons are little beefy medallions of glistening goodness that are always recognizable by their round petite shape. Well, if the time for feeling fancy is falling upon you, Costco sells packages of Kansas City Steak Company Filet Mignon steaks, and these are totally worth your appetite's time.
Filet mignon is known for being incredibly tender, with an almost butter-like consistency. However, keep in mind that it doesn't have anywhere near the kind of marbling you find in other cuts like ribeye or tomahawk. However, that doesn't take away from these steaks at all. Every filet is aged up to 28 days for additional tenderness you can practically cut through with a fork. At the time of this writing, the overall rating for these steaks is a perfect five out of five stars, so you know these medallions are ready to hit your stomach with some savory force.
Shouldn't buy: Rastelli's Pork Ribeye Steaks
Ribeye steaks are prized for their great marbling, which makes them super juicy and packed full of explode-in-your-mouth juicy flavors after they come off the grill. But, what's the answer when you're trying to avoid red meat but still crave a rich and tender cut of ribeye? Well, Costco does have an answer for that question in the form of Rastelli's Pork Ribeye Steaks, but it's definitely not an answer you should take to heart.
One perk about these is that you do get a punch of protein, so that's always nice. However, you also get a large amount of sodium and over 100 milligrams of cholesterol, so these things aren't exactly the pinnacle of health. But, if that's not enough of a turnoff, we found that the juicy tenderness you think of when you picture a ribeye is lacking hard. The Costco website states these pork ribeye are "incredibly juicy, and eager to please." If only that were true.
Should buy: Fully Cooked Roasted Half Duck with Orange Sauce
When a meal is able to balance a sweet profile alongside a savory one, your palate is gonna feel grateful. Mixing and matching certain tastes can truly elevate food to a whole new level of flavors, and if you're looking for a great sweet and savory option while perusing the aisles of Costco, you should definitely seek out the Fully Cooked Roasted Duck with Orange Sauce. This is a fantastically balanced meal that hits all the right spots on your tongue.
The ducks used here are White Pekin ducks, and not only are they humanely raised, according to Costco, but they adhere strictly to the Maple Leaf Farms Trident Stewardship Duck Wellbeing Guidelines, so you know you won't ingest a boatload of hormones. The orange sauce is a thick rich glaze full of sweet citrusy flavors that pair so well with the rich juicy meat of the duck. The duck is fully cooked so you don't have to worry about that aspect of the meal, and at 19 grams of protein per serving, you get a hearty and super tasty meal. The 7-pound duck is pricey at around $190, so maybe save this buy for a special occasion with a large group.
Shouldn't buy: Kirkland Signature Italian Sausage and Beef Lasagna
If there's one meal that'll absolutely do its job of filling your stomach to the brim it's lasagna. Meat, cheese, and pasta all join forces with one mission in mind: Toss your appetite in a culinary chokehold and keep it there until it screams, "Uncle!" If your appetite is in some serious need of a butt whooping, you have the option of snagging yourself the Kirkland Signature Italian Sausage and Beef Lasagna at Costco.
Here's the problem: Your appetite's not the only thing that'll be taught a stern lesson. Your blood pressure's gonna cry out due to the 890 milligrams of sodium in every serving, and 10 grams of saturated fat certainly isn't gonna make your doctor pleased. And, overall, it simply doesn't taste like the warm, rich picture on the box. The meat is rather bland, and you're often stuck with cold spots peppered throughout the tray. While some folks on Reddit enjoyed it, others sided with our opinion, calling it a poor comparison to homemade and "bland and greasy."
Should buy: Amylu Cranberry and Jalapeno Chicken Meatballs
While a straight-up beef meatball is awesome in itself, sometimes you have to kick things up a notch and start mixing and matching different ingredients in the meat so you get a truly amazing meatball experience. This is exactly the case with the Amylu Cranberry and Jalapeno Chicken Meatballs at Costco. Amylu looked at the standard meatball and thought, "Let's crank in something sweet and something spicy to air with the richness of the chicken." And boy, does it work.
The cranberry and jalapenos are distributed really well in each meatball, so you never get one that's way too sweet or much too spicy. It's a triple threat of sweet, spicy, and meaty that really hits the palate right. The chicken used is raised without antibiotics, and with only eight grams of fat per four meatballs, you won't have to feel guilty that you're packing in unhealthy stuff. As one Costco shopper put it, a little goat cheese really puts these meatballs over the top.
Shouldn't buy: A5 Bacon Wrapped Cubes
Any time you see a piece of A5 grade Japanese Wagyu fall into the "shouldn't buy" category, questions begin to swirl in your head. How could this be? A5 Wagyu can do no wrong? Well, the A5 Bacon Wrapped Cubes at Costco manages to really screw up this version of the normally astounding-flavored meat. You don't normally see a slew of bad reviews on anything Wagyu, but customers certainly wanted to vent their frustrations this time around.
One of the comments noted, "The pieces of beef are so small that you have to remove the bacon or they would be so overcooked by the time the bacon was done they would not be edible. The pieces of beef are literally about the size of a nickel to a quarter and 3 of the pieces in the tray we cooked were nothing but [gristle]." Another wrote, "The 'mystery cube' meat was grizzled, chewy fat, and tendons .. .nothing prime about this product! They are using any scraps left from the cow and marketing the product as 'cubes.'" Yikes all around. Don't make this your first A5 experience whatsoever.
Should buy: Rastelli Grass Fed Frenched Lamb Racks
Lamb is one of those meats that taste so good, but a lot of people don't pencil it into their weekly eating schedules too often. Lamb has a gamier flavor than a lot of other varieties of meat, but that robustness is what makes it special. If you find yourself in need of some lamb in your life, Costco sells Rastelli Grass Fed Frenched Lamb Racks. The lamb meat comes from Australia, and the fact that they're Frenched makes them look extra fancy when you meticulously lay them on the plate.
With reviews that tout praises like, "At rare or medium rare, these racks lead to a new taste dimension," and, "The meat quality is what you'd expect at a fine dining restaurant," you can feel confident you're investing in great lamb meat. There are a ton of different ways to cook lamb, so snag yourself some of these Frenched racks and explore the wonderful world of lamb.
Shouldn't buy: Swift Beef Bone Marrows
Bone marrow is one of those things that can make people feel slightly uncomfortable at first. Just the thought of eating the marrow coursing through a bone can be a bit unsettling. But, people who proudly indulge in the stuff — like Alton Brown — know that it's a wonderfully rich coat-your-mouth experience that really gives a new meaning to the term "unctuous." At Costco, you can grab a bag of Swift Beef Bone Marrows, but sadly, they aren't a terrific way to get your marrow on.
There's a recipe on the back of the bag that gives instructions on how to make roasted beef stock, which is always an option if you don't want to oven-roast the bones and then spread the gelatinous marrow on toast. Unfortunately, we found that when the marrow starts to heat up, it comes out of the bones in blobby bits that don't entirely disintegrate, and that's for a very unappealing mouthfeel.
Should buy: Holy Grail's Tajima Wagyu Short Rib/Brisket Burgers
With a name like Holy Grail, you can safely assume whatever product the company is slinging is worth seeking out. Well, that's exactly what their Tajima Wagyu Short Rib/Brisket Burgers are: meat totally worth making a trip to Costco for. In reality, any time the word "Wagyu" is thrown in, you know it's going to be something your mouth will remember for a while after you finish. So, if you're feeling like you deserve something special (and you do), you won't regret scooping up a package of these pristine patties.
The particular cattle used for these burgers are direct descendants of Japanese cattle that were imported from Kobe, Japan, a few decades ago. They're humanely raised in the Midwest on a super strict diet so their meat is astoundingly tender and buttery, which is exactly why people clamor over Wagyu. These patties offer a melt-in-your-mouth experience that doesn't require any additional condiments to enhance the experience.
Shouldn't buy: Kirkland Signature Meatballs
How do you make a plate of spaghetti infinitely better? Or, pretty much any dish for that matter? Drop in a few meatballs and call it a day, of course! If you're in the market for a big ol' bag of those meaty balls, one option Costco offers is Kirkland Signature Meatballs. However, you're gonna want to investigate some other meatball options before settling on these. Trust us.
You get 140 meatballs in the bag, so the quantity definitely isn't the issue. It's the flavor and the nutritional facts that'll have you opting for something else. The meatballs are incredibly dense and salty, which almost makes it feel like you're biting into a round bouillon cube. The use of a sauce might help cut through some of the salty flavors, but you'll still know you're ingesting a lot of sodium. Plus, since they're small, the urge to eat a whole bunch is strong, and that means taking in a lot of saturated fat. Do yourself a solid — skip these and spend 20 minutes making your own meatballs.
Should Buy: Bacon-Wrapped Turducken
So, you're throwing a huge dinner party for some friends and family and you find yourself in a big conundrum. Some of the people attending love chicken, others love turkey, and there are a few who are passionate about all things duck. Well, lucky for you, a little thing called a turducken exists, and it packs in the flavor of all three birds so everyone can enjoy the winged animal they prefer. And, Costco sells a Bacon-Wrapped Turducken for anyone craving four animals on one. Let's be honest: Everything is better when it's wrapped in bacon, especially this turducken.
The bacon wrapping truly elevates all of the flavors in this to an epic degree. It gives every bite that little punch of salty umami flavoring that keeps you wanting more. There's even ground Italian sausage stuffed in the very center, so if a rich and hearty meal is what you're looking for, this checks off every box. One customer raved about her experience, saying, "Incredibly wonderful! Our first Turducken. We loved it! So moist & succulent. The flavor of all the ingredients was amazing! Thank you Costco for carrying this masterpiece!!!" When it comes time to host a party, don't settle for anything less than a masterpiece.