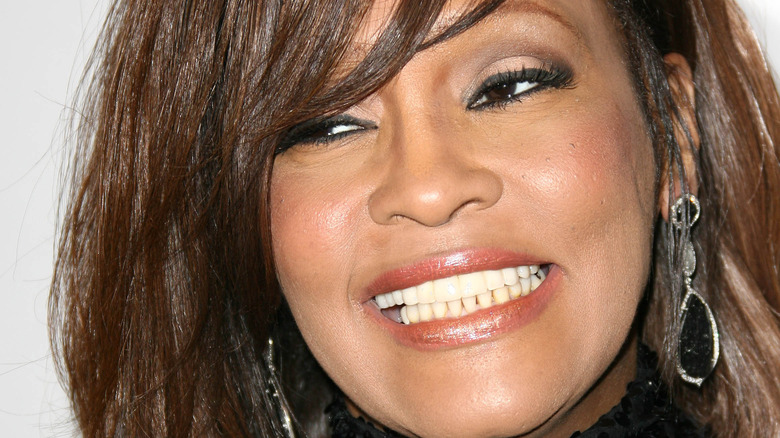 In 1839, pianist Franz Liszt decided to prove a point: Contrary to what musicians thought at the time, he believed that a single person could not only entertain an audience but transport them to that magical place that exists only when there's a really good song playing. According to NPR, that's exactly what he did: He became the first rock icon, had undergarments of all kinds hurled at him, and even had women scrambling to — quite literally — get a piece of his hair or clothes.
The world's come a long way since then, and according to the BBC, the global music industry was worth a whopping $26 billion in 2021. Some — but, of course, not all — of that goes to the artists themselves, and some of the biggest names in pop are worth a shocking amount of money. Taylor Swift had a fortune of around $400 million, says Celebrity Net Worth, Adele is worth a respectable $220 million, and in 2019 alone, BTS made $170 million.
But what about the pop stars we've had to say farewell to? Sure, they're living the good life while they're around, but what happened to the fortunes and estates of some of pop's biggest names? And … were there times there was nothing to pass on? Sadly, yes. How about some enduring mysteries? That's there, too.
Bing Crosby
When Bing Crosby died in 1977, he left behind not only an estate but an incredibly complicated legacy. The New York Times credits him for hits like "White Christmas," and says he also pretty much invented pop music. He was also a fanatical disciplinarian to his sons — two of whom died by suicide, even as another struggled with alcohol addiction.
Crosby was born in 1903, and four months before his 1977 passing, The New York Times reports he established a living trust. In addition to containing directions for his funeral, he left cash to his widow ($400,000), his alma maters ($50,000 each), and his sister, cousin, and nieces. A little stranger was his instructions regarding his seven children. The Los Angeles Times says that their inheritance was left in a trust that none could access until they turned 65. Son Philip Crosby explained, "My father thought, 'How much trouble will they be able to get into then?'" Several wouldn't live that long: Sons Lindsay and Dennis both died by suicide, in 1989 and 1991, respectively (via The Washington Post).
Debate over the estate continued: In 2014, The Hollywood Reporter noted that a trust set up for his first wife was fighting for publicity rights — and had been denied. Then, in 2021, Crosby's surviving heirs sold a massive stake in the estate to Primary Wave Music in an attempt to raise Crosby's 21st-century music profile beyond Christmas (via ABC News).
If you or anyone you know is having suicidal thoughts, please call the National Suicide Prevention Lifeline​ at​ 1-800-273-TALK (8255)​.
Selena
In 1995, Selena Quintanilla was shot and killed by Yolanda Saldivar, the head of her fan club and manager of her boutiques, and according to Rolling Stone, the 23-year-old singer died without a will. Everything should have defaulted to her husband, Chris Perez, but it's only been with the release of the Netflix series "Selena" that Perez has started speaking up about just what happened.
"Speaking for myself, it was just a horrible time, and I just had complete trust in the situation and who was handling it and everything and no legal representation because why would I need it, right? So I kind of feel like I'm in a situation where I can't [back down]. I already did it once and certain things have gone down a certain type of way and I'm not gonna do it that same way again."
After her death, her affairs were settled by her father, Abraham Quintanilla. While her property was split between family members and Perez was given a 25% share, Abraham kept the rights to her music and life. That's led to accusations that he's not so much protecting his daughter's image, but making money off of it — and he's been pretty strict about things like cease and desist letters to impersonators and taking Perez to court to stop him from making a film telling his side of the story. Perez says: "At the end of the day, it's become super apparent to me that it's all about business."
Michael Jackson
Michael Jackson was known as the King of Pop, and in 2009 — after years of scandal — he died from a massive cardiac incident determined to be the result of a combination of drugs that had been prescribed to him by his personal physician (via History).
Part of settling his estate involved deciding the worth of his likeness and image, and here's where the difficulties came in. Jackson's estate argued that after the scandals and the documentaries rehashing the events of the Neverland accusations, the net worth of his image plummeted. In the years before his death, Jackson made no money off his image: It was a fact that the estate leaned on to show just how damaging the accusations had been, and how much it had impacted his overall net worth. It wasn't until 2021 that the final value of the estate was finally solidified, and a court ruling put it at $111 milllion, instead of the original $482 million. According to the Associated Press (via USA Today), the entire estate passed on to Jackson's mother and his three children.
The AP also reported that the final valuation was the last hurdle — and there had been more than a dozen of them. With the estate finally being settled 13 years after his death, there were a handful of projects planned — including a Vegas show and a Broadway musical — to try to rehabilitate the image of the King of Pop.
Whitney Houston
In 2012, Whitney Houston died suddenly, just hours before she was expected to take the stage at the Grammys. The official cause of death was accidental drowning which was, in turn, caused by chronic drug use and heart disease.
At the time of her death, USA Today reports that her estate was worth somewhere around $20 million. That — in accordance with her will — went to her daughter, Bobbi Kristina, in certain age-related increments. However, three years after the death of her mother, Bobbi Kristina was discovered in the bathtub of her Georgia home — which she had inherited from her mother. She passed away six months later, without regaining consciousness. Houston's will provided for the early death of her daughter and included a clause that if she were to die prematurely (and childless), the remainder of the estate would pass to her mother, Cissy Houston, who requested another family member step in as executor. That was Pat Houston, Whitney Houston's sister-in-law.
And it's a lot to take care of. In 2022, Variety reported that since her death, her estate had quadrupled in size — thanks in large part to the combined efforts of her estate and partner Primary Wave Music. Primary Wave chief marketing officer Adam Lowenberg explained: "Whitney Houston's voice [is] one of the most incredible assets you could have. … We want to stay as organic and true as to who Whitney was at all times."
If you or anyone you know is struggling with addiction issues, help is available. Visit the Substance Abuse and Mental Health Services Administration website or contact SAMHSA's National Helpline at 1-800-662-HELP (4357).
Carl and Dennis Wilson
The carefree sound of the Beach Boys was a little deceiving, and the lives of the band were anything but. Dennis Wilson (right) died on December 28, 1983, discovered in the cold California waters of the Marina Del Rey (via Rolling Stone). The band has also lost Carl Wilson (left), who died in 1998 from complications stemming from a diagnosis of lung cancer (via the Los Angeles Times).
The estates — like the affairs of the surviving Beach Boys — is anything but straightforward. The year after Dennis's death, his estate was valued at somewhere between $4 and $5 million when UPI reported the courts were being consulted to see who was going to get control. At the same time, his ex-wife was suing his estate for support payments, as his will left nothing to her, and everything to his children. In 2013, The Hollywood Reporter provided an update on delays to a planned film about his life, saying that his estate and children were represented by a trustee.
On Carl's death, control of his estate passed to his sons, Jonah and Justyn. It wasn't easy: Rolling Stone says Carl's sons have been working with the surviving Beach Boys on making business decisions from publishing songs to memorabilia, and quoted Justyn as explaining, "in the beginning, it was just trying to navigate a very complicated group of individuals." In 2021, a controlling interest in the Beach Boys was sold to the Iconic Artists Group for an undisclosed sum.
Prince
When Prince died in 2016, he was only 57 years old — and his passing was ruled accidental, caused by an overdose of Vicodin laced with fentanyl. Three years later, USA Today reported that his estate still wasn't settled: Although it was known it was going to be divided between his six siblings, he had died without a will. What followed his death was nothing short of a legal nightmare, made even more difficult by the constantly fluctuating value of the estate.
By 2019, it was estimated that Prince's heirs had spent somewhere around $45 million in an attempt to get the whole thing sorted out — and that was including $10 million in legal fees. Two organizations had already been appointed to act as estate administrators, and dozens of claimants were whittled down to the siblings.
It wasn't until January of 2022 that the Star Tribune announced that the dozens of parties involved had finally announced the value of the estate: $156.4 million. At the time of the announcement, it had been six years since Prince's death, and two of his heirs had also passed away. The following month, Variety reported the estate had been split in half, as the siblings (or families of the deceased siblings) couldn't decide on what was going to happen to it. One half went to three siblings who kept their rights to Prince's legacy, and the other half went to Primary Wave, the company that three had sold their interests to.
If you or anyone you know is struggling with addiction issues, help is available. Visit the Substance Abuse and Mental Health Services Administration website or contact SAMHSA's National Helpline at 1-800-662-HELP (4357).
Michael Hutchence
INXS was on the top of the world when a chance encounter, one punch from an angry taxi driver, and a severe head injury changed frontman Michael Hutchence forever. "Things got very heavy in his head," then-girlfriend Helena Christensen explained (via the New Zealand Herald). Then, on November 22, 1997, Hutchence took his own life.
What happened afterwards — and in the final years of his life — still isn't clear. According to The Telegraph, when Hutchence died, it was reported that between his share of the INXS accounts and his own personal bank accounts, he had less than $1,000 to his name. Hutchence's daughter, Tiger Lily, was written into his will after she was born, and should have gotten 50% of all his assets. (The rest was supposed to go to Greenpeace and Amnesty International.) As of 2019, says she's received a single payment of £500 in cash — or, about $600 USD.
So, where did all his money go? In short: No one knows. Hutchence — like most big stars — hired people to take care of his finances. Various deals have come out over the years, including real estate deals paid for in cash, then set up under the umbrella of various trusts. A $1.5 million villa in France, land in Australia worth well over a million, a bowling alley in Queensland … all belonging to companies without real indications of who actually owns them. Even stranger? When family members requested to visit some of his properties, they were informed that he had never owned them.
If you or anyone you know is having suicidal thoughts, please call the National Suicide Prevention Lifeline​ at​ 1-800-273-TALK (8255)​.
Davy Jones
After The Monkees' Davy Jones died suddenly in 2012, Forbes says something strange happened. While wills are usually considered public documents, Jones's oldest daughter (and administrator of the estate) Talia Jones petitioned to have the contents of the estate sealed. The official request claimed the documents "could have a material effect on his copyrights, royalties, and ongoing goodwill." The court agreed, and everything was made private.
While that means no one is sure what was in them, it did go public that his widow, Jessica Pacheco-Jones, wasn't mentioned in the will. It was written before their marriage, and it was also no secret that his new wife and his four daughters didn't exactly get along — none of his daughters attended his wedding, which happened about two and a half years before his death.
Aside from the appointment of Jones's oldest daughter as estate overseer, there's not too much that's known. It is suggested, however, that there wasn't much there. Among the claims filed against the estate were a series of claims for unpaid bills, and according to Horse Talk, the estate didn't include provisions for the upkeep of Jones's 14 horses. His herd of rescued and retired racehorses were kept in the family and moved to California, and a fund — The Davy Jones Equine Memorial Foundation — was set up by his daughters and the surviving Monkees.
George Michael
After George Michael died in 2016, it took around 10 weeks for the BBC to be able to report the official cause of death: heart disease, coupled with fatty liver. His death came as a shock, and just as shocking were the contents of his will.
According to Today's Wills and Probate, most of his estate went to his sisters and his father. His father received control of his horse racing stud farm, while his other properties — including two homes in London — went to his sisters. There was a massive catch, though: In 2019, Metro UK reported that his ex, Fadi Fawaz, had been arrested at Michael's London home. He had been living there since the pop star's death, claiming squatters' rights. His arrest came in connection with damage done at the property, and it came to light that Michael's family had been trying to get him to leave.
A number of close friends and family members were also given artwork and pieces from Michael's music collection, but very obviously absent was a mention of Fawaz — who he was dating at the time of his death — and longtime partner Kenny Goss. In 2021, the Independent reported that Goss's long-running court battle to get a piece of Michael's £97 million (or, around $118 million USD) estate had been successful. Based on his claim that Michael had been his sole support between 1996 and 2009, he was awarded payments of £15,000 ($17,000) per month.
Sonny Bono
Sonny Bono died in a skiing accident that happened while he was vacationing with his family in 1998, says History. Settling his estate — estimated at a value of around $2 million — proved to be problematic.
If there had been a will, control of the estate — and the will — it would have passed to his current wife to act as executor. Instead, the Cortes Law Firm says that Mary Bono spent several years appealing for the right to be appointed executor, and in the meantime, affairs seemed to get less and less clear as several lawsuits were filed against the estate. Cher filed for $1.6 million, claiming that he had never paid her the child support that he had been assigned in their divorce. Meanwhile, another man came forward claiming to be Bono's illegitimate child … although he withdrew the claim when he was asked to take a DNA test.
Ultimately, the estate was divided three ways, between his spouse Mary Bono, and his children Chaz Bono, and Christy Bono Fasce. But, that still wasn't the end: In 2021, the Los Angeles Times reported that Cher had filed another suit against the estate — the Bono Collection Trust — and trustee Mary Bono. She claimed that she hadn't been given her half of the royalties from the hit songs they'd had together when the estate reclaimed the rights to the songs from the publishers.
Dusty Springfield
When The New York Times reported on her death in 1999, they added that Dusty Springfield had one of the longest careers of any pop star. She made her debut in 1961 and released her last album in 1995, when she was perhaps best known for her work with the Pet Shop Boys, and "Son of a Preacher Man," which got new popularity with "Pulp Fiction."
Still, she was only 59 years old when she died, and the official cause was breast cancer. It wasn't long before details of her will went public, and while "pop star leaves fortune to cat" became something of a punchline, there's a little bit more to it.
Springfield, says the NY Post, was a lifelong animal rights advocate. When she neared the end of her life, she became increasingly worried that her then-13-year-old cat, Nicholas, would be shuffled off to a shelter and left to languish in a kennel. So, she wrote in her will that the cat would go to Lee Everett-Alkin, along with enough money to pay for his care for the rest of his life. That included special food imported from the U.S. into the U.K., all the scratch pads and catnip his little heart desired, and a 7-foot cat tree. Also in the will? Springfield requested that her pillowcase and nightgown be used as blankets in his bed.
David Cassidy
The Washington Post says that David Cassidy's struggles with alcohol were on very public display, particularly through the early 2010s. When he died in 2017 — only 67 years old — the cause was liver failure.
His will was pretty shocking stuff: According to the Associated Press, he not only left everything to his son, Beau, and nothing to his daughter, "Arrow" actress Katie Cassidy, but he made it quite clear her omission was on purpose. The will stated: "It is my specific intent not to provide any benefits hereunder to Katherine Evelyn Cassidy and/or any descendant of Katherine Evelyn Cassidy." Instead, his son received the estate, except for the music memorabilia left to his three half-siblings.
Cassidy and his daughter had been estranged for some time, but exactly what happened isn't clear. The AP reported that she had been raised by her mother and stepfather, with Cassidy voicing the opinion that because he "didn't raise her, I didn't have to parent her." They reconciled before his death — even giving a joint interview to People in 2009 — but the will still included her exemption in spite of comments that seemed to suggest everything was on the mend: "It's nice when your dad can be your friend." Katie Cassidy would later tweet that his last words had been, "So much wasted time," and it's a powerful lesson.
If you or anyone you know is struggling with addiction issues, help is available. Visit the Substance Abuse and Mental Health Services Administration website or contact SAMHSA's National Helpline at 1-800-662-HELP (4357).