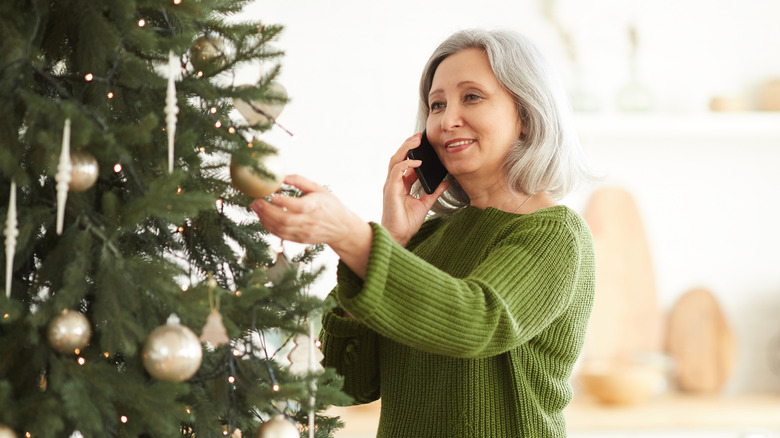 With the holiday season right around the corner, you may find yourself in the mood to start giving the interior of your home its annual holly jolly makeover. With so many wonderfully diverse cultures and traditions around the winter holidays, there is a wide array of ways folks can choose to celebrate. If you happen to have a Christmas tree incorporated into your festivities, then you know that there is always the decision about whether to pick up a real tree or go with an artificial one.
In American households, it seems that having a genuine tree around the holiday season has generally edged out its artificial counterpart. In 2018, real tree sales soared to 32.8 million whereas the purchasing of artificial trees was at 23.6 million, according to Statista.
Although over the years the sales gap between the two options is slowly getting closer, it seems that the type you choose could be greatly influenced by your living situation. This means that depending on whether you live in a condo, apartment, or house — as well as other factors like if you reside in a more rural location or in the heart of a major metropolis — these could weigh in on your final decision.
What are the costs of real and artificial trees?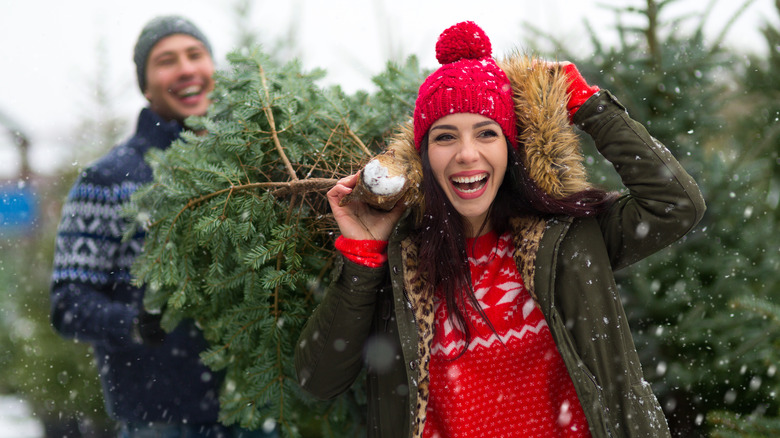 The holiday season can be expensive with the combination of purchasing presents, traveling, and taking a little time off to spend with your friends and family. According to the National Retail Federation, they are expecting 2022 holiday sales to reach just over $960 billion in revenue over the course of November and December. So there could be extra reasons that folks may want to watch their budget when they choose their decorations.
When looking at how much money you should expect to spend on a real tree for your household, it may vary with the size and species. Also, other factors may be responsible for higher-than-normal tree costs such as the rising costs of fuel, which will impact shipping costs; also consider harsh growing conditions amid environmental issues. According to The New York Times, on average the price of a fresh-cut tree — Douglas fir and other types of fir trees being the most popular — hovers around $77.
For artificial trees, the upfront costs may be a little higher, but you must consider the fact that this would not be an annual expense because this type of tree can last you many years. On average an artificial tree costs around $104 and can skyrocket upwards depending on size, width, and special features such as built-in lights and other bonuses.
The environmental impact of buying a real or artificial tree
With so much focus on the environment and climate change, people everywhere may be looking toward more eco-friendly tree options. When purchasing a fresh-cut tree from your local farm or major box store, it could be the more environmentally-friendly option as long as that particular farm doesn't use harmful chemicals or pesticides and is able to plant more trees than it cuts down.
Other factors that may increase the carbon emissions involved in buying a real tree are the travel factors involved in delivery and pick-up. Gas is burned as trees arrive at stores and is further burned when customers pick them up to take home. For a more earth-friendly option, you can buy a potted tree from select stores and then plant it in the springtime, or decorate an existing tree in your yard, according to Greenpeace.
Artificial trees are made of non-renewable materials such as PVC plastic, so they cannot be recycled at the end of their lifespan. They are often made overseas, too, which will increase carbon emissions due to lengthy travel, according to a study by Ellipsos. However, they can last anywhere from 8 to 20 years if they're taken care of and stored properly. Also, if you buy an artificial tree second-hand then it can dramatically decrease the waste factor involved.
What tree works for your particular home?
Whether you live in a large house or a small apartment, this could be the determining factor in what type of Christmas tree you choose. If you want a natural tree, then you must first and foremost make certain to measure the space you have before you select one; the height and width of the area must be enough so that the branches don't sprawl out and possibly ruin any décor or scratch up your walls. It would help to bind the tree with some rope so that it can fit through the front door and into your home before setting it in the ideal location.
Fir trees are your best option for any sized home as they have soft full needles, can last long when you give them a daily dose of water, and can reach 7 feet tall which is an average size, according to Rent. On the other hand, if your home doesn't have tall ceilings or you live in a place that will not allow fresh-cut trees in the units, then an artificial tree can be your best bet. These seasonal options can come in a wide variety of sizes, colors, and shapes, with the possibility of additional lights already installed. There is also the bonus factor that you won't have to worry about feeding it or having dry needles littering your living space.
Disposing of your real or artificial tree
After the holidays are over and your real tree has lost its needles, there are many ways you can properly dispose of it so that it is more environmentally-friendly than just heaving it in a dump or burning it in your backyard. You could have it chopped up into wood chips and use it in your garden, for one. If you have a larger property, you could stash it in your backyard to act as a future home for the outdoor critters. There are also some wildlife sanctuaries or river and stream programs that could really benefit from the use of your dried-up Christmas tree, according to Global News.
As for your thinned-out or damaged artificial tree, there could be a few ways that keep it out of the dumpster and increase its usability. You could check in with local charities or churches to see if they have a program for the holiday collection of artificial trees. For the avid DIYer, you could create incredibly stylish holiday wreaths or stunning garlands by cutting up the branches of your used tree as well. A leftover fake tree could inspire other projects if you just put your mind to it. Finally, in some cases, there are a few parts of the tree that may contain materials that could be recycled, but you should ask your local waste facility for more information.