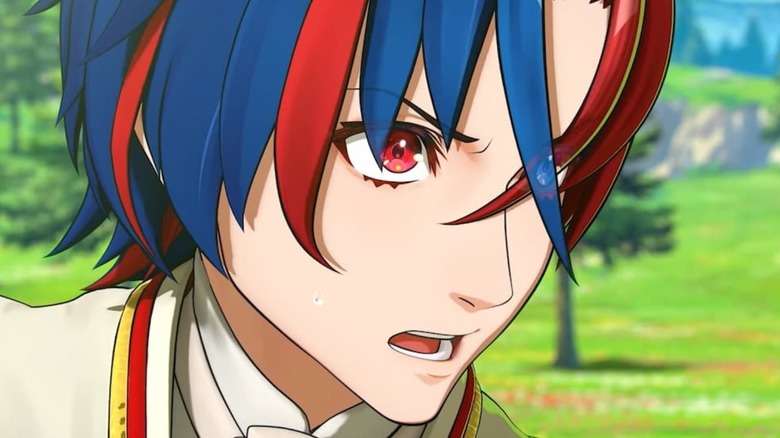 After what might be considered a somewhat less flashy year for the Nintendo Switch in 2022, which has been punctuated by "Pokémon Legends: Arceus" at the start of the year and will finish with "Pokémon Scarlet" and "Violet," the next 12 months look set to be very exciting. 2023 will mark the release of some of the most eagerly awaited games for some time.
Whether it's exclusive first-party games from Nintendo's biggest franchises, hotly anticipated remakes of old classics, or great multiplatform titles, there's sure to be something for every Switch owner in the coming year.
As is becoming increasingly commonplace, we still don't know a lot about all of these upcoming games but that won't stop us from running through all the available information and explaining exactly why gamers across the world are looking forward to playing them so much. Here are the most anticipated Nintendo Switch releases in 2023.
21. Syberia: The World Before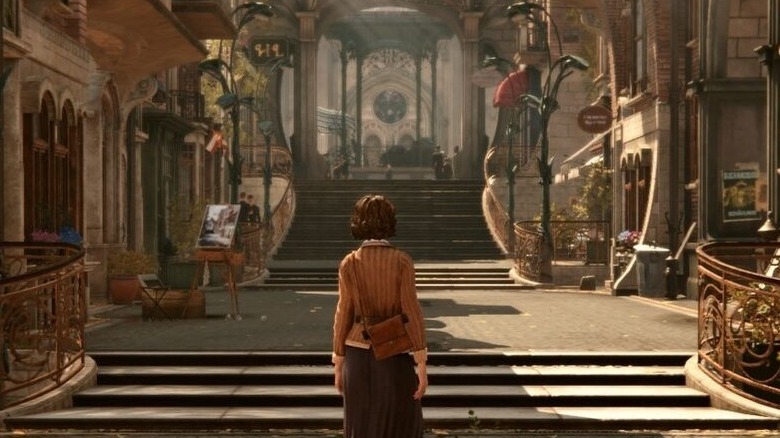 Developed and published by Microïds, "Syberia: The World Before" is an adventure game that takes place in the fictional European countries of Osterthal and Taiga. The story largely charts the lives of two characters in different times, including series protagonist Kate Walker some 20 years ago and Dana Roze in the 1930s. The intertwined narratives eventually lead to a shocking conclusion about the origin of Walker and her mother Sarah.
As you can expect from graphic adventure games, the gameplay largely revolves around exploring areas and interacting with objects and people. Think games like "Life is Strange" or "The Walking Dead" to get an idea of what to expect, but this series has a somewhat fantastical element to it with its strange creatures and distinctive environments.
"Syberia: The World Before" is already available on PC, PlayStation 5, and Xbox Series X|S, having been released on all three platforms throughout 2022. However, its launch on the Nintendo Switch will not come until next year — although no specific release date has been given yet. Having earned positive reviews already, Nintendo Switch owners will be happy to get their hands on this game next year.
Release Date: TBA 2023

Genre: Graphic Adventure

Game Modes: Single-player
20. Master Detective Archives: Rain Code
"Master Detective Archives: Rain Code" is an adventure murder mystery game from the creators of the Danganronpa franchise. It will see players taking on the role of a rookie detective, Yuma, who suffers from amnesia as he battles against the megacorporation that controls the rain-filled city. This will involve conducting investigations throughout Kunai Ward, speaking to witnesses, and interrogating suspects as you try to piece together various crimes that have taken place and remain unsolved. With some elements of "Persona" thrown in as well, there will be puzzles to tackle and battles with Phantoms that are trying to cover up cases and keep the mysteries open (via Nintendo Life).
Players should expect a distinctive visual style, as writer Kazutaka Kodaka told Nintendo Life that he was influenced by the work of Tim Burton for the game, in particular, his work in the "Batman" series. From what Nintendo has shown so far, the location looks like a cross between "Cyberpunk 2077" and "Blade Runner." There hasn't been an exact release date so far, but Nintendo suggests it will arrive in the Spring of 2023.
Release Date: Q2 2023

Genre: Adventure

Game Modes: Single-player
19. Super Bomberman R 2
A sequel to the 2017 game, "Super Bomberman R 2" was first revealed this year after the announcement that its predecessor would officially shut down at the end of 2022 (via Video Games Chronicle). Arriving in time for the series' 40th anniversary, it will include extensive online modes allowing players to take part in classic contests alongside a Castle Mode and battle royale variant. The first of these will see up to 15 players battle against a single opponent as they attempt to make their way to treasure chests scattered throughout the stage while the larger battle royale mode will see up to 64 players compete against each other.
According to the official Nintendo page for the title, players will be able to design and then share custom stages online for others to play. "Super Bomberman R 2" will also include an extensive story mode that takes place across different planets as the universe comes under threat from an unknown hostile force. The brief announcement trailer suggests the game will feature familiar fast-paced gameplay in vibrant levels with plenty of additional content.
Release Date: TBA 2023

Genre: Action

Game Modes: Multiplayer and Single-Player
18. Blanc
With its distinguishing hand-drawn black-and-white visuals, "Blanc" is set to be one of the most graphically unique releases of 2023. The result of a collaboration between Gearbox and Casus Ludi, the co-op adventure game will see players take control of a young wolf and deer after a snowstorm strands them away from their families. Working together to get safely home, the pair must utilize their own set of skills to navigate obstacles, such as the fawn's ability to jump higher distances and the smaller cub's ability to squeeze into the tightest of spaces.
What's clear from the trailer is that this will be a heartfelt and adorable game. There's no on-screen text, so the story is told completely through the visuals, and Polygon reports that the gameplay has been purposely designed to be as simple as possible to make it accessible to users of all ages. The Switch seems like an appropriate platform and this could be an ideal title for parents to play with their kids.
Release Date: Feb. 14, 2023

Genre: Adventure

Game Modes: Co-op multiplayer
17. Eiyuden Chronicle: Hundred Heroes
Funded through a successful Kickstarter campaign, which Gematsu described as the highest-funded video game of 2020, "Eiyuden Chronicle: Hundred Heroes" is a Japanese RPG with a heavy emphasis on strategy. Developed by many of the people who were responsible for the "Suikoden" series, it will feature more than 100 playable characters and follow the story of a young boy and girl who are caught up in a war as the Galdean Empire searches the land for a powerful artifact. The latest trailer for the game shows off retro-inspired art style and the thumping turn-based combat you can expect.
The studio has already released "Eiyuden Chronicle: Rising" as a Kickstarter stretch goal in partnership with Natsume Atari. The 2D side-scroller is an action RPG that forces players to navigate through a twisting and confusing collection of rooms, acting as a prequel to "Eiyuden Chronicle: Hundred Heroes." While the critical reception was somewhat mixed, it contained enough interesting ideas to generate excitement about the mainline game.
Release Date: TBA 2023

Genre: JRPG

Game Modes: Single-player
16. RoboCop: Rogue City
RoboCop is returning next year with "RoboCop: Rogue City." The first-person action-shooter features a story that involves the part man and part machine hero attempting to end a threat that could plunge Old Detroit into a never ending spiral of crime. The developers, Teyon, promise that players will be given the freedom to choose how they want to complete missions, although these decisions could affect how the narrative proceeds.
The gameplay reveal trailer for "RoboCop: Rogue City" certainly shows a world that is reminiscent of the original movie while also highlighting some of the situations the player will have to deal with, including hostage situations and armed robberies. Polygon has also confirmed that Peter Weller is reprising his role, providing the voice of the titular character.
The team behind the game has previously worked on video game adaptations of other hit movies from the 80s, including "Rambo: The Video Game" and "Terminator: Resistance." With both games receiving fairly poor scores, fans will be hoping that they have learned some lessons over the last few years.
Release Date: June 2023

Genre: Action, Shooter

Game Modes: Single-player
15. Inescapable
Inspired by the somewhat whacky "Danganronpa" series, "Inescapable" is a social thriller and adventure game from Dreamloop Games (via Destructoid). First shown at Anime Expo 2022, players will take control of a contestant who has been kidnapped and forced to take part in a mysterious game show on a remote tropical island. Only one of them will ultimately win the impressive $500,000 prize by taking part in the life-threatening challenges
A press release describes the game as testing how far people are willing to go when they know there are no rules and a huge sum of money is on the line, so it seems like this will explore players' limits in a variety of ways. The developer previously worked on "Stardust Galaxy Warriors: Stellar Climax," a game that scored well with critics across all platforms it launched on, so anticipation is certainly high, especially considering the unique setup and visual novel style of "Inescapable."
Release Date: TBA 2023

Genre: Adventure

Game Modes: Single-player
14. Tales Of Symphonia Remastered
"Tales of Symphonia" is an action RPG from Namco that originally launched on the Nintendo GameCube back in 2003. The publisher is now re-releasing the game in a remastered form for the Nintendo Switch, bringing it to an entirely new audience of fans. Charting the adventures of Lloyd Irving and Genis Sage as they encounter Colette Brunel, helping her to breathe mana throughout the lands of Sylvarant and Tethe'alla. It ended up being one of the best-reviewed JRPGs on the console and an important release in the series (via Metacritic).
"Tales Of Symphonia Remastered" will apparently offer a wide range of improvements, from graphical enhancements and updated gameplay to an array of new features. According to Kotaku, some fans have expressed skepticism over the fact that it will seemingly only run at 30 frames per second, half the rate available when it was launched almost two decades ago. That doesn't stop this from being one of the most anticipated Switch titles of the year, allowing older fans and younger gamers to experience the world of Sylvarant once again.
Release Date: Feb. 17, 2023

Genre: JRPG

Game Modes: Single-player and local multiplayer
13. Story Of Seasons: A Wonderful Life
Once known as "Harvest Moon," "Story of Seasons" is a life simulation RPG series where players generally take control of a farm and then have to rebuild it as they interact with the local residents, grow crops, and look after livestock. Fans of "Animal Crossing" or "Stardew Valley" will have a good understanding of what to expect from this franchise. "Story of Seasons: A Wonderful Life" is a remake of the 2003 Nintendo GameCube game "Harvest Moon: A Wonderful Life," which is set to launch in the summer of next year.
A trailer for the game provides a look at the visual upgrades that the developer has worked on for the new version. It will also include a whole host of additional content, ranging from extra recipes and events to more crops and new festivals to take part in. A limited edition release also comes with a notebook, poster, and exclusive artwork, making it a good choice for those who were fans of the original game, which was one of the best received titles in the series.
Release Date: Summer 2023

Genre: RPG, Life Simulation

Game Modes: Single-player
12. Theatrhythm Final Bar Line
"Theatrhythm Final Bar Line" is a new game from Square Enix that focuses on rhythm-based gameplay. Featuring 385 songs from more than 40 different "Final Fantasy" releases, the game revolves around tapping the appropriate button in time with the music to complete challenges and defeat enemies in musical battles. From what has been shown in the announcement trailer, the art style has a more cute and kid-friendly appearance than most "Final Fantasy" games.
This entry in the series will include a variety of new modes, including Series Quests, which involve taking part in unique challenges for each game in the series. Endless World is another fresh addition that gradually increases the difficulty as players try to survive for as long as possible through multiple tracks. According to Nintendo Life, this is the first game in the series to be released on consoles to Western audiences in some time as more recent iterations have been exclusive to Japan or only available in arcades.
Release Date: TBA 2023

Genre: RPG, Rhythm

Game Modes: Single-player, local and online multiplayer
11. Sea Of Stars
A turn-based RPG, "Sea of Stars" is a retro-style game that had a successful Kickstarter crowdfunding campaign and raised more than ten times the original goal from more than 25,000 backers. From Sabotage Studio, it will tell the story of two characters who combine the powers of the sun and the moon to create Eclipse Magic. This powerful force is the key to defeating the evil monsters created by an enemy known only as The Fleshmancer.
With a deep story and an emphasis on exploration, "Sea of Stars" also looks to create a unique combat system in which pressing certain buttons at the right time during attacks can provide extra damage and protect the player from enemy moves. With the inclusion of combo attacks and various damage types, it shouldn't be your typical turn-based RPG affair, especially since the developers promise there will be no random encounters and little need to grind.
Release Date: TBA 2023

Genre: RPG

Game Modes: Single-player
10. Disney Illusion Island
Nintendo Switch owners will soon be able to enjoy the wonderful world of Disney in "Disney Illusion Island." In this four-player co-op title, users will be able to choose between Mickey, Minnie, Donald, and Goofy as they attempt to navigate through an unknown land to collect three books that hold the secret to saving the world. According to IGN, the game is based on a title that developer Dlala Studios was working on before its cancelation in 2016, meaning this game also serves as a bit of a comeback story.
The trailer shows that the animation style and visuals bear a resemblance to the popular "Mickey Mouse" shorts from recent years, with beautiful graphics that look very much like hand-drawn cartoons. Each of the four characters have special abilities that players can unlock to reach secret areas and explore more of the 2D world. This is definitely one that Disney fans will want to keep an eye on.
Release Date: TBA 2023

Genre: Platformer

Game Modes: Single-player and multiplayer
9. Cocoon
"Cocoon" is an upcoming puzzle-adventure game set in space. Developed by Geometric Interactive and some of the creative minds behind "Limbo" and "Inside," it was first announced during the 2022 Xbox and Bethesda Showcase. The studio has since confirmed it will also come to the Nintendo Switch and other platforms.
The pedigree behind the scenes would be enough to get excited, but "Cocoon" also has quite a few other things going for it. After over five years in development, a trailer for the game demonstrated its sci-fi visuals and fast-paced gameplay, not to mention a synth-heavy soundtrack that sounds completely thrilling. The footage also suggests players will be able to swap between different worlds, each with their own unique color style and puzzles to solve. Much of the story is still a mystery, but it looks like one players won't mind getting lost in.
Release Date: TBA 2023

Genre: Puzzle, Adventure

Game Modes: Single-player
8. Pikmin 4
Ever since "Pikmin" first emerged on the Nintendo GameCube back in 2001, it has become something of a fan favorite franchise. Over the intervening years, it received sequels in 2008 and 2013. That means that it has been almost a decade since the world got a proper "Pikmin" sequel, excluding remasters like 2021's "Pikmin 3 Deluxe." Fans have been asking for a new entry in the franchise for quite a while now and "Pikmin 4" will hope to fill that hole when it hits store shelves in 2023.
Like the earlier games, "Pikmin 4" will see players take control of a group of small creatures known as Pikmin, deploying them to attack enemies and solve puzzles. Nintendo has not revealed much about the game outside of a brief announcement teaser, so it's unknown whether Captain Olimar will return or where the game will be set. However, it seems to carry on the colorful art style of the previous releases, just with a more high-definition look.
Release Date: TBA 2023

Genre: Real-time strategy

Game Modes: Single-player
7. Fire Emblem Engage
"Fire Emblem Engage," the latest entry in the long-running "Fire Emblem" series, which will take place in the vast land of Elyos. This huge continent contains four distinct realms and was the site of a great war between the heroic Emblems and the evil Fell Dragon. After seeing signs pointing towards this enemy breaking out of his chains and once again returning to the world, players will take charge of a hero named Alear. A thousand years after the original conflict, Alear seeks to put a stop to the Fell Dragon once and for all.
Like earlier games in the series, "Fire Emblem Engage" will contain the grid-based combat fans know and love. This game will see the addition of powerful items known as Emblem Rings, which can summon heroes from previous entries in the franchise to fight alongside Alear. If the trailer is anything to go by, there will be plenty for fans of the series to like here, from the gorgeous visuals and throwbacks to the new additions to gameplay.
Release Date: Jan. 20, 2023

Genre: Tactical role-playing

Game Modes: Single-player
6. Fatal Frame: Mask of the Lunar Eclipse
The classic camera-centric survival horror series returns with this remaster of the Nintendo Wii game "Fatal Frame 4: Mask of the Lunar Eclipse." Arriving early in 2022, the story revolves around a group of girls who disappeared under strange circumstances but were ultimately rescued by a detective. When two of them are killed ten years later, the surviving girls decide to solve the mystery in the hopes of avoiding the same gruesome fate. They are joined by Choshiro Kirishima, the former police officer who aided them all those years ago, now a private detective.
The original game never came to the US or Europe on the Wii upon its original release, so many players have not have had the chance to try out this game before. So there's obviously a lot of anticipation for Western audiences, with many fans rejoicing at the opportunity to finally complete their "Fatal Frame" collection. The game is also seeing a significant visual upgrade, if the trailer is anything to go by. This one won't be a typical Switch release, either; it's heavy on horror elements and not exactly family-friendly. All in all, this is a special release for Switch owners.
Release Date: March 9, 2023

Genre: Horror, survival

Game Modes: Single-player
5. Kirby's Return to Dream Land Deluxe
When it launched in 2011, "Kirby's Return to Dream Land" quickly drew praise from reviewers and still has an impressive score of 77 on Metacritic. It also became one of the best selling games on the console according to Nintendo, moving over a million copies. With all that in mind, it makes some sense that the company would want to remake the game for the Nintendo Switch and bring it to a whole new audience for the first time.
"Kirby's Return to Dream Land Deluxe" is set to do just that when it arrives near the start of 2023. Using the Switch's Joy-Con controllers, players will be able to team up with three other friends to take part in the action. Players can use a variety of Copy Abilities to tackle enemies and obstacles, including the newly introduced Mecha skill that effectively turns Kirby into a flying robot. This remastered version of the game also comes with a variety of graphical improvements, as can be seen in the announcement trailer from Nintendo.
Release Date: Feb. 24, 2023

Genre: Action-platformer

Game Modes: Single-player, multiplayer
4. Star Wars: Hunters
"Star Wars: Hunters" is only launching on the Nintendo Switch and mobile devices running either Android or iOS. It also stands out among the many anticipated Switch games of the next year by being a free-to-play title. "Star Wars: Hunters" was created by Zynga, the team behind the massively successful "FarmVille" franchise. It was first announced in 2021 and has seen a few delays to allow the developer time to develop it further.
Those delays certainly haven't dampened the excitement from "Star Wars" fans, though. Taking place between the events of "Return of the Jedi" and "The Force Awakens," the game is a player-vs-player squad-based shooter in which users battle it out in teams. With characters of various races available to choose from and maps inspired by famous locations within the franchise, there's a lot to be excited about in "Star Wars: Hunters" as it nears a full launch.
Release Date: TBA 2023

Genre: Action

Game Modes: Multiplayer
3. Minecraft Legends
"Minecraft" is not only one of the best-selling games of all time, but it has now evolved into a multimedia franchise of its own. Along with the original game, there's now "Minecraft: Story Mode," "Minecraft Earth," and "Minecraft Dungeons" for players to enjoy. The latest title to be added to this ever-growing collection is "Minecraft Legends," a spin-off that combines elements of the action and strategy genres to create a fast-paced third-person experience.
Set against a story in which Piglins are invading from the Nether, players must fight back against the encroaching forces and join the various creatures and mobs together in a battle to defeat the enemy.
According to the developer, forging new alliances with the likes of Creepers and Zombies will be vital to successfully completing your overall quest. That will mean spawning mobs and placing them in defensive positions. Of course, "Minecraft Legends" will still utilize the familiar visuals that "Minecraft" players know and love. "Minecraft Legends" looks to be an experience that feels simultaneously comfortable and fresh.
Release Date: TBA 2023

Genre: Action, Strategy

Game Modes: Single-player, multiplayer
2. Hollow Knight: Silksong
One of the indie darlings of the last few years has been "Hollow Knight," a Metroidvania platform from game developer Team Cherry. It went on to receive widespread critical acclaim and was nominated for numerous awards. Obviously, any sequel would be hotly anticipated — and ever since "Hollow Knight: Silksong" was announced, gamers have been eagerly awaiting its launch. That day is finally approaching, and fans will soon be able to once again explore this haunting insect kingdom.
This time around players will take control of Hornet, a former boss from the first game. The gameplay will be similar to its predecessor, but with a larger focus on quicker movement and combat to better suit the qualities of Hornet. With an increased emphasis on difficulty and a new health system, not mention a permanent death mode, it should be an even harder challenge for players to get through.
Release Date: TBA 2023

Genre: Metroidvania, Action

Game Modes: Single-player