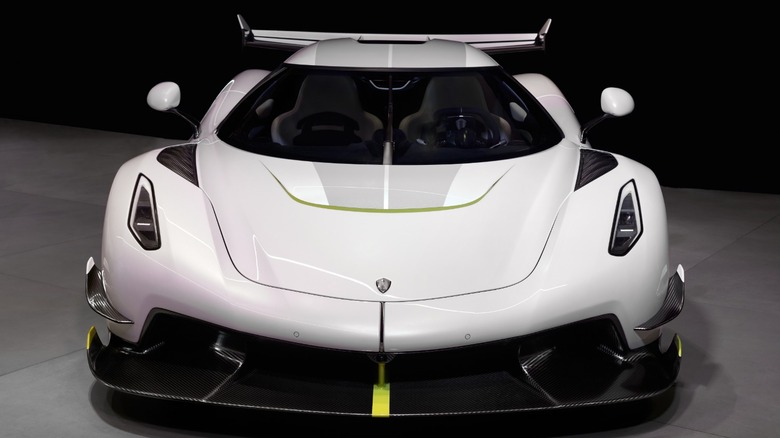 Supercars have long been the things of dreams. There have been many excellent examples made over the years, but in 2022, we are spoiled for choice. At least, those with the means are spoiled for choice. But a cool supercar is not necessarily the fastest or the one with all the best toys. A cool supercar just has to rise above with some intangible qualities of cool that set it apart.
Fast cars are fun but they can still be ordinary, so speed alone does not equate to cool. Some of the coolest cars ever made are embarrassingly slow. The Delorean DMC-12 is a perfect example of a cool yet abysmally slow car. But its lack of speed doesn't matter because, you know, it's a Delorean! In 2022, the array of cool features in new cars is seemingly endless. Technology has developed so readily, cars have functions that would have been seen as sci-fi a decade ago, such as the multitude of screens resembling what the U.S.S. Enterprise used in "The Next Generation." This also means that the criteria for categorizing a cool supercar are somewhat ambiguous and that the best way to put it is that it should just have a certain je ne sais quoi about it. Luckily, 2022 has offered us a lengthy list of supercars, and these are possibly the 10 coolest.
Koenigsegg Jesko Absolut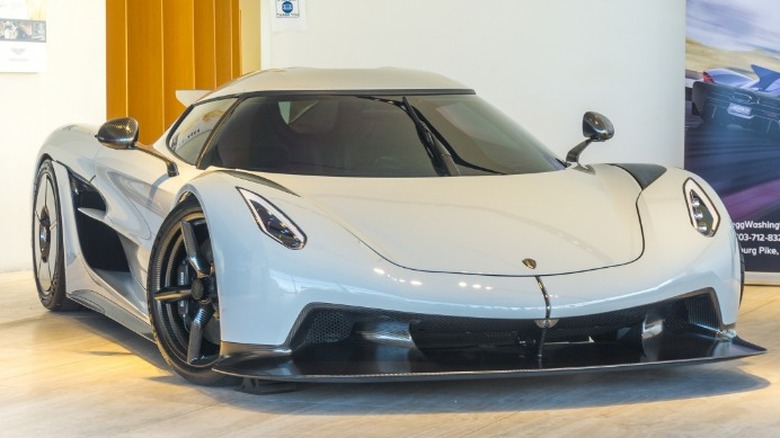 When you make the most sophisticated and cutting-edge cars in the world, it can be hard to top what has already been done. But that hardly keeps Christian von Koenigsegg from pushing the envelope even more. At the time of writing, the Koenigsegg Jesko Absolut is the fastest and most extreme model offered by the manufacturer and possibly ranks above any car at the time. While the Koenigsegg company is eponymously named, the Jesko naming serves as a tribute to the founder's father, Jesko von Koenigsegg.
The list of groundbreaking technology and features of this car is probably too long to list. However, MotorTrend states that the highlights include a 5.1-liter twin-turbo V8 with an output of up to 1,600 horsepower capable of an 8,500 revolutions-per-minute redline. The engine is completely developed in-house and uses three injectors per cylinder, a unique air injection system that spools the turbos faster, and a pressure monitoring system in the cylinders, an industry first. This is backed by a trick transmission that shifts lightning-quick and weighs a scant 198 pounds.
All of this is encased by loads of carbon fiber and special touches of the highest imaginable quality. The interior is a blend of high-performance and luxury car, resulting in something amazingly fast yet ultimately controllable and usable for average drivers. It is an impressive car that is very cool, but also wickedly expensive at close to $3 million.
Rimac Nevera
One of the most surprising developments in the auto industry of 2022 is the introduction of a new production vehicle from Croatia. The news about this car is that it is not any sort of economy car from this formerly war-torn country, but a first-class all-electric supercar that most impressively is made from parts that are completely designed and fabricated in-house. Mate Rimac, the founder, has, in a relatively short time, developed and entered into production his Rimac Nevera EV, with the first model delivered in August 2022. Everything about his car is impressive, including its recent record-breaking top speed run at 258 mph.
The Nevera boasts a long list of impressive specifications. Motor1.com says its power output is 1,914 horsepower coming from electric motors on all four wheels juiced by a 120 kWh battery pack. It also sprints to 60 mph in just 1.85 seconds, and the instant available torque from the electric motors will give passengers a powerful punch to the gut under full acceleration. Rimac's styling is more sedate than some more familiar raging bulls from Italy but is still an aggressive, sleek, and stunning design. Ars Technica also notes the degree to which the interior design holds up as an attractive and distinctly upscale space, comfortable for any driving situation. One of its coolest features is a digital driver coaching system onboard that can guide drivers toward increasing lap times and sharpening their skills.
Hennessey Venom F5
Americans have come up short in the supercar department throughout most of our automotive history. Before the arrival of the Ford GT, the only real home-grown supercars have been from boutique automakers without long-term viability such as the Vector W8. The all-new Hennessey Venom GT marks the latest chapter in this small, but growing sector.
Hennessey has made a name for itself in manufacturing a number of performance upgrades to production cars and also installing and customizing the same cars for retail sale, resulting in some extreme performance versions of Mustangs, Camaros, Jeeps, and light trucks. However, it has now engineered and produced its own supercar from the ground up, the Venom F5. Hennessey had previously produced a powerful supercar, the Venom GT, but it was made on a modified Lotus chassis and this one is all original.
For us Americans, being built at home is cool enough, but it goes much further. The Venom F5 is powered by a bespoke engine based on the GM LS pushrod V8, significantly modified to make 1,817 horsepower to turn the rear wheels. While the car is built to go very fast, it is meant to be driven on the road and is made to be manageable as a street-legal vehicle. Otherwise, it looks very cool with a nice blend of curves and creases with plenty of carbon fiber showing throughout.
Lotus Eletre
We have plenty of supercars available today, with an increasing number of them having extremely high power and prices now referred to as "hypercars." But does that mean an SUV cannot join this party? Lotus might argue one can, and it is called Eletre. Not only is the Eletre the first Lotus SUV ever, it is also all-electric. As part of the Lotus commitment to transferring its entire lineup to electric power, this vehicle shows its commitment to making passenger cars as well.
To be fair, this vehicle will start deliveries in 2023, but is well past the prototype phase and is such a cool new model, it is worth mentioning on this list. In fact, the first one has already left the assembly floor, which is a brand new $1.2 billion facility not in the rolling hills of Norfolk, but in the industrial powerhouse city of Wuhan, China, per Inside EVs. This first Lotus SUV is a dual motor setup that can be had with over 900 horsepower and a projected range of 370 miles. A lot of the specifications have not yet been announced, but Lotus has provided pictures, which reveal the best bits of this EV. The exterior is modern and handsome with a fierce and aggressive stance that isn't overstyled or gaudy in any way. The interior matches the beauty with clean lines, and it looks to be in line with any other luxury car on the market. It may not be a car, but it is super and it is very cool.
Ferrari Roma
It is natural to find a Ferrari on a list of cool supercars, as Ferrari paved the way for supercars in the first place. The Prancing Horse has long represented the fastest and finest cars available to the public. Over the years, Ferrari has released some extreme examples of high-performance cars as well as the most elegant touring cars, which have mostly become desirable icons of Italian sophistication. One of its newest models is very much the latter, a refined, comfortable, and classy automobile made for long winding back roads of spirited driving: the Roma. While it may be a GT car more than a supercar, it is endlessly cool.
The Roma is also not really a 2022 car, but it is just so incredibly beautiful, that doesn't much matter. And while Ferrari has made bonkers cars like the F40, Enzo, and LaFerrari, this is perhaps the most stunning design from Modena in decades. Combined with its stunning good looks is a twin-turbo 3.9-liter V8 good for over 600 horsepower and an abundance of technology including digital screens for the driver, the center console, and one dedicated to the passenger with individual controls. The interior is reminiscent of a jet fighter cockpit warmed over by an Italian house of design, with each front seat sitting in its own pod, ready for take off. It also has rear seats, although they are likely not enough room for anyone larger than a schnauzer, but when your ride looks this good, nothing else matters.
McLaren Solus GT
Cool supercars do not necessarily have to make sense. Nor do they have to be practical, useful, or even drivable on the street. Sometimes a cool supercar is just plain wild, and the McLaren Solus GT is a perfect example of this. What McLaren has done with this model is create a V10-powered, single-seat track machine. Road and Track says the V10 makes 830 horsepower and pushes the car to 60 mph in 2.5 seconds. Part of this extreme speed is due to its low weight of 2,205 pounds and the extensive bodywork that provides 2,645 pounds of downforce.
This car makes a drastic departure from other McLarens that have been powered up until now by V8 engines and, more recently, a V6. Of course, it is not the first McLaren with a central driving position, but, unlike the legendary F1, it has no room for passengers. The interior is more of a cockpit. Looking at it, it should be apparent that every curve on it is meant to keep it glued to the track, however, it does not look specifically like a race car. It has style and pizzazz. It also started life in a video game. Just 25 will be made and, much like a video game, this is essentially a toy. It is a toy for the track to be driven on the track by the kind of person with the wealth to play with anything they want.
Koenigsegg Gemera
The Swedes get two entries this time, and it covers the entire range of the Koenigsegg lineup. While both cars are pretty amazing, the Gemera is what could loosely be called its family car. It has rear seats, and it is incredibly cool.
The Gemera has four seats and two doors, but it might be hard to say it is a coupe, as rear passengers have easy access to the seats thanks to extraordinarily long doors that open up the typical Koenigsegg dihedral synchro-helix actuation, according to Evo. These large doors open by moving out and rotating up in an unbroken motion that is both elegant and technologically fascinating, leaving a large opening to allow all passengers unfettered access to the cabin. The Gemera's wizardry continues throughout the car, with its hybrid drivetrain of three electric motors and an internal combustion engine combined to provide up to 1,700 horsepower. The engine is a three-cylinder turbo variant using Koenigsegg's patented Freevalve system which uses electric actuators instead of camshafts and timing chains. The 2.0-liter powerplant is good for 600 horsepower alone.
The Gemera is a stunning vehicle that has no equal in other four-passenger cars. It looks like other supercars, but its engineering is as advanced and unique as it comes. Not many people will get to enjoy this amazing car as it comes at a cost of $1.7 million each.
Chevrolet Corvette
Is it fair to call a Corvette a supercar? For decades, the supercar has been characterized by being a two-seater mid-engine car with an abundance of power and superb handling. This has often meant it was Italian and expensive. But just because it is made in Bowling Green, Kentucky and relatively affordable does not mean it cannot compete.
The latest Corvette, also known as the C8, is the mid-engine car that some fans have been desiring for decades. Several concepts have been presented to the public, but only in 2020 did one roll off the assembly line, and it is an impressive car. With a base price of $62,195, a fraction of a Raging Bull or Prancing Horse, the C8 Corvette offers drivers an impressive 495 horsepower pushrod V8 mounted behind the seats and coupled to an 8-speed automatic gearbox, per J.D. Power. Chevrolet chose not to employ a more advanced dual-clutch transmission that is common among high-end performance cars, mostly due to the fact that it provides lightning-quick gear changes and competes admirably against anything else for a lower development cost.
Having a domestic pedigree originating from Detroit does little to downplay the cool factor of this car. Because it is far cheaper than equivalent Italian machines only means more people can enjoy it and will find service options more plentiful and affordable to boot. It is a supercar by any measure and it is supremely cool.
Ferrari SF90 Stradale
Another Ferrari on a supercar list is not surprising, but its inclusion as a hybrid might be. The Ferrari SF90 Stradale is Ferrari's first foray into hybrid car production. This car is known as a PHEV, which means it uses gas and electric propulsion and can be plugged in for a charge. While the SF90 shares many characteristics with a Toyota Prius, the similarities stop rather abruptly.
Ferrari's SF90 is the range-topping model for 2022 that comes with a retail price of more than half a million dollars, per Car and Driver. It is powered by a twin-turbo 4.0-liter V8 that spits out 769 horsepower but is augmented by three electric motors adding an additional 217 horsepower. Two motors up front provide AWD capability while the third is sandwiched between the engine and gearbox as supplemental power.
This Ferrari is a gorgeous speed machine that redefines what a PHEV is. Far from being a car built for purely ecological pursuits, the SF90 is a genuine supercar with enormous power that, thanks to its hybrid drivetrain, returns fuel economy of 22/24 mpg with nearly 1,000 horsepower. That is cool.
Aston Martin Valkyrie
Aston Martin is a name synonymous with elegant and proper English motoring. It is a company well known for creating luxurious touring cars that offer excellent speed and handling while surrounding the driver in elegance and fine craftsmanship. However, it is not generally associated with supercars … until now. Aston Martin is stepping into the supercar ring in a big way with its upcoming all-electric Valhalla and its current limited-production Valkyrie. While the former will be something similar to mid-engine supercars we know and love, the latter is something else altogether, looking more like a modern batmobile than a road-going motorcar.
The Valkyrie is an exclusive bespoke hand-made track-focused hybrid of which Aston Martin is building 150 examples. It is powered by a 6.5-liter V12 from Cosworth Engineering using the same technology that powers F1 race cars. In the Valkyrie, it will produce 1,160 horsepower in conjunction with its electric motors and is capable of spinning up to 11,100 revolutions per minute. The electric part only contributes 160 of those ponies.
While this car's construction comes straight from the F1 track, it still includes hallmarks from Aston Martin, including its signature hump at its leading edge. The interior is exquisite but sparse to maintain weight savings and all controls, including LED screen, are placed on the steering wheel for complete focus of the driver. Aston Martin is offering this model to just 150 people with the desire, and asking just $3 million for this kind of motoring experience.