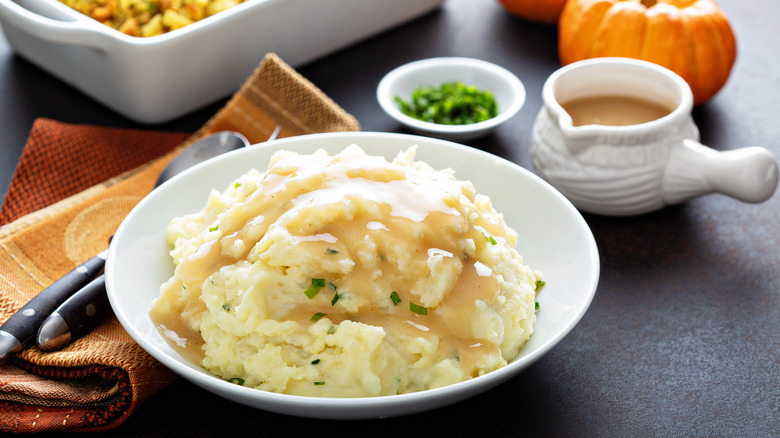 No matter what our differences are, we all can come together over a big bowl of mashed potatoes – especially when they're swimming in melted butter or savory gravy. They're the ultimate comfort food that can be enjoyed as a side dish, layered in a casserole, reheated with leftovers, or just eaten on their own as a late-night snack.
We gathered up our twelve best recipes for mashed potatoes, variations that will make everyone happy. You can make mashed potatoes the old-fashioned way or save time and make them in an Instant Pot or slow cooker. Enjoy the spuds with just a little butter or load them up with bacon, scallions, and shredded Cheddar cheese. If you love the mashed potatoes and gravy at KFC, wait until you see our copycat recipe that's so easy to make at home.
Pin your favorite recipes and pick up plenty of spuds. Parade recommends using ⅓ to ½ pound of potatoes per person. Here are some stellar ways to make them in mashed form.
1. Slow Cooker Mashed Potatoes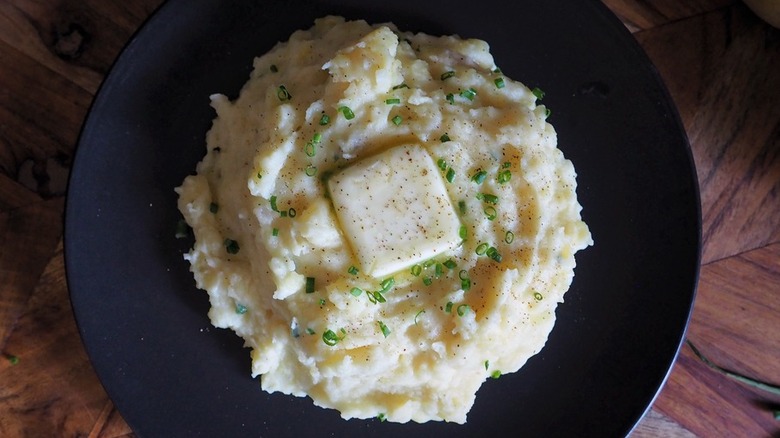 When you have to make mashed potatoes to feed a crowd, using your slow cooker is a really smart move. Load it up with 3 pounds of potatoes, butter, and seasonings, then let the potatoes slowly cook for a few hours. Add some cream and sour cream, mash them up, and they're ready to serve. The recipe makes six servings and the slow cooker will keep your mashed potatoes warm until you're ready to serve them.
2. Mascarpone Mashed Potatoes
According to MasterClass, mascarpone cheese might seem similar to cream cheese because they are both white and soft. However, mascarpone is creamier and "has a lightly sweet" flavor instead of the tang of cream cheese. When blended with hot, cooked potatoes, mascarpone gives them richness and unbelievable flavor. In this recipe, Yukon gold potatoes are cooked on the stovetop, then mashed with mascarpone, butter, and garlic powder. They're ready in less than 30 minutes
3. Copycat KFC Mashed Potatoes And Gravy
Mashed potatoes and gravy made from scratch are delicious, but let's be honest: Sometimes you just crave the fast food flavor of the KFC version. No judgment! You can easily make a copycat version to enjoy at home. Whip up your favorite brand of instant mashed potatoes (and use a secret ingredient like half-and-half or milk to make your potatoes even creamier). Then, make a simple gravy with a salty, savory, and peppery flavor that tastes so good poured over the spuds. Use the potatoes to make your own KFC Famous Bowl.
4. Traditional Mashed Potatoes
No over-the-top ingredients or complicated methods here: Just a good, old-fashioned batch of mashed potatoes. Our recipe uses russet potatoes: This is a type of starchy potato that breaks down easily when cooked so that your mashed potatoes will be more creamy and smooth. Yukon gold is another starchy type that also works well. Use a handheld masher to combine your cooked potatoes with milk and butter, and a generous sprinkle of salt and pepper. Classic mashed potatoes are a comfort food favorite.
5. Instant Pot Loaded Mashed Potatoes
Use your Instant Pot to turn out a batch of indulgent and savory loaded mashed potatoes, full of melty cheese and smoky bacon. The potatoes cook until tender in the Instant Pot, leaving you free to shred the cheese and dice scallions. Cook the bacon strips in your oven, microwave, or skillet – whichever method is most convenient for you. Your family and friends will be so excited to see loaded mashed potatoes set out as a side dish for dinner and at barbecues.
6. Colcannon
For this recipe, head to the produce aisle to gather up potatoes, cabbage, green onions, and garlic. Colcannon is a traditional dish of Ireland that's enjoyed year-round but especially as part of Halloween celebrations when fortune-telling charms are hidden inside bowls of mashed potatoes. Our recipe shows you how to gently sauté shredded cabbage and sliced green onions, which are then stirred into mashed potatoes with milk, and butter. Colcannon is a great side dish for roasts and braised meat.
7. Sous Vide Mashed Potatoes
Do you love cooking sous vide style? You'll be thrilled to learn that even mashed potatoes can benefit from the precise conditions this cooking method provides. The ingredients include russet potatoes, cream, butter, and fresh rosemary. Sealed into a bag, they're cooked in water using a sous vide water circulator that keeps the temperature consistent the entire cook time. Because the ingredients never touch the water, the flavor of the mashed potatoes is purer and more intense, and the flavor of the rosemary is infused throughout.
8. Mashed Sweet Potatoes
Change things up from regular mashed potatoes, and make a side of sweet mashed potatoes. The sweet spuds go well with just about any kind of meat as well as salads and fish dishes. This recipe blends cooked, mashed sweet potatoes with a touch of maple syrup to enhance their natural sweetness and cream and butter for a silky texture. Mashed sweet potatoes are ready in about half an hour, and this batch makes enough to serve eight.
9. Instant Pot Cream Cheese Mashed Potatoes
Cream cheese and Greek yogurt make these mashed potatoes rich and creamy and give them a slightly tangy flavor. Using an Instant Pot to cook the potatoes means they take only nine minutes to cook through, with vegetable broth in the pot to infuse them with flavor. Other ingredients include minced garlic, butter, and pepper. In this recipe, the potato skins are left on for extra texture, but you can remove them if you'd rather.
10. Parsnip And Potato Mash
Adding parsnips to your mashed potatoes is a fun way to change up the flavor of your side dish, and a great way to incorporate a winter root vegetable into your meal. Parsnips have a flavor that's lightly sweet with some nuttiness, and it pairs so well with potatoes. Add sliced parsnips to the water to cook right alongside the potatoes. Mash them together along with milk, butter, salt, and pepper.
11. Garlic Mashed Potatoes
Flavorful mashed potatoes are no more difficult to make than regular mashed, and they really elevate your meal. In this recipe, cook your potatoes as usual until they're tender. Then, simmer milk, butter, and minced garlic together to create an intensely flavored sauce. Mash your potatoes with this mixture and they're ready to serve. Serve garlic mashed potatoes as a side with steaks, pork chops, roast chicken, or meatloaf. The recipe makes six servings.
12. Mashed Cauliflower
Folks who are looking for alternatives to potatoes because of certain dietary restrictions or to reduce carbs will appreciate this recipe. That versatile, cruciferous vegetable cauliflower can be transformed to resemble a comforting bowl of mashed potatoes, complete with melted butter. Boil the florets until they're tender, then blend them with garlic, sour cream, and seasonings. It's a really healthy, flavorful alternative that takes only 20 minutes to make. Serve mashed cauliflower as a side dish with meats and fish.