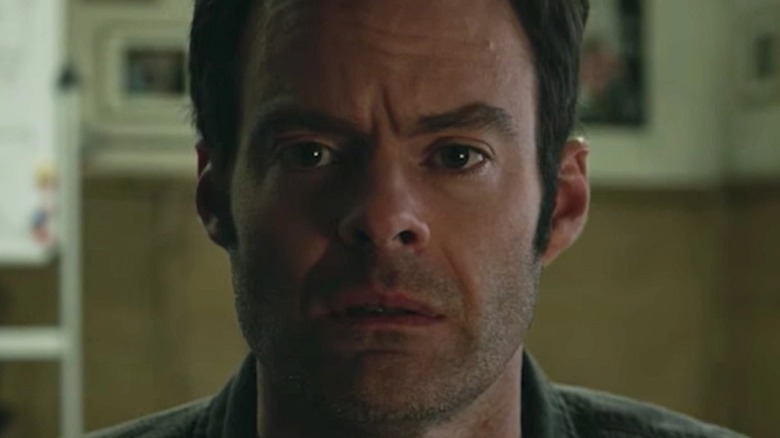 Since "The Sopranos" first hit television screens in 1999, viewers have experienced what has commonly been referred to as the Golden Age of Television (via Slate). While some still dispute whether this period of exceptional TV is still ongoing, there's no denying that 2022 has been a huge year in terms of television. Whether it's the debut of highly anticipated shows such as "House of the Dragon" and "The Lord of the Rings: The Rings of Power," or the conclusion of critically acclaimed shows such as "Better Call Saul," the past year has had something for everybody.
It doesn't matter whether you like animated series, documentaries, comedies, or dramas; over the course of 2022, there has been a constant supply of great television shows. Yet, with so many exceptional releases, it can be difficult to choose what to watch. After all, there's only so many hours in the day and deciding how to spend your free time is no easy task. Thankfully, sites like Rotten Tomatoes can provide a good jumping-off point, giving viewers the chance to see what the majority of critics thought of a show at a quick glance. Here are the best shows of the year so far according to the review aggregator.
16. George Carlin's American Dream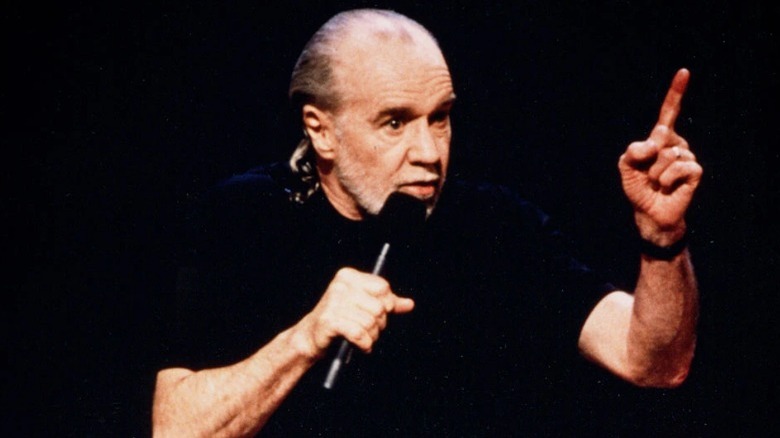 George Carlin is undoubtedly one of the biggest names in the world of comedy and set a new standard for comedians during his stellar career. His death in 2008 left a huge hole in the entertainment industry and few stand-ups have been able to capture audiences quite like him since. Considering his importance and influence, it makes sense that there should be at least one full-blown documentary TV series charting his life, and fans finally got exactly that in 2022 with the release of "George Carlin's American Dream" on HBO Max.
Created by Judd Apatow and Michael Bonfiglio, the series is split across two parts. The first deals with his rise to fame and how he tailored his comedy to appeal to a rise in counterculture. In the second episode, the series focuses on the comedian's struggles in his personal life and the challenge posed by taking his routines in a new direction to stay relevant. The series features plenty of archive footage of the man himself and interviews with colleagues and other notable comedic performers including Alex Winter, Chris Rock, Patton Oswalt, Jerry Seinfeld, and Kevin Smith.
"George Carlin's American Dream" didn't just receive critical acclaim for its thoughtful look back over Carlin's career and the deep examination of what made him such a success, but it was also recognized with numerous awards. This included several Primetime Emmy nominations and a win in the category for best documentary.
15. Derry Girls
British sitcom "Derry Girls" has been on the air since 2018 and became not only a successful series in the U.K., but something of a cult hit around the world. Set in the second-largest city in Northern Ireland, the show follows a group of teenage girls at a Catholic school led by the likes of "Bridgerton" star Nicola Coughlan and Jamie-Lee O'Donnell, with Saoirse-Monica Jackson, Louisa Harland, and Dylan Llewellyn all having leading roles as well.
A third and final season hit television screens in 2022 following extended delays caused by the COVID-19 pandemic (via Virgin Radio). With their time at school coming to an end, the season largely follows the girls as they prepare for their adult lives and start to make plans for the future. Not only is it as side-splittingly funny as ever, but some of the episodes in that last batch pack a meaningful emotional punch to the gut (via Mashable). According to The Guardian, the series went out on a high and has firmly established "Derry Girls" among the very best of British comedy.
14. The Serpent Queen
Broadcast on the Starz network, "The Serpent Queen" is a period drama from screenwriter and author Justin Haythe, who previously worked as an executive producer of "Bohemian Rhapsody." "The Serpent Queen" tells the story of Catherine de' Medici, a French Queen who ruled during the 1500s after marrying into the royal family as a teenager. It stars Samantha Morton, best known for her roles in "Synecdoche, New York" and "Minority Report," while Amrita Acharia, Barry Atsma, and Enzo Cilenti round out the cast.
Charting the political tricks that the queen uses to remain in power for more than three decades, "The Serpent Queen" is another series that has received universal acclaim since making its debut in September. The Guardian was particularly impressed with the performances of Morton, explaining that she perfectly captures the character of the crude and villainous royal. Meanwhile, Variety enjoyed the captivating story of Catherine de' Medici and the historical drama at play.
13. Better Things
Avid television viewers are probably already aware of "Better Things," which has been on the air since 2016. The comedy series was created by Pamela Adlon who also starred as protagonist Sam Fox. The character is a single mother who has to cope with the pressures of bringing up her three daughters while also maintaining a Hollywood acting career. The fifth and final season arrived at the start of the year on FX, bringing the much-lauded show to a conclusion.
According to a review from The Hollywood Reporter, the final season not only acts as a satisfying conclusion to the story, but also contains everything that has made the series such a success up to that point. Meanwhile, The Guardian lamented the fact that "Better Things" was ending but felt that it was going out without any lapses in quality — something that very few television shows manage to do. As was the case in previous seasons, Adlon's portrayal of Sam attracted plaudits from viewers and critics alike.
12. Harley Quinn
This adult-focused series isn't your usual DC superhero cartoon. Featuring the voice talent of Kaley Cuoco as the titular character, the show follows Harley Quinn's efforts to establish herself as a villain on her own terms after she splits from the Joker following years of underappreciation and abuse. Along the way, she joins forces with Poison Ivy and their relationship evolves into more than just friendship.
Since it first appeared, "Harley Quinn" has been a big hit, often celebrated for its exploration of mature and darker themes along with its impressive animation and stellar voice acting. The third season focuses on Harley and Ivy announcing their relationship to the world and dealing with the problems that arise, along with the resurgence of Batman and a zombie apocalypse. Calling "Harley Quinn" a "sensational show," Entertainment Weekly commented that it's as funny as ever and takes some unexpected turns with the new batch of episodes. Other critics agreed that the series had set a new high bar for quality in the crowded comic book adaptation market.
11. Reservation Dogs
Created by Sterlin Harjo and Taika Waititi, "Reservation Dogs" made history when it came to FX in 2021 as one of the first shows to not only feature an indigenous showrunner, but also a cast and crew made up of almost all indigenous people (via The Guardian). That has made it an important outlet for representation among the native populations of the U.S., as well as an incredibly well-received show with a wide appeal.
A success almost immediately after coming to TV screens, "Reservation Dogs" was named among the best television productions in 2021 by the American Film Institute and won a number of awards. The second season sees the group still dealing with the death of their close friend Daniel — a sort of ambient trauma that hangs over comparatively mundane tribulations like Elora's abrupt departure during the end of Season 1, Bear dealing with his absence of a male role model, and Cheese's brief tenure in a juvenile detention center overseen by Marc Maron. FX has already renewed the show for a third season (via Deadline) which is not much of a surprise considering the widespread acclaim that it has achieved so far.
10. What We Do in the Shadows
Another show from the FX network, "What We Do in the Shadows" takes place in New York and gives viewers a glimpse into the lives of three vampires living in modern Staten Island. A mockumentary comedy, it has attracted a huge quantity of plaudits from practically everyone who has seen it, with particular praise directed at the cast of Kayvan Novak, living comedy legend Matt Berry, and Natasia Demetriou. Led by showrunner Jemaine Clement, it is loosely based on the film that he and Taika Waititi released in 2014.
Nominated for numerous Primetime Emmy Awards, "What We Do in the Shadows" has been lauded throughout its first three seasons and 2022's Season 4 was no different in that respect. In this year's batch of episodes, Nadja (Demetriou) opens a vampire nightclub — it's sort of like the opening sequence from "Blade," except this time, no vampire hunters allowed. Meanwhile, psychic vampire Colin Robinson (Mark Proksch) is resurrected as an infant. Critics – Den of Geek, for example — loved the humor that seemingly never misses the mark.
9. The Kids in the Hall
"The Kids in the Hall" was a Canadian sketch comedy show originally broadcast in the late 1980s and early 1990s. Amazon Prime revived the show for a sixth season in 2022, bringing back all of the main cast — Dave Foley, Kevin McDonald, Bruce McCulloch, Mark McKinney, and Scott Thompson. High-profile guest stars such as Pete Davidson, Kenan Thompson, and Mark Hamill, also made appearances throughout the eight episodes.
A quick glance at Rotten Tomatoes reveals that the revival was a success, achieving a remarkable approval rating of 100%. Apparently, none of the stars have lost their comedy chops since the show was last on the air, with Salon saying that the comedy works even better now that the Kids have all grown older and honed their craft. On the other hand, the LA Times called it "well-written, expertly performed, unashamedly odd and full of beans." While some comedians get complacent and risk averse as they age, The Kids in the Hall have actually gotten even weirder. The original series might've been the cutting edge of comedy for Generation X, but the new episodes contain much, much more full-frontal middle-aged nudity.
8. Peaky Blinders
British period crime drama "Peaky Blinders" has not only risen to become one of the most popular and successful shows in the United Kingdom but also around the world (via The Guardian). The six seasons of the show follow a crime family that lives in Birmingham during the early 1900s. The sixth and final season, which aired on BBC One in 2022, sees the gang attempt to remain relevant as fascism takes hold in Europe when the Nazi Party seizes control in Germany while the Irish Mob continues to threaten them.
No one could say that "Peaky Blinders" didn't deliver with its final season. Paste Magazine noted the eye-catching and captivating action sequences. One common theme among the universally positive reviews is that this is a show that will be missed now that it has finished, as few other series manage to be quite as thrilling or visually appealing.
7. Dark Winds
"Fringe" and "Lost" writer Graham Roland brought "Dark Winds" to television screens in 2022. The cerebral detective story is an adaptation of the "Leaphorn & Chee" novels by Tony Hillerman. Executive produced by George R. R. Martin, it stars Zahn McClarnon and Kiowa Gordon as Navajo police officers who investigate two horrifying murders that go on to open up emotional wounds from their own histories. The rest of the cast is filled out with Rainn Wilson, Jonathan Adams, Jessica Matten, and Jeremiah Bitsui.
"Dark Winds" faced some criticism from the Navajo Times for what was described as a lack of authenticity in the way it portrays Navajo culture, though that didn't stop the series from receiving widespread critical acclaim. Reviews particularly focused on the impressive performances of the two lead actors as well as the different perspective offered by the fact it features indigenous main characters (via IGN). That makes it a mystery show that stands out as a fresh take on a popular genre.
6. Prehistoric Planet
Produced by the famed BBC Studios Natural History Unit, "Prehistoric Planet" is narrated by the affable but knowledgeable David Attenborough with Jon Favreau on as executive producer and Hans Zimmer as a composer. It's safe to say that the series has a lot going for it and it is little wonder that the end product turned out so well. The documentary series focuses on the Late Cretaceous period and, of course, relies heavily on CGI to recreate dinosaurs in all their occasionally terrifying glory.
Few nature documentaries have the impact of this series, with Mashable imploring its readers to watch the Apple TV+ show rather than see "Jurassic World: Dominion." The Guardian agreed, suggesting this was the most realistic way that dinosaurs have been shown on-screen and a true wonder to behold. "Prehistoric Planet" also attracted acclaim for the accurate way in which it portrayed dinosaurs' lives, with New Scientist celebrating the spectacular visuals and faithful depictions of the giant creatures.
5. The Legend of Vox Machina
"Critical Role" has become one of the most popular podcasts and web series on the planet. For those who aren't aware, it revolves around a group of voice actors who share a passion for "Dungeons & Dragons" taking part in several campaigns over the last half a decade or so. Following a hugely successful Kickstarter campaign, the group began work on an animated adaptation of their first campaign, which eventually ended up being a 12-episode season that was picked up by Amazon Prime.
Featuring the original voice cast — including Laura Bailey, Ashley Johnson, Matthew Mercer, and Taliesin Jaffe — in addition to animation from "Star Trek: Lower Decks" and "Big Mouth" studio Titmouse, "The Legend of Vox Machina" proved an almost instant hit. That led Amazon to commission two more seasons of the show, according to Polygon.
Most reviews for the show appreciated that it stayed largely faithful to the web series and didn't lose any of the adult humor and drama present within the podcast's "Dungeons & Dragons" campaigns. The A.V. Club commended the splendid animation and Inverse was thankful for the way that "The Legend of Vox Machina" has the ability to appeal to a wide audience, making it more interesting to those who might not necessarily seek out a podcast about a tabletop game series.
4. Bad Sisters
Sharon Horgan's a pretty famous name in television — she's the writer and-slash-or star of "Catastrophe" alongside Rob Delaney, the BBC's "Pulling," and HBO's "Divorce." In 2022, Apple TV+ unveiled her brutal black comedy series "Bad Sisters," co-created by Brett Baer and Dave Finkel. In "Bad Sisters," a group of siblings find themselves under investigation by insurance agents attempting to discover if they played a role in the death of their brother-in-law. (In fairness, their brother-in-law was a pretty terrible guy. We're not trying to justify or rationalize his murder — just adding context.)
Combining elements of comedy, drama, and murder mystery, "Bad Sisters" has a lot going for it. Although some people may be put off by the more absurd moments in the show, The Independent suggested that these surreal moments are when the series works best. Empire Online went on to praise the script and the acting of the cast, which helps keep everything moving along at pace rather than being bogged down by the bizarre events.
3. Barry
Alec Berg and Bill Hader created "Barry" in 2018 for HBO and the series has continued for two more seasons, with the third arriving in 2022 to great acclaim just like its predecessors. The award-winning series stars Hader as a former soldier and current hitman who ends up trying to swap his murderous profession to become an actor after he is sent on a mission in Los Angeles. The third season primarily deals with his continued attempts to make it in show business while falling back into his old ways as a contract killer.
Season 3 of "Barry" makes something of a tone shift, leaning more heavily into the darker aspects of the story compared to the two previous seasons. Yet, this is a decision that has proved to be a good one, with Rolling Stone highlighting that these dramatic moments are when the show is at its very best. Similarly, Vogue stated that the HBO show has markedly improved with its third outing, with Hader continuing to put in outstanding performances. "Barry" may not have a huge audience, yet it certainly seems like more people should be watching.
2. Heartstopper
"Heartstopper" is one of the few series in this list that isn't a comedy, drama, or documentary, although it does combine elements of some of those genres. The romcom series on Netflix is based on Alice Oseman's graphic novel series of the same name. Partially thanks to the fact that it was written by the original author, this show stays true to the subject matter and explores the same LGBT+ themes. While it features many different stories and characters, the majority of the focus is on Charlie and Nick, two young boys who fall in love while at school.
As Vox reported, "Heartstopper" is not only a great series, it also carries a message of acceptance and tolerance, inspiring young people to be themselves in the face of adversity. Of course, it helps that the show has plenty of quality as well. A review from The Guardian, for example, complimented the show for its heart-warming and positive message, emotional stories, and great performances. It's little wonder that it has been renewed for a second and third season already by Netflix (via Radio Times).
1. The Bear
FX's comedy-drama series "The Bear," which debuted on Hulu, has turned out to be arguably the biggest surprise hit of 2022 when it comes to television. In fact, following a successful launch in June, the series was officially renewed for a second season less than a month later (via TV Line). Created by Christopher Storer and starring Jeremy Allen White, the show tracks the tribulations of Carmen Berzatto. The award-winning chef who is used to working in New York City fine dining moves back home to Chicago to run The Original Beef of Chicagoland restaurant following the death of his brother.
Certified fresh on Rotten Tomatoes with a staggering 70 reviews all giving a positive reception, it is hard to argue against the idea that this series is a must-watch. Especially when the likes of The Guardian argue that everyone should check it out as soon as possible as it is simply done so well. Another element of "The Bear" that received widespread praise was the soundtrack, which included an eclectic mix of songs from across several decades (via Uproxx).