Over the course of three seasons, viewers of the Hallmark Channel came to love "Cedar Cove."
Airing from 2013 until 2015, the series was anchored by Andie MacDowell, whose big-screen resume includes such hits as "Four Weddings and a Funeral" and "Groundhog Day." Set in a quaint coastal town not far from Seattle, MacDowell played Olivia Lockhart, a local judge who adjudicates cases in her bucolic seaside hometown. When the opportunity arises for her dream job — becoming a federal judge in Seattle — romance beckons with the arrival of the town newspaper's new editor, Jack Griffith (Dylan O'Neal). Over the course of the series, viewers watched the life of Olivia, Jack, and the other denizens of Cedar Cove unfold, experiencing their highs, lows, and everything in between.
The series proved to be a perfect fit for the Hallmark Channel, with viewers finding the show to be a delightful distraction from the sometimes grim realities of modern life. Although the show bade farewell after two years, it remains beloved by viewers today.
Cedar Cove was Hallmark Channel's first original series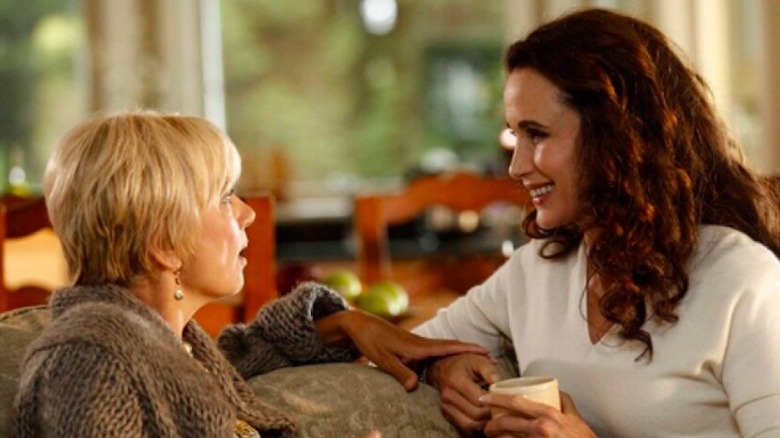 Hallmark Channel had amassed a considerable audience for its made-for-TV movies, particularly the ones set during the holidays, so it was inevitable that the cable channel would eventually begin producing its own series. In 2012, Hallmark Channel issued a press release, announcing that it had begun producing its first TV series, "Cedar Cove," which would kick off with a two-hour pilot. Andie MacDowell and Dylan Neal were announced as the series' stars, with the premiere slated for the following year.
As planned, the first season debuted in 2013 and proved to be every bit as successful as had been hoped. According to a follow-up press release issued after the first season had completed its run, the ratings were spectacular. Not only was the series deemed to be the No.1 primetime show on all of television, but it was also No. 1 on social media when it came to general entertainment cable TV programming.
Meanwhile, the show also made the Hallmark Channel the most-watched cable network during the show's Saturday night time slot. Thanks to those ratings, noted the release, a second season had been given the green light.
The show is based on a bestselling book series
When Hallmark Channel began casting about for its first original series, programming execs decided to adapt an already-popular book series with a built-in fanbase: Debbie Macomber's bestselling "Cedar Cove" novels.
For Macomber, bringing her books to television was an antidote to what she found to be an increasingly dark television landscape. "TV has gone toward shock value," she said in an interview with Channel Guide. Lamenting the violence in dramas, she added, "The comedies that are out there are so full of sexual innuendos that I'm not comfortable watching it." The way she saw it, there was a vast audience with similar sensibilities who weren't thrilled with much of what television was offering. "I really feel there is a huge need for just plain good storytelling," she declared.
Execs at the Hallmark Channel clearly viewed things the same way, pointing to the success of Macomber's books as proof. "People were following these characters for 10 books since the early 2000s, and we knew this was something we could look at as a series," Michelle Vicary, Hallmark Channel executive vice president of programming, told The Seattle Times.
Author Debbie Macomber enjoys greeting fans in the real Cedar Cove
When novelist Debbie Macomber first envisioned the "Cedar Cove" book series that spawned the Hallmark Channel series, she didn't have to use much imagination when inventing the fictional town of Cedar Cove. "I based it on Port Orchard where I live," she told the The Seattle Times.
The location of the "real" Cedar Cove is certainly not unknown to fans of both the books and the TV series, who journey to Port Orchard to catch a glimpse of the actual local landmarks described so lovingly by the author. Some of them have even had the chance to encounter Macomber in her natural habitat.
In a blog post on her website, Macomber wrote about her experience meeting fans who've paid a visit to Port Orchard. "Often when they first meet me they are a bit hesitant. I want my readers to know that I'm friendly," she said. Joking that fans are in for a surprise to see that she doesn't look like her PR photos ("Unfortunately, make-up artists and hairdressers don't usually follow me around to enhance my look," she quipped), she noted that fans who meet her often remark that they thought she'd be taller than she actually is. "Trust me, I wish I was, too," she wrote. "One nice thing is that rarely does anyone say, 'Oh, I thought you'd be thinner.' Thank you."
Cedar Cove has an unusual connection to James Bond
Even the most ardent, hardcore fans of "Cedar Cove" might not realize that the show boasts a surprising, six degrees of separation-style link to the James Bond movies, one of Hollywood's biggest and most enduring film franchises. That connection lies with "Cedar Cove" star Bruce Boxleitner, who played recovering alcoholic Bob Beldon on the show.
As he explained in a 2014 interview with Buzzy Mag, before being cast in "Cedar Cove" he appeared in the 2011 sci-fi film "51," focusing on the allegedly extraterrestrial origins of the notoriously secretive U.S. Air Force base known as Area 51. That film, he explained, was directed by Jason Connery, son of original James Bond star Sean Connery. "Sean Connery is probably one of my top five all-time favorite movie stars and actors. And I grew up with James Bond, and every role he's ever played, he's phenomenal," said Boxleitner of the iconic actor, who died in 2020. "So anyway, Jason's working, and suddenly his phone rings, and I hear, 'Yes, dad, yes, dad.' And I went, 'Dad — oh, my God!' And I hovered around, going, 'Jason, can I say hi to him?'" Ultimately, the disappointed actor recalled, "I didn't get to talk to him."
Andie MacDowell almost turned down the role of Olivia Lockhart
When Andie MacDowell was first presented with the script for the "Cedar Cove" pilot, her reaction was decidedly mixed. On one hand, she told Reel Life with Jane, she fell in love with the character and the storyline. "I read the script about a small town and an incredibly intelligent woman who helps people, and she's bright, and interesting, and the town was lovely," she said. The problem, however, was that her youngest daughter — "Maid" star Margaret Qualley — was about to begin her final year of high school at the time. With "Cedar Cove" shooting in Canada, MacDowell faced a difficult choice. "I wanted to have that last year with her," she explained. When Margaret and her sister, Rainey Qualley, read the "Cedar Cove" script, however, they went to their mom and insisted that she take the job. "And so I said yes, because they told me to," MacDowell recalled.
Another big draw, MacDowell told Cape Cod Times, was the inherent positivity she saw emanating from the show. "One of the reasons I was excited about doing the series was because when I went to work every day, I was going to be in a warm, fuzzy place. It's very wholesome," she shared. "There's no profanity. It's uplifting, and the fans are super nice and kind."
Vancouver doubles for Washington state in Cedar Cove
The fictional town of Cedar Cove is, like the real town upon which it is based, situated in the Pacific Northwest — in Washington state, to be precise. For budgetary reasons, however, filming actually took place in the Canadian province of British Columbia, on Canada's west coast. The series pilot was shot in and around the B.C. capital of Victoria, situated on Vancouver Island. Among the local landmarks seen in the pilot, noted the Oak Bay News, was the Oak Bay Kiwanis Tea Room, transformed into an ice cream shop for "Cedar Cove."
Speaking with Assignment X, "Cedar Cove" star Andie MacDowell gushed about her experience in Victoria. "Beautiful," she said of the popular tourist destination. "It's not very far away. I got on the boat when I was in Victoria, and we went down to go whale watching, and we were in the United States without our passports, just right off an island just right off of Seattle. So as a crow flies, it's not very far."
Production on the rest of the series took place on the mainland, in Vancouver, and surrounding areas. In fact, noted the North Shore News, most of the series was shot in the satellite city of North Vancouver.
The series received solid reviews
Hallmark Channel's series have, by and large, been more successful attracting viewers than critical acclaim and awards. And while edgy, gritty programming tends to resonate more with television critics than Hallmark's wholesome fare, "Cedar Cove" received generally positive reviews.
The Wall Street Journal, for example, described the show as being "as burden-free as a day on the beach with a book, and umbrella, and a breeze." Then there was Mary McNamara, Los Angeles Times television critic, who wrote, "Amid all the noise and haste of modern television, there is something to be said for going placidly. While IFC and Sundance, History and soon even Discovery duke it out with gritty 'prestige' hopefuls, Hallmark remains true to its brand, offering a frank and unapologetic alternative." A review in The New York Times made a similar observation, noting that "Cedar Cove" perfectly caters to Hallmark Channel's audience.
Cedar Cove star Dylan Neal has a secret side hustle
When "Cedar Cove" star Dylan Neal isn't on a film or TV set, he can probably be found in his wood shop crafting custom-made furniture. As the actor revealed in an interview with Woodworking Network, his passion is replicating antique furniture dating from the 18th and 19th centuries.
"You know, artists whether you are an actor or musician or a painter, you have a lot of down time in between jobs, and woodworking is a great hobby for an artist," he explained. Admitting he's an aficionado of British furniture from the 1700s and 1800s, Neal discussed the various methods he uses to provide a piece of furniture he's just built with the appearance of a legit antique. "It's hard to make something look like it's 100 years old when it's new," he explained.
As Neal told the Victoria Times Colonist, he once worked as a cabinetmaker and took to building pieces for a Vancouver-based furniture retailer to keep himself busy when all film and television production halted during the 2007-2008 writers' strike. "I've been a furniture builder for 20 years," he said. "There's a bunch of us who do this," he added, possibly referring to such fellow actors/carpenters as Nick Offerman.
The series never shied away from embracing its wholesomeness
Based on Debbie Macomber's "Cedar Cove" novels, the Hallmark Channel series inspired by the books didn't stray much from the author's philosophy of providing wholesome, noncontroversial entertainment for people seeking some gentle escapism. In fact, one plot line in the books — about a tormented Vietnam veteran who takes his own life — did not make it into the series. "That was too heavy for Hallmark," Macomber told The Seattle Times. "They are making changes to fit with their format, and I'm fine with that."
In fact, while many shows revel in edginess, "Cedar Cove" leaned into its inherent purity. "I mean, what was the last wholesome show out there?" star Dylan Neal told The Hollywood Reporter. "I think it was 'Judging Amy' or 'Providence,' and we're talking 10 years ago. That's the last time this type of show was on the air."
Andie Macdowell believed Cedar Cove was 'the most creative' show on TV
While there were no doubt some who equated the wholesomeness of "Cedar Cove" with cheesiness or banality, star Andie MacDowell had a far different take. In fact, she explained in an interview with The Hollywood Reporter, she believed the show's guileless innocence was actually its secret weapon.
"We have enough of the other stuff. We don't need any more reality TV, women yelling at each other. I can't watch that stuff," MacDowell said. "It's not to say the other stuff is not quality; there is a lot of quality stuff out there. But there is just nothing wholesome. And it is nice to be in something wholesome." In MacDowell's view, gritty dramas featuring graphic violence and dark themes may be all the rage, but what "Cedar Cove" was doing was actually far more difficult to pull off. "If you ask me, we are the most creative of all, because there is plenty of the other. And then there's us," she explained.
Staying well within the niche that had been carved out is, in fact, what has led Hallmark Channel to experience success. "The 'Sons of Anarchy Christmas Special' just doesn't have a ring to it," joked Hallmark screenwriter Dave Alan Johnson in an appearance at the Television Critics Association press tour, as reported by the Los Angeles Times.
Cedar Cove treaded cautiously when delving into sexuality
Given the wholesome nature of "Cedar Cove" and the Hallmark Channel in general, portraying sexuality onscreen was approached with caution. "We'll say things that are flirtatious and more adult," said MacDowell during a session at the Television Critics Association press tour (via The Baltimore Sun). She explained how the characters on "Cedar Cove" nudged the Hallmark envelope, if ever so gingerly. "We push the limits with a bit more humor and adult flavor," she shared.
This was all appreciated by MacDowell, who told The Hollywood Reporter, "[Among TV dramas] there is some great programming, but my concern is that a lot of it starts to look like pornography … all the people I looked up to, that I aspired to [as an actress] didn't take their clothes off."
MacDowell's co-star Dylan Neal said at the TCA tour, "We have to be true to the Hallmark brand." He noted that Debbie Macomber's books are more romantic than they are sexual. "So there's a lot of courting and a lot of smooching," Neal said. "It's much more emotionally based," said "Cedar Cove" producer Connie Dolphin said of the show's approach to drama in an interview with the North Shore News. "Things are gentler and more delicate … there are bumps along the way … but it's a nice drive."
Fans were never given a chance to say goodbye
All good shows must come to an end, and such was the case with "Cedar Cove" when Hallmark Channel opted to cancel it after three seasons. As TV Series Finale pointed out, there was no mystery behind the cancellation; ratings had been steadily declining since the first season, when the show generated an average viewing audience of 2 million. By the second season, that had dropped to just under 1.9 million, while the third season averaged about 1.6 million.
"Cedar Cove was the first series launched on Hallmark Channel, and we are incredibly proud of the exquisitely beautiful three-season arc it delivered," read a Hallmark Channel statement posted on the "Cedar Cove" Facebook page.
Because of the timing of the cancellation, however, the show never got the chance to produce a full-fledged finale that wrapped up all the storylines (although curious fans could always turn to the books to find out). In any case, "Cedar Cove" author Debbie Maccomber recalled the experience of seeing her beloved books adapted for the screen as a career high point. "It was an honor that will remain one of the highlights of my career," she wrote in a blog post.