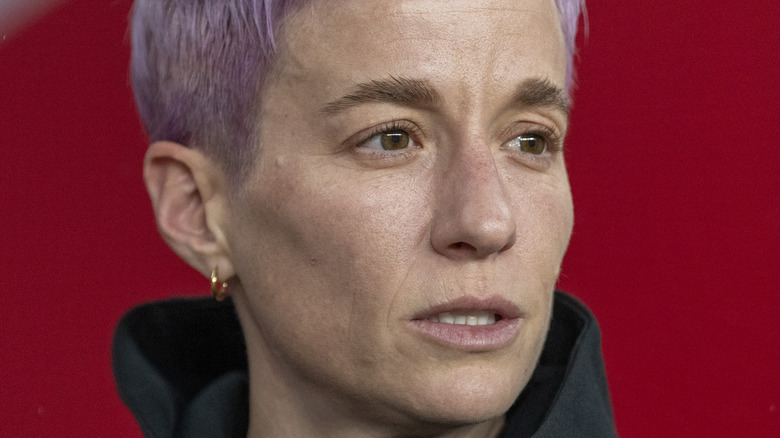 The following article includes mentions of attempted suicide and homophobia.
For decades, several professional athletes have continued to break down barriers when it comes to conversations surrounding sexuality and gender identity in their respective sports. Back in 1981, tennis legend Billie Jean King made history as the first prominent female athlete to publicly come out as lesbian after being outed. "I said: 'I'm going to do it. I don't care. This is important to me to tell the truth,'" King later told NBC News of her decision to confirm her sexuality. "The one thing my mother always said, 'To thine own self be true.'"
Some 32 years later, NBA star Jason Collins became the first openly gay player in any of the major U.S. sports leagues. "I'm a 34-year-old NBA center. I'm black. And I'm gay," he wrote in an essay for Sports Illustrated, adding, "I've reached that enviable state in life in which I can do pretty much what I want. And what I want is to continue to play basketball. … At the same time, I want to be genuine and authentic and truthful."
Apart from Billie Jean King and Jason Collins, however, several more athletes have, in more recent years, fully embraced their truth, proving time and again that their sexual and gender identities do not define their skills as athletes. From Nikki Hiltz to Brittney Griner, here are some professional athletes who proudly identify with the LGBTQ+ community.
Candace Parker
In December 2021, WNBA player Candace Parker confirmed she was married to Russian professional basketball player Anya Petrakova. "2 years ago, I got to marry my best friend in front of our close family and friends. My heart could have exploded," she wrote alongside an Instagram carousel of their wedding photos, going on to write to her wife, "Thanks for constantly challenging me and telling me when I'm wrong. I LOVE YOU. I appreciate you, I value you and what we have." The two-time WNBA champion also revealed she and Petrakova were expecting a child together, adding that they had always dreamed of having a family together. Their son, Airr Larry, was born in February 2022.
Speaking later on her decision to come out, Parker revealed that she was inspired by her teenage daughter, Lailaa, whom she welcomed from a previous marriage to NBA player Sheldon Williams. "​​I always tell my daughter to be herself," Parker told Time. "And I can't say that to her if I'm not doing it myself. I don't want her to ever think that I'm ashamed or not proud of our family."
Later on in the interview, Parker shared thoughts about coming out, admitting she was initially not on board with the idea. "I was always against 'coming out' because I felt like in this society, in this day and age, you shouldn't have to do that," she said. "Society had a way of putting this pressure on people to come out. And I don't think it should be that way."
Carl Nassib
In June 2021, Tampa Bay Buccaneers linebacker Carl Nassib became the first active player in the NFL to come out publicly as gay. "I'm at my house here in West Chester, Pennsylvania. I just wanted to take a quick moment to say that I'm gay," Nassib said in an Instagram video shared with his thousands of followers. "I've been meaning to do this for a while now, but I finally feel comfortable enough to get it off my chest. I really have the best life, I've got the best family, friends, and job a guy could ask for."
Nassib would later attribute his coming out to his hopes of helping young LGBTQ+ people who might have been struggling just like him. "Personally, from my life, I didn't want to do it, but I just … felt a huge obligation to my community," he said during an appearance on the "Comeback Stories" podcast that September. "To all the young kids out there who were struggling with their sexuality, if I could just help a few of them out, then I really could sleep better at night."
This reasoning has further played out in Nassib's involvement with The Trevor Project, an organization providing crisis support to LGBTQ+ youth. In his coming out video, Nassib announced a $100,000 donation to the group. "They're an incredible organization. … They are truly doing incredible things, and I'm very excited to be part of it," he said.