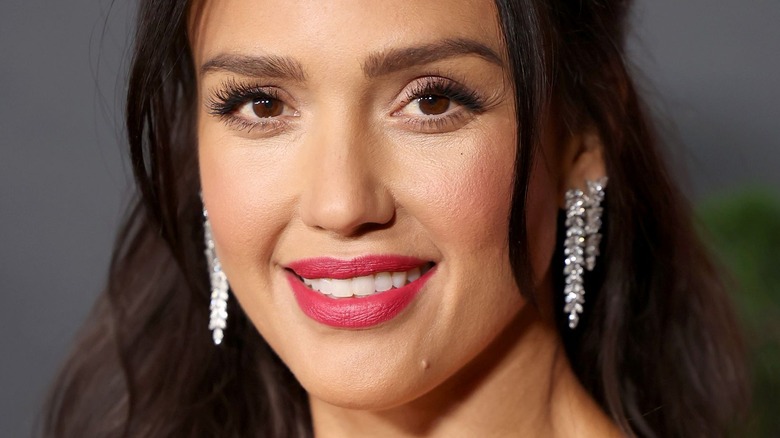 Jessica Alba appears to have it all; beautiful movie-star looks, a devoted husband, three wonderful children, and a killer career as an entrepreneur as well as actor. What many are unaware of is Alba's dark past, and all that she had to overcome to get where she is today. Alba has been very vocal about how she's never been fully confident in herself or her talents. She said on "Let's Be Real with Sammy Jaye" [23:26], "I was so wildly insecure about my abilities as an actress. I felt so judged … I was my worst critic. I think I didn't feel worthy."
Alba also quipped that she "never had a fun experience" while shooting some of her earlier films, because she was so tense and scared. She added that her family also lived "paycheck to paycheck" — which is never easy on anyone. The "Fantastic Four" star is clearly one of the strongest women in Hollywood, and her story is truly inspiring. Let's look at the tragic details about Jessica Alba's life.
Developing early in her childhood lead to labels being made about her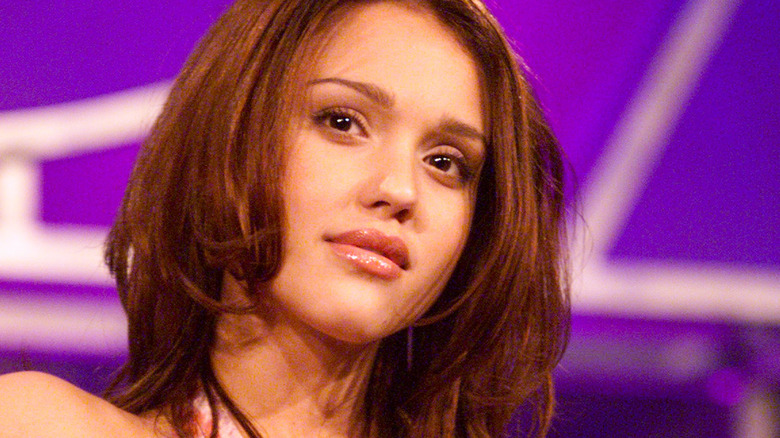 Jessica Alba opened up about her past in a book of essays written by female celebrities called "If I'd Known Then," developed by Ellyn Spragins. After developing a larger chest than the rest of her classmates, she was labeled a vulgar name by her school principal and some of the PTA moms who Alba described as "self-righteous." She added, "The accusation still ricochets . . . 'They think I'm a slut?'" Alba disclosed to Cosmopolitan that she went through puberty at a very early age, causing some of her uncles to linger with some of their hugs. She also noted that she'd pretty much go out with any boy that asked her out, seeing how she rarely got invited on a date by anyone — until she began dating the much older Michael Weatherly.
Alba lost her virginity as a teen to Weatherly (her "Dark Angel" co-star), and the two developed an intense relationship. Weatherly and Alba even became engaged when she was only 20 years old, and he was 33 years old, per Page Six. Alba's Christian parents did not approve of the relationship, which caused a major strain in her family dynamic. He also proved not to be the nicest guy, after actor Eliza Dukshu called him out for sexual harassment on the set of CBS' "Bull." Because of her relationship with Weatherly, Alba revealed she would most likely never date an actor again (via Cosmopolitan).
If you or anyone you know has been a victim of sexual assault, help is available. Visit the Rape, Abuse & Incest National Network website or contact RAINN's National Helpline at 1-800-656-HOPE (4673).
Jessica Alba left her church, much to her family's dismay
Jessica Alba grew up in a very Christian household, with her parents becoming born-again Christians. However, Alba decided to leave her church as a teen due to a number of reasons. During an interview with the Daily Beast, Alba stated how she fell in love at 16. "[I] had this major crush on … I guess he was a drag queen? He was bisexual and a ballerina, and this was while I was at the Atlantic Theater Company in Vermont. We used to go to this gay club and I'd dance with him all night, four nights a week. I was so in love with him and thought, 'There's no way this guy's going to hell.'"
In Alba's church, they believed that "anybody who's gay is going to hell," and, like most churches, they certainly did not believe in pre-marital sex. This caused the star to second-guess her religion, because of the strong feelings she felt for this person, leading her to hate how homophobic the church was.
Alba had also stated at Gwenyth Paltrow's GOOP Health Summit that she left her church because her youth pastor made her feel shame that older men would hit on her because of her appearance – she even went to the lengths of trying to make herself look like a boy (via TooFab). We can see why she made the decision to part ways from her church.
If you or someone you know is dealing with spiritual abuse, you can call the National Domestic Violence Hotline at 1−800−799−7233. You can also find more information, resources, and support at their website.
Jessica Alba was kidnapped on the set of Flipper
In the mid-90's, Jessica Alba's fame was on the rise, as she was shooting a new series called "Flipper," based on the beloved dolphin when she was 15 years old. Perhaps one of the most shocking Hollywood kidnappings occurred on the set of "Flipper," as Alba went missing for over 14 hours. According to Mirror, she had begun to receive odd phone calls, which she chalked up to being just prank calls. Shortly after the odd phone calls, her kidnapping took place. After a considerable search, Alba was found in the trunk of a car bound and gagged.
Unfortunately, Jessica Alba was unable to provide police with any type of information about her abduction, so the case was eventually dropped. Alba has remained very quiet about the situation and has never publicly discussed the kidnapping with the media, although it was eventually leaked to the press.
She was bullied in school
In 2007, Jessica Alba opened up to the Daily Mail about being bullied in school when she was a kid. "My dad had to walk me there so I didn't get attacked. I'd eat my lunch in the nurses' office so I didn't have to sit with the other girls. I'd get beaten up and picked on all the time. It was about being different and not fitting in." The "Sin City" star then went on to explain that her mixed race and her parents' poverty didn't help the situation, either. "I had a strict family at home and lots of the girls were looked after by a whole string of nannies, so they got away with all sorts," she added.
Alba also revealed to Vanity Fair that when she had a role on "90210," she was told she could not look any of the cast members in the eye, even going as far as saying she'd literally be thrown off the set if she made eye contact. Yikes!
"I'm tough now because as a kid I never fought back," the star recalled to the Daily Mail, noting that she didn't want to bring herself down to the level of her attackers. She even says that she's skeptical when people are nice to her; stating that she wasn't used to being treated nicely and always felt like she had to keep her guard up. Heartbreaking.
Both of her parents battled cancer
Jessica Alba hasn't always had the easiest relationship with her parents due to their differences in religious beliefs, but she remains a devoted daughter. She revealed to Romper in 2021 that her mom once had cancer, and Alba herself always seemed to struggle with her health, as well. "My mother had cancer at a really young age, in her early 20s. I grew up with chronic illness. I had five surgeries before I was 11 years old. I had chronic allergies, and I was hospitalized a lot as a child," she shared.
The same year as her Romper interview, Alba took to her Instagram to post a video and share that her father, Mark Alba, had thyroid cancer. The two did a super cute father-daughter dance and she used the caption, "My #papasito is about to SLAY #thyroidcancer –starting his radiation therapy mañana. " Heartwarmingly enough, Alba found her comments section flooded with well wishes to her family from her friends and fans.
Unfortunately, in addition to starting radiation, Mark Alba also was sick with COVID-19 at the time — talk about bad timing. His real estate company revealed the scar on his neck and the fact that he was sick with COVID on an Instagram post, as well.
Her dogs died within two weeks of each other
A few weeks after announcing the joyful news on Instagram that Jessica Alba and hubby Cash Warren were expecting a third child, the star announced the death of her dog Sid only a few weeks later, per Today. Sid, also a bit of a celebrity, even made an appearance in Alba's film, "Honey."
Unfortunately and unbeknownst to them, Alba's family was about to lose another dog. Two weeks later, she posted the following on Instagram, "Came home to a dog less home — our sweet girl Bowie is now resting in peace with her sister Sidders. It's been a rough two weeks. Will cherish our last night cuddling forever. Bowmeister was the sweetest love bug. RIP Bowie."
A series of sweet photos of Bowie the dog were posted while Alba's famous friends and fans offered their condolences. According to People, Alba noted that Bowie was named after the late David Bowie, and helped ensure she would go on 30 minute walks when she was pregnant with her second daughter, Haven. Today, the family of five welcomed two new puppies into their home, Dolly and Lucy (via Daily Mail). We couldn't be happier for them!
She's out of the spotlight now
Jessica Alba has been a household name for over a decade, between her career as an actor and as an entrepreneur (she's CEO of The Honest Company). Alba seemed to stop acting at the very height of her career, due to wanting to focus on her children and health of her family. During an interview with Romper, after stating how much her health meant to her, she said, "That's really what motivated me. My motivation was not like, 'Am I ever going to get hired again?' Frankly, I was at the top of my career. [After Honor], I couldn't go back to what I was doing before and be authentic. I just couldn't. I didn't care about it the same way, it was something bigger. I felt like if I was going to have this platform, then what can I do with it that could be meaningful and make a difference? That just felt so real when I became a mom for the first time."
Additionally, many of Alba's films did less than stellar at the box office and her performances in certain films garnered subpar reviews, allowing her to drop off the A-list. Per Forbes, although her business is now thriving and publicly traded on the Nasdaq (go girl!), it certainly hasn't been the easiest road to success. After multiple lawsuits, including one from shareholders who felt as though Honest was not being truthful about sales during the COVID-19 pandemic, Jessica Alba always seems to hold her head high and prevail. Now that's a true girlboss!