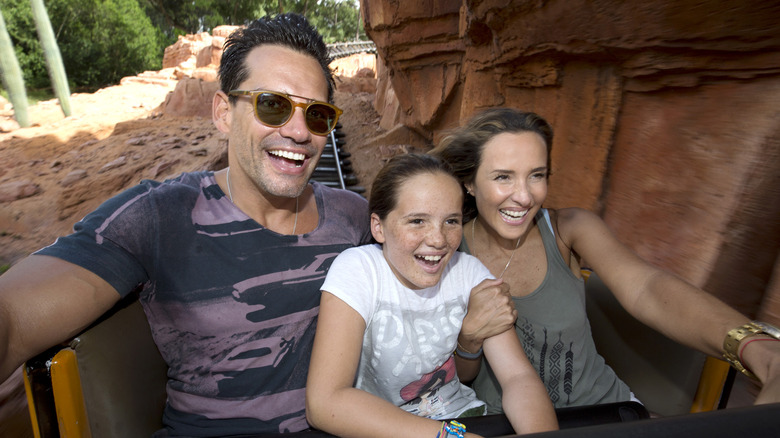 Finding an amusement park fit for the whole family is no easy feat. Looking at it broadly, there are far too many theme parks in the world that are geared towards too specific an audience. In most cases, a park can be geared more intrinsically toward children, offering a tame variety of rides suitable for younger parkgoers, or the park will cater more toward adults. Finding a happy medium between those two extremes can be tricky, with most parks tending to veer more toward one group over another.
However, that doesn't mean there aren't a ton of amusement parks across the U.S. that are ideal vacation spots for the whole family. Maintaining a decent mix between slower rides for the little ones and more awe-inspiring attractions for older parkgoers, these parks are able to entertain visitors of any age group. Many of these parks also boast some wonderful seasonal attractions to draw in attendees, having either great water parks, spooky Halloween-themed shows, or special musical performances.
From iconic theme parks in California to hidden gems in Pennsylvania, here are some of the absolute best amusement park destinations perfect for your next family vacation.
12. Kennywood in West Mifflin, Pennsylvania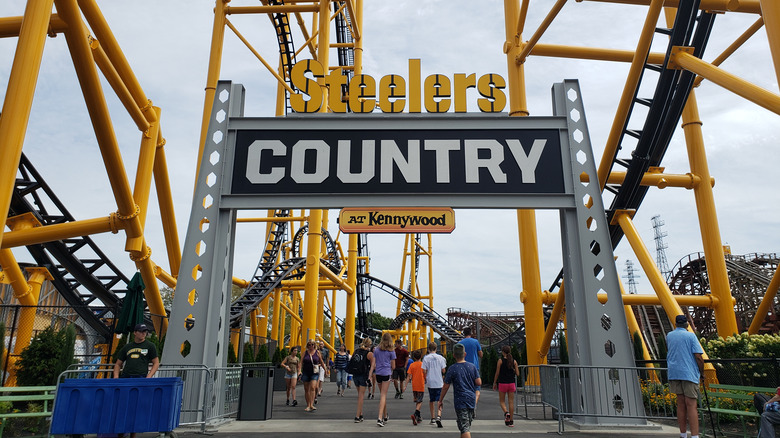 Not to be confused with similarly-named Dollywood in Tennessee, Kennywood is one of the premiere amusement parks on the East Coast. Nestled along the scenic Monongahela River just 20 minutes south of Pittsburgh, Kennywood has been delighting park visitors for over 120 years. Named a National Historic Landmark in 1987, it has an impressive variety of attractions for visitors to choose from — including three vintage roller coasters that first opened back in the 1920s.
Kennywood may not have the same name power as its Pennsylvania neighbor, Hersheypark, but it still makes for an incredibly worthwhile place to visit with the whole family. Roller coaster enthusiasts can delight in the park's signature thrill rides, like Jack Rabbit, Phantom's Revenge, or Sky Rocket. Hardcore football fans can also find something to delight in, with Kennywood having the only NFL-themed roller coaster in the country with their signature ride, The Steel Curtain.
But what makes Kennywood such a special place is the emphasis it puts on entertaining younger visitors. In addition to the number of rides and play areas fit for children, Kennywood also has two themed areas perfect for toddlers. There's the Thomas the Tank-themed Thomas Town and Kiddieland, an area of the park with miniaturized versions of Kennywood's most famous rides.
11. Hersheypark in Hershey, Pennsylvania
Who doesn't love chocolate? Originally opened as a way for Hershey Chocolate Factory employees to spend their downtime, Hersheypark is one of the most popular theme parks in Pennsylvania. An ideal spot for both theme park hobbyists and chocolate lovers alike, there's a little something for everyone at Hersheypark. The amenities offered at Hersheypark are practically endless, encompassing an amusement park, water park, and an entire zoo all in one.
Sprinkled throughout the park are a variety of rides and attractions, including several rough-and-tumble wooden roller coasters and newer, smoother roller coasters. For those uncertain of what kinds of rides they can handle, each attraction is rated on a convenient thrill-rating system, ranking rides on a scale of 1 to 5, from "Children's Attractions" to "Aggressive Thrill Attractions."
For those who aren't fans of speedier roller coasters, there's also plenty to take in at Hershey's ZooAmerica, a nature walk that houses over 200 animal species from across North America. Near the end of the year, the park is also home to some fantastic seasonal experiences. Their Hersheypark Halloween runs throughout autumn, transitioning into Hersheypark Christmas Candylane for the remainder of the year.
Of course, the park's standout feature is its massive candy store, containing practically every chocolate candy you can think of. There is also a 30-minute tour that takes you through the process of making a Hershey candy bar. As fun as it is, we wouldn't recommend hopping on this ride with an empty stomach!
10. Holiday World in Santa Claus, Indiana
The simplicity of Holiday World is its most ingenious feature. On paper, it's exactly what it sounds like — an amusement park themed around the holidays. Divided into four themed lands and located in the aptly-named town of Santa Claus, Indiana, Holiday World is a wondrous place for anyone who harbors some deep affection for the holidays. Christmas lovers can hop on Prancer's Merry-Go-Round or even chat with Santa Claus himself — he's available for meet-and-greets year-round at the park.
For those who enjoy a more chilling park experience, stop by the Halloween section and climb aboard The Raven or The Legend, two wooden roller coasters themed after Edgar Allan Poe's "The Raven" and Washington Irving's "The Legend of Sleepy Hollow," respectively. If you're looking for a great meal, visit the patriotic Fourth of July or Thanksgiving sections at the park. No matter where you end up, there are always new sights to take in and new rides to visit, from turkey-themed Tilt-a-Whirls to perilous raging rapids.
Along with being a fantastic park to visit, Holiday World is also cost-friendly for vacationers looking to save. In particular, one of Holiday World's main selling points is the fact that they give you free parking, free sunscreen, free wi-fi, and free soft drinks upon entrance to the park. Comparing the cost of those things to other parks, Holiday World is an absolutely great place to take the family, all while saving some money, too.
9. Silver Dollar City in Branson, Missouri
When you step foot in Silver Dollar City, it truly feels like you've taken a step back in time. Burrowed in the Ozark Mountains, the site of Silver Dollar City was once home to several mining operations in the late 19th century. With the mine having long since closed down, the amusement park of Silver Dollar was constructed around the caves once explored by these prospectors, which are still open and available to visit over a century later.
Using its regional history to its advantage, Silver Dollar City incorporates a Western-themed facade to its amusement park layout, with elements of history found around every corner. On the park's indoor roller coaster, Fire in the Hole, guests come face to face with the Bald Knobbers — a group of Missouri vigilantes active in the 1880s. Another notable roller coaster, Wildfire, is themed around an inventor's attempts to build a flying machine capable of crossing the Ozarks.
In terms of its historical background, Silver Dollar City is one of the few amusement parks where you can walk away having learned a great deal about the local urban myths. The park also offers a two-hour long cruise aboard the Showboat Branson Belle, taking visitors on a gentle, meandering voyage along the gorgeous Table Rock Lake. If you come near the end of the year, you can also catch the park's annual Christmas festival, "An Old Time Christmas," named USA Today's Best Theme Park Holiday Event five years running.
8. Kings Island in Mason, Ohio
Like Hersheypark and Kennywood in Pennsylvania, Ohio is an unexpected haven for some amazing theme parks in the U.S. One of the crown jewels of the Midwest, Kings Island is among the more famous parks in the Buckeye State, directly rivaling industry giant and fellow Ohio amusement park, Cedar Point. Contained within its ground are over 60 attractions, including a total of 14 roller coasters, and an expansive water park covering 33 acres.
Located just 24 miles northeast of Cincinnati, Kings Island is well-known for both its roller coaster selections and its multiple appearances in well-known TV shows, like "The Partridge Family" and "The Brady Bunch." Among their roller coasters are fan-favorite coasters like the record-setting Beast, Banshee, Mystic Timbers, and one of the newest coasters on the property: the gargantuan Orion, which first opened back in 2020.
While Kings Island's focus on roller coasters is substantial, the park also has plenty of entertaining activities for younger visitors and those who prefer more easygoing attractions. Aside from its coasters, Kings Island is famous for its large children's play area, with the park's Peanut-themed Snoopy Island having won Amusement Today's Golden Ticket Award for Best Kids' Area 18 years in a row (2001-2018). On top of all of that, perhaps the best part about visiting Kings Island is that an admission ticket for the park also grants you access to its adjoining water park, Soak City.
7. Knott's Berry Farms in Buena Park, California
Aside from Disneyland in Anaheim, there is no California theme park more iconic than Knott's Berry Farm — the original theme park destination on the West Coast. Predating Disneyland by about 30 years, Knott's Berry Farm began as a family farm stand on the highway. However, over time and thanks to its signature boysenberries and famous fried chicken, the park became one of the premiere theme parks in the entire U.S., growing into the 160-acre park it is today.
Like Disneyland, it's worth stopping by Knott's Berry Farm just to be able to tell people you visited such a historic location. The park offers a ton of superb rides, including an animatronic-packed Timber Mountain Log Ride, commonly considered one of Knott's most popular attractions as it is one of the oldest log flumes in the nation. Roller coaster fans should look for the Silver Bullet or Pony Express rides for some thrills, too.
However, it's not roller coasters or thrill rides alone that make Knott's Berry Farm what it is. Knott's focuses on a far more unique park-going experience for visitors by putting a heavy emphasis on its walk-through attractions. At any time of the day, guests are encouraged to take a stroll down its famous Old West Ghost Town and interact with some of its many residents. Younger visitors can also enjoy the Peanuts-filld Camp Snoopy, and those who love a home-cooked meal simply have to stop in at Mrs. Knott's Chicken Dinner Restaurant.
6. Dollywood in Pigeon Forge, Tennessee
Those who hate country music will probably roll their eyes, but you certainly don't have to love country to enjoy Dollywood. Founded by the legendary musician Dolly Parton, Dollywood's Tennessee property includes an amusement park, water park, and resort, providing first-class entertainment in several ways at once. In terms of its theme park, Dollywood is divided into a whopping 11 different lands, all of which feature their own variety of distinct attractions and food options.
In Wilderness Pass, guests can climb aboard the FireChaser Express, a roller coaster that launches riders both forward and backward, as well as Wild Eagle, the first wing coaster in the U.S. In Timber Canyon, visitors can explore the Mystery Mine or test their strength at Lumberjack Lifts. For less intense attractions, stop in at The Village for a meandering trip aboard the Dollywood Express. Or, if you're in the mood for a show, you're also able to kick back at the Showstreet Palace Theater, the Celebrity Theater, or the Heartsong Theater for some excellent in-person entertainment options.
Dollywood is an excellent option for traveling families that will be looking for nearby amenities.The DreamMore Resort and Spa is located nearby, as is the animal-friendly cottages at a neighboring park called Doggywood. And to top it off, Dolly Parton's Stampede Dinner Attraction offers a Western-themed dinner that you can look forward to at the end of a busy day of rides.
5. Cedar Point in Sandusky, Ohio
Along with its main competitor, Kings Island, Cedar Point is commonly considered one of the best parks in the Midwest. Located on the banks of Lake Erie and originally constructed in 1870, the park has grown to encompass 364 acres and over 70 attractions, 15 of which are some of the best roller coasters in the country. It's this high number of coasters that have made Cedar Point the self-proclaimed "Roller Coaster Capital of the World" — something that's hard to argue with once you've actually ridden any one of their amazing coasters yourself.
Among the catalog of coasters visitors can choose from is the stomach-churning Corkscrew, the vintage Cedar Creek Mine Ride, and the classic wooden coaster, Blue Streak, that's been operating in the park since 1964. For the bravest of visitors, there's also Magnum XL-200, Millennium Force, Valravn, and Steel Vengeance — all four of which contain hills over 200 feet in the air. While the park's roller coasters are its main selling point, Cedar Point isn't only meant for adrenaline-loving daredevils. More gentle rides, like Thunder Canyon's river rapids adventure or the Cedar Downs Racing Derby (recognized as a National Historic Landmark by the NRHP), are also sure to win over visitors of all ages.
For those looking for some more relaxed fun in the sun, there's also a one-mile stretch of beach you can visit along Lake Erie, as well as the Cedar Point Shores Waterpark and the Castaway Bay indoor waterpark.
4. Six Flags Magic Mountain in Valencia, California
Six Flags is practically synonymous with roller coasters, and visiting any one of their illustrious parks nationwide makes it easy to see why. As remarkable as many of these parks are, California's Six Flags Magic Mountain is the standout location in terms of its coaster availability. With a total of 20 roller coasters, Magic Mountain holds the record for the most roller coasters of any amusement park in the world, thanks to the recent addition of Wonder Woman: Flight of Courage.
Daredevils looking for some top-notch thrills are free to take on any one of the park's famous coasters, like the no-nonsense X², the standup coaster The Riddler's Revenge, or the flying coaster Tatsu. And of course, if you're willing to wait in some lengthy lines, check out the new Wonder Woman roller coaster — it's the tallest, longest single-rail roller coaster worldwide.
That being said, Six Flags Magic Mountain has plenty of other welcome sights and attractions for non-roller coaster fans as well. If you're looking for some gravity-defying fun, there's Lex Luthor: Drop of Doom, which takes guests upwards of 400 feet in the air, dropping them at speeds as high as 85 miles per hour. For gentler rides, you can cool down with the Log Jammer, Tidal Wave, or Roaring Rapids, or take a ride with younger visitors aboard the Speedy Gonzales Hot Rod Racers or the 4D interactive dark ride, Justice League: Battle for Metropolis.
3. Busch Gardens in Tampa, Florida
Busch Gardens' location in Tampa Bay is a family-friendly option for guests looking to do more than ride roller coasters. The park's defining feature is its extensive zoo, with attendees able to see over 200 animal species, including giraffes, hippos, gorillas, and lions. Guests can even visit animals up close and personal through the park's Animal Connections program, which allows you to directly interact with flamingos, sloths, and more.
In terms of its attractions, Busch Gardens Tampa Bay has a wide selection of rides, each of which is featured in the park's internationally-themed lands (modeled after Morocco, the Congo, and Egypt, among others). There's the inverted roller coaster, Montu, the innovative dive coaster, SheiKra, and the brand-new hybrid coaster, Iron Gwazi, the last of which earned a spot on Amusement Today's list for best new amusement park attractions.
Aside from its award-winning roller coasters, Busch Gardens Tampa Bay also has plenty of attractions for those looking for a more leisurely park-going experience. Younger guests can stop by the Sesame Street Safari of Fun and enjoy some of the play areas found in the land, along with miniaturized roller coasters. Busch Gardens Tampa Bay also has tons of memorable shows for you to enjoy as well, most of which coincide with the holiday seasons, such as a dazzling ice skating production called "Turn It Up!" at the Moroccan Palace Theater.
2. Universal Studios in Universal City, California
Like Six Flags, Universal Studios has quite a few amusement park properties worth visiting, but the best among them is Universal Studios' original location in California. A theme park built almost entirely around Universal Studios' many intellectual properties, it's a fantastic place for film lovers of all ages. For those who like immersive 3D simulators, there's The Simpsons Ride and Despicable Me Minion Mayhem. If you're interested in the art of filmmaking, you can also take in the stunt show extravaganza, Waterworld: A Live Sea War Spectacular, or see some special effects demonstrated at the Special Effects Stage in the upper lot.
Of course, The Wizarding World of Harry Potter is an absolute must-see, especially for those avid "Harry Potter" fans in attendance. There, you can check off virtually every "Potter" fans' fantastical bucket list, like enjoying a Butterbeer at the Three Broomsticks, shopping for wands at Ollivanders, and bagging some great novelty items from Zonko's Joke Shop. In terms of attractions, there's the excellent roller coaster, Flight of the Hippogriff, and the dark ride, Harry Potter and the Forbidden Journey, which winds guests through the halls of Hogwarts.
If you're looking for a break after taking in all the park has to offer, you can kick back at the DreamWorks Theatre and watch a show centered around the animated companies' films. Additionally, guests can take Universals' world-famous backlot tour and see actual filming locations used in "Back to the Future," "War of the Worlds," and Alfred Hitchcock's "Psycho."
1. Walt Disney World's Magic Kingdom in Orlando, Florida
It may seem cliché to pick such an obvious choice, but there really is no better amusement park in the world than Disney, especially when it comes to entertaining the whole family. After all, what other park is there that lets you venture through a haunted mansion, witness the drunken escapades of carefree pirates, meet your favorite fictional princesses, and battle Stormtroopers all on the same day? Indeed, there's never a dull moment at Disney.
Having an entire bubble of land at their disposal, Florida's Disney location includes four theme parks. Visitors can expect to go on a worldwide tour at Epcot, take in the natural wonders of animals at Animal Kingdom, and encounter Woody, Buzz, and Darth Vader at Hollywood Studios.
However, no Orlando trip is complete without visiting Walt Disney World's premiere attraction, the Magic Kingdom. Divided into six diverse lands, there's no shortage of iconic attractions to experience, from soaring over Neverland with Peter Pan to blasting off on a high-speed thrill ride in Tomorrowland. Additionally, Disney offers some delicious and original options when it comes to food, with guests able to enjoy everything from a full feast at Cinderella's Castle to a simple Blue Milk while walking through Star Wars: Galaxy's Edge.
It's a park that's aimed at the child in all of us, delighting visitors regardless of their individual ages.