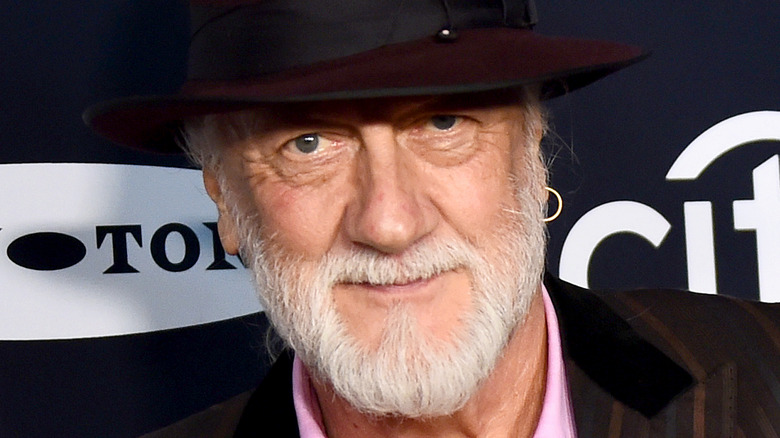 A band is like a family. Sometimes, the members get along well and have great chemistry, and other times, individuals butt heads or make choices that don't mesh with the goals of the other members. Fleetwood Mac, which has seen a number of lineup changes since its debut in 1967, has weathered a lot over the past 50-plus years. The one stalwart has been Mick Fleetwood, who has been the pillar of the band since its inception. He has seen many of his colleagues come and go (and come and go again) over the decades but hasn't let the ups and downs be the nails in the coffin of Fleetwood Mac. One might say the group is stronger than ever despite several setbacks over the years.
Despite a lot of personal and professional drama both on stage and off, Fleetwood Mac continues to resonate with fans. During the height of the COVID-19 pandemic in fall 2020, a TikTok video featuring the band's hit song "Dreams" introduced the group to a whole new generation. Simply put, Fleetwood Mac has survived, whereas many other bands have faded away. Here's what the members, current and former, have been up to in recent years.
Mick Fleetwood let bygones be bygones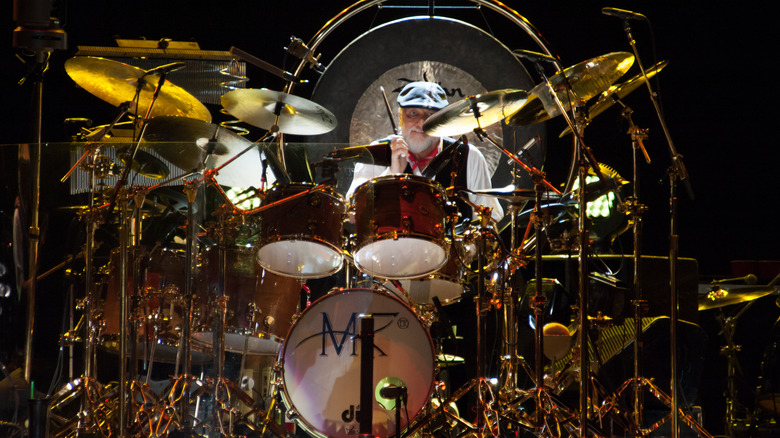 Mick Fleetwood is the drummer and one of the founding members of the eponymous band, but he's also released a few solo albums over the years, according to AllMusic. While the group's original lineup from the late '60s and early '70s didn't last, Fleetwood was able to keep the band plugging along into the 1990s, when it truly became successful on the mainstream level, particularly after the release of the 1997 album "The Dance." Still, Fleetwood Mac continued to be a revolving door when it came to its members, and in 2021, Mick revealed to the Los Angeles Times who he'd like to join him on the next tour.
Fleetwood explained, "My English pipe dream, sitting on top of a mushroom, would be that everyone who's ever played in Fleetwood Mac would be welcome. That's what would drive me, because this is all about a collective." His vision would be a huge undertaking. As you will see, many bandmates have cycled in and out over the years. However, Fleetwood's comment was particularly interesting because former member Lindsey Buckingham had been famously fired three years earlier. And while Fleetwood initially refused to imagine himself playing with the guitarist again, he changed his tune in March 2021. He told Rolling Stone, "I've really enjoyed being re-connected with Lindsey, which has been gracious and open."
John McVie 'doesn't have the heart' to tour again
Bassist John McVie joined Fleetwood Mac when it first started in 1967 and became a top blues band in England. He was initially married to singer Christine McVie, but the pair's marriage disintegrated in 1978. John's alcoholism waxed and wanes in terms of severity but "never quite disappeared" during the band's early years, according to AllMusic. Over time, he purportedly conquered his drug and alcohol issues and eventually released a solo album, "John McVie's Gotta Band With Lola Thomas." He also ended up working with former band members as well as Warren Zevon. Little is known about John's personal life because he has kept his business to himself.
In February 2021, ex-wife Christine revealed during an interview (via The Express) that she doubted John would tour again with the band and said his interest in doing live shows was "an impossible question to even answer." She explained that she doubted either John or Stevie Nicks would be on board for another tour, adding that John was "feeling a little bit frail." She added, "He's fine, but he just hasn't got the heart for it any more. He wants to get on his boat. You reach a certain age where you go: 'Hey, I'm not going to bust a gut doing this anymore.'" John is in his 70s, so it's not really a surprise that he would like to spend his twilight years relaxing versus dealing with the rigors of touring cross-country or internationally.
Christine McVie says Fleetwood Mac is 'part of her DNA'
When pianist and singer Christine McVie joined Fleetwood Mac, she had recently married John McVie and found huge success with the band alongside her husband, Mick Fleetwood, Stevie Nicks, and Lindsey Buckingham. She and John divorced in 1978, but she stuck with the band until releasing a self-titled solo album (which was actually her second solo effort) in 1984, according to AllMusic. In the '90s, she continued to work with the band but no longer wanted to tour. She did end up touring with them again but officially "retired" in 1998 after getting inducted into the Rock and Roll Hall of Fame with her fellow bandmates.
In 2004, McVie released another solo album, 'In the Meantime." She earned the British Academy of Songwriters, Composers and Authors' Gold Badge of Merit in 2006. In 2013, she appeared on stage for the first time in 15 years with the Mick Fleetwood Blues Band. She officially rejoined Fleetwood Mac in 2014, touring with the "Rumors" lineup, and she, Buckingham, Fleetwood, and her ex-husband dropped an album they'd started before the tour, "Lindsey Buckingham/Christine McVie," which came out in 2017.
In February 2021, McVie clarified comments suggesting that Fleetwood Mac was "done," explaining to the BBC (via Rolling Stone) that the band was "part of [her] DNA" and that "in no way are any members of Fleetwood Mac 'done' with being part of the band." She added, "As for future touring … Who knows. We continue to hope for the best." However, any hopes for a reunion involving Christine McVie were dashed with her death at age 79 in November 2022, as CNN reported.
Stevie Nicks may or may not tour again
Stevie Nicks joined Fleetwood Mac in 1975 alongside her then-boyfriend and musical collaborator Lindsey Buckingham, who insisted that he wouldn't join the band unless Nicks was part of the package, according to Biography. The group's chemistry was palpable, and she became an instant sensation. Her and Buckingham's relationship suffered when the band released its sophomore album, "Rumours." Although it won the Album of the Year Award at the Grammys, she and Buckingham split up. After a couple more albums, Nicks focused on solo projects and developed a drug and alcohol problem in the mid-'80s. Still, she managed to make new music on her own as well as collaborate with the band.
In the early '90s, Nicks kicked her drug habit, released "The Dance" with Fleetwood Mac, and was part of the subsequent tour. She continued to release solo albums as well as work on Fleetwood Mac's 2003 LP "Say You, Will." In 2014, she assisted Adam Levine's team on "The Voice" and appeared as herself on the television show "American Horror Story." In 2020, the "Stevie Nicks 24 Karat Gold The Concert" film was released, according to The Arizona Republic. When the COVID-19 pandemic hit, Nicks expressed in urge to perform for fans but didn't reveal whether she would do so with the band or solo. In contrast, bandmate Christine McVie revealed in February 2021 that she didn't think Nicks would tour with the band anytime soon. Nicks herself has not said one way or another whether she'd be open to another tour, though.
Lindsey Buckingham fears Fleetwood Mac's legacy has been damaged
Lindsey Buckingham joined Fleetwood Mac in 1975 with his then-girlfriend Stevie Nicks, and he was a huge part of the band's success in the 1970s and beyond. Fleetwood Mac fired Buckingham in 2018 and replaced him with Mike Campbell, formerly of Tom Petty and the Heartbreakers, and Neil Finn from Crowded House. Buckingham reportedly wanted to devote some of his time to his solo projects, and it was interfering with the band, an allegation he denied. Buckingham claimed ex-girlfriend and bandmate Stevie Nicks simply didn't want him to take an extra three months off to complete a solo album. He said to Marc Maron (via NME): "[I]t just got to the point where someone [Nicks] just didn't want to work with me anymore."
He added that many members over the years were able to work on their side projects, yet no one stood up for him when it was time for him to work on a solo album. The resulting split was difficult for Buckingham, who insisted that the band's 43-year legacy was harmed as a result. As of July 2021, he had not spoken to Nicks but was in contact with Mick Fleetwood. "Me and him [Fleetwood] are soulmates and always will be," he explained. "We love each other and reinforced each other's sensibilities in the band."
Buckingham is expected to release a self-titled solo album in September 2021.
Peter Green struggled with mental illness
When Fleetwood Mac formed in 1967, singer/songwriter and guitarist Peter Green was behind several of the band's early hits, including "Oh Well," "Man Of The World," "Albatross," and "Black Magic Woman," which eventually became a hit for Santana, according to LiveAbout. He contributed to albums such as "Mr. Wonderful," "English Rose" and "Then Play On." Unfortunately, his LSD use, a sudden passion for religion, and a desire to give the band's profits to charity became a problem, so he quit the group.
Eventually, Green received a schizophrenia diagnosis, and he allegedly got electroshock therapy while seeking treatment in psychiatric facilities, according to the Los Angeles Times. At one point he lived on a kibbutz, and he spent some time in prison after threatening to kill his accountant. Green sporadically worked on music over the years, but things took a turn for the worse in 1984 when he had a mental breakdown. He formed the Peter Green Splinter Band in the '90s, and he was with Fleetwood Mac when the band was inducted into the Rock & Roll Hall of Fame in 1998. Green died in 2020 in his sleep at the age of 73, according to the BBC.
If you or someone you know is struggling with mental health, please contact the Crisis Text Line by texting HOME to 741741, call the National Alliance on Mental Illness helpline at 1-800-950-NAMI (6264), or visit the National Institute of Mental Health website.
Jeremy Spencer left the group for a religious cult
Jeremy Spencer played slide guitar and piano when he joined Fleetwood Mac in 1967, contributing to the band's early focus on blues and rock music. He released a solo album in 1970, and he also recorded "Kiln House" with Fleetwood Mac, according to AllMusic. Then he abruptly left the band. In 1971, the 22-year-old disappeared just hours before the group was scheduled to play a show in Los Angeles. He left his hotel and was unaccounted for until police found him five days later at the Children of God headquarters.
Spencer had joined the religious cult because even though Fleetwood Mac was very successful, it wasn't fulfilling him spiritually. The band was left scrambling to find a replacement and contacted former member Peter Green to help out. According to the Vintage News, after joining the religious sect, Jeremy became Jonathan. Besides looking for spiritual fulfillment, another reason he left the band was because he didn't agree with "the dark, heavy rock road the band was heading in the late '60s," he explained in 2014.
Spencer formed the blues-rock band Albatross in 1975, released a couple of albums, and toured India. He also stayed involved with the Children of God, which was later dubbed the Family. In 2006, he produced his first studio album in nearly 30 years, "Precious Little."
Danny Kirwan disappeared from the public eye
Guitarist, singer, and songwriter Danny Kirwan was just 18 years old when he hooked up with Fleetwood Mac in 1968, joining Mick Fleetwood, John McVie, Peter Green, and Jeremy Spencer. He appeared on five Fleetwood Mac albums and provided vocals for each song he wrote with the group, according to the New York Times. During a 1972 tour, Fleetwood fired Kirwan after the guitarist had an altercation with Bob Welch, who'd recently joined the group, per the Independent. He purportedly smashed his Gibson Les Paul guitar during the incident, and Fleetwood later said Kirwan resembled ​"someone you just looked at and thought 'My god'… I hoped it was almost putting him out of his agony."
Kirwan released three solo albums after he left Fleetwood Mac, but they were not commercially successful. He was out the door while the band was leaving its bluesy rock sounds behind and starting to embrace the pop-rock style it would later epitomize in the '70s. He largely disappeared from the public eye until the early '90s, when the Missing Persons Bureau found him living at Mungo's hostel in London. Kirwan explained that the real reason he'd left the band was because he "couldn't handle the lifestyle and the women and the travelling." For someone who was just a teenager when he joined the group, it's not a surprise that Kirwan had a difficult time coping with the rock and roll lifestyle.
Bob Welch took his own life years after departing
Bob Welch joined Fleetwood Mac after Peter Green and Jeremy Spencer left the band, teaming up with Mick Fleetwood, Christine McVie, John McVie, and Danny Kirwan, according to The Guardian. He recorded the albums "Future Games," "Bare Trees," "Penguin," and "Mystery to Me," which featured Welch's song "Hypnotized." He then left the band in 1974 after completing "Heroes Are Hard to Find." Welch was coping with marriage problems, and after enduring band member changes and other obstacles, he felt it was time to move on. He was famously replaced by Lindsey Buckingham and Stevie Nicks.
In 1998, when the band was inducted into the Rock and Roll Hall of Fame, Welch wasn't included, which he considered very hurtful. However, he may have been passed over because he was involved in a lawsuit involving royalties against his former bandmates and Warner Bros. (an issue that was later settled out of court). In 2012, Welch had spinal surgery and was dealing with a tough recovery that would render him an "invalid," according to the Hollywood Reporter. Afraid that his wife Wendy would suffer the consequences, he took his own life at the age of 65. Bart Herbison, Welch's friend and executive director of the National Songwriters Association, explained that the musician's father had been an invalid, and Bob didn't want Wendy to go through the same process.
If you or anyone you know is having suicidal thoughts, please call the National Suicide Prevention Lifeline​ at​ 1-800-273-TALK (8255)​.
Mike Campbell joined after Tom Petty passed away
Many of the members of Fleetwood Mac had a little bit of experience before joining the band. Mike Campbell had a lot. He and Neil Finn were hired to replace Lindsey Buckingham after he was fired in 2018. Except for occasional side job, Campbell spent the majority of his career playing guitar for Tom Petty and the Heartbreakers, which he was a part of from 1970 until Tom Petty's death in 2017. When Campbell was approached by Mick Fleetwood to join the band, he was excited but had a little trepidation, according to Rolling Stone. He joined the band's international tour and also contributed to the album "50 Years: Don't Stop."
In early 2020, Campbell's side band the Dirty Knobs dropped its debut album "Wreckless Abandon." Campbell produced it and wrote all the songs, according to Uncut. He said of the passion project, "We just became a good little band and got really close. It's my band — I write the songs and get to sing the best I can — but it's a real band, it's not a solo project." As for touring with Fleetwood Mac, he explained that it was a "joyful" experience and that he had a lot of fun. He also said that he was open to touring with them again should the time come, noting that the band was "on hiatus until things develop." And, of course, the COVID-19 pandemic hit soon afterward, and the band's hiatus continues.