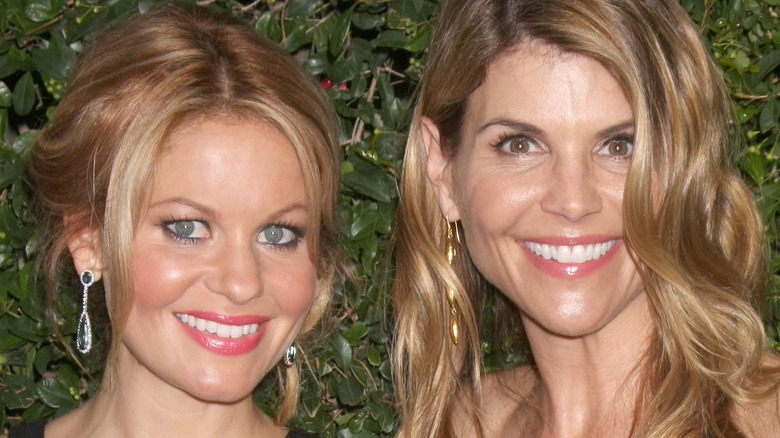 Can you believe it's almost Christmastime again? As you binge-watch your way through the holidays, you may notice some familiar faces in the annual Hallmark lineup. No, you're not going crazy — you've probably seen these actors and actresses in your childhood favorites, or in other holiday movies for that matter.
According to Lacey Chabert, a Hallmark Christmas regular, the supportive, family-first atmosphere of the channel is what keeps the same talent coming back for more (per Glamour). "I did a movie when I was seven months pregnant, and they hid me behind Christmas trees and presents. I went back to work right after the baby, and they allowed me to have the baby on set and travel with my family. They've been very supportive," Chabert shared.
As for what makes these movies so profitable year after year, actress Candace Cameron Bure has said audiences love the predictable formula (per Variety): "You know that someone's going to fall in love, you know that there's going to be a kiss at the end. You know it's just going to be happy, warm, and heartfelt. People run to that, especially at the holidays." Hallmark movies appear to be a self-supporting ecosystem of their own, which isn't surprising considering the viewership numbers.
So where have we seen these faces before? Read on to find out what other roles your favorite Hallmark actors and actresses have had over the years.
Candace Cameron Bure
She's probably the most famous person on this list, and for good reason. In case you didn't recognize her instantly, Candace Cameron Bure got her start as D.J. Tanner in "Full House" as a child. If you've watched the show, you know it's hard to forget the snarky, baby-faced little girl who danced around her room singing into a hairbrush or the stunning teen model who debuted a memorable off-the-shoulder black prom dress in Season 6. Thankfully, her return to the 2016 "Fuller House" series brought more fun D.J. moments.
If you weren't a "Full House" fan, you may recognize Bure from one of her other appearances as a young actress. She had cameos on a number of popular television shows from the '90s and early 2000s, including "Bill Nye the Science Guy," "Boy Meets World," and "That's So Raven" (via IMDb). Her Hallmark legacy includes dozens of movies, many of which are Christmas favorites like "Let It Snow," "Christmas Under Wraps," and "Christmas Town." She loves making seasonal, family-friendly films so much that she was dubbed the "Queen of Christmas." She has since moved to the Great American Family channel (GAC) to continue making content as an actress and executive (via Variety).
Lori Loughlin
Like Candace Cameron Bure, Lori Loughlin starred in the 1990s "Full House" series, but she wasn't a child actress at the time. Prior to her time as the perfectly stylish and hilariously dramatic Aunt Becky, Loughlin appeared in the crime drama "The Edge of Night," CBS' 1988 "Summer Playhouse," and "The Equalizer." You may have also seen her in "Summerland," "90210," "Garage Sale Mysteries," and, of course, "Fuller House" (via IMDb).
Though she's kept busy with a few television shows, Loughlin hasn't starred in a movie since 2018 (likely due to her involvement with Rick Singer's college admissions cheating scandal). Here's some good news for her fans: Loughlin has a new movie coming out in 2023. "Fall Into Winter" is slated for a January premiere on the Great American Family channel. According to People, the film will be an enemies-to-lovers style rom-com, which sounds like the perfect entertainment for a cold winter's eve.