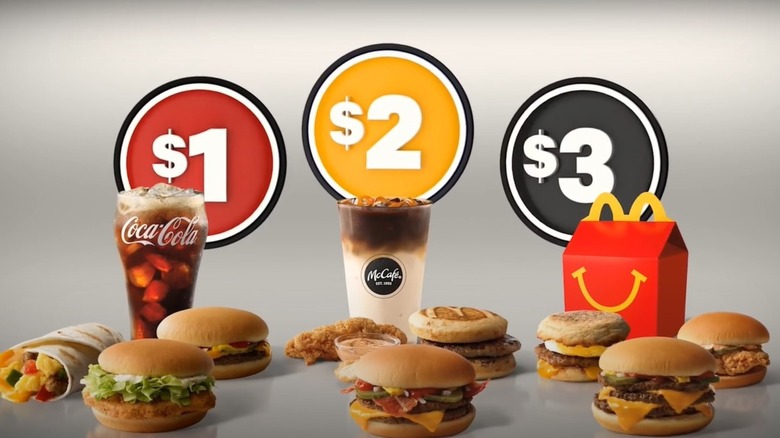 Fast food just isn't what it used to be — at least, that's what we often tell ourselves. Frankly, nostalgia is a powerfully persuasive force, often leaving folks wishing for a bygone era that never really was. In turn, this leads many to glorify a time when fast-food restaurants truly cared about customers over profits … which was never really the case.
But we're not here to vilify fast-food companies for conforming to the principles of capitalism. After all, whether it's a Popeyes chicken sandwich or any of the available fast-food burgers at our disposal, we love the stuff. But beyond the culinary appeal of the food itself (and the speed of service), our cultural obsession with quick-service cuisine may be attributable to its cheap prices.
The list of deals that have prompted us to patronize certain fast-food chains (over and over again) through the years may be endless. And with historic inflation taking a massive financial toll in 2022, we've never been more wistful for our favorite gone-but-not-forgotten promotions. With that in mind, we've assembled some of the most prominent retired offers we can't help but miss. So grab a box of tissues — there will be tears, folks — and read about some of the beloved fast-food deals that have sadly disappeared over time.
Subway $5 footlongs
Five … five dollar … five dollar foot-long (any, any, any). Be honest: You heard the classic Subway jingle in your head when you read the last sentence, didn't you? That's fair. After all, the earworm advertisement promoting the international sandwich chain's beloved (and no-longer-available) $5-footlong deal was played in near-constant rotation during the late 2000s and early '10s. The deal was so popular, in fact, that it might have spurred a widespread Subway abuse problem, similar to Blake Anderson and the boys on "Workaholics."
Of course, we can't help but lament the full-time discontinuation of Subway's $5 footlong in 2016 — a decision that was announced on the company's Twitter feed. But there's no real mystery as to why the deal ended. While it certainly helped Subway reach corporate heights it was unlikely to achieve otherwise and was a hit with consumers, well … that was precisely the problem.
Frankly, it was simply too difficult for franchisees to turn a profit over time with the $5 price tag. And if $5 was too low for individual stores to consider the deal's reintroduction in 2020 (via Restaurant Business Online), the odds are high it's disappeared forever.
Wendy's Super Value Menu
Dave Thomas wasn't running a charity with his Wendy's restaurants, but he was clearly committed to providing a genuinely enjoyable experience for his customers. Actually, when we consider the fast-food chain's formerly-offered Super Value Menu, maybe the Wendy's founder really did care about his customers' wallets. After all, the Super Value Menu offered a plethora of individual items for just 99 cents each, including a junior bacon cheeseburger, Frosty, baked potato, chili, fries, and chicken nuggets (via Athens News).
Now, we're talking about the original 99-cent Super Value Menu from Wendy's — as in the one touted by Thomas in an early '90s commercial. Introduced in 1989, according to The New York Times (a full decade before McDonald's Dollar Menu hit the market), the Super Value Menu sort of feels like a dream in hindsight. Considering a junior bacon cheeseburger costs twice as much in 2022 at $1.99, it's easy to see why we're so sad this deal disappeared.
While we could have selected an item or two from the Super Value Menu, we chose to lump them together. Frankly, we still long for this beloved fast-food deal, which may be why we were so fond of Wendy's 4 for 4 deal – at least when it included the junior bacon cheeseburger as an option.
McDonald's $1 any-size soft drinks
When someone discusses the alleged Dollar Menu at McDonald's in 2022, it's a bit infuriating. After all, while the company was the best-selling fast-food chain in 2018 by a wide margin (via QSR Magazine), the Dollar Menu we all know and love hasn't been around for quite some time. Still, while we aren't oblivious to the nature of business and economics, we're not sure we're ready to forgive McDonald's for pulling its $1 any-size soft drink deal in 2022 (via The Wall Street Journal).
One of the more recent casualties on our list, the removal of McDonald's $1 any-size soft drink deal was one of the saddest fast-food items we lost in 2022. We're still at a loss trying to process why the international conglomerate chose to crack down on its fountain beverage bargain to fight inflation.
Then again, we suppose that's just the way life works sometimes. You can't always get what you want, after all, though we're unsure why this beloved fast-food deal had to be the one to disappear.
Burger King $1 Whopper Wednesdays
If you didn't know anything about the former Whopper Wednesday deal from Burger King — where customers could purchase the chain's signature sandwich for $1 (via Thrillist) — you might assume it's a relic from the 1980s or '90s. But the single-dollar Whopper deal was actually only introduced in 2020 as an app-exclusive deal, which makes this one of the shortest-reigning beloved fast-food deals on our list.
Not that longevity was required to develop an adoration for this incredibly cost-effective deal. A Whopper costs an average of $4.19 as of 2022, according to Fast Food Menu Prices, so it's no wonder folks were flocking to the fast-food chain for this whopping discount. Of course, because nothing lasts forever — and because of business and inflation, etc. — the short-lived Whopper Wednesday deal is now a thing of the past.
As José Cil, CEO of Restaurant Brands (Burger King's parent company) told Yahoo in August 2022, the restaurant has no plans to bring back the steeply-discounted Whopper Wednesday deal. Anything's possible in the future, but for now? We're left with only our memories of the juicy discounted burger.
Taco Bell $2 Meal Deals
Taco Bell makes a compelling case for our favorite fast-food chain. From nacho fries to the incomparable cheesy gordita crunch, the founder of life's fourth meal holds a place near and dear to our hearts. Of course, Taco Bell's wide range of offered deals has certainly contributed to our devotion to the quick-service restaurant through the years. This includes the formerly-available $2 Meal Deals, introduced on a limited-time basis in 2010 (via Nation's Restaurant News) — and seemingly gone forever as of 2022.
The $2 Meal Deal offered a fairly substantial amount of food for its cost, especially considering the deal was launched a decade into the 21st century. Customers had the option of a main (either a chicken burrito, double-decker taco, Gordita supreme, or a beefy 5-layer burrito), a bag of Doritos, and a drink all for a mere two dollars. Well, there's a reason we're not alone in our sadness for this long-lost fast-food deal, as demonstrated by a 2022 Reddit thread.
Frankly, it's crystal clear why this feast was such a beloved option for consumers. Since there's very little chance it ever returns, we'll simply have to continue pining for the glorious (and long-gone) $2 Meal Deal.
McDonald's $1 McDouble
Our apologies for harping on McDonald's for its decision to essentially discontinue its beloved Dollar Menu over time, but we can't help but be annoyed. After all, Mickey D's continues to rake in huge profits in 2022, despite inflation impacting everyone's dining budget. Frankly, we don't feel any real guilt for complaining about the fast-food burger chain's decision to end its $1 McDouble deal in 2013 (via NBC News).
To be honest, we completely forgot the McDouble wasn't a part of the original Dollar Menu when it debuted in 2002 (via QSR Magazine). Given how strongly we associate the single-cheese-slice double-patty burger with the glory days of the Dollar Menu, it was legitimately shocking to discover it was only added to the menu in 2008.
Still, in only five years of availability, the $1 McDouble made a massive mark on the fast-food industry. Even in 2018 (several years after the price was raised), fans of the beloved deal were still stung by its absence, according to a Reddit thread. We can't help but concur with those disappointed that the dollar McDouble is no more. We understand the rationale behind it, of course — but that doesn't mean we have to like it.
Dunkin' Go2s
We have a confession to make: We didn't realize the Dunkin' Go2s deal was no longer active. But like so many menu changes made by the formerly Donuts-named chain, its decision to remove this promotion wasn't done with any sort of fanfare. In fact, outside of an internal Dunkin' memo indicating the "permanent removal" of its Go2s deal (which was shared on Reddit in early 2022), there's virtually no other publicly available information from the chain regarding the disappearance.
For the uninitiated, the Dunkin' Go2s was a series of escalating two-for-X deals offered by the restaurant. Introduced in 2018, according to its website, the promotion included two egg and cheese wake-up wraps for $2; two sausage, egg, and cheese wake-up wraps for $3; two bagels with cream cheese for $4; and two bacon, egg, and cheese sandwiches for $5.
Clearly, the appeal of buying two items at a discounted price is obvious. Dunkin' likely understood this as well and recognized the discontinuation of its beloved Go2s deals might cause an uproar among customers. As a result, we don't have much to go on when it comes to why this deal disappeared — we can only mourn the loss.
Domino's Delivery in 30 minutes or less
Fast food is supposed to be fast, right? Of course it is — and we'll spare you a hand-holding explanation as to why. But there's a limit to what the physics of time allow humans to accomplish. So of all the beloved fast-food deals that sadly disappeared, Domino's decision to rescind its 30 minutes-or-less guarantee is the one we most understand. After all, like Bill Burr might say, this was a safety issue folks; it became impossible for delivery drivers to meet the company's lofty promise without some fairly reckless driving techniques.
Popular enough to merit a mention in the 1990 live-action "Teenage Mutant Ninja Turtles" film, the decision to guarantee delivery in 30 minutes or less wasn't seen as controversial upon its introduction in 1984 (via Chicago Tribune). But a series of accidents and lawsuits involving Domino's drivers (who were desperate to complete deliveries within the 30-minute window) led to its downfall.
The final straw came in 1993 when a woman who had sued the pizza chain after being injured by one of its delivery drivers several years prior was awarded $79 million dollars to be paid by Domino's. Even for a successful company, this was surely a blow for business. As a result, the promotion was discontinued on a national level, though the memory of it remains.
McDonald's 39-cent cheeseburgers & 29-cent hamburgers
The notion of a cheeseburger for 39 cents or a hamburger for 29 cents may conjure images of the very first McDonald's. But this sorely missed deal from the golden-arched restaurant was actually a promotion from the best decade of all time (at least according to Millennials): the '90s. Not that Mickey D's was offering its burgers for less than two quarters without restrictions, since you don't serve 100 billion customers without some business savvy.
As a commercial for the deal indicated, each offer was only available on certain days. On Sundays, cheeseburgers could be purchased for 39 cents a piece, while on Wednesdays, hamburgers were available for 29 cents. But even this came with a catch since the chain wasn't about to let customers purchase an unlimited number of severely-discounted burgers. In fact, the restaurant set a cap of 10 burgers per customer per visit, as an image from a Reddit thread shows.
Not that 10 cheeseburgers for less than $5 is a deal to complain about — unlike its disappearance. Decades after the promotion was prominent, we're clearly still sore and sad it's gone.
Pizza Hut $5 Flavor menu
Of all the deals listed here, there's a fair chance the now-discontinued $5 Flavor menu from Pizza Hut generates the least amount of fanfare — though that's not for a lack of worthiness. After all, a value menu from a pizza place is a rare sight. So when the fast-casual chain announced the introduction of its Flavor menu in 2016, featuring seven different options for only $5 (via Pizza Hut), it was something to celebrate.
Of course, because the deal presented consumers with some truly incredible values (including a one-topping medium pizza, and an eight-piece bone-out wings), it wasn't likely to generate big bucks for individual restaurants. Frankly, this beloved deal may have been doomed from the start, since as a number of current and former Pizza Hut employees noted on Reddit in 2020, many locations weren't able to profit from it.
Perhaps that's why value menus are so uncommon in the pizza world. Either way, while the $5 Flavor menu items remain for sale at Pizza Hut in 2022, the $5 price point is a thing of the past.
KFC 2 for $6 mix-and-match deal
The trend of mix-and-match deals at fast-food restaurants tends to be most common at burger joints. But that doesn't mean they're exclusive to chains that think inside the bun. After all, people love choices (perhaps because they make us feel in control, according to Psychology Today). Given this, it's no surprise KFC decided to throw its hat in the mix-and-match ring in 2019, offering a 2 for $6 deal that year (via Chewboom).
As seen in a 2019 commercial for the deal, four classic KFC items were available to mix and match: a pot pie, a famous bowl, a crispy Colonel sandwich, and three extra crispy chicken tenders. Clearly, the fried chicken chain wasn't exactly reinventing the wheel with this promotion, but it didn't seem like it was trying to either.
KFC appeared to find something it liked about the 2 for $6 menu deal — it just wasn't the customer's ability to choose. This may explain the $6 offer introduced by the restaurant in 2022, according to Chewboom, which featured two (pre-determined) pieces of chicken in a standard meal. We're not exactly complaining about the newer two-piece combo, but we also can't pretend we aren't sad the beloved mix-and-match deal disappeared.
McDonald's All-day breakfast
Is all-day breakfast a deal, per se? We're not entirely sure. But, then again, the recent confirmation that the all-day breakfast promotion from McDonald's wouldn't be returning (via CNBC) hit us particularly hard. So, we made the executive decision to include it among our beloved fast-food deals that sadly disappeared.
First introduced by the fast-food giant in 2015 to the public's widespread approval (per McDonald's), it's no surprise the all-day breakfast deal was immensely popular. After all, McDonald's breakfast is phenomenal, and quite possibly more consistently delectable than its lunch and dinner options. Seriously, if we had the choice of a sausage egg McMuffin or a Big Mac, we'd grab the breakfast sandwich ten times out of ten.
At least we had some time to prepare ourselves for this enormously disappointing development. While the official end of all-day breakfast was only confirmed in 2022, it has actually been suspended since March 2020, during the early days of the COVID-19 pandemic (via CNBC). Alas, all-day breakfast from McDonald's appears to be one more unfortunate food casualty from the seemingly-endless pandemic.