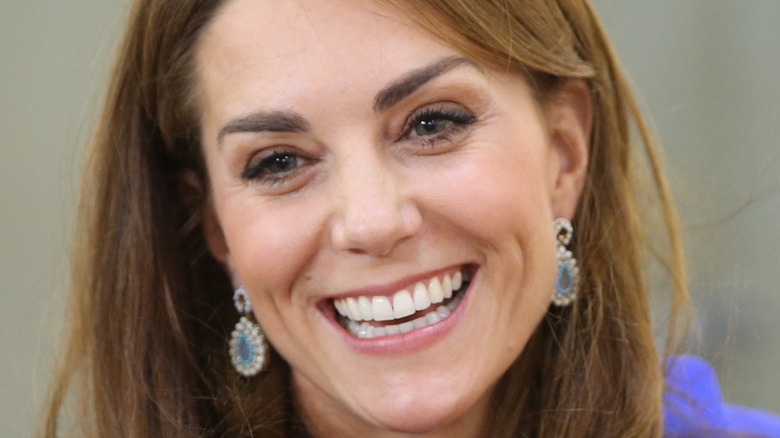 Kate Middleton and her husband, Prince William, have faced new roles within the royal family following the September 2022 death of Queen Elizabeth II. The royal couple added to their titles, becoming the Duke and Duchess of Cornwall and Cambridge, as well as the Prince and Princess of Wales — with William being next in line for the throne, following his father, King Charles III. They're also patrons of several organizations; Kate has been named the patron of the Rugby Football Union and the Rugby Football League thanks to her athletic prowess. Both were once the domain of Prince Harry, but since he left his senior royal position for California with wife Meghan Markle, William and Kate have filled in.
Despite all of these royal duties, the Wales' are, first and foremost, parents. Kate — aka Catherine, Princess of Wales — admitted that the pressure of naming their three children caused some struggle at their births, since it was an occasion for which the world was waiting. Do they want more children? Only time will tell, but Kate reportedly made a funny admission about kids in February 2022. Rebecca English of the Daily Mail tweeted that Kate apparently said that working with children makes her "very broody," an expression for wanting to have a baby, allegedly adding, "William always worries about me meeting under one-year-olds. I come home saying 'let's have another one.'"
Meanwhile, William and Kate's three children — Prince George, Princess Charlotte, and Prince Louis — are well loved and very well cared for. Let's take a look inside their lavish life.
Their births were supported by huge medical teams
The long line of royal tradition around childbirth meant that royal babies were typically born at Buckingham Palace, according to British Heritage. However, this all changed in the 1970s, when Princess Anne gave birth to her children at St. Mary's Hospital in London, and Princess Diana later chose the same location when she gave birth to Prince William.
When Catherine, Princess of Wales, gave birth to her children, she also chose the Lindo Wing at St. Mary's Hospital. The medical team involved in the birth of Kate Middleton and Prince William's children was immense. Gynecologist and obstetrician Professor Tiong Ghee Teoh was just one of the 23 people who comprised Kate's medical unit, according to Hello! magazine. "We had a huge team," he told the outlet. "Anything that could possibly go wrong, we had a team of people behind each speciality." Noting that the whole team was ready three months before Kate's due dates lest something come up, Professor Teoh also mentioned that everyone on the medical team understood that confidentiality was paramount, saying, "Everyone was sworn to secrecy."
Kate struggled with hyperemesis gravidarum, an extreme case of morning sickness, with each of her pregnancies, which NBC News reported meant that she was likely afflicted with "severe nausea, vomiting, weight loss, and dehydration." With hospitalization being common in such cases, Kate's pregnancies were reportedly challenging experiences.
Prince George is well aware that he'll be king
Prince George knows what his future will look like and that his destiny is to become the King of England. However, parents Catherine, Princess of Wales, and William, Prince of Wales, are walking an unusually fine line for child rearing: How to impress upon their eldest son and other children what it means to be a royal without causing stress.
Royal biographer Katie Nicholl wrote about Kate Middleton and Prince William's apparent dilemma in her 2022 book "The New Royals." She wrote, "They are raising their children, particularly Prince George, with an awareness of who he is and the role he will inherit, but they are keen not to weigh them down with a sense of duty." In a somewhat sassy fashion, George reportedly used his family clout in some showdowns at school. "George understands he will one day be king and as a little boy sparred with friends at school, outdoing his peers with the killer line: 'My dad will be king so you better watch out,'" Nicholl claimed (via Page Six).
While George might be using his royal family as leverage at school, William and Kate do their best to keep their children's childhoods as normal as possible. On a February 2020 appearance on the "Happy Mum, Happy Baby" podcast, Kate explained when she felt happiest: "I'm with my family outside in the countryside and we're all filthy dirty," she answered. That certainly sounds like a nice departure from any royal pretensions.