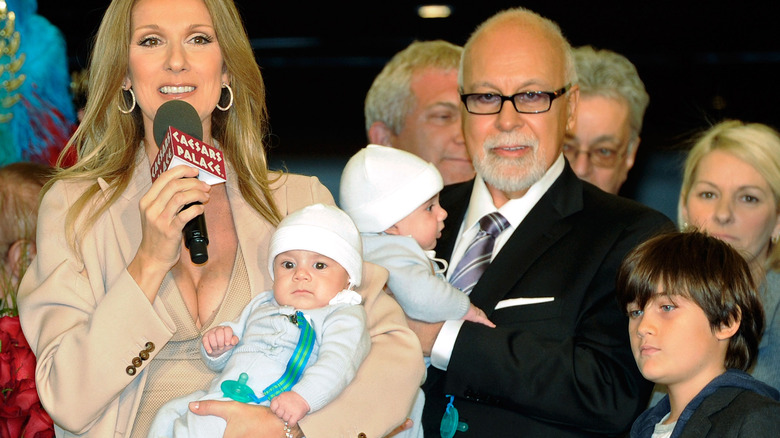 Although a dedicated mom of three sons, Celine Dion is undoubtedly better known for her powerhouse voice. Whether or not you regularly listen to Queen Celine's music, you probably can recite the lyrics to some of her biggest hits, including "It's All Coming Back to Me Now," "Because You Loved Me," and the "Titanic" classic, "My Heart Will Go On" (via Spotify). The French-Canadian singer has been in the spotlight for a large part of her life, and while many know her as the pop singer beloved by enormous audiences and a massive fan base, you likely do not know much about her family, including her children.
Dion and her late husband René Angélil share three children, named René-Charles, Eddy, and Nelson Angélil (via Us Weekly). While the boys live a much more private life compared to their mother, there is still plenty for fans to learn about them.
René-Charles Angelil's birth was announced before his mom could even hold him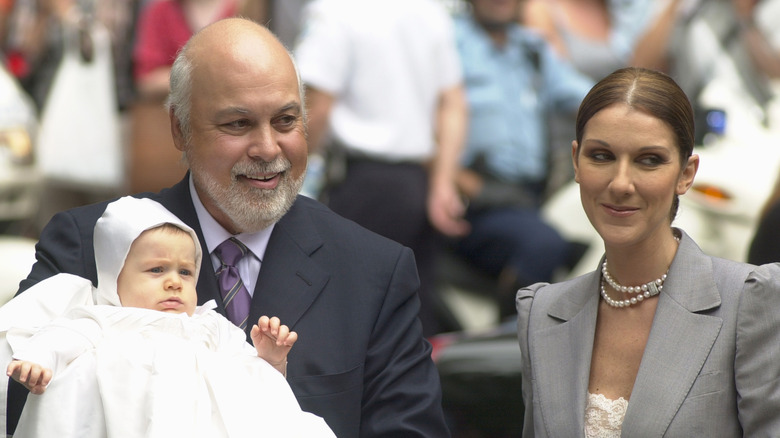 After going through a highly publicized fertility treatment, Celine Dion and her late husband, René Angélil, welcomed their first child together, a baby boy. The pop star's son, René-Charles Angelil, was born in West Palm Beach, Florida, weighing 6 pounds, 8 ounces, and was in perfect health (via ABC News). Dion had been undergoing different fertility treatments in New York leading up to her pregnancy and was able to conceive through in-vitro fertilization.
In an interview with James Corden on his "Carpool Karaoke" segment of "The Late Late Show," Dion revealed the surreal experience of witnessing her son's birth get announced on television to the entire world just moments after he was born. "I'm delivering my first child, I don't even have him in my arms yet," Dion explained to Corden. "I look to the left, and there's a TV there, and the doctor is announcing, live on television, a beautiful, healthy boy, 7 pounds 8 ounces. I'm saying to myself, 'My baby is on television, and I didn't even hold him yet.' So I turned it off. I turned off the TV" (via Yahoo!). Although some may reason that celebrities choose to live in the spotlight, no one can deny that this incident was an extreme invasion of privacy.
Even as babies, they communicated in French
In a 2011 video for "The Oprah Winfrey Show," Celine Dion can be seen waking up and starting her day with her newborns (which, is quite literally the cutest thing) and speaking bits of French and English to both Eddy and Nelson.
Considering that René-Charles, Eddy, and Nelson Angélil's parents were both French-Canadian, it makes sense that they each became bilingual, capable of understanding and speaking French and English fluently. According to Perez Hilton, when Celine Dion's twin boys were just 4 months old, she shared, "They wave, they speak French. They've got it all."
While Eddy and Nelson were surely not actually speaking French words by four months of age, they certainly picked up on the language quickly. This is in large part thanks to Dion's husband, the late René Angélil, who mostly spoke to them not in English, but in French.
René-Charles initially kept his music a secret from his mom
Like mother, like son! Celine Dion's eldest son, René-Charles, has a passion for music just as much as his mother does. In an interview with Montreal Gazette in 2018, René-Charles, whose stage name is Big Tip, revealed that he kept his love for making music on SoundCloud a secret from his mom until after his songs reached the No. 1 and No. 2 spots on the Canadian SoundCloud R&B charts. "I just felt like keeping it on the low. But she loved it," he said. "She was just kind of stunned at first because she'd never heard anything from me. It was kind of a weird conversation: 'Ma, I'm No. 1 and No. 2 on the charts right now.' She was like: 'Why didn't you tell me first?' But she's very supportive of my passion for this," he said.
Since he started making music, he released hip hop EP "Casino" in 2021, three singles, "Never Stop," "The Apple," and "The Kid," and even touched on the loss of his father in his song "Catwalks" (via Yahoo!). Dion is proud of her son for following in her footsteps! "I'm so proud of my son. My love for him is so strong, and it touches me deeply that one of his passions is also one of mine," she wrote on her Instagram Story featuring a link to his latest EP (via People).
Eddy and Nelson are named after a producer and a president, respectively
In October 2010, Celine Dion and her husband René Angélil welcomed their miracle babies: fraternal twin boys Eddy and Nelson. After struggling to conceive through IVF, Dion welcomed the newest additions to their family via C-section in West Palm Beach, Florida. "We tried five times before I got pregnant. On the sixth try, it worked out. We were blessed twice," she told Hello! Canada (via Daily Mail).
While speaking with People, Dion's rep shared the sweet meaning behind the boys' names. Dion named her son Eddy after producer Eddy Marnay, who worked with the "My Heart Will Go On" singer throughout her first five records. "He was like a father to her," Dion's rep said. "Eddy is a major influence in both Céline and René's lives." As for her son Nelson, he was named after Nelson Mandela.
Mandela and Dion met in 2008 at the beginning of her world tour in South Africa, leaving an everlasting impact on the singer. "René said that in just the few minutes they were able to spend with him, they were impressed by the human being he is," says the rep. These men were such an inspiration to both Dion and Angélil, and their goal is for their kids to grow up and be inspired by them, too. "Céline and René want their children to be inspired by their names, because they were so inspired by these men," the rep continued.
René-Charles honored his mom with an award that cut her 'heart to pieces'
Just one month after losing her husband, René Angélil, to cancer, Celine Dion was awarded the Icon Award at the 2016 Billboard Music Awards. Her eldest son René-Charles presented her with the award. In an interview with People, the "I'm Alive" singer talked about the bittersweet feeling of having her son there with her during such a monumental moment. "They said, 'To present the award, here's your son' and [it] cut my heart to pieces. [It] really did," Dion said backstage after receiving the award. "Honestly, my husband got me here 30-something years later. I accepted that award for him. I sang that song for him," she continued. "My son came to represent him, his brothers and me, and love is stronger than show business."
While accepting the award, she held her son's hand tightly as she thanked her fans and three children for getting her through and dedicated the award to her late husband. Right before her speech, Dion performed a rendition of Queen's "The Show Must Go On," which just so happened to be one of Angélil's favorite songs.
Eddy and Nelson co-slept with their mom following their dad's death
After the loss of their father, Celine Dion's sons came together and supported their mom the best way they could. In an interview with The Sun in 2017, Dion opened up about the loss of her husband René Angelil and how her boys would bring her comfort.
"I organise myself to not feel lonely. So I got myself a huge, huge, huge bed and I sleep with my twins," she admitted. "They are comforting me a lot," she added. "I need them. I need them close. And when it's time for them to say they want their room, their room's ready." She further revealed that they all watch television together, with a focus on Disney.
René-Charles, Eddy, and Nelson formed other new traditions after the loss of their father. "We kiss him every night. We have a little ritual where we say goodnight to him with a little picture," Dion told The Sun. "Then the kids talk to him. And they write words, put them in balloons and we send the balloons to the sky."
Despite being the oldest, René-Charles wasn't pressured to care of his family after his dad's death
One year after the death of her husband, Celine Dion opened up to Extra about how her sons were handling the loss. "To be honest, they're remarkable. They are helping me, I am helping them — it's mutual," she said.
Dion went on to reveal how proud she is of her boys for how well they handled their father's illness that ultimately led to his death. "They cope with the loss of their dad very well," she said, especially acknowledging her eldest son René-Charles. "I said to him, 'I never want you to feel the pressure of being the man of the house, you have your own dreams and he is always with you in your heart and I am here for you.'"
No matter how difficult times got, Dion said she was incredibly proud to be a mom to her children. "What makes me most proud is to be a mother," she continued. "I have three magnificent kids, that through them, I see my husband and I have the strength today to keep dressing up," she said.
As a teenager, René-Charles played hockey
Not only does Celine Dion support her son René-Charles Angelil's growing music career, but she was also an intensely devoted hockey mom. Like the true Canadian that he is, René-Charles played ice hockey while in high school, and one could argue that his mom was his biggest fan (via People).
In August 2017, when René-Charles was 16 years old, People shared a sweet video of Dion cheering and dancing to the music at one of her son's private games in Terrebonne, Quebec. At the game, you knew exactly what team Dion was repping, as she was spotted wearing a hockey jersey with the name "Angelil" written on the back.
According to Daily Mail, René-Charles played for the U16 Golden Knights team while he and his family were living in Las Vegas due to Dion's residency at the Colosseum in Caesar's Palace.