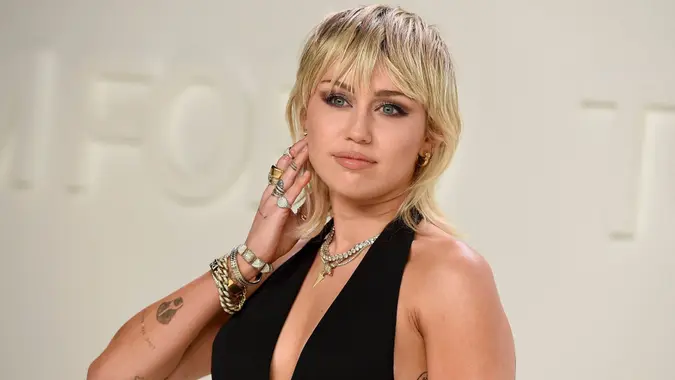 She rose to fame as Disney star Hannah Montana, but Miley Cyrus has created an identity of her own. The multitalented singer has impressively mastered television, film and music.
The Future of Finances: Gen Z & How They Relate to Money
Read More: If Your Credit Score Is Under 740, Make These 4 Moves Now
Among Cyrus' many career highlights is a stint as the host of MTV's VMAs in 2015. Here's how the media icon has made her millions.
Net Worth
A superstar since "Hannah Montana" debuted in 2006, Cyrus has been performing since she was a teen. Her father is actor and country music singer Billy Ray Cyrus — who also served as her on-screen dad in the "Hannah Montana" series. The show made her famous, but it certainly didn't make her rich, as she reportedly earned just $15,000 per episode.
Miley Cyrus' net worth is $160 million, according to Celebrity Net Worth. Though much of it comes from her movies and music, a chunk of that fortune comes from her work on "The Voice."
Cyrus joined the hit NBC series for seasons 11 and 13. Cyrus earned a reported $13 million per season for her work on the show, according to Variety.
Music Career
Miley Cyrus' songs have struck a chord with audiences around the globe. The founder of the Happy Hippie Foundation has been a regular presence on the Billboard Top 10 since 2008, with a number of songs making the list, including "Wrecking Ball," "Party in the U.S.A.," "We Can't Stop," "The Climb," "Can't Be Tamed," "7 Things" and "See You Again."
Also a successful live performer, Cyrus has headlined several tours. Her 2014 "Bangerz Tour" grossed $62.9 million, according to Pollstar. Moreover, Cyrus' "Gypsy Heart Tour" earned $26 million in 2011, and her 56-stop "Wonder World Tour" in 2009 brought in around $67 million, according to Forbes. Despite Miley Cyrus' age, her very first tour, the 70-stop "Best of Both Worlds" show in 2007, generated $54 million.
A pop star with powerful pipes, Cyrus has received a slew of awards for her music, including an MTV Video Music Award for Video of the Year in 2014 for "Wrecking Ball" and a 2009 MTV Movie Award for Best Song From a Movie — "The Climb" from "Hannah Montana: The Movie." Cyrus also received a Grammy nomination for Best Pop Vocal Album in 2015 for "Bangerz" and a Golden Globe nod for Best Original Song in 2009.
Her rock-heavy album "Plastic Hearts debuted at the No. 2 spot on the Billboard Top 200 when it was released Nov. 27, 2020. Last October, Billboard reported Cyrus was working on her ninth studio album, with this one appearing to be disco-inspired.
Movies and Television
Since "Hannah Montana" ended in 2011, Miley Cyrus has appeared on television and film several times, both as herself and in character. In 2016, she starred as Lennie Dale in the Woody Allen mini-series, "Crisis in Six Scenes," and in 2017, she had a small role in "Guardians of the Galaxy Vol. 2," serving as the voice of Mainframe.
She also appeared as herself in "A Very Murray Christmas" and guest-starred in two episodes of "Two and a Half Men." She's won a few awards for her acting gigs, including a People's Choice Award for Favorite Breakout Movie Actress in 2010.
In 2021, Cyrus signed a deal with NBCUniversal Television and Streaming that calls for her production company, Hopetown Entertainment, to develop scripted and unscripted programming for the NBCU family of networks. As reported by Variety, she also signed on to star in three specials as part of the deal, the value of which wasn't disclosed.
Personal Property
Miley Cyrus has an eye for real estate and bought her "starter" home at age 18 in Studio City, California, for $3.9 million, Love Property reported. She is believed to still own the property.
In the meantime, she has bought and sold several Southern California properties, including a ranch in Hidden Hills; a six-bedroom, 8,700-square-foot home in Toluca Lake; and the site in Malibu, California, where the home she shared with ex-husband Liam Hemsworth stood before it was destroyed by a wildfire in 2018.
She bought another property in Hidden Hills, in 2020 for $4.9 million and sold it the following year for $7.2 million, Dirt reported. In the months she owned the house, it was remodeled and the design team – which included her mother, Tish -transformed "the previously all-white, generically luxe spread into a colorful, rockstar-worthy oasis bursting with personality," according to Dirt. Among the touches, the publication said, were an "Alice-in-Wonderland-level sensory experience consists of a powder room covered in Gucci "tiger" wallpaper, a soot-colored sitting room, a psychedelic-themed music studio, a "glam room" with leopard print wallpaper — and that's just for starters."
She also bought a $5.8 million, 6,800-square-foot farmhouse set on 33 acres in Franklin, Tennessee, about 20 miles south of Nashville, according to an August 2017 Variety report.
Leaving her Toluca Lake home might have been a wise move — the house was burglarized three times between November 2013 and December 2014. More than $100,000 worth of property — including jewelry and multiple designer handbags — was stolen in the 2013 robbery. In June 2014, her Maserati was taken. Property belonging to both Cyrus and her brother — including her bank card — was lifted in the third burglary.
More From GOBankingRates