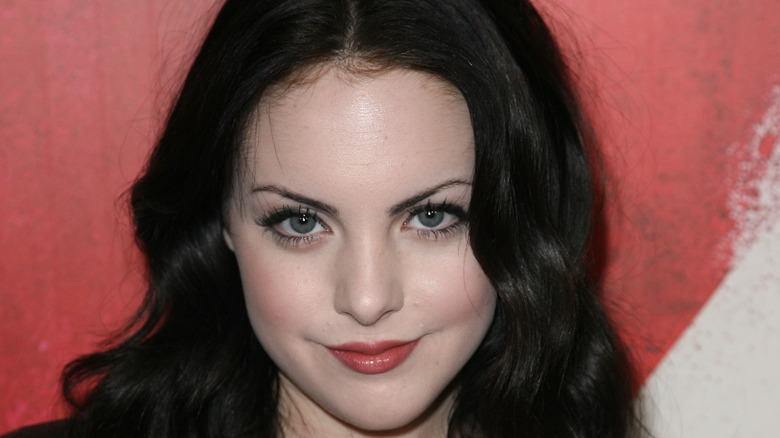 Elizabeth Gillies is a multi-talented actor, singer, and writer who started in the entertainment world when she was just a teen. Gillies rose to stardom while acting alongside Ariana Grande in the broadway musical "13" (per Vanity Fair.) It was there that her lifelong adoration for performing began. Fortunately, Gillies lucked out by snagging a once-in-a-lifetime role on the Nickelodeon series "Victorious," where she played the gothic high schooler Jade West. She was lucky enough to act alongside her BFF Ariana Grande. In an interview with BuzzFeed Celeb, Gillies adorably recalls the moment she remembers making it as an entertainer with Grande right by her side to soak up the excitement.
As she spills in the interview, it all started while the cast began filming their opening credit theme song for the sitcom. "Our stages were right in the center of Hollywood," she recalls. "And we were all just kind of dancing, and we could see the Hollywood sign … and I just had this moment where I was like, 'oh my gosh, I'm in Hollywood, and I'm on a TV show!' And I was with Ari, and we had just come from broadway, and we were like, 'Look at us! We've made it! So it was a special … a special first moment."
Since her days on the hit Nickelodeon show, Gillies has continued to busy herself with exciting acting gigs. She starred in the reboot of the television series "Dynasty," and also took on roles in shows like "Sex & Drugs & Rock & Roll." Keep reading to learn more about the gorgeous celeb.
She leads a quieter life in Atlanta
It's always interesting to learn of celebrities who choose to live outside the entertainment capitals of Los Angeles and New York. Instead, Gillies finds herself much more at home on the East Coast. But what is it about the Peach State that she finds so irresistibly charming?
While speaking to Jezebel, she said, "I'm from New Jersey, and I'd been living in L.A. for about 10 years prior to this move, so Atlanta was a very welcome change for me. I never felt connected to the West Coast the way I do the East, and so much of Atlanta reminds me of home. Visually, there are parts of the suburbs that look just like New Jersey, Connecticut, and Long Island, which is very comforting to me."
While speaking on "The Zach Sang Show," the former "Victorious" star said Atlanta is better for privacy because the people don't really care that she is famous. Meanwhile in Los Angeles she felt like people were constantly looking for celebrities. Furthermore, on a sentimental note, Gillies tells the mag that she adores the people in Atlanta who are so kind compared to her experiences with people in Hollywood.
She has a deep obsession with musicals
While this doesn't come as a huge surprise considering Elizabeth Gillies got her start by performing in a Broadway musical, she's utterly obsessed with the genre. In an interview with BuzzFeed Celebs, Gillies says that the first musical to make her a full-blown theater nerd was "Little Shop of Horrors." Gillies expressed how much of a privilege it was to see so many broadway musicals throughout her childhood to appease her deep love of theatre. She said, "I was lucky. I went to see a good amount of Broadway shows when I was younger." She goes on to explain that seeing "Little Shop of Horrors" inspired her to pursue a career on Broadway.
Fortunately, Gillies was able to incorporate her deep love of musicals into her TV show "Dynasty," which served as a musical show in the latter half of the series. "I think we did a little bit of it," she tells Zach Sang on "Zach Sang Show," referring to their musical moments on the series. "And the fans really liked it. So it was a combination of … they know I like it, and the fans really like it, and the network really likes it."
The hilarious reason why she refuses to date actors
Elizabeth Gillies is in a long-term relationship with her former "Victorious" co-worker Michael Corcoran (per Suggest). They have been together throughout most of Gillies's stardom, so to the chagrin of most, the actor is off the market. But if she were single, Gillies says in an interview with Zach Sang via "Zach Sang Show" that she could "never date an actor." But what's the reasoning behind this?
According to Gillies, a lot of it has to do with the fact that the actors she knows are almost constantly on diets. Of course, as actors, being on screen for the whole world to see can make one hyper-aware of their looks. And while Gillies insists that couldn't care less about how she looks on camera (particularly during sex scenes as she explains on Sang's show), she notices how her co-stars will starve themselves in order to look good for a scene. Although she respects their dedication, she admits that she could never engage in this sort of behavior since she loves food so much. "I could probably never date an actor for that reason," she says. "Because, you know, going out to eat… you just want to have a burger with your dude … food is really important in my life." We hear you, Liz!
A look inside her music career
Fans of Elizabeth Gillies know just how talented she is as a vocalist. On "Victorious," some of the top charting songs from the series came from the musical numbers performed by Ms. Gillies. And while the actor never tried to achieve the level of mainstream success in the music industry that her co-star Ariana Grande, she still is able to sell out shows where she gets to belt out her favorite tunes. She revealed during an interview with her good friend Zach Sang via "Zach Sang Show" that one of the reasons she hasn't put out records yet has a lot to do with the fact that she is too indecisive to settle on one genre of music.
"I'm like a con artist," she said of her music career. "I can cover songs till I'm blue in the face, but that's why it takes so long," Gillies says in reference to how long it takes her to produce a record. She continues, saying that the problem isn't creating music but finding a proper theme for her musical persona. "It's about identity," she continues. "I know who I am, but I like so many different types of music. It's gonna take a minute for me …. It's gonna take ten years … it's gonna take a while for me to find out what I want in my album."
Not only can the girl belt her heart out, but she's also quite the expert at impersonating other musicians — as evident by her Elle Song Association challenge. What can't this woman do?
How Netflix has made her even more famous than the days she was on 'Victorious'
While there are many popular streaming platforms, Netflix has reigned as the top streaming platform on the Internet (per US News). Fortunately for Elizabeth Gillies, her top shows ("Victorious" and "Dynasty") got picked up by Netflix during the height of the coronavirus pandemic. More people were flocking to the streaming platform than ever before. In particular, Netflix's decision to pick up "Victorious" changed the game for the series that had been off the air since 2016. But according to Gillies, it became way more of a hit when it got picked up by Netflix than it ever had while it was on the air.
She told Zach Sang on Zach Sang Show, "Now with "Victorious" being on Netflix, I get recognized for 'Victorious' more than I did when it first aired when it was in its prime," she said. "I really do. It's bizarre."
Inside her hilarious encounter with Bernie Sanders
During a 2020 appearance on the "Zach Sang Show," Elizabeth Gillies recalled a hilarious incident while she was with her fellow "Victorious" cast members. Following Ariana Grande's concert in Atlanta, Bernie Sanders joined their crew. According to Gillies, she is a fan of the politician, so meeting him was an incredibly inspiring opportunity for her. However, she happened to be wearing a black leather outfit that made her look like a leader in a "brothel."
"I was just like, 'I wear suits every day of my life,'" she told the host. "All I ever wear are pant suits. Today I meet Bernie Sanders and I'm in this crazy (outfit) … I looked like I ran the brothel."
Gillies posted the exciting moment to her Twitter feed, smiling next to Sanders alongside Ariana Grande and Matt Bennett. "Yet another highlight from last night: meeting @BernieSanders. What an honor. Don't forget to VOTE, everybody!!" she captioned the photo.
She has several irrational fears
In "Victorious," Elizabeth Gillies plays the fearless Jade West. In real life, however, she has a host of irrational fears, some of which she has had to seek therapy to overcome. While speaking to Anna Faris on the "Unqualified" podcast, Gillies detailed her biggest fears. According to the actor, she doesn't drive a car due to "past trauma" with automobiles.
While having a fear of driving is more common, what's not is Gillies' massive irrational fear of elevators. Gillies claimed that getting stuck in an elevator during her youth played a role in why she didn't take them for many years. "I'm afraid of anything I can't control," she stated. Fortunately, she has since been able to overcome this.
Finally, Gillies had to seek therapy for her debilitating fear of storms, which caused her to miss school if the forecast looked bleak. She joked that living in Atlanta – where there are countless thunderstorms -served as a form of "exposure therapy."
Inside the Dynasty star's relationship with Michael Corcoran
Elizabeth Gillies and Michael Corcoran met on the set of "Victorious" when Gillies was a teenager. Corcoran worked as a music producer for the show, where Gillies says she developed feelings for him. Despite him being in his mid-30s at the time, Gillies says that she wanted to win him over. "I always had a crush on him," she told Vogue. "But I played it cool." Many fans were quick to offer their concerns about the relationship between Gillies and Corcoran, considering they met when Gillies was underage, and Corcoran is 20 years her senior. But according to the actor, while speaking to Anna Faris on the "Unqualified" podcast, she states the pair are "soulmates."
The two have been together for nearly ten years now, and they officially tied the knot in 2020 during the height of the coronavirus pandemic. According to Gillies, they were initially going to have a massive and extravagant wedding and had already sent out the invitations. But after having a change of heart, Gillies admitted on Anna Faris' "Unqualified" podcast that what she wanted was a small and intimate wedding with no bells and frills.
So instead, she had a change of plans and invited roughly twelve people to her small farm wedding, where she did her own makeup. She also claims on the podcast that she didn't have bridesmaids because she didn't like the idea of having to choose which friends get the honorary role.
She has the best piece of relationship advice
The entertainment industry is notorious for producing short-lived relationships. So when these couplings actually work out for the long haul, everyone wants to know how they managed to defeat all odds. Considering Elizabeth Gillies has been in a committed relationship with her husband for a decade (per Who Dates Who), we think she's qualified to give advice on maintaining a relationship. Her advice? "Learn how to fight."
She details this theory on Anna Faris's "Unqualified" podcast, claiming if you have an argument with your partner, you don't "hit below the belt" or resort to cruelty. Instead, you have to come up with a plan prior so you can better navigate the argument.
Gillies further explained on the podcast, saying, "I'm not saying you should fight, but you should learn how to fight. Because there are no two people who fight the same exact way, and sometimes you'll get into a fight, and if you can learn to know the other person and learn to be mature enough to avoid certain topics and to kind of do it in a healthy way … I know this is a really weird thing to say, but fighting is inevitable. It's gonna happen."
She is deeply family oriented
During an appearance on Anna Faris' "Unqualified" podcast, Elizabeth Gillies says that she and her family are incredibly tight-knit. Gillies says that she gets her personality and sense of humor from both her mom and dad. And because she is so close with her parents, the "Sex & Drugs & Rock & Roll" star says that she couldn't stop crying when she signed the contract for "Victorious" which said she would have to reside in Los Angeles for six years. Being away from her parents in New Jersey was hard for Gillies, but she says they visited frequently.
When Faris asked where the happiest place in the world is for her, she said without hesitation, "on the East Coast" because that's where her family resides. "I'm happiest when I'm with my family," said Gillies. "Probably when I'm not working at all so I can really unwind." How sweet is that? Gillies is such an East Coaster by nature that she even had her wedding in New Jersey with her closest friends and family (per Vogue).
She has a plan set out if she ever gets 'canceled'
Whether you agree with cancel culture or not, celebrities sure do. According to Best Life, at least a dozen celebs have openly admitted they're "canceled." Elizabeth Gillies doesn't think she's immune to cancel culture and has a plan if she ever gets the boot from the entertainment industry.
According to Gillies, while speaking to Anna Faris on the "Unqualified" podcast, if she ever gets canceled, she wants to move to the middle of nowhere and own a "flower shop." She also claims that if she couldn't be a performer, she would most definitely be someone who runs a boutique of sorts, which is a secret fantasy for the actor. "That's all I want," she said. "And I've always had a vision of my whole family running it." Faris joked that they could join forces with Faris stating she would "have a little farmers market stand up in Washington, I'm gonna knit hats."