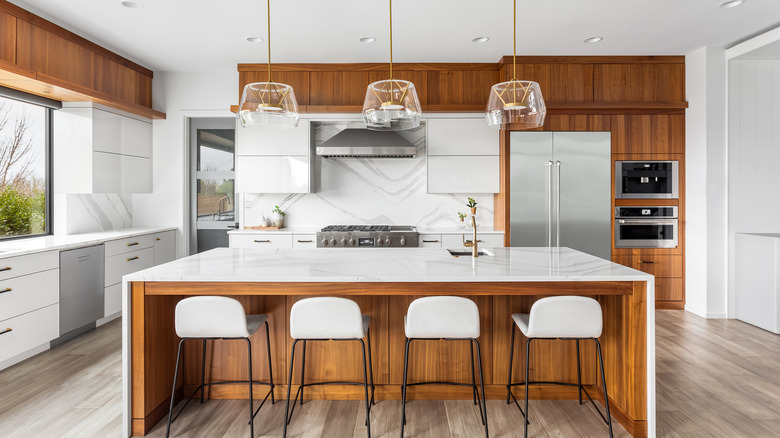 If there is one room homeowners put as a priority when it comes to a remodel, it's the kitchen. The hub of the home deserves specific attention because of how much traffic it receives. Kitchens also have to balance being both aesthetically pleasing and functional. As DIY remodel projects and hacks trend on social media, many homeowners may consider taking their kitchen renovation into their own hands. While a DIY remodel can have some benefits, it's not the best choice for every kitchen.
It's easy to get over your head during a renovation, so NerdWallet suggests DIYing small and easy-to-learn projects. Undertakings like painting the walls, swapping out cabinet knobs and pulls, and painting cabinets are easy weekend projects homeowners can tackle on their own. But tasks that involve plumbing, electrical, or meticulous installation may be better left to a professional. And if you're looking for drastic changes, then calling a contractor is the best option.
You might increase the timeline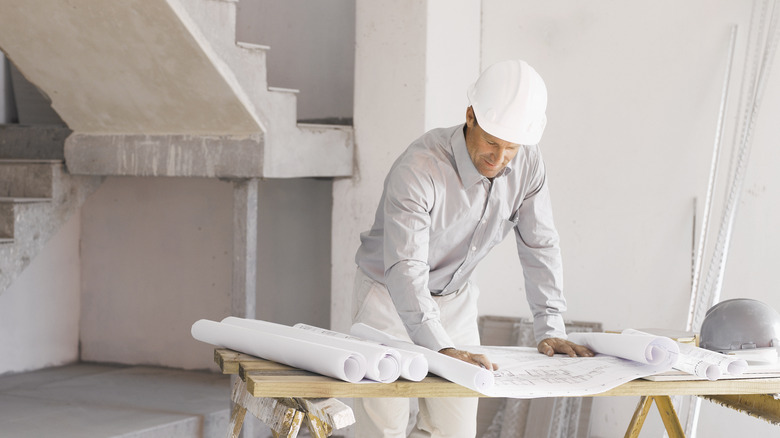 Renovations don't happen overnight — even the simplest job can take a few days to a week, and more involved jobs and dramatic transformations will take longer. Many professional contractors will quote you about 12 weeks to complete an average kitchen remodel, according to Chartway Credit Union. However, if you plan to move around the floor plan or need work on electrical and plumbing systems, you can expect a remodel to take, on average, three to five months.
Some homeowners may confidently believe that they can do it faster, but the length of the remodel doesn't only have to do with the time a crew is actively working. It also factors in the design process, checking on local and state permits, and placing orders for material and supplies, says GBC Kitchen & Bath. General contractors and the other trade workers they work with are experts for a reason, and the remodeling process is second nature to them. Doing the remodel yourself can mean tripping up on a task or making a mistake that a professional already knows how to handle. You also don't have the benefit of a multi-person crew, which can work on multiple projects simultaneously. In the end, taking on a massive renovation without the help of professionals can take longer than expected.
You might spend more money
DIY projects can save you money because you aren't spending your budget on professional labor costs. According to Construction Programs & Results, general contractors may require 10% to 20% of the total expenses towards their labor fees. Plumbers may charge $45 to $150 an hour (via All Dry USA), electricians $50 to $100 per hour (notes Clements Electric), and kitchen designers $50 to $200 per hour for their labor (states Home Design Institute). Looking at these numbers, if you're trying to go for a budget renovation, it may seem like the obvious answer is to take on some of that work yourself, and unfortunately, this can backfire for many homeowners.
Taking on these projects yourself might cost you more money than you may save. You'll save money on labor but often spend it in other ways. Mistakes made during a renovation, especially for electrical and plumbing systems, can lead to accidents that cost you money in the future. Hiring a reputable contractor can also save you money on the renovation. General contractors often have relationships with other renovators and suppliers that can get you a deal on the work you need to have done and can negotiate for better prices, according to Merrill Contracting & Remodeling, Inc. General contractors are also tasked with keeping the renovation on schedule. Their management to create a shorter timeline can have you spending less money overall.
You have to know the codes
Painting cabinets and replacing drawer pulls are easy swaps. But the process gets a lot more complicated if you want to remove a wall or add an addition. Before you get to swinging a hammer, you have to know the local and state building codes. Some building codes can be as specific as your municipality; others are statewide. To have a legal dwelling, you have to follow all of them. And this isn't something you can get away with, as homes with major construction must be inspected. Illegal construction can have severe penalties depending on where you live.
In most cases, you need a permit to even begin construction or major renovations on the house, according to HouseLogic. There are also codes about windows, venting, electrical, and fence heights that all must be followed for a home to be considered a legal dwelling. Specifically for kitchens, codes include minimum ceiling heights and numbers of circuits, according to How to Look at a House. Doing a major renovation on your own means reading and understanding codes, which can be time-consuming for the average person.
Your technical knowledge might be limited
An important aspect of DIYing is knowing the limitation of your skills, knowledge, and ability. This is an important rule when tackling more extensive renovations. The Kitchen Company says that some projects require more expertise and technique than the average homeowner can learn in a short time. While you can look up tutorials and read instructions, there is still a chance of completing a project incorrectly, spending more money, or taking more time.
A general contractor already has the knowledge and experience from working and completing previous projects, and professionals will be able to make quick decisions and solve any potential issues. They'll also know how to approach more technical aspects of the design, such as where to place plumbing, create a functioning layout, or know which walls can or can't be removed. If you try to handle these issues independently, you may have to hire a professional to consult and move forward, so having a general contractor from the start can be beneficial.
You might have to buy new tools
A kitchen renovation often requires a workshop of tools to get the job done. And one issue with DIYing is that you have to supply all of those tools yourself. This might not be a problem if you or someone you know already has a lot of tools or do a lot of DIY. But if not, you're going to have to supply them yourself. Sanders, jigsaws, drills, miter saws, and nail guns are a few essential tools to make a DIY easier, says Lovely Etc.
For example, according to Home Depot, jigsaws can cost anywhere between $29 and $737, depending on the brand, model, and size. Buying quality tools can quickly be expensive, especially if you don't plan to use them for future remodels. Of course, you can also rent tools for the duration of your project or find used tools for cheap. However, professional contractors have their own instruments that you don't have to pay extra for. The cost of a professional's tools is usually already factored into the price and spread across multiple clients' projects.