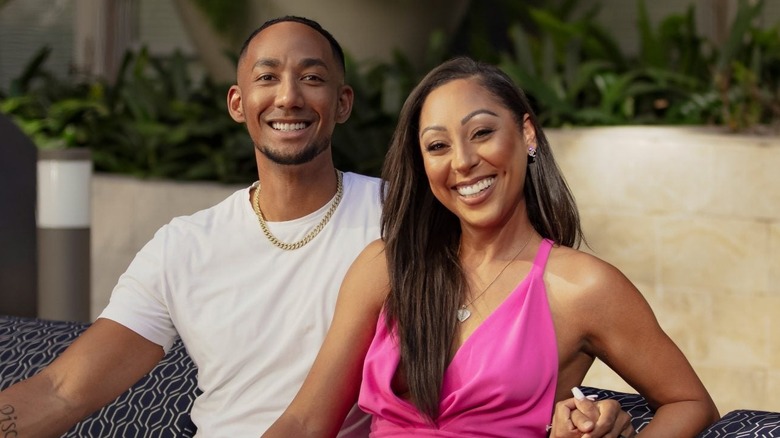 Arranged marriages have been around for a long time, but many Americans never seemed to take notice of them until a reality series called "Married at First Sight" began airing in 2014. Based on a Danish series with the same premise, the reality show sets up two strangers who psychological experts believe could potentially be soulmates. The two participants aren't told a single thing about one another (not even their names), and are then set up on the ultimate blind date: They meet at the altar on their wedding day.
As crazy as the idea of a blind date may be, it's become an incredibly tempting idea for people who have searched high and low for the love of their lives with no success. By the time Season 3 of the series rolled around, more than 20,000 Americans auditioned to find love on the show, executive producer Chris Coelen revealed to People. People watching at home have become quite intrigued, too. The success of the show has spread around the world, leading to multiple spin-off series and even various versions in the United Kingdom and Australia.
Throughout the years, participants and production teams have shared behind-the-scenes stories of what it's actually like to find love on reality television, leading to the discovery of some very juicy facts.
Casting agents may scout you out to be on the show
While those who are looking for love can apply to star on "Married at First Sight," many of the reality show's contestants are discovered out and about by casting agents. Whenever a new season is announced, the casting department at Kinetic Content spends six months searching for potential soulmates for the show. "We go to bars, mixers, single events and church groups," the production company's CEO Chris Coelen explained to People.
His team also hunts for single people in a place where many of them seem to gather: online. "We also go on every dating site you could possibly think of — OkCupid, Match.com, Tinder, Hinge," Coelen said, though the search still doesn't stop there. A casting agent could soon be sliding into your family's DMs. "We also go on Facebook, talk to family and friends to try and make the pool as big as possible," he added.
In other words, if you're constantly asked why you're still single every holiday season, there's a chance your family and friends could secretly be recommending you to the casting department of "Married at First Sight."
There's a reason same-sex couples haven't been featured on the show
A same-sex couple has never been featured on the American version of "Married at First Sight" for a reason that has nothing at all to do with religion or politics. "It just comes down to the logistics of casting, from what I've been told," Jamie Otis, who found love on screen in Season 1, shared during an interview with Fox News.
According to the production company's CEO Chris Coelen, the casting process is, in fact, to blame for the lack of diverse couples on the show. Due to the large number of applicants, men and women are separated by gender into groups before being chosen. "Because we have to put all the women and all the men in the same room in workshops [during the casting process], there is a chance they could see each other [before meeting at the altar]," he explained to The Wrap.
Other versions of the series around the world have already showcased same-sex couples. The first successful couple appeared in the Australian version of the show in 2020, and another same-sex couple tied the knot in 2022 in the U.K.'s series. The United States' tens of thousands of applicants seem to make it a bit more difficult to decipher. "If we could figure out logistically how [to] do it," Coelen said to The Wrap, "we'd love to do it."
Casting directors will immediately disqualify candidates for these reasons
Everyone deserves a chance at finding the love of their life — except on "Married at First Sight." It turns out, there are a few reasons your application could immediately be disqualified from the casting process. You may never be too old to find love, but you can be too young. For starters, there are age requirements when it comes to who makes it on air. Anyone 25 or older is allowed to apply in Australia, but there are no age restrictions beyond that. You must also already live in the designated area for that specific season of the show, and casting agents aren't all about adding children or previous marriages into the mix, according to Women's Health.
Another immediate red flag is having previous experience on reality television. The casting team wants people to sign up for the right reasons, and fame isn't one of them, which is why they specifically ask if a potential contestant has appeared on television before in their application. "If their profile said they had applied for 'Big Brother' or 'MasterChef,' we put them to the side," previous Australian expert Sabina Read told News.Com.Au.
However, there have been exceptions in the United States. Season 1 contestant Jamie Otis, who found her current husband on the reality series, previously had appeared on both "The Bachelor" and "Bachelor Pad," so it was clear to casting agents that she was searching on television for something special.
Season 1 applicants weren't told they would get married without meeting their spouse
It takes a lot of courage to look for love on national television, and "Married at First Sight" only wants the most fearless people to apply for the show. When the American series was looking for its first batch of applicants back in 2014, casting directors didn't want the premise of the show to deter people from applying — so they didn't tell them what it was about. "We pretty much told them everything except for the fact that they would meet their husband or wife at the altar and see them for the very first time there," the production company's CEO, Chris Coelen, told Reality Blurred.
After a few interviews with potential candidates, it was then revealed to them all what they were really signing up for. "Some people got angry, some people laughed, some people were just dumbfounded," Coelen said — and half of them even withdrew from the show.
The team's intention wasn't to blindside potential candidates, but to make sure that everyone involved was applying for the right reasons. "We thought we would attract people who were wannabes, people who wanted to be on television, people who want to be famous, people who want a career," Coelen said. "Not people who really want to find love." Obviously, once people around the country got to see the show air, it made this secret much more difficult to contain throughout casting for the following seasons.
Couples only have two weeks to plan their weddings
Most people consider planning a wedding one of the most stressful things they will ever do. In fact, a majority of American couples take their time with planning, and most spend an average of 16 months engaged before the big day, according to research from The Knot. However, on "Married at First Sight," participants don't get the luxury of taking their time arranging their dream day. "I only had about two weeks to plan my wedding," Sonia Granados, who tied the knot on the American series in Season 4, revealed to Cosmopolitan.
According to another contestant named Clark, who appeared on the U.K. series in Season 2, couples only get six choices when it comes to the food, theme, and music they've dreamed of having on their big day. They're also quite limited when it comes to their guest lists. "I was only allowed to invite 20 people," he told Cosmopolitan. "It definitely caused some friction with some of the family members!"
When the wedding day does eventually roll around, every single guest is required to sign a nondisclosure agreement — no matter how excited grandma may get. "No one can post on Facebook the next day, 'My daughter got married!'" Granados explained.
All couples must sign a prenuptial agreement
While no one walks into a marriage with the idea that it will one day end, that's unfortunately the case on the set of "Married at First Sight." Decision Day is a big deal, and getting divorced can sometimes turn into a sticky situation. In order to safeguard anyone signing up to be on the reality show, casting directors require that a prenuptial agreement is signed by anyone involved. "We want to give them some protection walking in," the CEO of Kinetic Content, Chris Coelen, told The Wrap. "If for some reason it does not work out, at least you are protected with this basic form."
Fans of the series have seen couples discuss combining their finances shortly after tying the knot, and that's something that contestants are also given the freedom to do. "Once they are into the marriage, everything is completely up to them," Coelen said.
Couples get paid to be on the show
It turns out starring on "Married at First Sight" doesn't just get you a spouse, it also gets you a paycheck. While the executive producer of the American series hasn't shared the actual salary of participants, he has assured fans the amount isn't much. "We did not want people who were motivated by the wrong things," he told Reality Blurred. However, with filming lasting up to 12 hours each day, the production team knew they had to pay couples something for taking so much time off from work. In the United States, couples reportedly "receive a stipend," an anonymous source from the series once told Women's Health. "Essentially a per diem since we often film 50 to 60 hours a week with them."
Couples in the Australian series allegedly receive 150 AUD per day. "That's it," Season 9 participant Nasser Sultan told Now to Love. "But on top of that, you have to pay expenses — your living expenses with the woman that you marry."
Couples in the U.K. version literally have nothing to lose (except their spouse). They're paid the same exact paycheck they would otherwise receive if they weren't busy filming the show. "Like what we'd get if we're doing our normal jobs," Bob Voysey, who starred in the show in 2021, told Grazia. "We sent over our payslips before the show." Needless to say, U.K. applicants may want to make sure they're employed before opting to appear on the series.
Couples on the show aren't allowed to be on social media
In order to keep the identity of a person's other half private, "Married at First Sight" contestants have to keep their social media accounts a complete secret. "All your social media is hidden," Clark, who appeared on the U.K. series in Season 2, told Cosmopolitan. "There's no way you can find anyone."
An anonymous source from the show even told Daily Mail Australia that the production team in Australia has gone as far as banning couples from using their cell phones throughout filming — forcing them to focus solely on their new relationships instead.
Even still, after their time on the show has come to an end and fans begin flocking to the couples' social media accounts, anyone who has appeared on the show is discouraged from pursuing a career in media for an entire year. In fact, all participants are required to sign a contract stating that they won't sign on for any other reality series. "To try and keep some integrity around the show, this prevention is enforced to try and encourage the contestants to return to their day jobs once the show is done," the source explained, adding that the show's production company does "not want any of the participants to become celebrities, and they especially don't want them appearing on any rival networks or reality shows."
One of the show's past experts fell in love with a contestant
It's the experts' job to match up applicants to create the most compatible couples. However, Season 6 of the American reality series changed everything when one of the experts fell in love with a contestant instead.
Shortly after participant Jon Francetic opted to divorce his wife on Decision Day, fans began seeing photos of him online with one of the show's experts, Dr. Jessica Griffin. After news broke that the two were officially together, Dr. Griffin walked away from her starring role on the reality series — but she ended up gaining something even more magical instead.
In October 2022, she and Francetic tied the knot. Fellow expert from the reality series Dr. Calvin Roberson even officiated their ceremony. "I love, love stories," Dr. Griffin wrote in part of her wedding day on Instagram. "They are always other people's love stories but never my own. Now, our love story is one for the books."
The show sometimes helps fund divorces
In both the American and U.K. versions of "Married at First Sight," couples are entering into legal marriages, and the stakes are high if they decide to divorce. Not only is it a heartbreaking decision, but it can also be an expensive process.
While the American reality series doesn't necessarily set aside funds for potential divorces, they do financially help out couples who decide to go that unromantic route. "We will contribute within a certain period of time if they get divorced," the CEO of Kinetic Content, Chris Coelen, told The Wrap. "We will help them cover the costs of an attorney if they choose to do that."
According to a contestant named Clark, who appeared on the U.K. series in Season 2, the British version does set aside money for divorces before the season even begins. Couples just have to let producers know if they want one. However, they have to wait a full year before it even goes into effect. "You have to legally be married for a year before you can apply for a divorce," he told Cosmopolitan. "So I had to wait." In 2017, he and his match Melissa were able to legally split.
The success rate of Married at First Sight
Over the course of 15 seasons, 59 couples have been matched up after expert analysis on the American version of "Married at First Sight." Of those 59 couples, 42 of them have gotten divorced as of this writing — leaving the success rate of this reality series at 29%.
Compared to other matchmaking series, "Married at First Sight" has become one of the most successful at creating couples. Both "The Bachelor" and "The Bachelorette" combined have a success rate of only 21.4%, according to Yahoo!. "Love is Blind" has a success rate under 7%, according to Distractify.
The "Married at First Sight" experts spend countless hours creating couples that they believe are the most compatible, which could explain its high success rate for a reality series. "The experts always say there is no exact science and no guarantees, but it is based on a high degree of research," Kinetic Content CEO Chris Coelen told People. Crazily enough, Coelen is also living proof that this process works. As he told The Wrap, he met his own wife on a blind date.