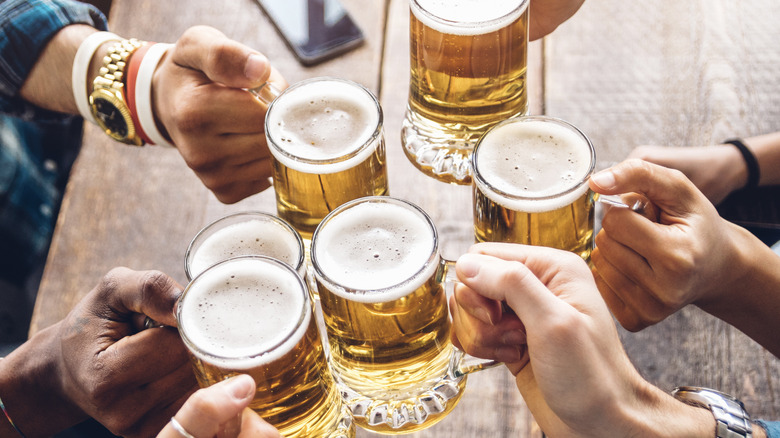 It seems like to the average beer drinker, there are two main categories to classify the alcohol — cheap beer and craft beer. It's a binary and an oversimplification of the ever-growing world of beer, especially for the brews that are sold for a bargain. Many people believe that craft beer is always expensive, hoppy, and complex, while cheap beer is plain and readily available. Sure, there are mass-produced beers that can be found at bars, gas stations, and liquor stores across the world that only costs a few quarters per can. However, there are also plenty of tasty beers that are small crafted that are a good bang for their buck.
Unless it's a special occasion, most people like to find a deal whenever they can, especially when it comes to alcohol. Hey, it's why happy hour as a concept even exists. Thankfully, there are so many beers sold from a wide variety of breweries at a low price worth trying at least once, especially because they won't break the bank.
We rounded up a few of the best cheap beers to try before the end of 2022. Whether they're mass-produced or harder to find, your wallet will agree that these are exactly the beers you should be drinking before the new year.
How we selected products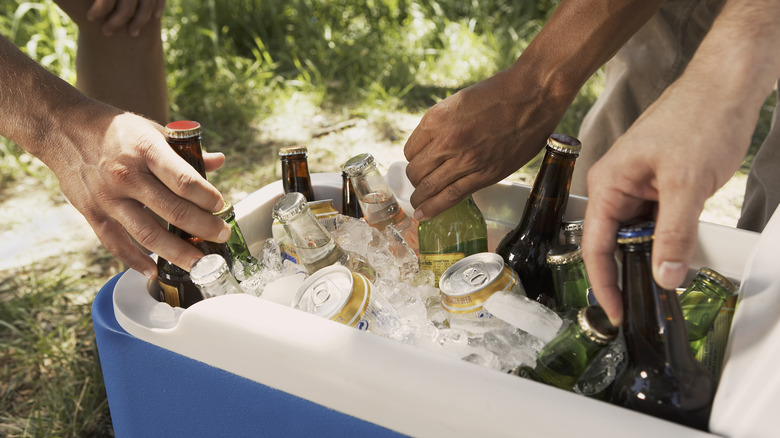 Cheap beer as a qualifier is also pretty vague. It doesn't specify the type of beer, region its brewed in, alcohol content, or International Bitterness Unit (IBU) rating. Therefore, we tried to pick an array of brews to accommodate every palate, whether your drink of choice is a hoppy IPA or a breezy lager. The unifying factor is that every cheap beer on the list is sold for less than $2 per can or bottle, and it's typically far below that price tag.
As for determining which cheap beers out of the hundreds sold are the best, we tapped into the court of public opinion. We took into consideration the general popularity of an item, as well as its availability at the average bar. We also had to narrow down one beer per category, so we couldn't bog down the list with our favorite cheap light beers to drink on a hot summer day.
Online user reviews and press coverage also helped us determine which beers stand out from the pack, thanks to websites geared toward beer enthusiasts like Untappd and BeerAdvocate. Additionally, if a beer is limited edition for 2022 or has a special connection to the year we're highlighting, those factors likely made an impact in their overall inclusion.
Best cheap beer for a crowd
When trying to decide the best cheap beer for a crowd, Hamm's is always a good answer. A case of 30 cans of Hamm's can go a long way, and most people will be surprised at how robust it tastes for the low price. It's a light and easy drinker at 4.7% ABV and has the history to back up fans of the brand. Hamm's has been brewed since 1865 in St. Paul, Minnesota, first originating from German brewers looking to make an American blend of beer. It's become one of those American beers you'll find everywhere from backyard barbecues to college parties, and that's not by coincidence.
The reviews of Hamm's classic lager help reinforce that it's one of the best beers for your buck. "Hands down (Hamm's down?) the best cheap beer for easy drinking, clean and refreshing taste. Also the cheapest," one Drizly customer wrote in a review.
You can get a 30-pack of Hamm's for $17.59 on Drizly as of December 2022.
Best cheap light beer
Another must-try American lager that is a simple and bright drinker is Local's Light by Short's Brewing Company from Northern Michigan. The 5.2% ABV brew may not have originated in the 1800s, but it's been a staple in Short's lineup since 2004. It's a light beer that doesn't lack in flavor, and a blind taste test would probably result in many floored participants who wouldn't expect something so tasty to be a light beer.
Some reviews of Local's Light on BeerAdvocate even compare the flavor to Hamm's beer, even though it does have a slightly lighter body and brighter flavor. "Simple flavors but good ones that come across as clean," one user review reads. "Not bad for a basic brew, food and company friendly."
A six-pack of Local's Light by Short's Brewing sells for $8.54 on Drizly as of December 2022.
Best cheap beer with a high ABV
Goose Island's Tropical Beer Hug is bright and colorful in both flavor and appearance, but the can is also hiding a whole lot of alcohol for a low price. Tropical Beer Hug contains a whopping 9.9% ABV, but it's fruity and shockingly easy to drink for an imperial IPA. It also has an IBU score of 45, so it's not too bitter like some IPAs. The flavors are undoubtedly tropical, with notes of pineapple, mango, peach, and citrus.
Goose Island also sells six-packs of Tropical Beer Hug for the same price one might expect to pay for one draft at a bar, making it even more enticing to try. "Deliciously balanced and not too hoppy. Definitely doesn't feel like 9.9% ABV," one Untappd review of the brew reads.
A six-pack of Tropical Beer Hug sells for $12.99 on Drizly as of December 2022.
Best easily available cheap beer
Miller High Life is lovingly referred to as the Champagne of beers because it is elegant amongst a sea of lackluster affordable brews. High Life is also a reliable staple at most bars, whether it's a dive spot or a high-end joint. It's an easy-to-drink beer at just 4.6%, and its golden amber color is just as inviting. It's no surprise this staple has stood the test of time since 1903 when it became Miller Brewing Company's flagship beer. The rest is history.
The Champagne of beers has dozens of die-hard fans who rely on it as an always-available staple. "It's smooth, light, no after taste. I would definitely recommend this beer to anyone who says that they hate beer," one Influenster user wrote in a review of Miller High Life. Miller High Life only gets better with experimentation — like the bright-red Spaghett for Aperol lovers (via Inside Hook).
A 12-pack of Miller High Life sells for $10.99 on Drizly as of December 2022.
Best cheap beer worth seeking out
Stone Brewing has breweries on both coasts in California and Virginia, so it is relatively accessible to hunt down the brand's Hazy IPA that's a fairly priced craft brew. It's a slightly sweet hazy, meaning it's more creamy and refreshing than it is bitter and robust. The 6.7% ABV can also has plenty of fruit inside, with distinct notes of citrus, melon, mango, and pineapple.
Stone Brewing's Hazy IPA is a newer release from 2021, but it's already made an impressive impact among those who have sought it out. "This is by far the best IPA I have tried. There is a smoothness to the 'haze' of the Stone Hazy IPA. There are citrus undertones and it is a refreshing beer," one review on Stone Brewing's website reads.
Stone Brewing sells its Hazy IPA for $12 for a six-pack as of December 2022.
Best cheap beer for warm weather drinking
Kona Brewing Co.'s Big Wave Golden Ale gets a lot of praise because it's just that good, and it won't break the bank. It's an easy brew to get your hands on that immediately transports you to the beach no matter where you are drinking it. It's a light 4.4% ABV that is golden in hue as the name suggests, and is light without tasting watered down.
Big Wave Golden Ale also has a loyal crew of drinkers who rely on it whenever they need something cheap and tasty. "I cannot believe that I have never rated this beer. I have had it several times and always enjoyed it. Nothing earth shattering but incredibly solid," one BeerAdvocate user wrote in a review.
A six-pack of Kona Brewing Co.'s Big Wave Golden Ale sell for about $11 on Drizly as of December 2022.
Best cheap beer for cold weather drinking
On the opposite end of the spectrum, there are certain beers we turn to to warm us up during those cold winter months. If you need something new and affordable in your roster, look no further than 21st Amendment Brewery's Fireside Chat. It's a winter spiced ale that isn't overly bitter with just 45 IBUs, but it still has a sturdy body filled with spices and hints of cocoa. The brew is also pretty boozy, containing 7.9% ABV, which you can't beat for the price.
It's one of those beers you have to try, and it's best enjoyed by a cozy fireplace in a cold glass. "I would not hesitate to give this the equivalent of 3 Michelin stars and 5 forks and knives, or just a solid 5/5," one BeerAdvocate user wrote in a review. "This will undoubtedly aid in the enjoyment of any holiday feast. A brilliant and blessed beer, one to truly savor."
A six-pack of 21st Amendment Fireside Chat sells for $9.99 on Total Wine as of December 2022.
Best cheap American beer
There are so many beers made in the U.S. that it's actually impossible to pick one to define the country as a whole. But if we're looking for something affordable, reliable, and quintessentially American, we have to turn to Narragansett Lager. The Rhode Island beer is 5% ABV. It's been around since 1890 and has never wavered in its crisp and refreshing flavor. It has rich history in New England and beyond, considering it was the best selling beer in the region in the 1930s to the 1970s, according to the brand.
It's cheap, it's delicious, and it has distinguished roots — do you really need a better excuse to buy a pack of 'Gansetts? "This brew was initially described to me as 'New England PBR' and that is honestly more accurate than not," one BeerAdvocate user wrote in a review. "Not necessarily superior to PBR, when it comes to 'good cheap beer,' but definitely something you shouldn't be surprised to find in my fridge or a cooler that I bring to [your] backyard BBQ!"
A six-pack of Narragansett Lager sells for $7.99 on Drizly as of December 2022.
Best cheap Japanese-style beer
Kirin Ichiban is one of the iconic Japanese beers that you will find on the menu at sushi restaurants across the globe. Even though it's now mostly brewed in the U.S., the flavor of the lager, which pairs perfectly with yakitori and nigiri, has not been compromised, staying true to its Japanese roots. The golden beer contains 4.9% ABV and it's light but pleasantly malty, like you would probably expect from a beer that proudly contains 100% malt.
The Japanese-style lager is slightly hoppy with a clean finish that's dangerously easy to down, making it a perfect beer to drink long after dinner ends. "Malty, but not over the top. I agree with the others, this is better than the standard mass-produced American lagers," one Total Wine customer wrote in a review of the Japanese-style lager.
A 12-pack of Kirin Ichiban sells for $17.49 on Total Wine as of December 2022.
Best cheap Belgian-style beer
Okay, so there are dozens of styles of Belgian beers, but as far as Belgian-style white ales, Avery Brewing Co.'s White Rascal is a must-try. It's the flagship beer at the Boulder, Colorado brewery, but has roots in Belgium. The folks at Avery Brewing use the same ingredients and techniques used by 15th century brewers from the village of Hoegaarden, so it honors the Belgian traditions.
White Rascal is bright in flavor, but also a little spicy thanks to the addition of coriander and Curaçao orange peel. It also has a medium body with 5.6% ABV per can. "A crisp beer that is dry and leaves you wanting more," one BeerAdvocate review of White Rascal reads. Another customer shared, "Fancy Blue Moon/Shock Top with a nice minorly complex flavor profile that leans into its Belgian inspirations. Nothing wildly special but certainly wildly enjoyable."
A six-pack of White Rascal sells for $9.99 on Drizly as of December 2022.
Best cheap Mexican beer
When you think of Mexican beer, it probably conjures up flavors of refreshing golden pilsners you can sip all day in the sand. Pacifico is the epitome of that. It's a 4.4% lager that has history in Germany, Mexico, and California. The brand was founded by three German brewers in Mazatlán, Mexico more than a century ago. Later, in the 1970s, a few surfers discovered Pacifico after a long day in the waves and brought it back to California to share with the masses.
Pacifico is the perfect beer that always tastes refreshing. "This is one of the better of the light cervezas. It is very similar to Corona but has a slightly heavier body and fuller flavor," one Influenster review of Pacifico reads. "This one goes really well dressed with a little salt and lime."
A six-pack of Pacifico sells for about $11 on Drizly as of December 2022.
Best cheap German-style beer
Again, it's really hard to pick one beer that exemplifies everything that German beer can be. The U.S.-produced Oktoberfest from Breckenridge Brewery is a pretty solid expression worth a try (especially for the sale price). Unlike some German beers, this amber lager is smooth and easily drinkable despite being full of bread and malt flavors. It's a 6% ABV brew that isn't overly hoppy, hitting just 20 IBUs.
Oktoberfest from Breckenridge Brewery might not be the best beer to try if it's the first German brew to touch your lips. However, for those of us who have tried more than a few, it's a refreshing and affordable option that will satisfy a lot of palates. "Pretty mild but I guess that works out for drinking a lot of it all night long," one BeerAdvocate review reads. "Fulfills its job at being sessionable. Can't really ask more out of this style."
A six-pack of Breckenridge Brewery's Oktoberfest sells for $10.99 on Drizly as of December 2022.
Best cheap grocery store beer
Trader Joe's has a reputation for selling store-exclusive items, including alcohol, for a shockingly reasonable price. The booze section is worth getting lost in for awhile, but if you need some inspiration, check out the Josephsbrau Bavarian Style Hefeweizen for another German-style beer. This brew is full of spices and notes of baJosephsbrau Bavarian Style Hefeweizennana, making it refreshing but robust. It's brewed in California and contains a steady 5.3% ABV per bottle.
The packaging for Trader Joe's Josephsbrau Bavarian Style Hefeweizen may be unassuming, but fans say the flavor inside is nothing close to boring. "Taste is bready malt with granny smith apples, resulting in a mild sweetness that fades to a slight tartness that invites you to take another sip," one BeerAdvocate review reads. "Mouthfeel is full and effervescent. Overall, Trader Joe's really nailed it with this one. I would happily get this one again."
Trader Joe's sells a six-pack of its Josephsbrau Bavarian Style Hefeweizen for $6.50 as of December 2022.
Best cheap beer in a bottle
Okay, we can hear the snarky comments now — most of these beers come both in a can and a bottle, we know. There's just something about a Coors Banquet Beer in a mini bottle that just elevates the experience and is worth shouting out separately. Coors Banquet has been brewed since the 1870s, and the brand has been selling it in a stubby bottle since the 1930s. The golden lager is a good balance of sweet and malt with just the right amount of hops to balance it out without making it bitter in the slightest.
Coors Banquet is a 5% ABV beer that is smooth, slightly fruity, and endlessly easy to drink. "Coors is refreshing and smooth, not bitter. It goes down easily. It's one of the best values out there. There's nothing I would change about it," one Influenster user wrote in a review of Coors Banquet.
A six-pack of Coors Banquet sells for $6.99 on Drizly as of December 2022.
Best cheap pilsner
A pilsner is a pale lager that is crushable and mild, infused with bright flavors. The folks at The Post Chicken & Beer in Colorado decided to create a pilsner perfect for washing down their gluten-free fried chicken with Howdy Beer. It's a 4.5% ABV Western pilsner that is as crisp as the fried chicken, but with a solid amount of hops in the background to keep it interesting. As expected, the finish is so clean, it makes you want to sigh "ahhh" after every sip.
Howdy Beer is one of a kind, making it one to seek out. It's best enjoyed at The Post Chicken & Beer, but if you can't get out West, an at-home version will do. "Whoa, I expected a hum-ho pale lager, not a crisp clean pilsner of ludicrous drinkability," one BeerAdvocate user wrote in a review of Howdy. "Holds a candle to traditional German expressions of the style. An ideal brew to pair with grub."
A six-pack of Howdy Beer sells for $9.99 on Drizly as of December 2022.
Best cheap lager
While all pilsners are technically pale lagers, the category of lagers is much more expansive and can include beers both light and dark. One lager that is a classic cheap beer you can get at most bars is Stella Artois. Even though this is a list of beers to drink in 2022, Stella has been around for more than 600 years when it was first brewed in Belgium. It's now brewed in the U.S. under the supervision of Belgian brewmasters to honor the version from the 1300s.
Stella Artois is a 5% ABV beer that tastes good as a refreshment after a long day, or as a neutral accompaniment to a meal. "Whenever I'm at a restaurant and they have Stella on the menu it's very hard to try a new beer that might be disappointing over one that is this perfect," one Rate Beer user wrote in a review. "In a cage fight Stella can beat any lager beer from the Western Hemisphere and not break a sweat."
A 12-pack of Stella Artois sells for $19.99 on Drizly as of December 2022.
Best cheap IPA
Southern Tier Brewing Company is a brand that was born in Lakewood, New York and has gone on to explode into one of the major craft brew brands in the U.S. One of the brand's original beers from the early days is the Southern Tier IPA that is also a bang for your buck, especially as far as IPAs go. "Really great beer. More drinkable than a lot of IPAs I've had before while still having a decent ABV," one Drizly customer wrote in a review.
Southern Tier IPA is a boozy option as well with 7% ABV and is relatively hoppy, coming it at 60 IBUs. The medium body beer has those classic hops flavors of citrus and pine with a hint of sweetness to help mellow out the bitterness.
A six-pack of Southern Tier IPA sells for $10.89 on Drizly as of December 2022.
Best cheap double IPA
If an IPA is strong and hoppy, a double IPA just takes that up a notch. It might sound intimidating, but a budget-friendly way to explore the beer category is Lagunitas Maximus Colossal IPA. The 9% ABV beer packs a boozy punch while tasting like bread, baking spices, florals, and fruit. Of course, as expected with a double IPA, it's hoppy as you'd expect, but with a steady 60 IBU rating.
Lagunitas Maximus is only intimidating in name. It's a well-balanced and palatable drink that will have you tipsy after just one can, which is always a win for the booze budget. "Best $1.50 tall boy ever," one Untappd user wrote in a review of the brew.
A six-pack of Lagunitas Maximus sells for $11.99 on Drizly as of December 2022.