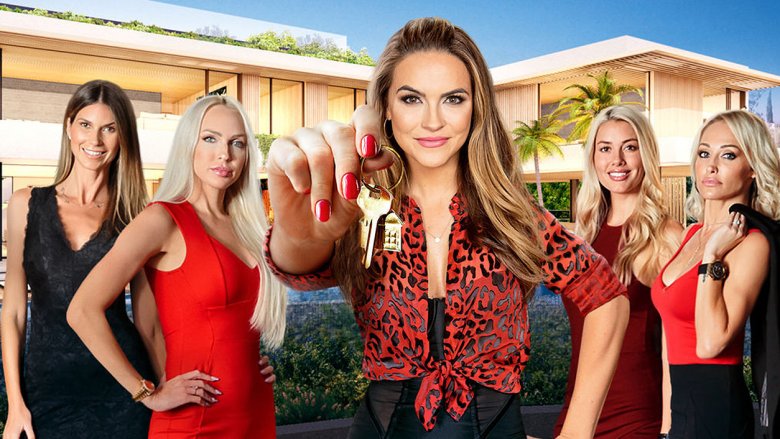 Selling Sunset is Netflix's binge-worthy docusoap. It's visual eye candy wrapped up in an easily digestible and tasty premise. Vice describes it as a series about "attractive white women who sell luxury properties for The Oppenheim Group, a major player in the Hollywood Hills real estate scene." The streaming show is wish fulfillment through the lens of wealth, power, and bottle blondes.
While the drama-infused set-ups seem scripted, and the pretty, yet petty characters are sometimes hard to root for, who doesn't like a good, old-fashioned catfight between slow-mo panning shots of million-dollar mansions? Selling Sunset isn't ashamed to be the tanned and toned love child of The Hills and Million Dollar Listing, but how much do we really know about it? Let's take a closer look inside before we buy-in, shall we? Here's a peek behind the scenes of Selling Sunset.
Does Selling Sunset look familiar? (Remember The Hills?)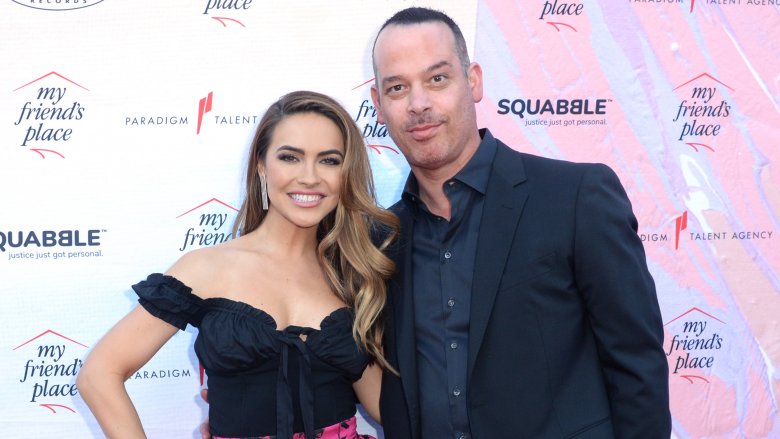 Selling Sunset's overproduced look, from the flattering soft-lighting to the music video-style editing, instantly gives off the same vibe as The Hills, and there's a good reason for that. The creator of both shows is Adam DiVello. The former MTV executive helped develop the seminal Laguna Beach docuseries before leaving the cable network to create its even more successful spin-off, The Hills. Although MTV is rebooting DiVello's former hit show, the television producer isn't involved in The Hills: New Beginnings, although he finds it "super flattering that there's still interest."
Instead, DiVello ventured into new territory with Netflix's first docusoap series. "I've always been obsessed with real estate personally," DiVello told Variety. "I watch all the real estate shows and spend many a weekend going to open houses myself. I came across these two brothers, Jason and Brett Oppenheim, and then about five or six female employees. And I thought, that's the cast of a show right there. They're super attractive and they're the No. 1 realtors selling in the West Hollywood and Sunset Strip area. It was a no-brainer."
DiVello notes that the show has a lot of similarities with his past projects. "We're just trying to showcase more of the real estate and glamour of it all. Kind of take what I did with 'The Hills,' and show the females' lives, their work lives, take their relationships and personal lives and use the real estate as a backdrop."
Chrishell Stause was married to a This Is Us star
Chrishell Stause was the proverbial "new girl" on Selling Sunset — a woman who overcame a tough childhood to try to break into the high-stakes world of Hollywood luxury real estate. If the goody-two (designer) shoes Southern gal with the va-va-voom style and voluminous hair looks familiar, it's because she's a former soap actress who starred on Days of Our Lives. While that could raise red flags that this reality show isn't real, Stause does have a 5/5 rating on Zillow to date, albeit with one lone (but positive) comment from a potential home buyer: "My husband and I have been working with Chrishell for quite a few months now. Even though we have not found our home yet she has been incredible during the process!"
If you're not a daytime television watcher, you might be familiar with Stause's ex, Justin Hartley, a rising Hollywood hunk who stars on the NBC hit show This Is Us. The couple tied the knot in October 2017, in a fairy tale outdoor wedding surrounded by Hartley's This Is Us costars, including Mandy Moore, Chrissy Metz, and Milo Ventimiglia, per Us Weekly. By all accounts, Hartley and Stause seemed perfect for one another, until the former Smallville actor decided to file for divorce out of the blue in November 2019, citing "irreconcilable differences." Hartley has already moved on to dating one of Stause's friends, and their former The Young and the Restless costar, Sofia Pernas.
Twinning the L.A. luxury real estate game
Twins Jason and Brett Oppenheim don't just play movers and shakers in the Los Angeles luxury real estate game on Selling Sunset. The siblings' Oppenheim Group is one the most well-known real estate agencies in the city. These bros are known as big-game house hunters in the Hollywood Hills. According to The Hollywood Reporter, Jason, the top selling agent at the Oppenheim Group, "estimates they sell 10 times more homes there (80-plus in 2016) than their closest competitor."
With such a high profile in the highly-competitive L.A. real estate industry, you have to wonder why they'd want to pull back the curtain to reveal their secrets on TV. "More and more, the real estate professional has become celebritized," Jason told the Los Angeles Times. "Clients really expect a lot. Marketing a property is not what it used to be, whether it's social media or entertainment."
Aside from playing the big bosses, the bald brothers understand that their success in the frenzied real estate game has played a role in the city's well-documented affordable housing crisis. "We represent the upper 1/10th of 1% of our community," Jason told the publication, "and I think it's naive and disrespectful not to recognize and fulfill our obligation, most importantly, to the opposite, bottom 1%. I contribute a significant amount of money to Food on Foot for that very reason. The bottom 1 [percent] is just as important as the top 1 [percent]."
If looks could sell on Selling Sunset
If you only crack open a Playboy to read the articles, you may not recognize Oppenheim Group realtor Heather Rae Young, a.k.a. Playboy Playmate Miss February 2010. On Selling Sunset, the blonde bombshell has been a hot mess, juggling million dollar listings, a long-distance relationship with her European hockey playing (now-ex) boyfriend, and a modeling/acting side hustle (EMG Models is listed on her Instagram bio). According to her IMDb page, the Southern California native has appeared in a number of B-movie roles with titles such as Christmas in Compton and The Malibu Tapes.
Fellow Selling Sunset cast member Davina Potratz is also a familiar face if you're a fan of real estate reality TV. The German-born beauty has been on a reality real estate show before, peddling mega-mansions on Bravo's Million Dollar Listing Los Angeles. This former Ford Agency Model has done well as a high-stakes realtor, earning an impressive job title as "Director of the New Development Division of The Oppenheim Group." Although Potratz gets the least screen time on the show, she's arguably the most accomplished of the Selling Sunset cast, with a five-star rating on Zillow. She's also a member of Top Agent Network, which represents the top 10 percent of agents in the market.
Selling Sunset's crew has sold celebrity cribs
Selling Sunset's Guggenheim Group caters to the Hollywood Hills, so it's only natural that they would be showcasing celebrity cribs (actor Taye Diggs appears on Season 1 Episode 3). One of the luxury real estate company's most famous listings is the home of actor Orlando Bloom. Oppenheim's Mary Fitzgerald gave use a peek inside with a candid Instagram tour of the Pirates of the Caribbean star's $8.9 million hillside property.
The stunning "indoor-outdoor living space" sits on "Billionaire's Row," according to the Oppenheim website's listing, with a "zero-edge pool" that Marie Claire described as "to die for." So why is Bloom giving up his dream house after a series of painstaking renovations? Jason Oppenheim told People that Bloom "spent quite a bit of money and quite a bit of time" on the pad. "The pool took almost a year and a half." However, after Bloom got engaged to pop star Katy Perry in February 2019, he apparently decided to sell. "It's not really suitable for them right now as he's no longer a bachelor," Oppenheim said.
Mary Fitzgerald's relationship creates a lot of drama behind the scenes of Selling Sunset
Every docusoap worth its weight in gossip has a tumultuous relationship centered around a couple that we aren't sure should be together (think Justin Bobby and Audrina Patridge on The Hills). On Selling Sunset, that duo is Mary Fitzgerald and Romain Bonnet — a successful career woman and a much younger, French pastry chef/Wilhelmina model. Much of the show's first season centers around the odd couple who (spoiler alert) eventually get engaged. Of course, even that tender moment sparks office whispers when Fitzgerald reveals that her engagement ring is Moissanite (a.k.a. a fake diamond), drawing arched eyebrows from her co-workers — and we're not talking about Botox. Add that juicy nugget to the fact that Fitzgerald's ex is also her boss (Jason Oppenheim), and that she has a son who's not much younger than her beau, and you've easily got enough drama to fill eight episodes.
Selling Sunset Season 2 sees Fitzgerald and Bonnet finally tie the knot, although not before the wedding planning process creates tension for the entire cast. In the teaser shown at the end of this season, Bonnet appears to confess to his new wife that he's done something terrible. However, if Fitzgerald's Instagram is anything to go by, there's absolutely no trouble in paradise, as she's continued to share loved-up photos with her husband. But knowing Netflix's scandalous real estate show, Fitzgerald and Bonnet's relationship will appear to be anything but smooth in Season 3 and beyond.
Christine Quinn receives hate mail from Selling Sunset fans
Christine Quinn's life might look seriously glamorous on Selling Sunset, but if you ask the star, the truth is a different story. According to the self-styled Britney Spears fanatic, she can't count all of Selling Sunset's viewers as her fans. Quinn told Refinery29 in May 2020, "It took a toll on me when I would get messages every single day like, 'Go kill yourself. I f**king hate you.' But at the end of the day, I realized that like 90 [percent] of the people out there love it and love the show." Even though Quinn creates a lot of drama on the series, it's undeniably brutal that she gets majorly abused online.
While receiving hate mail is a horrifying experience, the real estate mogul and fashion queen has been handling the attention better than most. Quinn told Refinery29, "I just wanted to inspire people and entertain them. That's all I really ever wanted to do. That's why I became an actress in the first place. I was like, Okayy, I gotta do it. My fans will be so disappointed." Quinn also hinted that the way she's portrayed on the Netflix show isn't completely accurate, meaning that the hate mail she receives is completely unwarranted. As she later told Cosmopolitan UK, "I believe I went into Selling Sunset on day one and production had a perception of me. They wanted me to be the villain." Something to think about before you send those DMs.
Heather Rae Young is dating HGTV star Tarek El Moussa
Heather Rae Young's high-profile romance with HGTV's Tarek El Moussa is mentioned on numerous occasions in Selling Sunset Season 2. Since then, the couple has taken their relationship to the next level by moving in together and getting engaged. Young shared an adorable photo taken after El Moussa popped the question on July 26, 2020, and called herself "The Future Mrs. Tarek El Moussa" in the caption. The proposal took place at Descanso Beach Club near Catalina Island as the couple celebrated their one-year dating anniversary. Things certainly move fast in Hollywood.
El Moussa was previously married to his Flip or Flop costar, Christina Anstead, with whom he shares two children. In June 2020, Young revealed to People that she sees herself as a "bonus mom" to El Moussa's kids, daughter Taylor and son Brayden. And by all accounts, El Moussa appears to be completely smitten with his new real estate beau. In August 2019, he told E! News, "I feel really, really lucky to have met her. We have so many things in common. She's amazing. She does such a great job, she did Selling Sunset, and that show was incredible. So, I really admire her work ethic and her heart." It's safe to say that this couple's union was pretty much made in real estate heaven.
Selling Sunset's Christine Quinn didn't cheat with her now-husband
In Season 2 of Selling Sunset, Mary Fitzgerald starts some major drama when she suggests that Christine Quinn's now-husband, Christian Richard, already had a girlfriend when he first met Quinn. Quinn later clarified the situation to Refinery29, explaining, "Right after we ended production on Season 1, I met someone that's my now-husband. My girlfriend went on a date with him and she's like, 'Hey, I went on a date with this guy who I really don't like. I know you're single; you may want to go out with him.' So I went on a date with him after she did." After all, friends share, right?
Luckily, Quinn doesn't seem to be holding any major grudges against her reality TV friend over the mix-up anymore, as she told Refinery29, "The story played telephone down the line, and Mary didn't really understand what happened." However, she did hint that several cast members wouldn't have been invited to her wedding to Richard if it hadn't been a major plot point for Season 3 of Selling Sunset. As Quinn later told Grazia, "There were definitely people that were just there for the camera time. Yeah, and definitely people that were there because they are genuinely my friends." Fingers crossed that Fitzgerald has a place in the latter category.
Chrishell Stause is 'dreading' watching her divorce in Season 3 of Selling Sunset
As most viewers will already be aware, Chrishell Stause is set to face some heartbreak when Selling Sunset returns for Season 3. Her ex, Justin Hartley, filed for divorce from Stause on Nov. 22, 2019, and the devastating events will be featured on the show. In Selling Sunset Season 3's official trailer, Stause explains, "The crazy way in which this went down, people want answers. I want answers," in reference to Hartley's shocking decision. And it would seem that Stause isn't too thrilled about the prospect of seeing her split drop on the streaming service.
In a May 2020 interview with Entertainment Tonight, the actress-turned-reality star revealed, "It's obviously not something that I am looking forward to but it does follow our real life." She continued, "When it gets to the bad, I am going to go under a rock and I am going to go off the grid." Stause echoed the same sentiment in an interview with ET Canada and reiterated, "It's not a comfortable thing to live in front of everyone."
Clearly, reliving a breakup on television is far from ideal, and it sounds as though Stause is doing the best she can amid the unusual, and very upsetting, situation. As the real estate agent told ET Canada, "This is still new for me trying to adjust to such an uncomfortable thing … If I'm being 100 [percent] honest with you, it's friggin' awkward … I'm dreading that."
Selling Sunset's Chrishell Stause and Christine Quinn still have beef
While some of Selling Sunset's drama is purely just for the show, it seems that not all of the cast members are the best of friends when the cameras stop rolling. Following the news that Justin Hartley had filed for divorce from Chrishell Stause, Christine Quinn decided to discuss the split in an interview. Speaking to Page Six, Quinn said of Hartley and Stause, "We all just thought maybe they were having communication problems for a while." She continued, "We heard that they were in therapy, so obviously there were some issues going on with them." However, Stause caught wind of Quinn's comments and decided to address the matter on Twitter.
In July 2020, Stause tweeted in response, "I just learned Christine is giving press 'information' about my divorce. Let me be VERY clear. She knows absolutely nothing about the situation and is obviously desperate to gain attention by doing so. Anything from her is either a complete lie or total conjecture on her part." And that's not all. Stause further explained, "It's so frustrating and unfortunate that someone would use someone's personal painful situation to get press for themselves. I can't say I am surprised, but please check the source. She has absolutely zero knowledge of the marriage we had."
Clearly there's very little love lost between Stause and Quinn, who have regularly butted heads on the show, and will presumably continue to do so.
Selling Sunset Season 4 could be on the way
While Season 3 of Selling Sunset drops on Netflix on Aug. 7, 2020, the yet-to-be announced Season 4 will apparently arrive sometime in 2021, according to Christine Quinn. In a July 2020 interview with Grazia, she revealed that, due to the pandemic, "Unfortunately [the show] has been affected." Quinn explained, "So usually we get picked up after the show airs, you know, we'll hear some information, some rumblings. With Season 2 being in the top ten [on Netflix], I think we're definitely going to get picked up. But everything has been setback due to COVID. We're going to shoot next year, now, I'm hearing. We have such a big production, there's so many people on our crew. I don't think we'd be filming this year."
While the star obviously isn't allowed to confirm or deny a fourth season, her comments certainly suggest that more episodes are already in the pipeline. And for what it's worth, executive producer Adam DiVello thinks the concept has legs. "Los Angeles real estate is something the rest of the world is interested in," he previously told Variety. "LA and Hollywood culture plays well in other countries … You're seeing these gorgeous $30 million, $40 million mansions that they're selling that people rarely get to see the inside of … some of them have two swimming pools and helipads on the roof."
Basically, Selling Sunset could be around for years to come, so watch this space!