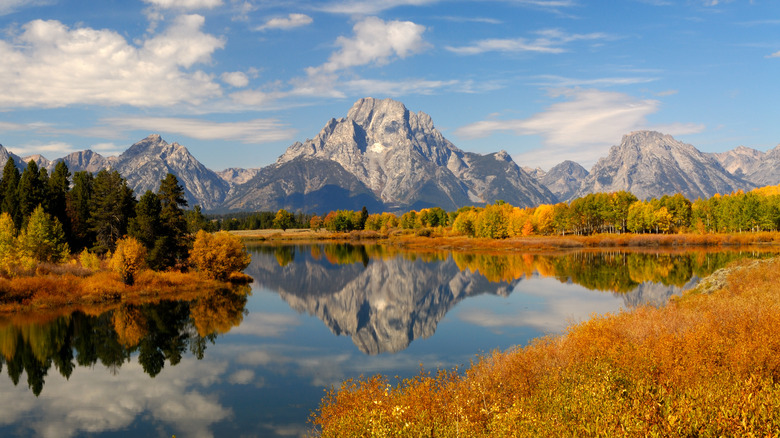 There are 106 trillion square feet of land in the United States (via United States Census), which really just means America is a really, really, big place. A lot of those square feet are occupied by people's houses, uninteresting public buildings, and fast food restaurants, but there are also a lot of things to do and see — way too many to condense down into 50 best-of-the-best destinations, though it was fun to try.
To compile this list, we referred to a combination of best-of lists from travel publications and travel blogs, reviews from travel sites like TripAdvisor, and our personal experiences. The result is an eclectic list of the most beautiful national parks, exciting cities, and sites that are historically important or just plain fun. We also included a few under-the-radar locations you may have never heard of but deserve their place alongside those you have. If we missed your favorite vacation spot or the number one destination on your bucket list, please accept our apologies. 106 trillion square feet is just way too hard to narrow down.
Best for nature lovers: Northern Lights in Alaska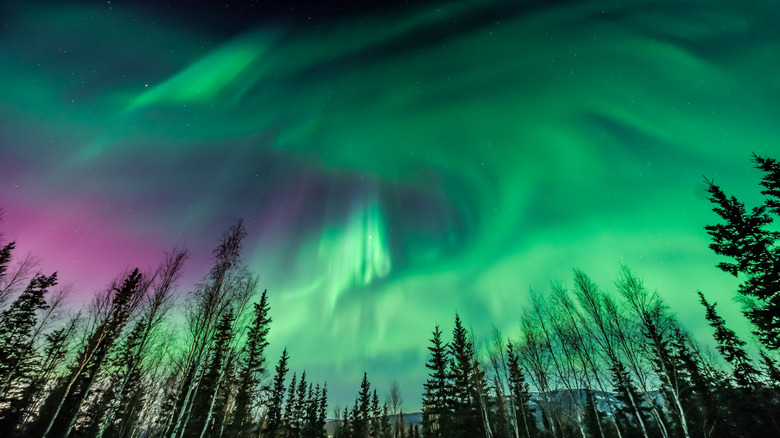 The northern lights should be on everyone's bucket list not just because they're a spectacular natural phenomenon, but also because good spots to see them are likely to become more scarce over time (via Aurora Zone). At some point in the future, you may need to travel to Scandinavia for the best view, but in America, Fairbanks, Alaska is your best bet. The city offers a lot of different viewing options, depending on whether you like heated comfort, freezing to death, or dog sleds (via Explore Fairbanks). You can go solo, too, as long as you get some good viewing tips from a local.
Best for nature lovers: Grand Canyon National Park
Yes, it's an obvious choice, but there's a reason why the Grand Canyon is one of the most popular destinations in America — because it's beautiful, breathtaking, and unlike anything else you'll ever see. Specifically, it's a must-see because it's the largest canyon in America, and photos don't do it justice (via National Geographic). You don't even need to love hiking to enjoy the Grand Canyon, so don't erase this one from your bucket list just because the idea of a 9.6-mile walk up a steep incline doesn't appeal to you. You can drive the rim of the Grand Canyon, too, and there are plenty of overlooks where you can stop for a selfie (via National Park Foundation).
Best for nature lovers: California's Coastal Redwoods
It's impossible to really understand just how massive a 2,000-year-old redwood tree is unless you've stood at the base of one in a forest full of other 2,000-year-old redwood trees. "Pictures do not even come close to describing how big those trees are," said a TripAdvisor user in a review. For this reason, the old-growth groves of coast redwoods are a must-see, and even more so if you're a Star Wars fan — some of the groves that stood in for Return of the Jedi's Moon of Endor still exist. However, no one seems to know if they're in Jedediah Smith State Park, the Avenue of the Giants, or the Grizzly Creek Redwoods (via Save the Redwoods).
Best for nature lovers: Yellowstone National Park
Yellowstone National Park is a must-see because, well, it just is. Specifically, we picked this destination because there really isn't anywhere else in the United States where you can see wildlife, geysers, and stunning natural beauty while walking around inside an active supervolcano (via National Park Service). Yellowstone is glorious during any season — there's skiing and snowmobiling in the winter, swimming in the summer (or in the winter, if you're insane), and camping and hiking all year round. Also, one day the Yellowstone Caldera will erupt, destroying all life within a 60-mile radius (via CBC), so you should probably see the park now, you know, while it's still there.
Best for nature lovers: Joshua Tree National Park
Joshua Trees exist in only two places on Earth: the Mojave Desert, and the back cover of a U2 album from 1987. Since you've probably already seen the album — if you're cool, anyway — you really must also see the trees themselves, mostly because they don't really look like any other form of plant life anywhere else on Earth. Mormon settlers called them "Joshua trees" because of their supposed resemblance to the biblical Joshua raising his hands towards heaven (via National Wildlife Federation), though frankly, you kind of have to squint to understand what the Mormons were talking about.
Best for nature lovers: Hawaiian Volcanoes
There are millions of reasons to go to Hawaii, but one of the best is the volcanoes. Yellowstone may be in danger of blowing its top someday, but the volcanoes that created the Hawaiian islands are already doing that. We picked the Hawaiian volcanoes on the island of Hawaii as a bucket-list destination because they're real, active volcanoes, and when you visit them, you could see actual lava — if you're lucky, anyway. Hawaii Guide says your chances of seeing lava in person vary according to the "mood of Pele," the volcano goddess. Still, those chances are much better here than in most other places in America.
Best for nature lovers: Arches National Park
Given enough millenia, geology can do a lot of pretty amazing things, and one of the most spectacular examples of this can be found at Arches National Park in Moab, Utah. This is a must-see destination because the park and broader Colorado Plateau area boasts the largest number of natural arches in the world (via Utah Geological Survey). In Arches alone, there are around 2,000 arches, though some of them are diminutive compared to the park's most famous attractions, such as Delicate Arch, Double Arch, and the North and South Windows.
Best for nature lovers: Glacier National Park
The indigenous Kootenai called this part of Montana "Ya-qawiswitxuki," which means "the place where there is a lot of ice" (via National Park Service). That name won't be fitting forever, though, which is why you should see Montana's Glacier National Park now, before the glaciers disappear forever. According to NASA, only 17% of the park's original 150 glaciers remain, and many have shrunk significantly. No one is really sure when the last glacier in the park will disappear, but some predict it will be as soon as 2030. With its dizzying views and abundant wildlife, Glacier National Park will always be a beautiful place, but without its glaciers, it will no longer be worthy of its own name.
Best for nature lovers: Niagara Falls
Every year, 8 million people flock to Niagara Falls State Park in New York to watch 3,160 tons of water (per second) tumble into Lake Ontario. Yeah, Niagara Falls is such a popular destination that it's almost trite to tell people you went there, but on the other hand, 3,160 tons of water per second is a pretty spectacular thing to see, and where else are you going to have that kind of viewing opportunity? By volume, Niagara Falls (which is really three waterfalls: Horseshoe Falls, American Falls, and Bridal Veil Falls) is the largest waterfall in America, which is why it makes our bucket list even though visiting it might be just a little cliche.
Best for nature lovers: Zion National Park
In Christian tradition, "Zion" means "the kingdom of heaven" (via Vocabulary.com), which is exactly where this national park in Utah gets its name. Zion should be on your bucket list because it is one of the best places in the world for adventure, whether that's climbing, canyoneering, hiking, or just completing the park's famous six-mile Zion Canyon Scenic Drive (via Springdale). Notably, Zion is home to the Angels Landing hike, which is the most scenic trail in the park and is widely considered one of the most dangerous hikes in America. Angels Landing climbs 1,500 feet, is about a foot wide in some places, and has killed at least 15 people since the early 20th century, according to The Salt Lake Tribune.
Best for nature lovers: Grand Teton National Park
North America has around 500 mountain ranges, and unless you really don't have anything else to do with your time, you're probably not going to manage to see them all. Since you have to be discerning, make sure the Grand Tetons are on your bucket list — these mountains are unique because they are some of the youngest in America (via National Park Service). Geologists think the Tetons started to rise less than 9 million years ago, and since there hasn't been a lot of time for erosion to wear them down again, the peaks are still gloriously jagged.
Best for nature lovers: Big Sur, California
California has everything, but it's probably best known for its beaches. Forget the crowded sands of Southern California, though — if you want to truly experience the beauty of the Pacific Ocean, visit Big Sur, a 90-mile strip of coastline that runs south from Carmel-by-the-Sea to San Simeon (via Visit California). This drive includes the best of California's ocean scenery — it takes just a few hours (depending on how often you want to stop) to complete the entire drive, or you can take your time and camp at Pfeiffer Big Sur State Park. When you get to San Simeon, visit the world-famous Hearst Castle.
Best for nature lovers: Great Smoky Mountains
Every nature lover needs to visit the Great Smoky Mountains, not just because of the beautiful blue-white mist that famously blankets the park, but because it's one of the most biodiverse places in the world (via UNESCO). According to Discover Life in America, more than 20,000 unique species have been documented in the park, including 10,000+ since 1998. This includes around 1,000 species that are new to science but is only between 25% and 35% of the total number of species thought to live there.
Best for nature lovers: White Sands National Park
White Sands National Park was designated in 2019, making it pretty young for a national park but still well worth seeing based on its uniqueness alone (via CNN). We chose this destination because there aren't many other places in the world where you can see a gypsum sand dune field, and this is the largest. There are 275 square miles of white sand in the New Mexico desert, which is also home to at least 220 species of birds and a number of endemic animals that have evolved lighter coloring to help them blend in with the gypsum sands (via National Park Service).
Best for nature lovers: Florida Everglades
North America has 15 different level I ecoregions (via the EPA), and the only place in the United States where you can visit the tropical wet forests ecoregion is the Florida Everglades. This makes this unique national park a must-see destination, even if the presence of 7 billion mosquitoes is somewhat off-putting (via Yale). According to the National Park Service, the Everglades is the largest subtropical wilderness in the United States and is an important habitat for a number of endangered species, including the manatee, the Florida panther, and the American crocodile. Just be sure to bring plenty of insect repellant.
Best for nature lovers: Craters of the Moon
Let's face it, most of us aren't ever going to visit the moon. True space tourism is a long way off, and when it does arrive it's likely to be outside the budget of most Americans. In the meantime, you can visit the closest terrestrial facsimile of an alien planet, appropriately dubbed Craters of the Moon National Monument in Idaho. This place should be on your bucket list because its weird, alien landscape is totally natural and truly unique. The 750,000-acre park features lava fields, lava caves, cinder cones, craters, and the Great Rift, which is a 52-mile-long crack in the Earth (via the BLM).
Best for nature lovers: Columbia Gorge and Multnomah Falls
There are more than 17,000 waterfalls in the United States, and that's just the ones that have been documented. Waterfalls range from spectacular to wimpy, so it pays to know which ones are worth visiting. In Oregon, one of the most spectacular waterfalls is Multnomah — at 611 feet, it's not the tallest waterfall in America, but it makes this list because it's one of the most beautiful. It's also just a 5-minute hike from the parking lot to the base of the falls. If you're feeling slightly more adventurous, you can walk up to Benson Bridge, which crosses the front of the falls at a height of 69 feet. Afterward, explore some of the dozens of other waterfalls in Oregon's Columbia Gorge (via Travel Oregon).
Best for nature lovers: Outer Banks
The Outer Banks isn't just a television show, it's also the place where Orville and Wilbur Wright launched the first powered flight and the site of the Roanoke lost colony, so it's got both history lessons and beauty (via Outer Banks). It makes this list not just because of those great, historic events but because of its unspoiled natural beauty and beaches that are more than 100 miles long (via Visit Outer Banks). The Outer Banks also has a few quirky attractions like the oldest muscadine grapevine in the United States, the Outer Banks Futuro House, and Shipwrecked Doritos.
Best for history buffs: Mesa Verde National Park
American history began way before the arrival of Christopher Columbus, but the earliest parts were never written down. Instead, we have to depend on places like Mesa Verde National Park in Colorado to tell the story of pre-Columbian history. There are almost 5,000 archeological sites at Mesa Verde (via National Park Service), which should be on your bucket list because it contains some of the most impressive and best-preserved examples of indigenous American cliff-dwellings. That includes the 150-room Cliff Palace, the highlight of any trip to Mesa Verde.
Best for history buffs: Route 66
Route 66 isn't a place so much as a drive — but if road-tripping is your thing, no other road trip quite compares to the 2,400-mile journey from Chicago, Illinois to Santa Monica, California (via National Park Service). Route 66 is a must-see attraction simply because it is the original and quintessential American road trip. Along the way, you'll pass through eight states and see some uniquely American attractions like the 66 Drive-In Theater in Carthage, Missouri, Allen's Conoco Hole in the Wall (a historic gas station built out of a brick wall), and Ed Galloway's Totem Pole Park in Chelsea, Oklahoma (via The Travel).
Best for history buffs: U.S. Space and Rocket Center
Whether you grew up during the heyday of the American Space race, the early years of the Space Shuttle program, or the Mars rover era, American space exploration has always been in the headlines. If you have even a passing interest in the great off-world feats of United States astronauts, then you're practically obligated to visit the U.S. Space & Rocket Center in Huntsville, Alabama. The museum features one-of-a-kind exhibits, but it's most famous for the experiences it offers, like a virtual reality trip to the moon, an F-18 flight simulator, and a truly vomit-worthy tumble in a multi-axis trainer.
Best for history buffs: Independence National Historical Park
America as we know it was born in Philadelphia, the home of Independence Hall, where the Declaration of Independence was debated and signed in 1776. You'll also find the Liberty Bell at Independence National Historical Park, which has been cracked since 1824, or possibly 1835 (no one actually bothered to write down how or why it cracked, though someone did make a note of it around the year 1846, according to History). Independence National Historical Park in Philadelphia, Pennsylvania is a must-see not really for the Liberty Bell, though, but because you can't really call yourself a student of American history without standing in the place where it all began.
Best for history buffs: Virginia City, Nevada
If you love the wild, wild, west, Virginia City, Nevada is the only bucket-list destination you really need to visit. This tumbleweed-studded mining town in the mountains just outside of Reno, Nevada is the quintessential wild-west town, featuring its own railroad, an empty silver mine, and a weird mix of souvenir shops, bars, and museums. Virginia City's most famous occupants are its ghosts — just about every historical building in town is purported to be haunted. So, if bar hopping isn't your thing, you can spend your whole day going on ghost tours, or maybe you'll even experience an after-dark paranormal investigation.
Best for history buffs: The covered bridges of Parke County, Indiana
Covered bridges are a uniquely American thing — in fact, the National Park Service considers them to be the first true examples of American engineering. This makes Parke County, Indiana a must-see destination for anyone interested in American architecture or just small-town America in general. Parke County has a total of 31 historic covered bridges, some of which date all the way back to the 1850s (via Covered Bridges Guide). You can drive through some of the bridges, but others are considered too fragile for vehicles and can only be crossed on foot (via Turkey Run State Park).
Best for history buffs: Boston, Massachusetts
Boston has everything you would expect from a big city — museums and galleries, theaters, shopping, and walking tours — but it also has an important place in American history. Besides being the site of the notorious Boston Tea Party and the home port of the U.S.S. Constitution, it's also widely considered to be the birthplace of the American Revolution, which means you really have to visit if you have any interest in that part of American history. Like most other places in America, it also has a dark history. Two-thirds of the indigenous people living there succumbed to yellow fever and smallpox (via History of Massachusetts), and it was the first place in Massachusetts to receive slaves imported directly from Africa.
Best for history buffs: Cape Canaveral and Kennedy Space Center
NASA bought Merritt Island in 1961, just a few years after the agency was established by Dwight D. Eisenhower (via NASA). This means the John F. Kennedy Space Center is almost as old as NASA itself, which is why history buffs and space geeks alike should put this destination on their bucket lists. Kennedy Space Center in Merritt Island, Florida is still in operation, which means you can still take a tour when you visit (via Kennedy Space Center). There are plenty of other things to see and do when visiting, such as the Rocket Garden, the U.S. Astronaut Hall of Fame, and a handful of exhibits dedicated to the moon landings.
Best for history buffs: Taos Pueblo
Very few things stay the same over time, except for Taos Pueblo. These buildings are occupied and have been for more than 1,000 years (via Taos Pueblo). Because it's a rare example of living history, it's also a must-see for anyone visiting northern New Mexico. The structures are made from adobe and most are just as they were a millennium ago. The clay used to build the houses is full of micca, a mineral that makes them glitter in the sun. This is exactly what fooled the Spanish into thinking they'd found a city of gold. Visitors are welcome today, but because Taos Pueblo is a living village, it's important to be respectful and only go where tourists are permitted.
Best for history buffs: Effigy Mounds National Monument
America's ancient indigenous people left ruins, monuments, and other traces behind all over America, but only in Iowa can you see so many animal-shaped ceremonial mounds in one place (via National Park Service). More than 200 mounds in total can be found at the 2,500-acre monument, which was occupied by the Woodland Indians between 500 BC and 1200 AD. The Woodland people built mounds of various shapes, including the bear and bird-shaped mounds that are common at Effigy National Monument. No one knows for sure what the mounds were for — some are burial sites, but others appear to have been largely ceremonial.
Best for history buffs: Mount St. Helens
Mount St. Helens made history when it erupted in 1980, killing 57 people and dropping ash on cities hundreds of miles away (via USGS). Today the mountain slumbers (sort of, it also erupted as recently as 2008, albeit not as violently or tragically), and since no one knows when the next earth-shattering eruption might happen, you need to visit this historic and geologic wonder now, while there's still an opportunity. If you're feeling especially brave, you can even climb to the crater, though you will need a climber's permit to traverse through the boulder field covered with a fine layer of ash pumice that Visit Mt. St. Helens describes as "tend[ing] to shred the skin."
Best for history buffs: Biltmore Estate
America doesn't have any real castles, but it does have Biltmore Estate, home of the Vanderbilts, in Asheville, North Carolina. At 175,000 square feet with 250 rooms, including 35 bedrooms and 43 bathrooms, Biltmore is "America's Largest House" (via Biltmore), though it is worth noting that it's still only around 1/5th the size of Buckingham Palace (via Insider). Still, for sheer size and opulence, Biltmore is a must-see for American bucket lists, whether you know anything about the uber-wealthy Vanderbilt family or not. Yelp user John M. writes that the holidays are an especially good time of year to visit: "It's an amazing spectacle with different trees in each room."
Best for history buffs: Missions of San Antonio
The San Antonio Missions, like all such places in the United States, are a fascinating mix of Colonial overreach and American religious history. Similar missions exist in other parts of the country, but the San Antonia missions of Texas are particularly bucket-list worthy because there are five of them within hike and bike distance of each other (via San Antonio), so you can take in a lot of history and scenery in a very short period of time. In case you need a real endorsement, though, Trip Advisor user Kelly B says: "Personally, I thought that these missions were more impressive than the Alamo."
Best for history buffs: Colonial Williamsburg, Virginia
You can't really call yourself an American history buff if you haven't visited Colonial Williamsburg in Virginia (or at least have this destination on your bucket list). As the largest living history museum in the world, Colonial Williamsburg contains 301 acres of exhibits, museums, arts & crafts, and horse-drawn carriages (via Colonial Williamsburg). Costumed interpreters are on hand to not just inform you about early American history, but show you what it was like first-hand. And if you're brave, you can even stay late for a Haunted Williamsburg Ghost Tour (via Visit Williamsburg).
Best for history buffs: Savannah, Georgia
Savannah is small by most cities' standards — with a population of about 145,000, you're not going to get lost in an urban jungle, but you will have an experience that's unique amongst American cities. Savannah is known for its "southern hospitality," so you can expect to eat a lot of delicious food and fancy cocktails. But what really makes Savannah a must-see destination is its mix of history and Spanish moss-draped architecture. You can tour a number of beautiful, old plantations, some more self-aware than others, or you can take a ghost tour and experience the spooky side of this beautiful city.
Best for the kid at heart: Disneyland
Disney World in Florida seems to get most of the attention, but as Walt Disney's original labor of love and the world's first theme park, Disneyland is the one that should be on your bucket list. Of the six Disney resorts that exist in the world, only Disneyland in Anaheim, California was designed by and built under the supervision of Walt Disney himself (via PBS). As the original Disney theme park, it has all of its original whimsy, some amazing new attractions (don't miss Rise of the Resistance, no matter how long the line is), and is small enough to be doable if you only have a few days and/or a couple of toddlers.
Best for the kid at heart: Indianapolis Motor Speedway
Car racing isn't just for kids, obviously, but let's face it — anyone who loves the sport has got a fair amount of childlike enthusiasm. The Indianapolis Motor Speedway is widely considered to be the capital of the racing world. Most of the speedway's major events happen in the spring, and reviewers like Yelp user Jessica W. say you should aim to visit in May if you can: "There is just nothing like May in Indy and Race Weekend. Is it May yet?" If you can't make the Indy 500, though, events continue through the summer and early fall, and the museum is open every day but Christmas and Thanksgiving.
Best for the kid at heart: Bonneville Salt Flats
Utah's Bonneville Salt Flats is one of just seven salt flats that exist in the world (via Travel Noire), and it's the only one you'll find in America. But that's not the only thing that makes this a bucket-list destination. It's also deeply strange-looking, owned by the military, and has a motor speedway. The salt flats cover 30,000 acres, are completely flat, and are bright white — so bright white that you need sunglasses to look at them.
Best for urban explorers: Las Vegas
Cities are cultural hotspots, centers for commerce and the arts, and hubs of science and progress. Then, there's Las Vegas, Nevada. Don't misunderstand — Vegas has all the aforementioned qualities, but it also has casinos, showgirls, a giant pyramid, and like a couple of million Elvis impersonators. Okay maybe not that many, but there are a handful of wedding chapels where you can get married by Elvis, a long-running show headlined by an Elvis impersonator, and the Flying Elvi, which consists of 10 parachuting Elvis impersonators. But don't go just because of Elvis — Vegas is a must-see because it's also one of the most glitzy, cheesy, and weird cities in the world.
Best for urban explorers: Washington, D.C.
As the capital of the United States and the seat of the American government, Washington D.C. has history, politics, monuments, and culture, but the main reason it's on this list is because of the museums. The U.S. capital is full of museums, and many of them are free — including most Smithsonian locations, the museums on the National Mall, the White House visitor's center, and the National Holocaust Museum (via Washington D.C.). Keep in mind that the latter might be best for adults without kids: "I highly recommend for teenagers and older," wrote a TripAdvisor user. "[In my opinion] this is not suitable for young children."
Best for urban explorers: New York City
No list of bucket-list cities would be complete without New York City, the creme-de-la-creme of American metropolises, the Big Apple, the place that Frank Sinatra couldn't stop singing about. "It's one hell of a city," wrote Yelp reviewer Jeffrey S. New York has the Empire State Building, the Statue of Liberty, Central Park, Broadway, and the Metropolitan Museum of Art. Also, it's New York, so, you know, you really have to go there just to say you did.
Best for urban explorers: San Francisco
On the opposite side of the country, there's the jewel of the Pacific Coast: San Francisco, which is another must-see for reasons that range from the Golden Gate Bridge to Alcatraz Island. San Francisco isn't the biggest city in California (that honor goes to Los Angeles), but it is a densely-poulated and bustling city in the Golden State. That's not the best reason to visit, though — the best reason is because, in 2022, Time Magazine named it one of the World's 50 Greatest Places, largely because of its cultural diversity, gorgeous scenery, and, of course, the food.
Best for urban explorers: Atlanta
Atlanta, Georgia makes the list because it is both a thriving cultural center and an important place in American history. It was famously destroyed in 1864 during the Civil War, and only 400 of the original 3,600 buildings remain (via Lyfepyle). As the birthplace of Martin Luther King Jr., Atlanta was also at the center of the Civil Rights movement in the 1960s. Now, there are numerous historically Black colleges and universities located within the city's limits.
Best for urban explorers: Chicago
Three words: Corn Cob Skyscrapers. Yes, Chicago has double towers that look like corn cobs, but that's not the only reason to visit the third-largest city in America. Chicago is also the city that Batman's Gotham City was modeled after, and it has 37 moveable bridges crossing the Chicago River (via Only in Your State). The main thing that makes it a bucket list location, however, is its thriving arts and culture community. Chicago boasts 74 music festivals, 200 theaters, more than 40 annual film festivals, and 600 parks (via Chicago.gov). It's also right on Lake Michigan, which means there are also beaches, though you may need to wait until late summer for comfortable swimming.
Best for urban explorers: Gateway Arch in St. Louis
The Gateway Arch in St. Louis, Missouri is both an architectural feature and a National Park — one of the few that's more about history than natural beauty. Still, the Gateway Arch is architecturally beautiful and a must-see because of the role that St. Louis played in the westward expansion of America. You can ride to the top of the arch and view the city from the observation platform (via National Park Service), though to make a real day of it you might also want to explore some of St. Louis' other attractions, like Cathedral Basilica and the Missouri Botanical Garden (via Trip Advisor).
Best for connoisseurs: Nantucket lighthouses
There are hundreds of lighthouses in America (via United States Lighthouse Society), some more impressive than others, some more accessible than others, and some more historically important. If you're a lighthouse aficionado, the three Nantucket lighthouses in Massachusetts should be at the top of your bucket list, simply because of the distinctly different appearance and history of each one and the role they played in the maritime history of Nantucket Island. Brant Point Lighthouse is known as the second-oldest lighthouse station in America, for example, and Sankaty Head Lighthouse was moved 400 feet inland in 2007 because it was in danger of falling into the sea (via Martha's Vineyard Tourist).
Best for connoisseurs: Napa Valley Wine Country
Just about every state in America grows wine grapes, but California is the undisputed wine capital of the United States. The number of wineries in California outnumber the next-most prolific state by more than four to one (via Statista), and a great many of those wineries can be found in one place: Napa Valley. If you're a wine lover, this is the place to be — spend the day wine tasting at beautiful vineyards like Opus One Winery (but beware of the $100 tasting fee), the world-famous Robert Mondavi Winery, or Castello di Amorosa, which is located in a 13th-century styled Tuscan castle. If wine isn't your thing, you can still enjoy the tasting experience at a number of olive oil tasting rooms (via Visit Napa Valley).
Best for connoisseurs: Mackinac Island on Lake Huron
In 2022, Travel & Leisure readers named Mackinac Island the nation's "best island," mostly based on the laid-back atmosphere, natural beauty, and fudge. After jaunting around the nation's national parks and bustling cities, you might crave a place where relaxation is the favored activity, and that's why Mackinac Island off of Lake Huron in Michigan makes the bucket list. According to Mackinac Island, the entire place is car-free, which means you get around via foot, bike, or horse and buggy. There's also kayaking, sailing, shopping, food, and don't miss the island's famous fudge. "I only went for the day, but it wasn't enough time," wrote one TripAdvisor user. "I could spend a weekend alone just doing the hikes!"
Best for connoisseurs: Mystic, Connecticut
If you love the sea, you'll love Mystic, Connecticut, where you can take a cruise on an 81-foot sailing ship, go wine tasting (via Visit Connecticut), or go whale watching in a boat that seems way, way too small for whale watching (via Mystic Whale Tours). This destination should be on your bucket list because it represents the best of New England — besides the maritime activities, there's also great food, museums, an aquarium, and a shopping area modeled after an 18th-century New England village (via Connecticut Tourism Office).
Best for music lovers: New Orleans, Louisiana
Jazz was born in New Orleans, which makes this city a must-see destination for music lovers as well as anyone who wants to experience the unique ambiance of this historic city. And it's not just jazz — New Orleans also has marching bands, gospel musicians, hip-hop, and rap, so there really is something for all tastes (via New Orleans). Plus, it's the only place in America where you'll find authentic gumbo, jambalaya, and crawfish etouffee (via New Orleans).
Best for music lovers: Graceland, Tennessee
Elvis didn't invent rock-n-roll, but he made it famous. You don't even have to be an Elvis fan to appreciate that just about every popular musician (and the unpopular ones, too) owes a debt of gratitude to the King of Rock-n-Roll. That's why every music lover should visit Graceland, Elvis' weird house in Memphis, Tennessee. A tour of Graceland includes the manor, the graves of Elvis Presley and his close family, a museum full of his cars (including the pink Cadillac), and an entire exhibit dedicated to his suits. "Heaven for any Elvis fan," wrote TripAdvisor user Valeria B.