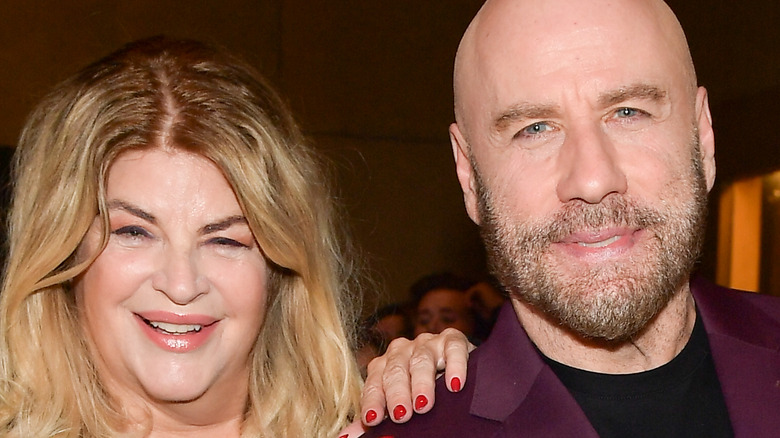 Kirstie Alley had numerous successes throughout her Hollywood career. She made her feature film debut in 1982's "Star Trek II: The Wrath of Khan" as Saavik (per Entertainment Weekly). However, her first real big break happened when she joined the cast of "Cheers" as Rebecca Howe, playing the character from 1987 to 1993. Alley's popularity grew even more when she starred in the hit 1989 romantic comedy, "Look Who's Talking," which led to two subsequent sequels. While she never quite reached the same level of fame as she did in the late 1980s and early 1990s, she kept herself busy with a constant stream of TV and film projects right up until her death on December 5, 2022.
Like Alley, John Travolta has experienced more than his share of career highs and lows. He made a name for himself as Vinnie Barbarino on the beloved television series, "Welcome Back, Kotter," which led to appearances in such popular 1970s films as "Carrie," "Saturday Night Fever," and "Grease" (per Biography). While the 1980s saw Travolta's career stall a bit, he made a strong comeback with the "Look Who's Talking" series, which paved the way for his 1990s hits like "Pulp Fiction" and "Get Shorty." Since then, the actor has never stopped appearing in various movies and shows.
While the only films that Alley and Travolta worked on together were the "Look Who's Talking" franchise, they had a long and complicated relationship that lasted well after appearing on screen opposite one another.
Meeting on Look Who's Talking
As mentioned previously, Kirstie Alley and John Travolta's relationship began when they starred in 1989's "Look Who's Talking," which was followed by two sequels, 1990's "Look Who's Talking Too" and 1993's "Look Who's Talking Now" (per IMDB). The franchise followed Alley's character Mollie Ubriacco and Travolta's James Ubriacco, who first met when Mollie, abandoned by the man who got her pregnant, hailed a taxi driven by James, only for the two characters to eventually fall in love and get married. Over the course of the film trilogy, the couple have children and experience all kinds of ups and downs in their family life.
While Alley and Travolta played a romantic couple on the big screen, they also had a mutual attraction for one another behind the scenes. On an episode of Big Brother (UK), Alley revealed that, during the time they were making the films together, they shared a kiss. She recounted (via People), "I almost ran off and married John. I did love him, I still love him. If I hadn't been married I would've gone and married him and I would've been in an airplane because he has his own plane."
Their marriages get in the way of their romance
Because Kirstie Alley and John Travolta had such great chemistry together while shooting the "Look Who's Talking" films, it may seem puzzling why they were never romantically linked. However, there was something that made that difficult: Their marriages. As stated in Biography, Alley was married to Parker Stevenson at the time. While she was tempted, she ultimately decided against infidelity, saying (via People) that it was "the hardest decision I've ever made because I was madly in love with him [Travolta] … It wasn't a sexual relationship because I'm not going to cheat on my husband."
Things only got more complicated when Travolta married actress Kelly Preston in 1991. Alley explained on the Dan Wootton Interview podcast (via CNN) she kept up her flirtatious friendship with him. However, Preston understandably stepped in and ended that; Alley said, "Kelly came up to me and they were married then, and she said, 'Why are you flirting with my husband?' And that was sort of when I had to make a decision and that was pretty much the end of that." But that didn't end the close friendship between the two actors.
Kirstie Alley and John Travolta's later years
Though Kirstie Alley and John Travolta maintained a deep connection long after Kelly Preston intervened regarding Alley's flirtations, it seems that they were well past the point of anything truly romantic developing. Alley admitted as much in a 2004 interview with Oprah Winfrey (via the Daily Mail), wherein she actually approached Preston about all of them moving in together, saying, "I don't care if I have sex with John. I just want to be around him. Why don't we just buy a big commune, a big thing, and we all live there. He's like having a pony."
In 2013, Alley and Travolta appeared together on "Good Morning America" and elaborated further on their unique bond (per Us Weekly). Travolta admitted that he was in love with Alley for a time before ultimately deciding to remain nothing more than close friends. Alley chimed in, saying that Travolta's wife is her best friend, making clear that there was nothing deceptive going on and that their attraction to one another was a thing of the past.
A return to Look Who's Talking?
Though 1989's "Look Who's Talking" was a major hit (per Box Office Mojo), the subsequent films didn't quite make as much money. In a separate report, Box Office Mojo states that the final installment of the franchise, 1993's "Look Who's Talking Now," earned the least of the romantic comedy trilogy. Still, series stars Kirstie Alley and John Travolta always kept the idea of returning to the franchise in the back of their minds. One of the first rumblings about the possibility of doing another "Look Who's Talking" film came from Travolta when he told Us Weekly in 2019 that he considered Alley to be his "soulmate" and that he was up for returning to the franchise but only if she joined the project.
Some more fuel was given to the idea when Alley appeared on "The Talk" in 2020, stating (via Us Weekly) that "John and I, we both really want to do it, because we think it's funny that we're the grandparents." She also revealed that the two of them heard a rumor about studio interest in another installment but that she didn't know whether or not those plans were intended to include her and Travolta reprising their roles.
John Travolta's heartwarming tribute to Kirstie Alley
Unfortunately, they could capitalize upon Kirstie Alley and John Travolta's interest in doing another installment of the "Look Who's Talking" franchise, Alley tragically passed away from cancer on December 5, 2022. According to Us Weekly, she is survived by her children, William True and Lillie Stevenson, who took to their mother's Twitter account to announce her passing. The announcement stated, "We are sad to inform you that our incredible, fierce and loving mother has passed away after a battle with cancer, only recently discovered … As iconic as she was on screen, she was an even more amazing mother and grandmother."
While many celebrities paid their respects to the late actress, the one that stands out the most is Travolta, who posted a touching tribute to his longtime friend on Instagram. Along with two pictures of Alley (one of which included the two of them sharing a laugh), the post featured a caption from Travolta that read: "Kirstie was one of the most special relationships I've ever had. I love you Kirstie. I know we will see each other again." Thus making evident the deep and special bond that Alley and Travolta shared.