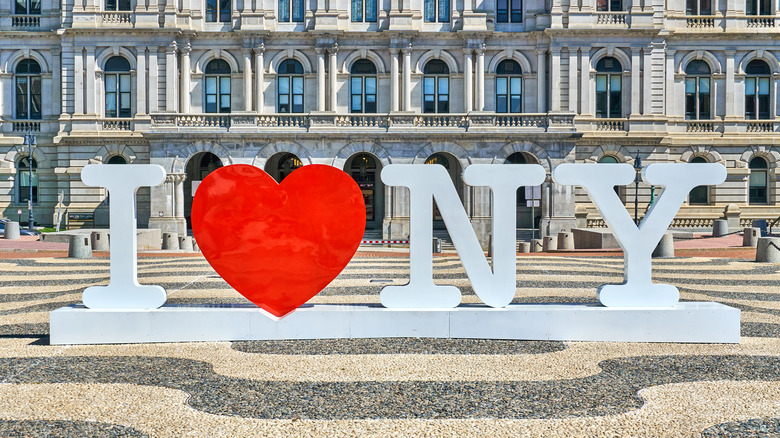 When you think of New York state, you probably think of the vibrant city and its endless hustle and bustle. NYC is well-loved for all the diversity, creativity, and community you can find there. You can eat food and meet people from virtually anywhere in the world and will never run out of things to do. While it is undeniably the state's center, it might interest you that other cities rank higher in terms of living quality.
Buffalo, Rochester, Syracuse, and Albany can provide a better living experience if you're in New York State, according to the U.S. News & World Report. In the top spot, Albany offers a liveliness and character similar to a major city but without the population density and high living costs. It's known for having a vibrant center while maintaining a classical, quaint spirit. While you might not be able to have a million-dollar NYC home, you can get great value for your money in this capital city. Here's more about Albany and why it's considered the best place to live in New York.
History and background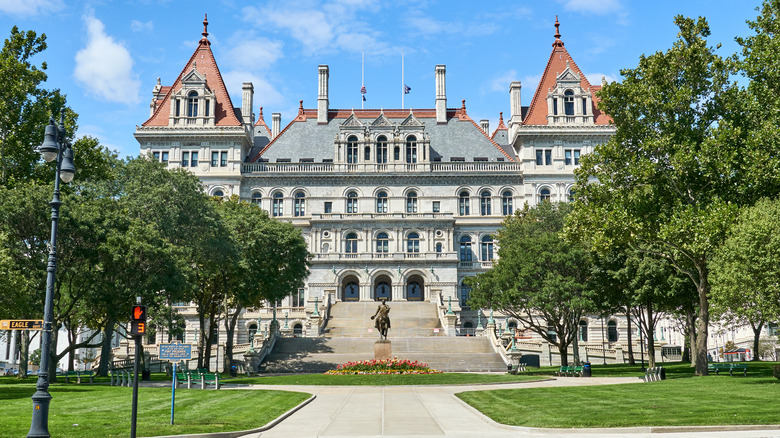 Since Henry Hudson arrived in 1609, Albany was relevant as a strategic point for trading and military planning until it became the capital of New York State in 1797, per MyTwinTiers.com. It has a history of being settled by immigrants from the Netherlands, Germany, and England. Albany actually got its name from a Duke and is the oldest continuous settlement of the first English colonies (via Discover Albany).
The current population is around 99,224 based on population records from the 2020 U.S. Census, which was 99,224. Albany is the 352nd largest city in the country and the 6th largest in New York, per World Population Review. It has been ranked in the top 3% of best places to live in the world and one of the top four most livable cities in New York State, per Livingcost.org. Its active life and relatively affordable costs of living are what make it the best place to live in New York.
What it's known for now
Albany has always been a hub for economic activity since its roots in railroads, finance, and agriculture, per Discover Albany. Now, it is seen as a place of employment and real estate opportunities. Various types of companies are moving into the region, with technology, healthcare, financial services, and education being some of the leading industries — not including the government, which employs a third of the population (via Up Homes). Albany is also known for its higher education opportunities, especially in technology research.
Live music and other performing arts are other things this city is known for. From concert series to music festivals, this scene is part of what makes the best place to live in New York vibrant and fun. If you're enticed by the idea of living in this type of environment but worried about the costs, the good news is that it might actually be feasible regarding finances. With an average monthly rent of $1,509 and home prices around $452,000, according to Rent Cafe, Albany is relatively affordable, so this could become a reality for you.
Cost of living
It's not surprising that the cost of living is a big part of the appeal! For those coming from other big states like California or Massachusetts, you can expect life in Albany to be more affordable. On average, the overall cost of living here is $1,801, per Livingcost.org. The cost of living in Albany is only 9% higher than the national average and 30% lower than New York State average. Housing is a whopping 55% lower than the state average, while other costs like food, transportation, and general goods are slightly lower (via Rent Cafe).
Millennials seeking budget-friendly locations or planning on having a family can also get a lot of value out of Albany when it comes to attractions and entertainment. As the costs of basic needs for individuals and families continue to rise, the capacity to participate in leisurely activities reduces. High costs of living take away from being able to enjoy life and the things that contribute to satisfaction, which is why it's beneficial to live in a place where you can afford to thrive.
Albany's community
Albany is known for communities that are close and family-oriented in nature, says U.S. News & World Report. It's set up in a family-friendly way, which means you'll always find something to do with the kids. Another aspect of Albany's community is its sports spirit. Even though hockey is the main sport in this region, participating in and supporting various local sports is common. With the wide range of things to do, from music to outdoor activities, meeting like-minded people and creating a community for your family shouldn't be hard in Albany.
The current racial demographics are 53.80% White; 29% Black or African American, 7% bi- or multi-racial; 6.93% Asian; and 0.17% Native American, while Irish, Italian, German, English, and Polish are the most common ancestry groups in the city (via World Population Review). Its population is in decline, but its livability score, which considers factors such as the general happiness of residents, is above average compared to other cities. It also ranks higher than the state and national averages when it comes to diversity, per Citytistics. This means there are opportunities to experience life in different ways of life that can improve your own!
What to do in Albany
History buffs have many opportunities to step into the past by living in Albany. You can visit the New York State Capitol, which is a national historic landmark designed in different, ancient architectural styles. You can also visit the New York State Museum, the Albany Institute of History & Art, and the Palace Theatre to learn something new as you experience these historic spaces (via VacationIdea).
Some other common sights to see are the Corning Tower, the Egg Performing Arts Center, and various vintage homes and mansions. For some outdoor recreation, parks, trails, gardens, and places to see wildlife are great attractions. The Hudson River and Washington Park are two top spots to relax, play, and enjoy nature. Washington Park has an annual Tulip Festival in May and puts up holiday lights every winter, says Planet Ware. In addition to concerts, nightlife in the best place to live in New York is kept active with breweries and pubs.