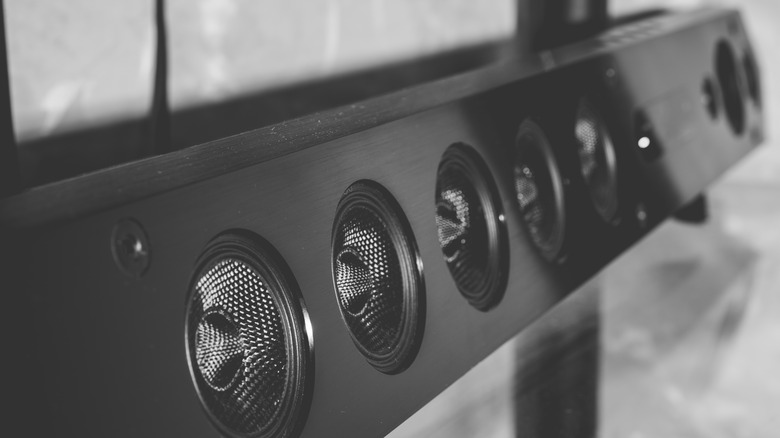 Adding a soundbar to your TV setup is one of the best quality-of-life improvements you can make to your entertainment watching. The larger speakers, broader compatibility with advanced audio codecs, and connectivity options create a more immersive experience. Think about it — your TV might look great, but the speakers probably sound awful. The move towards thinner TV designs has given manufacturers less space to put speakers in, leading to smaller inbuilt speakers. That affects the speaker's ability to move air, which creates the sound you hear.
You may have bought one of the best ultra-short-throw projectors for a more theater-like viewing experience at home. Those might have excellent visual quality, but sound usually takes a back seat. A soundbar can get the sound quality to the level of the visuals without taking up the space of a complete discrete speaker system. Many units now come bundled with a subwoofer to add low-end grunt to explosions or other exciting moments.
Vizio M-Series 5.1 Home Theater Sound Bar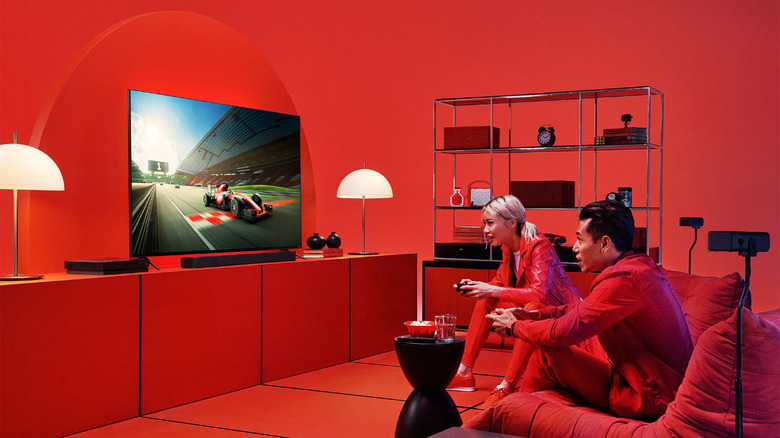 Vizio is the king of the mid-price TV market, with only LG and Samsung commanding more market share in the U.S. (via Statista). The company also makes soundbars, and the M-Series 5.1 Home Theater Sound Bar is a solid offering for most users. It features a 5.1 channel setup with nine speakers, supporting Dolby Atmos and DTS:X, the most common premium sound codecs. Those nine speakers include a wireless subwoofer and two surround speakers that connect to the subwoofer via wires. The surround speakers can also be configured as front speakers in a dual stereo arrangement if you're in a smaller space.
The soundbar features one HDMI In port, one HDMI eARC port, a USB in for WAV and MP3 playback, digital optical audio, and Bluetooth 5.0. It also has two 3.5mm AUX ports, one for use with a smart speaker. It gets plenty loud without obscuring detail like whispered voices, the setup process is simple, and it regularly sells for below its MSRP of $449.99.
Sonos Ray
Sonos is one of the biggest names in connected speakers, with its multi-room system spawning many imitators. Sonos Ray can also connect to other Sonos speakers, but its primary function is to give better audio to older TV sets. It's Sonos's smallest soundbar and drops features to drop the price tag to a palatable $279. The Ray has two tweeters and two mid-woofers, all arranged along the front so you can stuff it into a TV cabinet. You get touch-sensitive buttons for play/pause, skip, and volume placed across the top.
The setup is simplified, with only a digital optical input on the back. That limits the Ray to Dolby Digital 5.1 or DTS Digital Surround sound, so look elsewhere if you need Dolby Atmos. Trueplay tuning automatically adjusts the EQ based on the shape and acoustics of your room using the microphone on your smartphone. You have to use a smartphone as, unlike Sonos' other speakers, the Ray doesn't have an onboard microphone. The best part about buying any Sonos is that you can expand the system by adding more speakers at a future date, so you don't feel constrained by your initial choice.
Devialet Dione
The Devialet Dione straddles the line between art and audio. This upscale ($2,400) soundbar claims 950W of pumping power from its 17 drivers. One of those drivers is the central channel, which lives in that inset ball in the center. Devialet calls this ORB, and it looks like a black hole warping space-time (via NASA) if space-time solidified into a soundbar. The ORB keeps dialog present and centered so you can catch every word. Those drivers create a 5.1.2 Dolby Atmos surround-sound layout so that the Dione can handle the premium audio format.
Connectivity includes Ethernet, eARC HDMI, digital optical input, Bluetooth 5.0, and dual-band WiFi. It also supports UPnP for locally stored content, Apple's AirPlay 2, and Spotify Connect. The Dione can also auto-calibrate to the characteristics of its environment. Best of all, it creates plenty of low-end so it can replace having to find space for a separate subwoofer.
Polk Audio Magnifi Mini AX
The diminutive Polk MagniFi Mini AX proves that you don't need big speakers to get a big sound. The soundbar is only 14.5" across, with five speakers and a wireless subwoofer powered by advanced digital signal processing to bring a natural sound to your living room. Dolby Atmos and DTS:X are supported, as are Apple's AirPlay 2, Spotify Connect, and Google Chromecast. Polk's proprietary SDA (stereo dimension array) 3D audio tech is also featured, which widens the soundstage.
It features eARC HDMI, optical digital input, 3.5mm AUX, WiFi, and Bluetooth 5.0. Unusually for a soundbar of this size, the MagniFi Mini AX features a dedicated center channel for clear dialog. That's helped by VoiceAdjust, which adjusts the EQ, so voices never get drowned out by action sequences. The system can also be expanded by adding a pair of Polk's SR2 surround speakers for full-room coverage.
Sonos Beam (Gen 2) and Sub Mini
Sonos released a second soundbar in 2022, the Beam (Gen 2). Dolby Atmos support is the most significant change from the original. Sonos also changed the exterior design, ditching the cloth covering for a plastic grille with thousands of little holes. Sonos kept ports simple, with only power, Ethernet, and eARC HDMI. Another handy new addition is an NFC chip to the control panel's left so you can tap your phone to pair the Beam (Gen 2) to your home network. Other features include TruePlay, which tweaks the sound output according to your room's acoustics, WiFi connectivity, AirPlay 2, and Sonos multi-speaker pairing.
Sonos also released a new wireless subwoofer for pairing with other Sonos devices. The Sonos Sub Mini is perfect for the small spaces that soundbars are suited for. Plug it into power, and tap your phone on the top of the subwoofer to pair it to the Sonos app. It's a simple way to add more bass to your viewing experience.
Sennheiser AMBEO Soundbar Plus and AMBEO Sub
Sennheiser's first AMBEO soundbar was a no-holds-barred powerhouse of Dolby Atmos power, but the $2,500 price tag put it above the soundbar market, and its size presented issues with covering the screen. Sennheiser has dealt with those issues by bringing its little brother to market, the $1,500 AMBEO Soundbar Plus. The company claims it is the first single soundbar to deliver 7.1.4 channel sound, which is true enough as it was released a month before Bang & Olufsen's $6,890+ Beosound Theatre.
The AMBEO Plus has nine drivers to push sound forward, upward, and to both sides. The software controlling them is the same algorithm developed for the bigger AMBEO Max and features automatic room calibration. When running correctly, those algorithms can position eleven virtual speakers around the listener, seven surrounding them, and four overhead. It has two HDMI 2.0a inputs, one HDMI 2.1 ARC/eARC output, Ethernet, RCA input jacks, optical digital, and a USB port for powering accessories. It can also pass through 4K resolution Dolby Vision and playback DTS:X, Dolby Atmos, Sony's 360 Reality Audio, and MPEG-H audio. The AMBEO Sub is wireless, also has self-calibration tools, and you can sync up to four of them with the soundbar.
Nakamichi Shockwafe Ultra 9.2 eARC
Sometimes you see a home theater setup that makes you question whether it is still a soundbar. Nakamichi already made no-compromise systems, and the Shockwafe Ultra 9.2 eARC builds on everything that came before. It has a soundbar with custom-designed drivers, four surround speakers, and two 10" down-firing subwoofers. That's a total of 18 drivers pushing sound toward the sweet spot for listening. The soundbar has three HDMI in, HDMI eARC output, optical and coaxial in, 3.5mm AUX, and USB. Nakamichi also put Bluetooth 5.0 with Qualcomm's aptX HD for wireless connectivity.
It supports various formats, from Dolby Atmos, Dolby TrueHD, Dolby Digital Plus, Dolby Digital, DTS:X, DTS-HD Master Audio, DTS-HD High-Resolution Audio, DTS Digital Surround, LPCM 71., LPCM 5.1, and PCM 2.0. The HDMI ports can pass through 4K Dolby Vision and HDR. Nakamichi then adds its Spatial Surround Elevation (SSE) to the mix to "unlock heightened levels of multi-dimensional surround that flows around, above, and through you." The exciting thing about the number of formats and features it has is that the company crowdsourced its upgrade path, beta testing and surveying its existing owners to find out what they most desired.
Samsung HW-Q990B
Samsung's HW-Q990B is their flagship soundbar for 2022. Technically it's a home theater, as you get a soundbar, a subwoofer, and two surround speakers. The soundbar has 15 speakers (four being up-firing), each surround has three, and the subwoofer has one 8" cone. Samsung gets 11 channels of sound, one track of bass, and four up-firing channels for height out of the speaker configuration. The unit supports 4K/HDR passthrough, including Dolby Vision and HDR10+, Dolby Atmos, and DTS:X. Samsung also supports multiple older Dolby and DTS formats, and the unit has wireless Dolby Atmos and Q-Symphony, which syncs the TV speakers to the soundbar when paired with select 2021 or 2022 Samsung TVs.
Samsung put in room correction and adaptive EQ called SpaceFit Sound+ so that everything stays synced up while you watch. The companion app lets you tweak every speaker to your preferred listening position. The soundbar has dual HDMI inputs with passthrough, one HDMI eARC output, WiFi, Bluetooth, AirPlay 2, and Spotify Connect.
Sony HT-A3000
Sony's HT-A3000 is the cheapest way to get your hands on Sony's 360 Spatial Sound Mapping tech. The soundbar has 3.1 channels with three front speakers and a dual subwoofer. Sony also loads it up with proprietary audio technologies, such as Vertical Surround Engine and S-Force PRO Front Surround. It supports Dolby Atmos and DTS:X, but the real selling point is the 360 Spatial Sound Mapping system.
That technology uses built-in microphones to map the room and where the soundbar and accompanying rear speakers are set up. This creates a spatial audio field, like that on Apple's AirPods Pro. The catch is that you'll need to buy the rear speakers, with the Sony SA-RS3S being the cheapest option at $350. It also doesn't come with a stand-alone subwoofer; the most affordable is the $400 SA-SW3. You get HDMI eARC, optical digital input, USB for audio files, AirPlay 2, Spotify Connect, Chromecast, and Bluetooth SBC.
Razer Leviathan V2
Razer's first soundbar since 2014 is the Leviathan V2. Strictly for PC gamers, it brings THX Spatial Audio to the desktop and a 7.1 virtual surround sound experience. It also brings lots and lots of RGB lighting with Razer's Chroma system for customizability. Including THX Spatial Audio means that gamers will get accurate positional audio, which could be the competitive edge they've been after. It's also the only soundbar with this virtual surround system. Razer's PC software, Synapse, is required to set up THX Spatial Audio and control the soundbar's lighting zones.
The soundbar connects to a PC via USB, with no other ports. You get Bluetooth 5.2 for connection to your mobile devices, with a promise of a 60ms maximum latency. Sound is handled by two full-range drivers, two passive radiators, and a down-firing subwoofer that connects to the soundbar via a wire. The soundbar also has replaceable rubber feet to angle it toward your ears and minimize vibrations on your desk.
Creative SXFI Carrier
Creative first revealed the SXFI Carrier soundbar at CES 2020. You might wonder why it's on a list of the best soundbars of 2022, and the answer is that delays meant it only got a U.S. release this summer. The soundbar has seven drivers in a 5.1.2 channel configuration. There is also a wireless subwoofer to add more grunt to the low end. It was designed in partnership with Dolby, and it's the first "Dolby Atmos Speaker System" or DASS.
It has two HDMI inputs, an HDMI eARC port, optical digital, 3.5mm AUX, USB-C, and Bluetooth 5.0. Crucially, all of the HDMI ports are 2.1, with passthrough, so the latest consoles like the Xbox Series X and PlayStation 5 get the benefits of 4K 120fps gaming, variable refresh rates, ALLM, HDR10+, and Dolby Vision. You also get Creative's virtual surround system, SXFI, for any pair of headphones you plug into the soundbar. That's a neat touch, meaning you can still watch or game without disturbing the rest of the household.