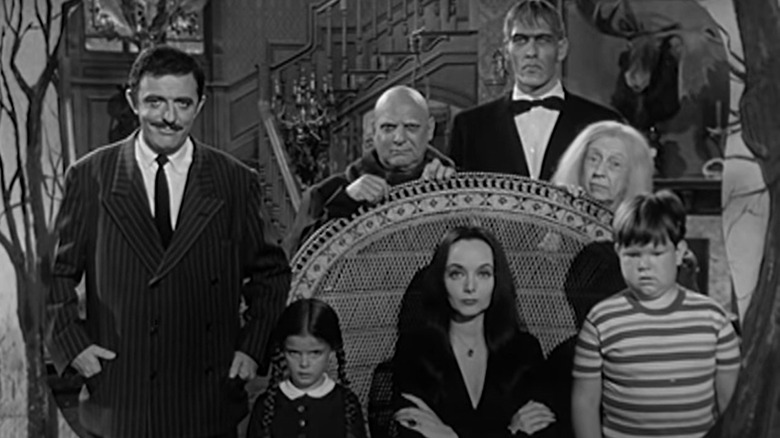 What began as a panel cartoon in The New Yorker magazine in 1938 blossomed over time into a franchise that would include a hit network television show, two Hollywood feature films, a cartoon series, a pair of animated films, and countless merchandise smeared with the characters' likenesses. The unnamed family in the cartoon strip was the creation of cartoonist Charles Addams, whom Smithsonian reports inked over 1,300 cartoons for the magazine in his prolific career with the publication. Of those cartoons, 58 of them were centered around the creepy and kooky brood that would invade pop culture for decades, known as "The Addams Family."
After more than 20 years of publication, the macabre aristocratic family leaped from the page to the small screen. "The Addams Family" debuted in 1964, running for two seasons. Throughout 64 episodes, viewers were sucked into the world of the creepy (yet harmless) family that seemed to be oblivious to everyone's perceptions (via IMDb). The cast featured some new faces, but also put some familiar Hollywood veterans in front of fans every week.
The stars of the show moved on after its cancellation in 1966. Some went on to have prolific careers, but some led lives that were mired in tragedy.
John Astin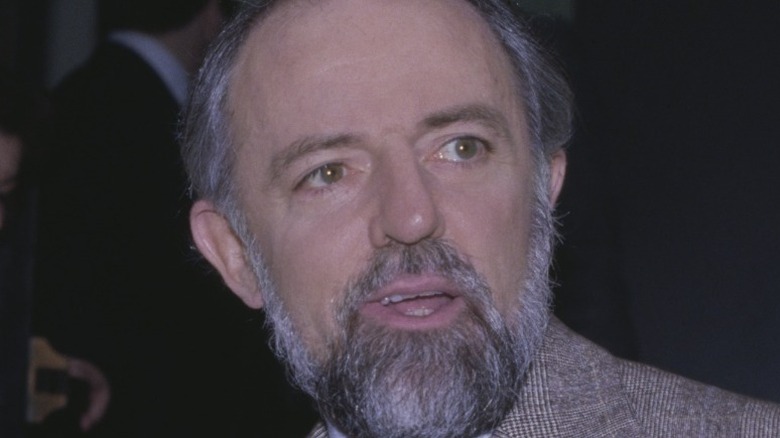 John Astin was a familiar face to many viewers who tuned in to watch "The Addams Family" series. Though his film parts before his portrayal of Gomez Addams had been minor, he had quite a career on television. He made memorable appearances on "The Twilight Zone" and "The Donna Reed Show" before being cast in his own series "I'm Dickens, He's Fenster" (per IMDb). The show ran for 32 episodes from 1962-1963.
The conclusion of "The Addams Family" opened many doors for Astin professionally. He amassed more than 120 screen credits post-Gomez, his recognizable mug showing up on "The Phyllis Diller Show," "Night Gallery," and a regular role on "Night Court." Astin's voice was also a staple for many animated series, including "Captain Caveman and the Teen Angels" and "Duckman." He also resumed his role as Gomez in the 1977 TV movie "Halloween with the New Addams Family."
Acting was a career and a passion for Astin, one that he began to share professionally with those who aspired to learn the craft. He began teaching acting and directing at his alma mater in 2002, becoming the Director of the Theater Arts and Studies Department and the Homewood Professor of the Arts. John Hopkins' Alumni Spotlight tells us that Astin teaches up to eight classes each year and is credited with revitalizing the university's theater department. The campus theater is named in his honor.
Carolyn Jones
Like her on-screen spouse, Carolyn Jones brought a vast amount of screen experience to the role she would be most recognized for. The actress had numerous roles in 1950s westerns and suspense films, including Alfred Hitchcock's 1956 classic "The Man Who Knew Too Much" (per IMDb). Jones' talent didn't go without formal recognition, as the actress received an Oscar nomination in 1958 for her role in the film "The Bachelor Party." Jones also made her mark on television, having regular appearances on "Wagon Train," "Dragnet," and "Zane Grey Theater."
Following her fame as Morticia Addams, Jones was regularly featured on the popular TV programs of the time. She played Marsh, Queen of Diamonds in the campy "Batman" series, as well as roles in "Mod Squad," "Ironside," and "Fantasy Island." Jones also lent her voice for Morticia in an episode of "The New Scooby-Doo Movies" in 1973 and rejoined with former cast members in 1977 for the TV movie "Halloween with the New Addams Family." Her final screen credit was a starring role in the 1980s soap opera "Capitol," in which she plays the matriarch of the politically powerful Clegg family (per Soaps).
Tragically, Jones died from cancer at age 53 (per The New York Times). According to TV Guide, Jones was diagnosed with colon cancer in 1982, but was determined to play her part in "Capital." The outlet reports that, though in great pain from her illness, she was able to perform on the soap in a wheelchair.
Jackie Coogan
Jackie Coogan's story is one of triumph over tragedy. Widely considered "the first child star," the son of famous vaudeville performers began his film career when he was just a baby. Born in 1914, Coogan was coming of age when the silent era ended, already having starring roles in numerous films, including the title characters in both "Tom Sawyer" and "Oliver Twist" (via IMDb). But his fame petered out at the age of 16, and demand for his acting waned until it hit a dead stop.
From 1930 until 1939, Coogan had only eight screen appearances. The Washington Post reports that he enlisted for service in World War II and decided to give up acting entirely in 1950 and began working as a salesman. His retirement was short-lived, however. He got a break in TV and revitalized a career he thought was long dead. Between 1951 and the premiere of "The Addams Family," Coogan had roles in over 70 films and TV shows, including "General Electric Theater" and "Playhouse 90."
Coogan's portrayal of the zany Uncle Fester on the show was not the end of his screen career, either. He was a regular on "The Red Skelton Hour," and worked steadily on various other TV shows and films. Without the shaved head and sporting a bushy mustache, he appeared almost unrecognizable in a guest appearance on "The Brady Bunch." He also voice-acted in several 1970s cartoons.
Coogan died aged 69 in 1984 from heart failure.
Ted Cassidy
Of all the characters on "The Addams Family," Ted Cassidy's towering appearance and deep voice stood out perhaps the most among the cast. The Addams' butler, Lurch, was more seen than heard, his mere presence dominating his scenes more than his lines ever could. His deep "Youuu rang?" became one of the most memorable lines from the show, and his popularity even spawned a dance craze in the '60s called "The Lurch."
Cassidy's size and look made him the subject of typecasting throughout his career. He had been diagnosed with a condition called acromegaly, a pituitary disorder that kept him growing (via Therapeutic Goods Administration). Not only did this lead to his being nearly 7 feet tall, but it was also responsible for his deep and booming voice. These attributes kept him working after "The Addams Family" concluded in 1966, however. Where there was a need for a towering actor, you could probably find Cassidy. His later roles included recurring parts in "The New Adventures of Huckleberry Finn," "Ironside," and "Star Trek." He voiced numerous cartoon characters for Hanna-Barbera and other animation studios, and it was his voice that spoke the opening introduction to "The Incredible Hulk" television series (via IMDb).
Cassidy died young, aged just 46. Doctors had discovered a large, non-malignant mass on his heart. Complications from the surgery to remove it were too much for him to handle, and he passed in 1979 (via The Toledo Blade).
Marie Blake
Known also by her stage name Blossom Rock, Marie Blake was cast as the part of Grandmama in the series. With her, she brought decades of acting experience, in both film and television. Blake was most well known for her role as Sally the switchboard operator in the popular "Dr. Kildare" movie series from the early 1940s (via IMDb).
Sadly, Grandmama would be her last role. She suffered a stroke soon after the second season of the show was in the can, ending her acting career. The stroke severely impacted her speech, making her unable to reunite with former cast members for the 1977 TV movie "Halloween with the New Addams Family" (via The Daily Mail). In her retirement, Blake resided at the Motion Picture & Television Country House and Hospital. It's reported that she watched the TV movie from there, which aired months before she died in January 1978 at age 82.
Lisa Loring
Child stars often suffer from ill-treatment in their jobs, and that can take a toll on their mental health. There are seemingly countless examples of adult woes from actors who made names for themselves as pre-teens. Tabloids have long reported the antics of these mishaps, from Todd Bridges of "Diff'rent Strokes" to "Partridge Family" alumni Danny Bonaduce. Adorable Lisa Loring, who played Wednesday Addams, had her struggles after the series concluded.
AOL reports that Loring became a mother at the young age of 15. Though she had sporadically acted in small roles in the 1970s and early 1980s, Loring managed to keep herself in one part of the industry, as a makeup artist for an adult film studio. It was on the set of one such adult film that Loring met her future husband, actor Jerry Butler. The marriage failed, and Loring began to use heroin to cope. Compounding the stress in her life was the death of her friend, Kelly Van Dyke, an adult film star who had died by suicide. It was Loring who discovered the body of her friend.
Though her life had given her some struggles, Loring was determined not to be beaten. People report that she entered and completed rehab in 1992 and got herself clean. She worked in an interior design firm and still racked up a few screen credits, the most recent (as of 2022) being 2015's "Doctor Spine" (per IMDb). AOL tells us that she focuses mostly on her family, and tours various conventions every year.
If you or anyone you know is struggling with addiction issues, help is available. Visit the Substance Abuse and Mental Health Services Administration website or contact SAMHSA's National Helpline at 1-800-662-HELP (4357).
Ken Weatherwax
Ken Weatherwax had but one role on screen that was outside of "The Addams Family" universe. His debut was in the classic TV western "Wagon Train," and the actor was cast in the role of Pugsley Addams shortly afterward (per IMDb).
After 64 episodes, Weatherwax didn't have another role until he lent his voice to a 1973 episode of the animated television series of the same name, in which he reprised his part as Pugsley. He again played Pugsley in the 1977 TV movie "Halloween with the New Addams Family." Of his struggles to find work after the show ended, he said he was the victim of typecasting, and the subject of bullying and teasing from his schoolmates. "Frankly, I didn't deal with it very well. I was kicked out of like, six or seven schools, and went into the service [the Army] at the age of 17," he told TV host Bill O'Reilly in a 2008 interview (via The Hollywood Reporter).
Rather than be on screen, Weatherwax began to work behind the scenes. The Hollywood Reporter writes that he worked as a grip and set builder for various productions.
Sadly, Weatherwax died in 2014. TMZ reports that there were two funerals held, one for family and an additional one for fans, proving that a child star with only one hit can still be remembered fondly and appreciated by fans decades after they left the limelight.
Felix Silla
Though you never saw more than a giant head of hair that covered his entire body, Cousin Itt might be one of the most memorable characters in "The Addams Family." Played by actor Felix Silla, the dialogue from Itt never amounted to more than just gibberish, totally obscuring Silla's identity in every way possible. As a little person working in Hollywood, this was par for the course for Silla.
Like many little people, Silla struggled to find work in the industry other than the roles stereotypically offered to those of smaller stature. He played both a troll and a goblin in episodes of the beloved sitcom "Bewitched," a circus performer in "The Girl From U.N.C.L.E.," and Twiki in "Buck Rogers in the 25th Century" (via IMDb). He found himself often obscured behind bulky costumes and/or heavy makeup, making him unrecognizable to the point that many viewers would not know who he was or would be able to match him up to the other roles he had held.
Silla's size also allowed him to perform as a stunt double or a stand-in for many childhood stars. Rolling Stone reports that this led to work on the films "Poltergeist," "Indiana Jones and the Temple of Doom," "E.T. the Extra-Terrestrial," and "Howard the Duck."
The Hollywood Reporter broke the news of his death in April 2021 from a battle with pancreatic cancer. The actor was 84.
Parley Baer
Parley Baer was Mayor Arthur Henson on "The Addams Family." The veteran actor took on many such roles from that point on in his career, often being cast as a judge, elected official, or police officer. His portrayal of an impatient or bewildered authority figure became a hallmark of his later career.
Baer was also cast in various productions that required a role to be filled by someone who could pull off either a kind, grandfatherly type, or an elderly curmudgeon. He was Doc Appleby in "The Dukes of Hazzard," Judge Parker in "L.A. Law," and, in one of his final roles, Miles Dugan in the daytime soap "The Young and the Restless" (via IMDb). His ability to play the part of an old grouch led to him being cast in small roles in film, as well. As Grandpa Anderson in the 1988 movie "License to Drive," Baer was the overprotective owner of the vintage Cadillac that was left in the care of Corey Haim's father.
Despite the roles he was typecast in during his later years, Baer felt that actors his age still played a vital role in the industry, a sentiment that he proved time and time again throughout the 1980s and 1990s. When asked about his part in "The Young and the Restless," he stated, "I hope it will bring to light the fact that people who have reached the zenith of 65 or more are not through" (per The Los Angeles Times).
Eddie Quillan
Eddie Quillan came onto the set of "The Addams Family" with decades of acting experience. From starring roles in various film shorts from the 1920s to supporting film roles in dozens of western films from the 1930s on, Quillan had quite the resume. He leaped TV in the late 1950s with an appearance on "The Thin Man," and continued with regular bit parts on "Death Valley Days," "The Real McCoys," and "Valentine's Day" (per IMDb). He played several roles in "The Addams Family," including Mr. Digby and Clyde Arbogast.
Quillan still acted in film after "The Addams Family," but mostly stayed with roles on the small screen. He made memorable appearances on "Police Woman," "Mannix," and "Here's Lucy," and had multiple roles throughout the run of "Little House on the Prairie."
His comedic talent was recognized by series producer Hal Kanter on the sitcom "Julia," in which Quillan played the regular role of postman Eddie Edson. According to The Los Angeles Times, Quillan was permitted to improvise on the set, resulting in peals of laughter. In his 1981 interview with the outlet, he said, "The first thing I'd do when I got on the set was to see where the doors are, where the props are, and figure out what I might do in the way of (funny) business" (via The Seattle Times).
Quillan died from cancer in 1990.