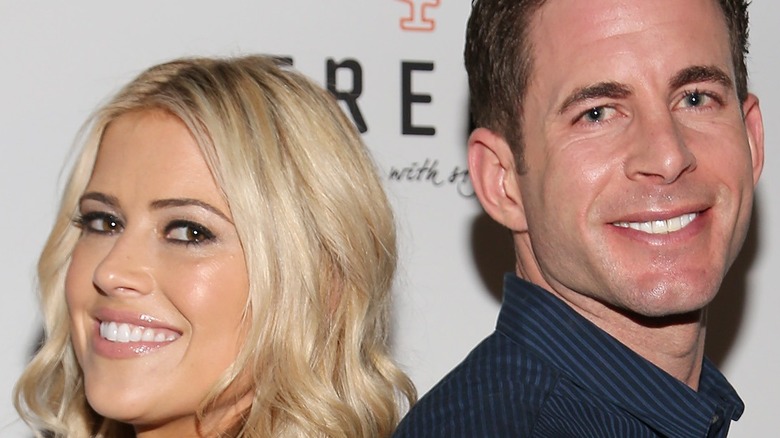 Longtime fans of HGTV's "Flip or Flop" were pleasantly surprised to learn in early November 2022 that one more episode was on the way. During the one-hour special — called "The Final Flip," which aired on December 1 (via People) — stars Tarek El Moussa and Christina Hall took on one last project together while reflecting on the show's 10 seasons. "I never knew that our TV show would become such a success," El Moussa once shared with Fox News.
Taking this walk down memory lane of the show's past 10 seasons — which includes scenes from early episodes in the home the two once shared in Yorba Linda, California — we couldn't help but think about all the places where El Moussa and Hall have resided before and during "Flip or Flop," both separately and together.
Although no photos are available of the following, it's worth mentioning that two of these residences included a tiny apartment where El Moussa and Hall lived along with a roommate as they struggled to make ends meet following the housing crisis of 2008, and the garage where El Moussa once lived in his mom's house before he bought a home of his own. "I was so motivated living in that garage that within 120 days, I made enough money at the age of 22 to buy my first million-dollar home," he told Fox News.
Join us as we explore the homes where Tarek El Moussa and Christina Hall have lived.
Tarek El Moussa's first home cost him $800,000
Over the years, Tarek El Moussa has shared his real estate journey. He reminisced about his first home in a July 2018 Instagram post. "I was 21 and super broke living in my [mom's] garage … I worked my tail off and sold a lot of homes in a short period of time," he wrote. "It was surreal moving here from a garage. I'll never forget the feeling!!"
In a personal essay for Realtor.com, El Moussa shared how he meant to spend $400,000, but that this changed when he found his "perfect bachelor pad" — complete with a huge master bedroom, "man cave," and "300-gallon shark tank" — that was double his budget.
Surprised to be approved for the mortgage, he signed. While El Moussa loved the house, he was broke. "With no money for furniture, I ended up living in an empty house for nearly nine months," he wrote. "Although I laugh looking back at it now, the experience taught me an important lesson: Buying a home is exciting. So exciting, in fact, that it's all too easy to get swept up in your emotions and make some mistakes."
When El Moussa began dating Christina Hall, she moved into the Anaheim Hills, California house with him — where, according to a 2017 interview with Good Housekeeping, they lived until they sold it after the 2008 financial crisis and moved into a small apartment.
Tarek and Christina renovated their former Yorba Linda home together
During the early episodes of "Flip or Flop," viewers saw co-hosts Tarek El Moussa and Christina Hall in the beautiful Yorba Linda, California home they shared with daughter Taylor El Moussa (son Brayden El Moussa didn't come along until 2015). In 2016, the then-couple gave a tour of their newly renovated space to People.
The renovation process took two years, Hall explained, due to construction issues and her changing her mind on the design mid-renovation. Of the look, Hall said, "I personally love the rustic glam look, so it has a lot of wood elements, rock, and outdoor-looking pieces, but also chandeliers, mirrored furniture, and shaggy white rugs, so it has masculine and girly elements."
Hall said they incorporated classic elements that would appeal to most buyers if they ever sold it. This statement was ironic considering what was to come. In 2018, per The Orange County Register, Hall sold the massive 6,366-square-foot Mediterranean stunner — complete with five bedrooms and nine bathrooms — for $2.925 million. This was a big loss, considering they paid $2 million for the house in 2013 before spending another $1.5 million on renovations.
Designer features included a lavish backyard with a rock pool, water slide, spa, outdoor kitchen, and putting green. Inside were a home theater, gym, soaring ceilings, marble kitchen with top-of-the-line appliances, and a master suite with a fireplace, walk-in closets, bathtub, and glass-enclosed shower (via the Orange County Register).
Tarek has a house boat named Bad Decisions
While married to Christina Hall, Tarek El Moussa bought a yacht for nearly $1 million they named "Flip or Flop." After their breakup, El Moussa changed its name to "Bad Decisions." Per Realtor.com, the two-bedroom, two-bedroom houseboat includes a kitchen, spacious closets, a washer and dryer, and teak flooring. Additionally, the boat's cover can be left on during rainy or windy days or left off to enjoy the sunshine and the breeze on beautiful sunny days.
In April 2019, El Moussa shared to Instagram a photo of himself on his boat, with an inspirational caption explaining his bumpy road to success, including the times when he was so broke that he was "liv[ing] off $5 footlongs from Subway." "If things aren't working out as planned it's okay!!" he advised. "Stay positive and remember Rome wasn't built in a day … it takes time."
Interestingly, the houseboat led to El Moussa meeting Heather Rae Young, who became his girlfriend and, later, his fiancée and wife. "His boat was parked next to the boat I was on," Young said on her Netflix show, "Selling Sunset," of meeting El Moussa. "And my girlfriend happened to be on his boat." Young jumped aboard the boat to join her friend. "He was, like, 'Hi, I'm Tarek.' Then we were just, like, texting and kept in touch" (via Realtor.com). The rest, as they say, is history.
Christina and then-husband Ant Anstead bought a modern farmhouse in Newport Beach
After her split from Tarek El Moussa, Christina Hall had a whirlwind relationship with and marriage to TV host and car enthusiast Ant Anstead, during which time the two purchased a five-bedroom, single-family, modern farmhouse in Newport Beach, California. According to TMZ, the house is located behind a security gate near the beaches of Orange County.
The house, per TMZ, features a spacious master suite with a double rain shower, soaking tub, steam room, studio/creative space, a 20-foot-high ceiling, and two-story windows. Much of the former couple's renovations to the home, mainly the resort-style backyard, were featured on the first season of Hall's HGTV spinoff series "Christina on the Coast." Hall and Anstead added a pool, spa, water slide, outdoor kitchen, and lots of green space for the kids to play.
After her divorce from Anstead in 2021, Hall listed the 4,804-square-foot "bohemian modern farmhouse" for $6 million, as People confirmed. According to the property's listing, obtained by People, the house had herringbone and wide-plank wood floors and a "commercial-grade" kitchen with a massive marble island and walk-in pantry. "It truly is amazing," Hall said during an episode of "Christina on the Coast" as she and Anstead walked through the house (via People). The home's backyard was also the site of the former couple's surprise December 2018 wedding.
Christina purchased a vacation home in Tennessee after falling in love with Nashville
In May 2021, Christina Hall announced that she had purchased a second home in Tennessee for her and her three kids. She first "fell in love" with Tennessee when she stayed just outside of Nashville with two of her three children while visiting her friend, Cara Clark (via People). Hall loves the land, the fresh air, and the family-friendly atmosphere. "Tennessee is gorgeous and the people out there are so nice," she told the outlet. "Being out there on all that land reminded me of my favorite childhood memories, which were staying summers on my grandparents' farm. I felt so carefree."
The home is a large modern farmhouse with lots of land. "This insanely beautiful modern farmhouse had been on the market one day, so we went and saw it and I immediately fell in love and made an offer," Hall said. "It's on 23 acres, super private, and has everything I could imagine and more."
Inside, the house is white, bright, and airy. Features include a dramatic two-story foyer, a gourmet kitchen with a huge island, a fireplace, and a large primary bedroom suite. Luxurious rustic features, including shiplap, barn doors, exposed brick, and wood beams, are seen throughout. Outside is a large front porch, a covered deck for entertaining, and a swimming pool.
The HGTV star took her Instagram followers for a house tour in November 2022, where the designer's personal touches are clearly seen.
After his split from Christina, Tarek got himself a bachelor-dad pad
After his separation from Christina Hall in 2016, Tarek El Moussa moved out of the Yorba Linda, California home they had shared. By July 2018, he showed off his new "bachelor-dad pad" in Costa Mesa to People. The house is located only two blocks from his ex-wife Christina Hall's then-Newport Beach home, no doubt simplifying their co-parenting arrangement.
Apparently, it was love at first sight for El Moussa, who purchased the modern four-bedroom house with a pool and large driveway for $2.28 million "within hours" of seeing it in March 2018. "I walked in, and it had the absolute coolest bachelor-pad-meets-family-house vibes," the real estate investor shared with People.
Because he took little with him when he moved out of the house he shared with Hall, El Moussa "got to design and build most of the furniture," he said. This included a large canopy bed in the main bedroom. His kids even had their say in decorating their rooms. "[The driveway] is gated, so my kids play basketball and soccer. They rollerblade. They have their scooters. That's why it's a great house for me as a dad," he said. "On the bachelor side, it's really cool and hip and modern. It has the jacuzzi. It's great for entertaining. It's just beautiful."
El Moussa was only a bachelor until meeting Heather Rae Young, who later moved into the house with him, per House Beautiful.
Tarek and Heather Rae Young once lived part-time in West Hollywood
While Heather Rae Young lived with Tarek El Moussa in his Costa Mesa, California home, it turns out that wasn't their only residence at the time. In an Instagram post from January 2020, El Moussa revealed more about his and Young's living arrangements. "Not sure if I've told you this but @heatherraeyoung and I have been living together for a while now!" He wrote. "It's really fun because we live in two different places! Our main spot is in Orange County, but one or two nights a week we stay at our place in West Hollywood!"
In the caption, El Moussa noted that West Hollywood is a world away from Orange County. "For me … West Hollywood is a big change!! You would think it was similar to Orange County, but I'm telling you it's a different world!" he wrote alongside a photo of him and Young sitting in their white kitchen (which we assume is the inside of their West Hollywood place) and gazing into each other's eyes.
Tarek and Heather lived in a rental property while renovating their new house
Tarek El Moussa and Heather Rae Young's West Hollywood, California rental property wasn't the only rental they've lived in together. In July 2020, the couple shared on Instagram that they had been staying at a beach house temporarily. "I know you guys have been waiting to see it!! A tour of our new beach home for the rest of the year!" Young wrote in the caption alongside a video of the two showing off their beach house rental with People and People TV.
In the caption, Young explained further that she and El Moussa had sold his "dadchelor pad" in Costa Mesa. In fact, the house sold so quickly that they "were left searching for a home quick." She added, "We found this summer beach house [and] fell in love with it. Making new memories together in our new home."
In the tour for People, the couple shows off the entranceway with a blue textured feature wall and a view of the staircase. They then show the main living area of the home, with its sliding doors that provide a view of the outdoor space. Next, they enter the bright, white kitchen with contrasting black hardware, large island, and marble backsplash. Adjoining the kitchen is a formal dining room. Lastly, they show off the backyard pool area, which can be seen from the home's kitchen and living areas.
Tarek and Heather originally purchased their renovated Southern California home to flip
Tarek El Moussa and Heather Rae Young were on the hunt for their main Southern California house even though they loved their beach house rental. In September 2021, People shared that they had found it, though they didn't at first intend for it to become theirs. "Tarek originally bought it as a flip, but then they decided to make it their new home," the couple's rep told People. With extensive renovations planned, they sought help from a designer.
In a video shared to El Moussa's Instagram story, the couple showed off their new digs pre-renovation. "This is basically the blank slate," Young said, showing the white kitchen, hardwood floors, open floor plan, and living and dining room areas (via People). The highlight of the tour, though, was the rooftop deck with views of the Pacific Ocean, which is "why we fell in love with this house," El Moussa explains.
While the renovation was not without obstacles — including flood damage – they showed their completed house to the kids in an episode of El Moussa's HGTV series "Flipping 101 with Tarek El Moussa" (via People). The open-concept kitchen and living area features a large island and a statement fireplace. In another Instagram post, the home's designer kitchen can be seen, with its shiny black backsplash, white cabinets, contrasting black hardware, and glam black and gold barstools with visible studs.
Tarek and Heather purchased their own mountain retreat together
Tarek El Moussa and Heather Rae Young's adventures also include a cozy cabin they bought together when they want to get away. In a video posted to Instagram in December 2021, El Moussa took their followers on a tour of their new mountain retreat, which includes lots of wood beams. "It's so special to me to have a home in the mountains right next to where I grew up, literally next door to where my parents still live," Young captioned the post. "Tarek and I love coming up here and visiting my parents with the kids, it just feels like home."
Young then revealed that they also purchased the lot next door so they could "build our own mountain house that we're designing from scratch." She added that they "officially break ground in March" on their "new little spot" and were busy starting the planning and design process. "So excited to show you guys the process — this will be our first house that we're designing and building from scratch."
A highlight of the tour is the ladder stairs that lead to a cozy loft area with a vaulted ceiling.
Christina left Newport Beach for a $10 million waterfront mansion
After listing the five-bedroom Newport Beach, California home she once shared with TV host Ant Anstead, Christina Hall was on the hunt for a new Southern California pad. This time, she wanted to live on the water.
The HGTV star went with a fabulous $10 million contemporary waterfront mansion in a gated community in Dana Point, California. In August 2021, TMZ shared the details of the designer's new 6,084-square-foot waterfront oasis. The luxurious five-bedroom, seven-bathroom house was designed for indoor and outdoor entertaining, with a chef's kitchen, home theater, and game room as well as a pool, spa, and fire pit out back overlooking the Pacific Ocean. Interior designer touches include floor-to-ceiling windows, a stacked stone feature wall in the family room, a fireplace, and wood beams. E! News shared additional photos of the home and its stunning decor.
However, after marrying Josh Hall, Christina decided to sell the house and return to Newport Beach. In April 2022, she sold the house for $11.5 million after making a number of designer renovations (via People). That month, in a video she posted to Instagram, Christina showed off all the changes she had made before heading off on her next adventure. "Loved redesigning our Dana Point pad and all the memories we made in this home," she captioned the video. "It's bittersweet we're moving soon, but I can't wait to make our next home our own."
In 2022, Christina and Josh Hall bought a $12 million home in Newport Beach
Christina Hall explained on Instagram (via People) why she and her husband Josh Hall returned to Newport Beach, California, from Dana Point. Despite loving the ocean view, she cited the distance to and from the kids' school as the primary motive, adding, "Our new home is our long-term family home. Coming from a restless soul, my soul is ready to rest. At 38, I'm exactly where I want to be and can't wait to make the next house our home."
According to a May 2022 TMZ exclusive, the couple apparently purchased the $12 million Newport Beach property together. Like the previous house, this one features a pool, home theater, open-concept kitchen, and luxurious main suite in addition to a library and two-story garage. The nearly 7,000-square-foot home features a mid-century modern, U-shaped design that wraps around a central entertaining space with a pool and jacuzzi; retractable floor-to-ceiling glass doors bring the outdoors in. In addition to the glass are marble, stone, and wood finishes. While the house is open and inviting, it's also private; it sits behind a gate and has no front windows (via Insider).
In June 2022, the designer took her Instagram followers on a virtual tour. "We made a wish list of every single thing we wanted in a home and then the next day this off-market listing appeared before us. Manifesting at its finest," she wrote.