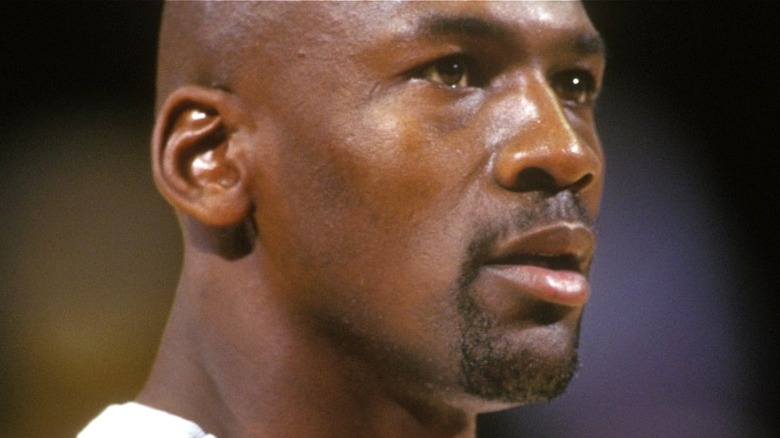 Any married couple is susceptible to a divorce no matter how committed they are to the relationship in the beginning. It's just a fact of life that people change, have irreconcilable disagreements, or simply fall out of love with one another sometimes. Yet, the stakes are increased significantly when one, or both, of the people in the marriage have high-paying careers in the sports industry. Add on to that the temptation and corruption that often accompanies incredible fame, and the mixture can be a recipe for disaster for any couple.
No matter what sport they play, pro athletes have been involved in complicated separations from their spouses, especially because of the amount of money that's involved. While not all of these divorces have ended in bitter disputes between the two parties, several have over the decades and these often make the headlines. Below are some of the most unfortunate cases.
Tiger Woods and Elin Nordegren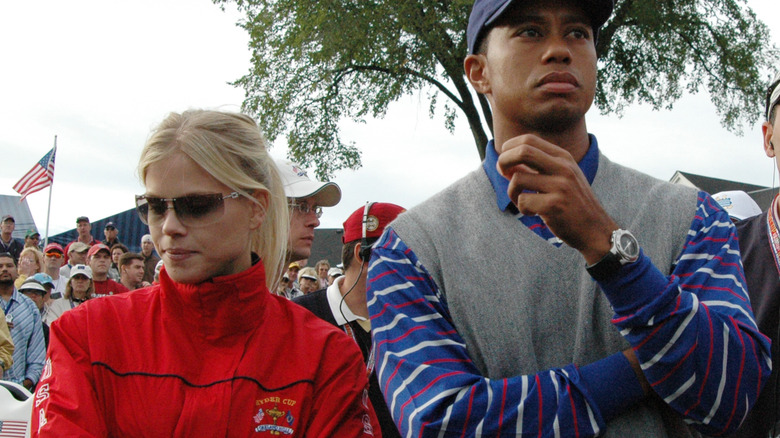 When one of the top athletes of any major sport in the U.S. goes through an ugly divorce, the media certainly pays attention, which is why the divorce of golfer Tiger Woods to model Elin Nordegren attracted so much publicity in 2010. After reports of an odd event in the middle of the night involving a vehicular collision with both a tree and a fire hydrant outside their home in Florida, Woods was forced to come clean and state publicly, "I was unfaithful, I had affairs, I cheated" (via Reuters).
Later in August, the couple finalized their separation and released a joint statement that said, "While we are no longer married, we are the parents of two wonderful children and their happiness has been, and will always be, of paramount importance to both of us. The weeks and months ahead will not be easy for them as we adjust to a new family situation, which is why our privacy must be a principal concern."
Mostly due to Woods having a net worth of at least $500 million at the time of the divorce, sources with direct knowledge told TMZ that Nordegren received an enormous sum of $100 million in the settlement. The outlet also pointed out that the total was significantly larger than what Rachel Uchitel was given after her earlier split with the pro golfer.
Mike Tyson and Robin Givens
One of the scarier celebrity marriages quickly came to an end in 1988 when pro boxer Mike Tyson and actor Robin Givens separated after only eight months. Major red flags were seen early in an interview on "20/20" while the couple were still together. As Tyson sat right next to her, Givens revealed, "He gets out of control; throwing, screaming." Barbara Walters then asked if he hit her, and the actor replied, "He shakes, he pushes, he swings. Sometimes I think he's trying to scare me. There are times that I thought I could handle it, and just recently I've become afraid. I mean, very much afraid."
Years later when talking on "The Oprah Winfrey Show," Tyson openly admitted to physical abuse carried out by both parties and said, "I have socked her before, and she socked me before as well. It was just that kind of relationship." Winfrey followed this up to ask if the relationship was abusive, to which he quickly replied, "Oh, definitely. Both ways, definitely." Fortunately, the violence never got too out of hand, so it's good that the couple called it quits when they did.
John Daly and Sherrie Miller
In 2006, both golfer John Daly and his wife, Sherrie Miller, filed for divorce but ended up staying together, which they may have later regretted. The tense situation was not helped by the fact that Miller was recently released from a short prison sentence for finances tied up in gambling and drug money, according to The Associated Press (via ESPN). The next year, things escalated dramatically when Daley was allegedly attacked by his wife with a steak knife.
Although when police arrived, Miller was gone with their children, and the supposed weapon could not be found as well. But Daly released the statement, "I filed a complaint with the Shelby County Sheriff's Office. They are investigating, and I'll have no further comment on the matter while they pursue their investigation. My only concern at this point is for the safety of my children and myself" (via ESPN).
Regardless of the chaos, the two didn't officially divorce until 2010, but even then, the drama didn't end. The following year, Miller filed a lawsuit claiming that Daley's new girlfriend was responsible for ending their marriage, which was then allowed to proceed in court three years later in 2014, as reported by the Courthouse News Service.
Jason Kidd and Joumana Kidd
When basketball player Jason Kidd filed for divorce from his wife, Joumana, in 2007, strong language was used in the paperwork. The words "extreme cruelty" described both the mental and physical abuse Jason claimed to have received from Joumana. Yet, the split-up was just the end of a turbulent relationship where both parties were responsible. Jason may have filed the domestic violence complaint at that point, but years earlier in 2001, he was the one who pleaded guilty to spousal abuse, as per The Associated Press (via ESPN).
The situation escalated when Joumana made a counter claim that Jason abused alcohol, struck her, and had affairs with strippers. Because of his unacceptable behavior, she justified her steps to uncover his adultery, which allegedly meant that she had their son steal Jason's phone from the locker room while he was playing on the court.
Though Joumana later attempted to play down what had occurred when she told Metropolis Nights Magazine, "I will say that most women put in that position would have acted the same way, or at least wanted to. Plus, it was blown up into something way bigger than it was. It was just his lawyers trying to paint a picture of me crossing boundaries and they did a good job of it. But it was far from the truth. And, it wasn't as dramatic and amazing as they made it sound, although I kind of wish it was" (via the New York Daily News).
Jim Edmonds and Meghan King
When baseball player Jim Edmonds and TV personality Meghan King separated in 2019, the couple still had hope they could work things out, especially for their children. However, that was incredibly difficult for King because she claimed Edmonds had an affair with their nanny. She admitted to The Daily Dish, "I think after such a breach of trust, it's so hard to rebuild from there, especially [with] so many distractions, like our son's health problems and two other little babies as well. And so, to focus on the two of us as a couple, is really hard."
Both Edmonds and the nanny denied the accusation, but King was convinced the adultery had occurred and eventually was unable to get over it. As reported by Us Weekly, divorce proceedings for the couple were completed less than two years later in 2021. But tensions didn't end there because the couple underwent a bitter battle over custody of their children. The situation deteriorated so badly that in September 2022, King filed a restraining order against Edmonds for harsh verbal abuse, as per TMZ. Although temporary, the action showed that it's unlikely the ex-couple would work things out anytime soon.
Michael Strahan and Jean Muggli
The split-up of football player Michael Strahan and Jean Muggli was controversial from the onset because only days before he filed for divorce in 2005, a complaint of domestic violence against him was dismissed. But as the dispute played out in court, Muggli made strong accusations that instances of physical abuse had occurred even before their marriage, according to The Associated Press (via ESPN).
Unsurprisingly, Muggli initiated divorce proceedings shortly after Strahan, but the athlete remained adamant that he was innocent of the severe claims leveled against him. As reported by the New York Post, Strahan stated publicly, "It's unfortunate that some marriages don't always work out for both parties, but that's a painful reality of the times we live in. I owe it to my daughters to end my marriage respectfully and with dignity. I would never physically or psychologically harm any of my loved ones, especially my wife. That's simply not the man I am. I will continue to respect Jean's privacy and not contribute to a public spectacle of an extremely private matter."
Over a decade later in 2020, the drama persisted as Strahan brought Muggli to court due to allegations of both the physical and emotional abuse of their two daughters. According to legal documents obtained by TMZ, he claimed to have evidence to prove his accusation, and with that he hoped to gain primary custody of the teens.
Martin Brodeur and Melanie DuBois
In 2003, the marriage of hockey player Martin Brodeur and Melanie DuBois swiftly came to an end because she discovered he had an affair with his sister-in-law. According to The Associated Press, the couple were still hammering out the details of the settlement in court six years later when it was determined that Brodeur would have to pay DuBois $500,000 every year for over a decade until 2020 (via the Toronto Star). On top of the alimony, the mother of his children also received $132,000 annually for child support, along with another $9 million.
The hockey star tried to appeal the decision in order to make it so that he would only have to make alimony payments while he was still working as a professional athlete. Since he was planning on retiring only a few years later in 2012 that would have cut down the total he owed significantly. But ultimately, the court ruled against him.
Chuck Finley and Tawny Kitaen
In 2002, the end of the marital relationship between pitcher Chuck Finley and actor Tawny Kitaen seemed very shocking at first. Shortly after the initial report that Kitaen was arrested over allegations that she assaulted Finley, he released an alarming statement that said, "I am fearful that [Kitaen] … will harm herself or will harm others, including me or including my children" (via CBS 19).
To her credit, the actor sought out help right away by checking into rehab for her addiction to prescription medication. But even so, Kitaen believed that the media made the situation seem much worse than it was in reality. When talking with Daily Pilot several years later in 2010, she said, "It got blown out of proportion … completely blown out of proportion. If Chuck was sitting right here, he would tell you the exact same thing" (via the Los Angeles Times).
No matter how heated things really were at the time of their divorce, the medical treatment Kitaen received worked and greatly improved her relationship with her ex. Even though the two didn't fully get back together, Finley was greatly impressed by the progress she made and said, "Though there have been bumps in the road, which we all experience, I could not be more proud of where and who she is today."
Jeff Gordon and Brooke Sealey
In 2002, when Brooke Sealey filed for divorce from professional race car driver Jeff Gordon due to claims of marital misconduct, he was initially reserved about it with the goal of keeping the situation private. The Orlando Sentinel questioned him, and he simply replied, "I'm not going to comment on it. We'll release a statement next week."
The following year, Gordon's attitude changed drastically to make him angrily declare to the Sun Sentinel, "It's ridiculous, I don't understand it," when the subject of his divorce was brought up. The growing frustration was over the fact that Sealey's lawyers were not only trying to get over $10 million out of Gordon's estimated net worth of $48 million, but they also wanted to drag the entire NASCAR organization into the legal battle as well. To get the maximum amount out of Gordon, the plan of her legal team was to make sure that his crew and all the other racing teams were recording their income properly. In the end, Sealey and her lawyers managed to spark the ire of the entire stock-car racing community during the process.
Terry Bradshaw and JoJo Starbuck
When figure skater JoJo Starbuck filed for divorce in 1980, it was a complete shock to her husband, football player Terry Bradshaw, and the separation hurt him deeply. So much so that a close friend of the athlete told The Washington Post, "I never saw Terry so shook up."
The response was particularly interesting given the controversial comments he made in his autobiography, "Man of Steel," shortly before the split. In the book, he openly admitted, "Okay, I'm a male chauvinist! I said it, so you don't have to. More than that, I'm not ashamed of being that! I think that for the most part, a woman's place is in the home."
Bradshaw went on to say that he understood Starbuck's desire to follow her passions and career goals, but then added, "I just want a full-time wife, that's all. And in the final analysis, I don't think that's too much to ask." The former pro may have been surprised that the relationship ended, but most outside observers reading those statements would probably not be so shocked.
Chad Johnson and Evelyn Lozada
In 2012, the relationship between football player Chad "Ochocinco" Johnson and TV personality Evelyn Lozada was damaged beyond repair. When the athlete got into a heated argument with his wife, he headbutted her and caused a rather large cut to form on her forehead. According to a statement released by NFL.com, Johnson was later arrested on a charge of misdemeanor domestic violence, and he claimed it was entirely an accident.
Once the divorce was finalized, the star player seemed remorseful and publicly stated, "I would like to apologize to everyone for the recent events that have occurred. I would like to wish Evelyn well and will never say anything bad about her because I truly love her to death" (via People).
On the other hand, years later in 2020, Johnson posted a controversial tweet that read, "I lost my temper for once in life for three seconds & it cost me a lifetime's worth of work. I got it all back plus some after getting a second chance & nothing will ever get me out of that happy space again" (via the Miami Herald). Lozada was not pleased with the comment to say the least, as it seemed to belittle the violent act he had committed against her.
Kenny Anderson and Tami Roman
TV personality Tami Roman divorced basketball player Kenny Anderson in 2001 just as rumors of his infidelity began to reach the public (per BET). Although Roman could not stand to be with her husband any longer, the separation put her in a very vulnerable position financially with their two daughters because the prenup she signed before the wedding left her with nothing.
For years, the ex-couple battled in court, which only further strained their relationship. When talking with PopEater, Roman admitted, "If you just put Kenny and I in a room, with no mediator, there's no telling what would happen. It hasn't always been an amicable situation. We haven't been proper parents in how we deal with each other, and that has taken a negative effect on his relationship with my daughters."
Then in 2012, the TV star finally got the $800,000 that Anderson owed her in child support payments over the years. As reported by TMZ, the NBA star had stopped paying the $8,500 a month that the court initially mandated back in 2005, so the two parties agreed to the massive lump sum in a settlement.
Hulk Hogan and Linda Bollea
In 2008, the divorce of Hulk Hogan and TV personality Linda Bollea was not surprising at all after a shocking accusation was made about his infidelity. Bollea's publicist, Gary Smith, told E! News, "When Linda discovered Hulk had [an affair] with Brooke's best friend, Christiane Plante, she made the decision to call it quits on the marriage." To address the way the pro wrestler was responding to the separation up to that point, he then added, "Hulk Hogan is saying anything he can conjure up to make Linda look bad in the media. Almost every statement that comes out of Hulk's mouth is a diversionary tactic to deflect attention away from the real reason Linda filed for divorce, two words: Hulk's cheating!"
Once the settlement was reached in court, Hogan took a huge hit financially. As reported by the St. Petersburg Times, Bollea not only received 70% of their liquid assets, but she also was given a 40% ownership stake in all of his companies, along with a further $3 million on top of it all.
Michael Jordan and Juanita Vanoy
The divorce of basketball all-star Michael Jordan and Juanita Vanoy in 2006 may have seemed less dramatic than other high-profile separations on the surface because the couple was quiet about the process for the most part. However, it's quite possible that there was considerable tension behind the scenes simply due to the fact that Vanoy received one of the largest settlements of all time at $168 million. And it must have only made the situation much worse in 2002 when Karla Knafel claimed that Jordan had offered her $5 million in hush money not to go public about their alleged affair a decade earlier in 1991, according to the Chicago Tribune.
Regardless of the accusation of adultery, Vanoy halted the divorce proceedings she began that year and the two attempted to work things out for some time, but it was to no avail. Les Coney, a close friend of the family, explained to People why he thought the couple struggled and said, "He's a magnet. He hasn't played basketball in five years, but still, people stop and take pictures and ask for autographs. Marriage is hard for any couple, and if you add celebrity to that, it's even harder."
Vanoy has made few public statements about her separation from Jordan. However, she may have given a hint of the personal trials she had to overcome when she told Crain's Chicago Business that her heroes are "women who have gone through adversity and come out of it, maybe not unscathed, but without bitterness."