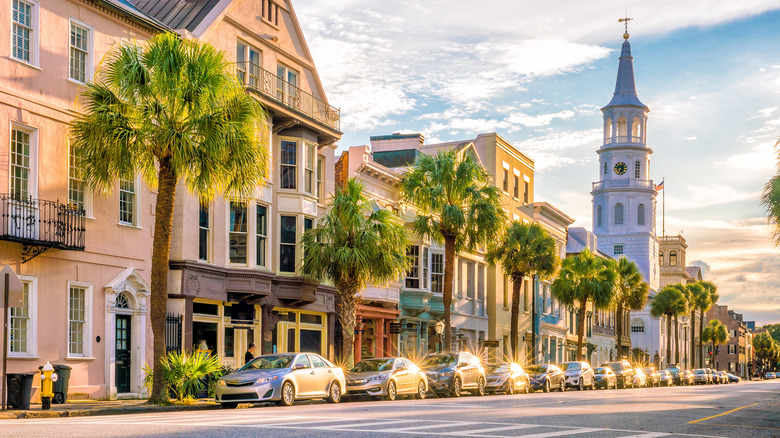 Charleston, South Carolina, is one of America's greatest cities. At least, that's the opinion of people who visit or want to tour this historical gem of the Low Country. Readers of Condé Nast Traveler have named it The Best Small City in the U.S. to visit for 11 out of the past 12 years, and the folks who vote in Travel + Leisure's annual rankings have put Charleston top in the U.S. for the past seven years in a row — even naming it the best city in the world in 2017.
Charleston is gorgeous. Its streets drip with Spanish moss and charm, and its buildings ooze history. The food scene is a rival to any city on the planet in terms of tradition, diversity, creativity, and quality. Throw on top of that easy access to beautiful beaches and the famed Southern hospitality of the locals — it's easy to see why people love to visit Charleston.
Wanting to visit a place isn't quite the same as wanting to live there, though — Charleston only ranked 49th on Business Insider's list of the 50 best places to live in America. Tourist towns can be pretty expensive for locals who are on a budget, so it's important to find the right area for your family to flourish. Fortunately, here is a list of five family-friendly neighborhoods where you can all benefit from the majesty of Charleston life as a local rather than a tourist.
1. James Island
Americans love cities, and American families love suburbs. Downtown Charleston has all of those amazing restaurants, shops, and employers, but it's busy, expensive, and a whopping 30-minute drive to the beach. When urban problems like this arise, suburban solutions appear, and James Island, located just across the harbor, between Charleston and Folly Beach, is a perfect example of this.
With its own charter high school, four elementary schools, two middle schools, movie theatres, Walmart, and plenty of independent eateries and retailers, you won't need to leave James Island for everyday essentials, per Keadle Group Charleston. Having said that, thanks to the fact that it is the closest suburb to downtown, you're also never more than 15 minutes away from all those amenities.
According to Cassina Real Estate Group, James Island covers numerous neighborhood subdivisions for prospective families to find their perfect niche. From historical antebellum and colonial-era settlements at Stiles Point or Seaside Plantation to Lawton Bluff's 1960s-built brick mansions or Stonesfield's more modest and serene surroundings, if you're searching for a slice of suburban Charleston life, you should start with James Island.
2. Mount Pleasant
The town of Mount Pleasant is just over the river from Charleston, and since 2005, it has been accessible via the 2.5-mile-long Arthur Ravenel Bridge that spans the Cooper River (via HDR). Like James Island, West Ashley, and North Charleston, it benefits from easy access to Charleston proper without the property prices that come with being one of the most desirable and historical cities in America.
Where Mount Pleasant stands apart from the rest is as a 21st-century boomtown. In 2021, SmartAsset ranked it as the number five fastest-growing city in the U.S. (though some residents would proudly remind you that it is still a town, really). Average household income in Mount Pleasant spiked by 47% between 2014 and 2019, almost twice the national average growth, while the population expanded by 13.53% from 2015 to 2020. So, economically it is booming, and Mount Pleasant is also home to Wando High School, the best-ranked non-Magnet Public school in Charleston (per Niche).
Mount Pleasant's rise is not just down to cold numbers or smart developers and commuters taking advantage of a nice new highway, though. There's the naval and maritime museum at Patriot's Point, unmissable for miles around thanks to the giant WWII aircraft carrier parked outside, the USS Yorktown. Though Charleston gets all the credit for evocative architecture, Mount Pleasant locations also featured in 2004's classic romance The Notebook, and parts of the Old Village date back to 1803, according to Discover South Carolina.
3. South of Broad
At the Charleston peninsula's tip is a triangle of luxury property bounded by Broad Street to the North and the Ashley and Cooper Rivers to either side. These are the cobbled streets and houses that ignite dreams of moving to Charleston, the historic core of this historic town, an architectural gem of the South. According to Disher, Hamrick & Myers, the area was formed back in 1721 and includes original areas of the walled city of "Charles Town" as well as some more recent in-fills. Rainbow Row, the Charleston Seawall, and the oak-filled White Point Garden are all crammed into this little corner called South of Broad.
Although South of Broad is sought after, central, and stuffed full of interesting things to see and do, it is surprisingly sleepy. Per Road Trips & Coffee, this has a lot to do with the parking situation — almost all of the places to park in the city are reserved for residents. This keeps the streets relatively quiet, even for such a traditionally touristy area.
All of this comes with a hefty price tag, the neighborhood is exclusive, and historical properties often come with considerable ongoing costs beyond the initial high asking price. However, people have been dreaming of buying a place South of Broad for about 300 years, and it's a pretty small area — if you can afford to buy in and stay for a while, you won't struggle to find interested clients if and when you decide to leave.
4. Wagener Terrace
A little north of Charleston lies the verdant enclave of Wagener Terrace. Like most settlements in the area, it has hundreds of years of history; however, according to Handsome Properties, a good majority of the properties in the area were built between 1920 and 1950 or so. Along with some cottage-style houses and Tudor revival buildings, the prevailing architecture in the area is Craftsman style, and while not quite as picture-perfect as Rainbow Row, these classic 20th-century homes are perfect starter homes for young families.
Wagener Terrace also borders Hampton Park. According to Charleston magazine, this 61-acre space is one of the largest parks in Charleston, the site of both the city's former race course and former zoo. Now filled with jogging trails and ornamental gardens, the park is one of several green spaces within easy walking or cycling distance of Wagener Terrace — also, check out Corrine Jones Park for dog walking and a kids' playground. The area even has a stunning and unique events venue; the original riverside plantation at Lowndes Grove may not be open to the public but hosts family milestones in a truly remarkable setting.
Wagener Terrace is conveniently located for all of the amenities of Charleston life without having to worry about traffic on a particular bridge or another, has a history of being a family-oriented neighborhood, and contains the neat little nooks of nature that are lacking from similar suburbs.
5. Kiawah Island
Kiawah Island might not be budget-friendly, but it is certainly family-friendly if you can afford it. From downtown Charleston, the closest waterside is Folly Beach, about 20 minutes away via James Island. Kiawah Island is the next beach down, a 45-minute drive from the city center via Johns Island (via The Best of Hipster Charleston). Per Town & Country, Kiawah is also known as the Hamptons of the South since it is a nesting doll of gated communities, tranquil nature, and high-end pastimes.
Kiawah's Ocean Course is world-famous for the iconic tournaments it has hosted since opening in 1991. According to Golf, it's one of the hardest golf courses in the country, and it's just one of the seven on Kiawah Island. But this is more than just a country club; with 10 miles of unspoiled beaches and certification as an Audobon Cooperative Sanctuary (via EZ), birdwatchers and other nature lovers flock to Kiawah Island to experience the best of the low country's beauty.
A drawback of exclusive oceanfront enclaves is often their remoteness, and though Kiawah Island isn't as conveniently located as the other neighborhoods on the list, it is still within Charleston County. Private education is available K-12 at the highly rated Charleston Collegiate School, roughly halfway between the island and downtown (via Niche). And while there aren't any big-box stores on the island, Freshfields village is a shopper's paradise and covers most things families and visitors need daily, according to Pam Harrington Exclusives.