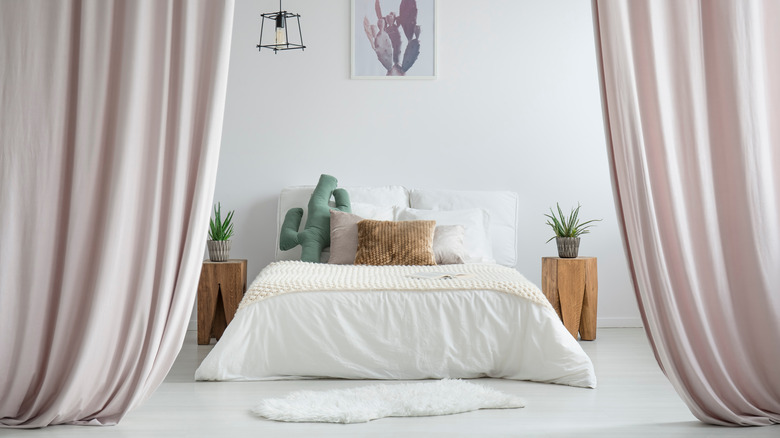 Curtains serve a few important purposes: they block light, provide privacy, and dress up boring windows. The right curtains can make a significant impact on a room. According to Julie Williams Design, they can transform the look of a space, enhance a room's design, and add a pop of color. Functional, decorative, and often affordable, these soft window coverings are a necessity in many homes.
With a bit of creativity, the humble curtain has the potential to be so much more. Since they come in a wide variety of designs, colors, and patterns, it's a shame to relegate curtains to just the window. Plus, since there are plenty of cheap options, decorating with curtains can be an economical way to update your space. We've rounded up some unusual ways to decorate with curtains, mixing some practical ideas and some purely ornamental ones. These unique curtain decorating ideas can bring function and style to your home, from dividing up a room to creating a stunning backdrop.
Add an accent wall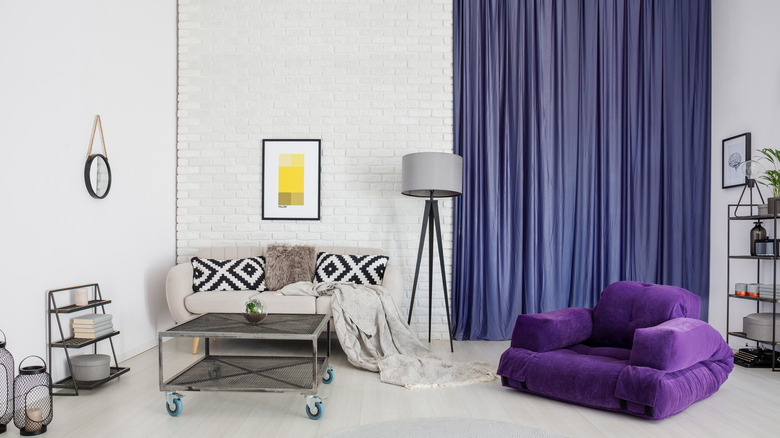 An accent wall can transform a room, creating a focal point and adding character. However, painting or wallpapering isn't always ideal, especially for renters or indecisive renovators. Instead, use a large curtain to create an accent wall without a single drop of paint or wallpaper glue. Choose a suitably sized curtain (a floor-to-ceiling option will provide the most coverage) and install the curtain as normal, but just against a wall instead of a window.
Since curtains come in so many different colors and patterns, you'll be spoiled with choices when it comes to beautiful designs. According to Anderson Painting, a bold accent wall is the way to go in most homes since bold colors and patterns can make a big impact using minimal space. As a general rule of thumb when painting, the designers at White Dahlia Design point out that lighter colors can make a room feel more open, while darker colors do the opposite. But if you don't love the first color you choose, don't fret. The best part of a curtain accent wall is the flexibility. When it's time to try out a new color, it's as easy as switching out the curtain.
Separate interior spaces
Compared to a solid divider or a new wall, a curtain divider blends into the decor and feels less imposing, according to Spiffy Spools. Their flexibility makes them excellent for small spaces. For example, it can delineate space in a studio apartment, separating the bed from the rest of the apartment (via City Chic Decor). In larger rooms, a curtain divider can offer privacy and noise-blocking benefits. The curtain type will make a difference, both in terms of looks and function. Sheerer curtains create a boundary while still letting light through and keeping the room airy and open. On the other hand, thicker, opaque curtains feel more wall-like to provide more privacy, soundproofing, and light control.
For a more permanent solution, curtain tracks can be installed on the ceiling. But this isn't the only option — there are ways to install a curtain divider without drilling holes, so this decorating tip is also renter-friendly. A product like the Umbra Anywhere Curtain Rod And Room Divider uses tension rods to install pretty much anywhere in a room.
Use a curtain instead of a door
According to The Inspired Room, a curtain has a few benefits over a traditional door. Curtain doors are easier to install, often more affordable, and provide privacy without entirely blocking off the room. They're an excellent temporary solution for renters who don't want to damage doorways, as well as for homeowners deciding on new doors. Curtain tension rods come in various sizes, so there's an option that should fit almost any interior doorway (apart from the extra-large ones). This option means there's no need to drill any holes if you don't want to.
Since most doors are pretty plain, using a curtain offers more color and pattern options than a wooden door. If you want to add a loud pattern or color to a room, a bold curtain door is an excellent place to experiment with new designs. When the curtain is closed, the colorful curtain can be a focal point. For a more subdued look, push the curtain aside or tie it back to make it less imposing.
Or hang one over an existing door
For a rustic, English countryside-inspired look, This is Glamorous recommends installing a front door curtain. That's right, an interior curtain that covers the front door. A soft curtain can soften and warm up the angular front entryway. To really lean into the countryside style, consider choosing a patterned curtain, like a pretty floral or cozy plaid number. Neutral colors can make this decorating tip look more modern.
A floor-to-ceiling front door curtain frames the front door gracefully while providing some practical benefits as well. According to the U.S. Department of Energy, drafty exterior doors can be a major cause of air leakage, which can affect your heating and cooling bill. Weatherproofing the door is the first solution, but installing a thick front door curtain can also help to lessen air drafts. Plus, in homes with sidelights or windows in and around the door, an opaque curtain can offer privacy. If privacy and drafts aren't a concern but lighting is, a thinner curtain looks lovely but still lets the sun in.
Bring back the old-school elegance of a portière
If your large, open doorway feels a bit cold and dull, a portière can add depth, warmth, and texture. The basic definition of a portière is drapery hung in a doorway, but with the right styling, this simple decoration can look like more than just a drapery. According to This is Glamorous, portières were often made of heavy fabric, like velvet or brocade, and were popular in wealthy Victorian homes. Using the right curtains, you can make your own version that calls back this old-school opulence.
A portière can be functional, used like a curtain door to offer privacy, or purely decorative to soften the look of a doorway. Make one by hanging two curtain panels above the open entrance to frame it on each side. Choose thick, rich, floor-length curtains and add unique tiebacks (like these oversized ones from West Elm) to capture that elegant Victorian-era feel.
Build a canopy bed
Install curtains around the bed to make a cozy canopy. For those with a canopy bed frame, adding curtains is as easy as adding them to the bed posts. Those with a regular bed frame can still create a canopy by hanging the curtain from the ceiling around the bed using tracks or hooks.
Roomhints notes that one of the major benefits of a canopy bed is its versatility — the look and function will totally depend on what curtain type you choose. Use thick curtains around all sides of the bed to create a private oasis, or opt for a partial canopy or lightly draped curtains for a more open feel and boho look. Pay attention to color as well. Light curtains have a breezy and beachy feel. Dark curtains create a private space and can block out light. Consider using blackout curtains for an even more restful sleeping experience. According to the Sleep Foundation, a blackout curtain might even improve your health, since darkness can contribute to a more restful night's sleep.
Turn a nook into a private space
Adding a curtain is a simple way to make any nook feel cozier and more hidden and private. If you have a bed nook, string a curtain in front of it to shut off the sleeping space from the rest of the room. Once again, consider the curtain type, as thicker curtains can help block out light and noise for a night of better sleep.
A well-placed curtain can turn a bay window into a sunny nook. To set this up, Continental Window Fashions recommends installing the curtain outside the bay and sectioning off the window ledge from the room. This creates a tucked-away seating area, perfect for relaxing and enjoying your morning coffee. Another place where a curtain can really shine is in creating a reading nook. String a curtain around the nook and add a comfortable chair and cozy textiles like blankets and rugs. Besides adding a bit of whimsy, a curtain over the reading nook can help control the amount of light for a more comfortable reading experience (via Keysi Hodge Interiors).
Create charming cupboard doors
Short curtains are an appealing alternative to traditional hard cupboard doors and are often easier and cheaper to install. With beginner sewing skills, you can make your own curtains from your favorite fabric. Short curtains are also available to buy and can be repurposed as cupboard doors, though keep in mind that some curtains may need hemming to fit your space perfectly.
This curtain decorating tip can be incorporated into any room, but it looks particularly lovely in the kitchen, laundry room, or bathroom. The soft folds of curtain cupboard doors can break up the hard lines of counters and appliances. The curtain design can also contribute to the look of the space, adding pattern and texture in otherwise dull rooms. The Otto House recommends a neutral color for a more modern look, while designs like floral or gingham can bring a bit of vintage charm. These curtains are also a great way to conceal clutter.
Replace a closet door, or even create a closet
Can't decide between an open or closed closet? A curtain is a stylish and flexible alternative to clunky closet doors. A curtain makes it easy for you to choose your ideal look so that you can opt for a colorful or patterned curtain rather than the plain look of a typical closet door. According to Driven By Decor, a curtain closet door is also practical, making the closet more easily accessible and eliminating door clearance issues. Unlike bifold or swinging doors, the curtains can be moved aside completely, making it easier to reach the back corners and allowing you to keep your closet on display, if you prefer.
In rooms without a closet, well-positioned curtains can create a faux closet space. Start by installing a freestanding closet system, like Ikea's Elvarli open storage closet system. Then install a curtain rod or ceiling curtain tracks around the perimeter of the closet to create a faux closet.
Shade a patio area
Curtains aren't just for the indoors; outdoor curtains are also available to pretty up patio spaces. Curtains around a patio or gazebo can bring both decorative and practical benefits, making the space look nice and providing protection from the sun. White, billowy outdoor curtains can give an airy, resort-like feel, while darker curtains can offer more UV protection. Consider neutral colors for a more subdued modern look, or opt for bright colors to create a festive outdoor atmosphere. Well-placed patio curtains can also provide extra privacy.
21Oak notes that it's important only to use outdoor curtains outside; they should be water-, mildew-, and fade-proof to hold up against the elements. Also, pay extra attention to curtain length outdoors, choosing curtains that sit a few inches off the ground. A shorter length prevents the curtain from getting dirty and wet from the ground below. Weighted hems can help keep the curtains in place in windy weather.
Section off a workspace
If you work from home, a dedicated workspace comes with several benefits. According to Wishup, a specified work area can help separate work and home life, improve focus, and cut down on distraction. But setting aside this space can be difficult if you're tight on space.
If you don't have an office room, use a curtain to create one by installing it around your desk. Besides placement, choosing the right curtain can also contribute to the work area ambiance. A thick, opaque curtain is a good idea to close off the workspace. Thicker curtains have sound-muffling benefits, which can help to create a quieter environment. When the work day is finished, and the curtain is closed, it will keep work out of sight (and hopefully out of mind). However, see-through curtains can also be a good choice. Sheer curtains can still provide delineating benefits while also letting light into the space, which is ideal if you prefer working under natural light.
Cover up storage
Open storage shelves look beautiful when they're well-organized, but as Realtor.com notes, you need to channel Marie Kondo at all times to keep them that way. If you have open storage that looks messy rather than trendy, install a curtain cover to conceal the chaos. A curtain cover-up allows you to keep the storage on display when it looks nice and neat, and quickly cover it up when things are cluttered.
For an open closet or storage shelf in a nook, a tension rod across the entrance may be all you need to add a curtain. For wall-to-wall storage, like in a garage or living room, consider installing ceiling curtain tracks to cover the shelves. Opaque curtains are a better choice than sheer curtains when concealing storage spaces (the goal is to keep it out of sight, after all).
Make a textured headboard
According to Casper, a nice headboard doesn't only create a nice backdrop for your bed, but it can tie together your bedroom's overall look. With a range of colors, sizes, and pattern options, a curtain headboard can take this idea to the next level. Plus, since curtains are easy to switch out, it's easy to update the look of your bed and bedroom with this curtain hack.
Hang a curtain behind the bed for a simple DIY headboard. Place the curtain rod closer to the bed to create a more traditional headboard look. Or, to go for a more dramatic flair, install the curtain rod near the ceiling and use long curtains to make a floor-to-ceiling headboard. Layering curtains and adding tie-backs can create a gorgeous draped finish. The Palette Muse highlights the benefits of a curtain headboard for small rooms; it eliminates the bulkiness of a traditional headboard. To up the coziness factor, string warm LED fairy lights (like the Hampton Bay Copper Wire Fairy String Lights) throughout the headboard.