Meghan Markle became one of the most famous women on the planet when her relationship with Prince Harry first made headlines in 2017. One of the reasons the former actress joining the royal family was such a big deal: she's been divorced! So, who was the guy who first married Markle, why did they split after many years together, and how does he feel about his ex-wife's royal rebound? It's time to take a closer look at the life and times of one Trevor Engelson, an entertainment industry insider who's now perhaps better known as the former Mr. Markle.
Engelson has reportedly been offered big bucks to spill the tea about his ex-wife, but to date, he's remained relatively unruffled. One thing is clear, though: the high-profile circumstances surrounding the Sussexes' royal nuptials in May 2018 were worlds apart from the scene that surrounded Engelson and Markle's own wedding back in 2011. Let's dig into all the facts and rumors surrounding Meghan Markle's ex-husband.
Meghan Markle's ex-husband started at the bottom of the Hollywood ladder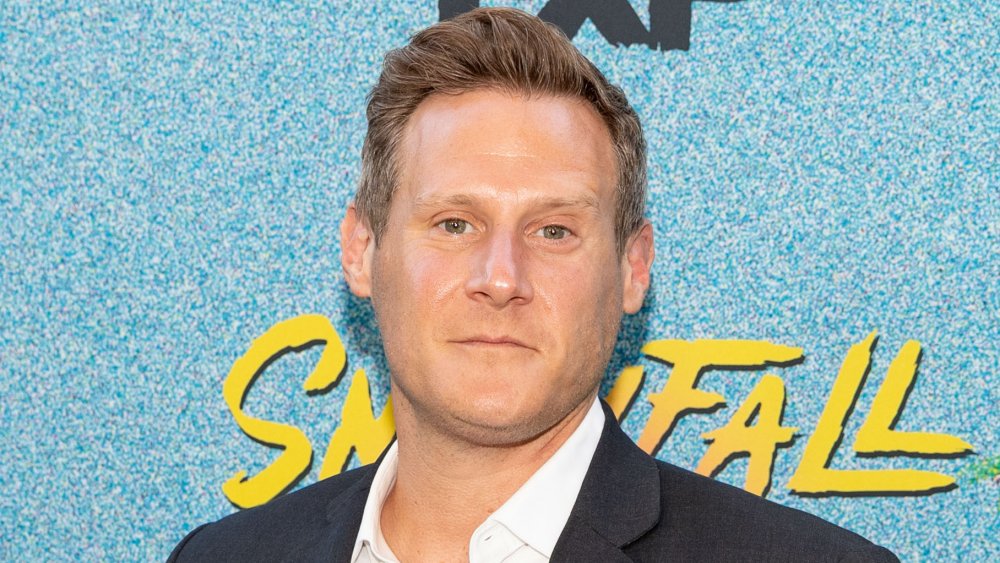 Trevor Engelson started at the bottom, literally: according to the book, Meghan: A Hollywood Princess (via Express), Meghan Markle's ex-husband started working as a production assistant when he was still in high school in New York City, before studying at the Annenberg School of Cinematic Arts at USC. He graduated in 1998, and per Engelson's FX bio, his first job out of college was as an assistant on Deep Blue Sea (1999). Since then, he's produced the rom-com License To Wed (2007), the goofball Bradley Cooper and Sandra Bullock movie All About Steve (2009), and the Robert Pattinson-led Remember Me (2010). As of this writing, his most recent projects have included the FX series Snowfall and the controversial Heathers television reboot.
In addition to TV and movie production, Engelson also began a career as a talent agent, starting in a mail room at the Endeavor Agency and working his way up to an assistant role to Chris Donnelly, a film literary agent. However, while Donnelly was on vacation, Engelson reportedly overstepped his bounds and sent unsolicited scripts to directors and on-screen talent — and was promptly let go. He was then hired by OZ Films as a production assistant, and finally opened his own talent agency.
Engelson has since managed various talent at Underground Films, including screenwriters, novelists, actors, and directors in the Los Angeles area. The company also opened a New York office in 2012.
Trevor Engelson and Meghan Markle were together a long time
Though Trevor Engelson and Meghan Markle were only married for two years, they were actually together for a long time before they tied the knot. The Sun reports that Engelson and his royal ex-wife first met in 2004 and dated for almost seven years before they wed in September 2011. Prince Harry and Markle, meanwhile, got engaged after only about a year and a half of dating, and then shared their fairy tale wedding held at Windsor Castle with the entire world just six months later.
However, if The Sun is to be believed, Engelson and Markle's wedding sure did sound like a blast. According to the report, the nuptials took place over a span of four days in Jamaica, with the actual wedding taking place on the third day. The couple apparently hosted parties that included everything from wheelbarrow races to drinking games on the beach to a brunch. As for their actual ceremony? Reportedly, the whole thing took just 15 minutes.
A short ceremony in favor of days-long partying? That's pretty much every wedding guest's dream.
Meghan Markle's ex-husband never visited her on the set of Deal or No Deal
It's hard to believe anyone would turn down a chance to meet Howie Mandel (cough), but apparently, Trevor Engelson wasn't known to stop in to see Meghan Markle when she was a briefcase model on Deal Or No Deal while they were still together. In fact, according to the Meghan: A Hollywood Princess book (via Express), Engelson apparently never visited the set like other husbands and boyfriends of the models did, and he often skipped out on traveling with Markle during her downtime from filming because he was occupied with his own work as a producer.
Author and royal biographer Andrew Morton wrote that Engelson's absence was so "noticeable" that the other briefcase models commented on it, claiming, "They were driven individuals, Trevor as busy, if not more so than his girlfriend." Morton also alleged in the book that Markle was, at times, disappointed that Engelson didn't help get her cast in more of his projects, though he did get her a bit part in Remember Me in 2010, as well as a short film called The Candidate, in which she played a secretary and showcased her calligraphy skills.
Long distance hurt Meghan Markle's marriage with Trevor Engelson
Meghan Markle and Trevor Engelson married the same year that her acting career took off with Suits, which allegedly proved to be their downfall as a married couple. According to a source cited by Woman's Day (via Life & Style), "Meghan landed her role in Suits just a few months before they married. Trevor was based in LA while Meghan was in Toronto, a five-hour flight away. It was a very difficult way to start married life."
The duo reportedly turned to Skype and Facetime to stay connected, but this apparently did little to improve the difficult situation. As another insider claimed to The Sun, "Trevor was devastated at the split. She suddenly had no more time for him. Meghan broke Trevor's heart, pure and simple. He is still in love with her and so the revelation of her new relationship with Harry has hit him hard."
We can't say for certain whether there's any truth to this last report, but it's worth noting that the Sussexes were famously able to overcome this same long-distance hurdle. "I think we were able to really have so much time just to connect," Markle revealed in the royal couple's engagement interview with the BBC in November 2017. "And we never went longer than two weeks without seeing each other, even though we were obviously doing a long distance relationship."
Meghan Markle supposedly dumped her ex-husband by mail
Ouch! In his biography of Meghan Markle, Meghan: A Hollywood Princess, author Andrew Morton claimed that the Duchess of Sussex dumped ex-husband Trevor Engelson by mail after rising to middling fame on Suits. Morton wrote (via News.au), "[Engelson] went from cherishing Meghan to, as one friend observed, 'Feeling like he was a piece of something stuck to the bottom of her shoe.' … A wealthy entrepreneur friend claimed the marriage ended so abruptly that Meghan sent Trevor her diamond wedding and engagement rings back by registered mail."
Morton also wrote that, as Markle gained professional success, her personal life suffered, and the supposedly "Meghan chill" extended to her friends, as well. She reportedly left the home she and Engelson shared, taking a blender with her, to move to Toronto to film Suits. He tried moving to be closer to her, but she still wanted out, allegedly because of his supposed "scattered approach to life."
Meghan Markle was reportedly 'empowered' by the split
In an ITV documentary on Meghan Markle called Prince Harry and Meghan: Truly, Madly, Deeply, the duchess' friend, actress Abby Wathen, claimed Markle simply felt the relationship with Trevor Engelson wasn't right for her anymore in light of her newfound success. "She always knew she would be successful, she just … knew it. She knows what she wants and she gets it," Wathen alleged (via Metro). "We both went through divorce, so we bonded on that too. I was destroyed, but she was empowered. She took her power back. It wasn't the right relationship for her, so she moved on."
In December 2017, Markle's former bestie Ninaki Priddy seemingly corroborated this claim — albeit in a more direct accusation about Markle's supposed behavior — while speaking to The Sun. "Once she decides you're not part of her life, she can be very cold. It's this shutdown mechanism she has," Priddy claimed, before alleging that Markle was "very strategic in the way she cultivates circles of friends."
Meghan Markle's ex-husband was reportedly 'skipping town' for the royal wedding
A day before Meghan Markle's royal wedding to Prince Harry took place in May 2018, insiders revealed that Trevor Engelson was pretty sick of hearing about his ex on every news outlet. A source claimed to Us Weekly at the time that the producer was "skipping town" ahead of the nuptials to avoid all the hoopla, but it's unclear where he was headed — just that it was out of the country and possibly in South America.
It's understandable that Engelson would feel the need to escape, since his Google alerts have likely been blowing up ever since Markle and Prince Harry's romance made headlines. (Seriously, breakups are hard enough when you're not dealing with tabloid culture about the rich, famous, and royal). According to another insider cited by The Sun, "This attention on him since the Harry relationship is something he has loathed … He and Meghan are a world away from that Hollywood happy divorce declaration of 'conscious uncoupling' — where people split up, but remain friends like Chris Martin and Gwyneth Paltrow."
Is Trevor Engelson creating a comedy inspired by his ex?
Well, that's one way to get over an ex: Trevor Engelson developed a series based on his divorce from Meghan Markle. In September 2017, Deadline reported that Engelson was working on a single-camera comedy with Modern Family executive producer Danny Zuker about a divorcé whose ex-wife marries a prince (well, that sounds scandalously familiar). While Engelson insisted at the time that it wasn't based on true events, it was likely at least slightly inspired by Markle's newfound fame as a royal.
However, in May 2018 — just before Markle's wedding to Prince Harry — The Sun reported that Markle's entertainment industry friends talked Engelson out of pursuing the project (or at least to delay it until after the royal wedding). A source claimed, "The couple has barely spoken since their divorce, but she did reach out to him — with Harry's agreement — to thank him for not telling their story in public. The TV pilot was a shock, but now everything is paused … Trevor has still not confirmed yet if he will walk away from the project." Hm.
So, what else might be in the works for Engelson's career? Back in 2012, The Hollywood Reporter revealed that a big-screen adaptation of beloved kids' geography and mystery series, Where in the World is Carmen Sandiego, was in the works, with Engelson listed as one of the producers and Jennifer Lopez reportedly eyeing the film as a potential starring vehicle. Fingers crossed it materializes.
Meghan Markle's ex went out with a Real Housewife
Meghan Markle wasn't the only one to move on with a famous face: after she and Trevor Engelson divorced, he had a brief dalliance with The Real Housewives of New York alum Bethenny Frankel.
Frankel told The Kyle and Jackie O Show in April 2018 that she met Engelson in Chicago, and they went out just one time but kept texting. She claimed he revealed to her that he'd been previously married to "this girl named Meghan Markle from the TV show Suits." At the time, Frankel said she had no idea who Markle was. When she later realized Markle and Prince Harry were dating, Frankel said she and Engelson began texting again.
Engelson "looks a little bit like my ex, which scares me," Frankel admitted. "We bypassed the romantics and went into the business." At the time, these two were also reportedly working on a TV pilot together about a group of businesswomen. In Frankel's words: "There's something salacious about doing a TV project with Meghan Markle's ex."
Meghan Markle's ex-husband remarried and is going to be a dad
Trevor Engelson has since remarried, tying the knot with a beautiful blonde nutritionist named Tracey Kurland. A source told The Sun that Engelson met Kurland through mutual friends, and that they first began dating in 2017. Kurland is based in Los Angeles and used to intern for Twelfth Street, a fashion retailer that — fun fact — Pippa Middleton reportedly loves. The pair got engaged in May 2018, just weeks after Meghan Markle and Prince Harry tied the knot, Us Weekly reported. Engelson apparently made the announcement on his private Instagram page, captioning a photo with Kurland, who was sporting a brand new sparkler on that finger, with, "Luckiest guy I know. Get ready to party!"
The happy couple later got hitched in May 2019 — less than a week after Markle and Prince Harry welcomed their son, Archie Harrison Mountbatten-Windsor. In April 2020, Us Weekly reported that Engelson and Kurland would be expecting their first child, a baby girl, in September.
Trevor Engelson refuses to speak about Meghan Markle or Megxit
Despite their apparent bitter split, Trevor Engelson won't badmouth Meghan Markle now that she's one of the most famous women on the planet — even when allegedly being offered upwards of $1 million for a tell-all on his ex.
A source told Woman's Day (via Life & Style) in 2018, "Trevor has remained tight-lipped until now, despite numerous cash offers being on the table. But now he's been tempted to open up about what he calls 'years of hell.'" As of May 2020, he hasn't commented on the Duchess of Sussex publicly and maintains a low profile, with all of his social media accounts set to private. When the Daily Mail caught up with him outside a Los Angeles hair salon following the bombshell Megxit announcement that January, he politely declined to comment. He also won't speak about her privately, either.
Markle's brother, Thomas Markle Jr., alleged to Express that the few times he met Engelson, Meghan didn't seem into him, claiming, "I saw a side of Meghan, like scowling at him and him cowering like a puppy, doing what he's told. And he worshipped the ground she walked on." Thomas added, "I could not understand it, I mean this is a man who would have given her everything. And I've even talked to him after, on a couple of projects I was trying to put together, and he said, 'I'll talk to you, but just don't ever mention her name because I'll hang up on you.'"