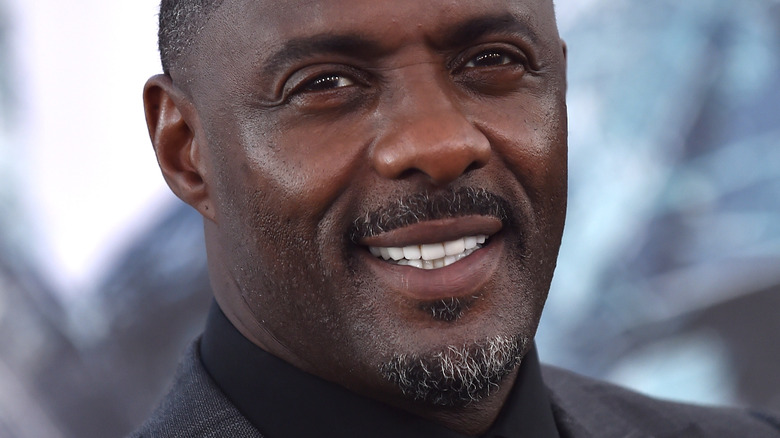 Idris Elba is easily one of the biggest international stars of his generation, and he's long been favored for significant roles. Hardly a day goes by that someone doesn't suggest he take on the role of James Bond, and while it doesn't look like that's going to happen — he passed on the part — Elba has been in some of the biggest franchises in Hollywood history. Of course, he didn't step off a bus in Hollywood and land a leading role; that took a lot of time and effort.
Like most people, his life started out relatively normally; he went to school, had hobbies, and worked in various industries before settling on the one he's known for around the world. Because he's such a huge star, a lot of people are interested in learning how he went from a small corner of London to headlining "Luther," "The Suicide Squad," "The Dark Tower," and so much more. Elba's career has been impressive, and he's managed to stick his foot into the Marvel Cinematic Universe, "Star Trek," and more.
He's played Heimdall in the MCU, Brixton Lore in the "Fast and Furious" franchise, and Bloodsport in the DC Extended Universe. Frankly, the man has been incredibly busy, but he didn't start out that way. Like many who came before him, Elba started small and became the man he is today through plenty of blood, sweat, and tears. This is the path Elba took to become one of Hollywood's most prominent leading actors.
Idris Elba comes from modest roots in Hackney, London, England
Idris Elba was born in Hackney in London, England, where he lived with his parents. He didn't start out life wanting to become an actor, and he held several jobs before getting to that point. Elba spent some time working on the production line at a Ford factory, but his passion was DJing. He spent much of his teenage years honing his skills while developing his DJ identity Big Driis, per the Guardian.
This wasn't a passing fad for Elba — he was and remains a professional DJ. His career-spinning records developed fully before he transitioned into acting. Elba explained the origin of his interest in DJing to Rolling Stone: "I've got this picture of me where I'm four years old, and I'm holding Marvin Gaye's "Let's Get It On" album cover. I guess that was me wanting to DJ. My dad would let me stare at his record player but not let me touch it. But then, growing up in my mum and dad's house, there was [sic] lots of parties, and my dad finally allowed me to DJ. I was probably nine or ten. It was the disco era, so I was playing things like "Ring My Bell."
Years later, he moved to the United States, where he worked as a bouncer, sold pot, and created tracks. When he eventually hit it big with "The Wire," Elba continued working as a DJ whenever he could, evening DJing at Prince Harry and Meghan Markle's wedding. These days, he's stepped away from acting to focus on music but still takes on prominent roles.
He studied acting, thanks to the Royal Family
Acting may seem like a skill only a few fully develop, and while that's partly true, acting is also a craft. For most people working in the industry, a lot of training and education went into making them the professional actor they are today. Most actors attend film school or spend years honing their craft in the theater, so it's rare to find someone who skips all of that and gets into acting another way — and it's even rarer for a person like that to succeed. Idris Elba attended several schools growing up, but it wasn't until the late-1980s that he began to study acting.
Elba briefly attended Barking and Dagenham College before dropping out and attending a different institution, the National Youth Music Theater. The prestigious placement came thanks to a grant of £1,500 provided by the Prince's Trust. Prince Charles III founded the trust to provide financial assistance to young people struggling with various problems, including homelessness, mental health, and poverty. Elba was awarded the grant, which ultimately changed his life.
While he had some early experiences in acting while attending school in Canning Town, his time with the National Youth Music Theater steered him toward professional acting. Since making it big, Elba has become a Goodwill Ambassador for the Prince's Trust. Elba supports the trust's mission by spending time with young people looking for help and stands as an example of the trust's many success stories.
He worked odd jobs to put himself through school
Idris Elba was already a moderately successful DJ when he started his secondary education in Canning Town, London. He started working as a DJ to help out his uncle's wedding business when he was 14, and within five years, he was working in nightclubs as Big Driis. That's not all he did to pay the bills, and while he was honing his craft and studying with the National Youth Music Theater, he dipped his toes into several professions.
The £1,500 grant was undoubtedly helpful, but Elba needed to support himself throughout his education. The actor revealed to The Sunday Times that anyone who owned a Ford Fiesta made between 1989 and 1990 probably had some spot-welding work he'd done on it. "The cars would come along the line, and I had this big soldering gun, but it was the night shift, and I kept falling asleep. I'd look up, and the car had gone down the line, and I'd missed a good nine spots. Those cars must be falling apart by now."
Aside from spot-welding at the Ford factory in Dagenham, England, Elba worked as a tire fitter and cold caller. Elba credits working at the Ford factory alongside his father as the push he needed to get on with his life. On his last night there, he told his father he was leaving for the States in the morning. Two days after that, he was looking for work in New York City, New York, but it wasn't easy.
His first foray outside of theater came via the small screen
Idris Elba's first prominent step into acting came when he saw an ad in "The Stage" for an audition. That resulted in his casting in a play at the Red Line Pub Theater, which was serendipitously seen by an agent. He credits that with his first experience in getting signed on with an agent, and he continued working in theater as he studied his craft. By his early 20s, Elba was auditioning for television roles, and he finally landed one in 1994.
Elba's first taste of television came via an episode of "2point4 Children," where he played a parachute instructor. He has very little screen time, but that's all he needed to get started. Over the next two years, he appeared in numerous popular British TV series, including "Absolutely Fabulous" (pictured), "The Bill," and "Insiders." As he continued to appear on the small screen, he took on more recurring roles, and in 1999, he was cast as Matt Gregory in "Dangerfield."
That role kept him busy throughout the year, but Elba is nothing if he isn't a workhorse — the man has worked consistently since he began acting professionally. Still, despite his move to television, he remained an avid performer on stage. Eventually, Elba moved to New York City permanently, finding it difficult for a black actor in Britain to find good roles. Elba's British agent, Roger Charteris, explained that the move to the States elevated Elba's career beyond where it would have gone in Britain.
He worked around Broadway while making a name for himself
Like many actors who came before him, Idris Elba started out in the theater, and it's something he has a passion for. When he moved to New York City, he got in line and began auditioning for roles on Broadway and elsewhere. While he didn't book the former, he got to show off his skills in several off-Broadway productions. His first theater gig in New York was playing Achilles in "Troilus and Cressida" off-Broadway.
Elba supplemented his income between acting jobs by working outside the industry. He worked as a bouncer at a comedy club on Broadway. He discussed this during a hosting gig at "Saturday Night Live," where he explained, "About twenty years ago, I was working down the street from this building on Broadway — not as an actor — but as a doorman. I was a bouncer at Carolines Comedy Club on 49th and Broadway" (via Page Six). The actor went on to say the job helped him make contacts in the industry through his side hustle of selling weed.
Elba didn't have it easy in New York, telling Playboy he spent a few months homeless, living in a van (via People). Still, despite the pitfalls, he has no regrets about his career path. Elba told People, "I'm so fortunate to have the life I have now. It has been, though, the hardest and toughest journey. Back then, I would've wished to get here quicker without having to go through some of the trauma."
His big break on television exposed him to the world
Idris Elba spent nearly a decade working in theater and on television before he landed his big break. That came when he was cast to play Russell "Stringer" Bell in HBO's "The Wire." The show has been called one of the few perfect TV shows ever made, and his performance is absolutely top-notch. Elba was unknown to the world before he became Stringer Bell, but as soon as he graced people's screens on "The Wire," that changed.
Elba scored an audition via his agent, and it was viewed by Alexa L. Fogel, who reportedly said, "I see something phenomenal in him," and gave him the part (per The Guardian). "The Wire" opened a lot of doors for Elba, who went on to appear in everything from "The Office" to "Aqua Teen Hunger Force." Still, it was his work as Stringer that propelled him to leading man territory in feature films.
Once he finished with "The Wire" in 2004, Elba started popping up in significant films playing prominent roles. He played a general in "28 Weeks Later," Tango in "American Gangster," and Stacker Pentecost in "Pacific Rim." This was all made possible through "The Wire," and it also helped him play another role he's well known for, DCI John Luther in "Luther," which ran from 2010 to 2019. Despite his many successes on the silver screen, Elba continues to work in television as an executive producer and creator on "In the Long Run" and "Turn Up Charlie."
He built up his film career by carefully choosing his roles
Some actors out there seem to take any role handed to them — *cough* Nicolas Cage! Of course, that can work or backfire, so many choose their projects carefully. Idris Elba certainly first this bill, as he has chosen the films he appears in carefully and has passed on several opportunities he didn't feel would work for him. He famously turned down the role of James Bond, which wasn't technically offered to him.
The comment from Anthony Horowitz that he was "too street" to play the character turned him away from the notion of accepting if it was offered (via Express). Elba's discerning nature ensured he only took roles he felt strongly about. Through this, he's become a highly sought-after actor, and his movies bring in a lot of money. According to The Numbers, Elba's box office earnings have raked in just shy of $1 billion.
Over the years, Elba has discussed how he chooses his roles, and during a press conference for "Three Thousand Years of Longing" at Cannes 2022, he and others were asked how they go about picking roles. "I can say that I'm thankful that I haven't played the same character twice. And that's sort of what drives me; when I look at a role, I think about whether this is someone that's new — new to my palette. Is it going to stretch me? And that's sort of how I choose what I'm going to do next."
He never abandoned his musical roots
Idris Elba may be a Hollywood A-lister, but he has many passions outside of acting. One that goes back to his early years is a love of music. His work as a DJ certainly kept him close to music, but he's not content only spinning records; he enjoys recording them as well. As it happens, Elba is a talented singer, and while most folks don't think of him as such, he's been involved in the music industry for decades.
He started singing professionally around the turn of the century, and his first four-song EP, "Big Man," was released in 2006. A short time later, he performed alongside Jay-Z, Fatboy Slim, and others. His first single, "Please Be True," was followed by a six-song EP, and he's continued recording music ever since. In 2015, he launched his own record label, 7Wallace Music, to with the goal of "breaking boundaries in dance and hip hop music." He's released his own music through 7Wallace, but the label has also signed numerous artists, including James BKS, Che Lingo, Little Simz, and many others.
Elba discussed his love of making music during an appearance on "Loose Woman." "I make music a lot, and I have pretty much [throughout] my entire career as an actor. … I love music, and it's my happy space. So, I've had a lot more chances to actually make music. I'm not giving up acting, but I'm definitely going to put out more music, and I just love the process of making music" (via Hello Magazine).
He's shown up in a music video or two
Idris Elba's love of music extends beyond his personal singing, DJing, and recording career. He's also been known to show up in music videos from time to time, and some of them might surprise you. The actor began appearing in music videos in 2002 when he dropped in for Fat Joe's "All I Need." Two years later, he popped up in Angie Stone's "I Wanna Thank You" and Giggs' "Hustle On."
Of course, Elba hasn't limited himself to appearing in other recording artists' music videos — he has plenty of his own. Some of his most notable include "Biggest," "Daily Duppy," and "Fudge." As his celebrity grew, he never abandoned his musical roots and continued to appear in various music videos. In 2012, when Elba was already well known for appearing in "Prometheus," "Thor" and "Ghost Rider: Spirit of Vengeance," he took the time to star in Mumford & Sons' "Lover of the Light" and much more.
Elba hasn't limited himself to singing and appearing in videos — he still DJs often. He DJs in Ibiza, Spain, and he's done the same at Coachella, beginning in 2019. Vulture described Elba's skills, writing, "Elba has the Midas touch. He doesn't need to tell the crowd what to do. They just know when a chorus of synchronized handclaps is required, when a call-and-response of hooting is in order, or when it's time to start jumping up and down in preparation for an evening that might not end for another 12 hours."
He was knighted by Queen Elizabeth II
Idris Elba has been honored with numerous awards and nominations over the years, including nods from BAFTA, the Emmy Awards, Golden Globe Awards, the Screen Actors Guild Awards, and much more. He's been named the "Sexiest Man Alive" and "Sexiest Man of the Year" by numerous publications, but one of his most prestigious honors was granted to him in 2016, and it was bestowed upon him by Queen Elizabeth II.
Like many prestigious actors from the United Kingdom, Idris Elba was appointed an Officer of the Order of the British Empire (OBE) at the 2016 New Year Honors for his services to drama. In a statement, Elba said, "Awards and honors come in all shapes and sizes, and all as significant as the other. But this is beyond special as it comes from Queen and country, and I couldn't be more proud for receiving this right now. What a year. On me head, son!" (via E News).
While the knighthood comes from the Queen, any member of the Royal Family can bestow it. For Elba, the honor was given to him by Prince William at a ceremony at Buckingham Palace. It took little time for the actor to post his feelings on Twitter, where he wrote, "Made my Mum very happy today!!" With the knighthood comes the ability to add "OBE" to his title, but it also means that it's appropriate to address him as "Sir Idris" should you be fortunate enough to meet him in person.
He's worked as a producer, writer, and director, earning significant acclaim
Idris Elba is an acting superstar, a singer, a talented DJ, and much more, so it should come as no surprise to learn that he's worked as a director. He first sat in a directing chair to create music videos, but before long, he was headlining his own film, "Yardie," which premiered at the 2018 Sundance Film Festival. "Yardie" earned Elba a grand jury prize nomination at the festival, which is a fantastic accomplishment for a first-time feature film director.
Elba has produced a lot of projects over the years. He was an executive producer on "Legacy" in 2010 and continued producing for television and feature films. Elba stars in some of the projects he produces, but he also produces many of which he doesn't appear on-screen. On top of all this, he writes, and in addition to the television series he created, he co-created a play.
"Idris Elba Presents Mi Mandela" was developed into a show called "Tree," and it premiered at the Manchester International Festival in 2019. If there's one thing you can say about Elba, it's that he's worn a lot of hats over the years. He's an actor, director, producer, writer, singer, and DJ. With so much going on in his life, it's amazing he has time to get anything done. Still, year after year, he continues to astound his fans with amazing performances across his many interests, and it all started with an ad in the paper.