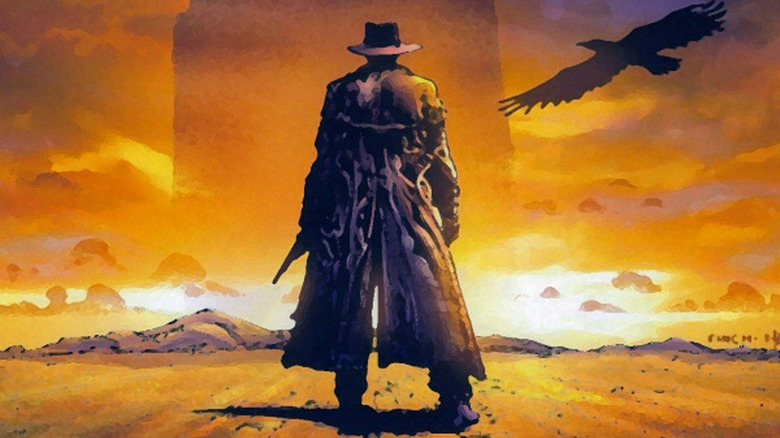 Stephen King fans are a little protective over "The Dark Tower," the author's sprawling epic that began with "The Gunslinger" in 1982, and it's hard to blame them. It took King 22 years to complete the saga, with gaps of up to five years between each book, so it's been a part of many fans' lives for decades. Not only that, but there is the awful 2017 "The Dark Tower" feature adaptation from director Nikolaj Arcel that just didn't quite cut the mustard. While Idris Elba was certainly an interesting and potentially great choice for the embittered gunslinger Roland Deschain, Arcel's movie tried to condense too much of King's novels into too little screentime, and the film was ultimately a flop.
Mike Flanagan, the director behind fantastic King adaptations like "Gerald's Game" and "Doctor Sleep," has stepped up to take the reins and try to create a "Dark Tower" television series that does the beloved saga justice. If anyone can do it, it's Flanagan, who has proven himself adept at adapting King, but the next big question is going to be who will play the main characters, including Roland, his ka-tet of Eddie, Susannah, and Jake, and of course, his eternal enemy The Man in Black. While there's no telling exactly who will be cast or what changes might be made, I've put together my best picks to play each of these characters based on their descriptions in the novels (both physical and personality).
Oh, and the raccoon-like Billy Bumbler Oy? He can be played by Sean Gunn in a mocap suit. You can't forget Oy.
Roland Deschain – Timothy Olyphant
Roland Deschain, the gunslinger, is the main character of "The Dark Tower" novels. He is on a quest to find the titular dark tower, which he hopes will help put a stop to the great evils that exist throughout dimensions. Roland is one part Arthurian knight, one part rugged cowboy, and he has to be played by someone who understands grizzled, battle-worn characters. Roland comes from Gilead, in a world that's a bit more fantastical than our own, where the other gunslingers are soon killed, leaving Roland on his own to battle against the villainous Crimson King and the Man in Black. In fact, almost the entirety of "The Gunslinger," the first novel in the series, is largely Roland and the Man in Black stalking each other through the desert, so it's critical that whoever plays Roland can carry a scene all by himself.
The character was originally inspired by Clint Eastwood's "The Man With No Name" character from Sergio Leone's spaghetti westerns, though Eastwood has grown far too old to play the part now. Some have suggested his son, Scott Eastwood, could tackle the character, but he doesn't quite have the grit and world-weary sadness necessary for Roland.
My pick for the gunslinger is Timothy Olyphant, who starred in the FX hit series "Justified" for many years, proving he looks great in a cowboy hat. He recently starred as the rugged marshal Cobb Vanth in the "Star Wars" series "The Mandalorian," proving he can handle stories set in other worlds. Olyphant is a little more traditionally handsome than we might expect Roland to be based on the novels, but he's also a damn fine actor.
Eddie Dean – Alex Wolff
In order to complete his mission of finding the dark tower, Roland must first find his ka-tet, or his special team. The first member he finds in the second novel, "The Drawing of the Three," is Eddie Dean, a young man from "our" world who follows Roland through the door into the main world of the Dark Tower after his brother Henry is killed while drug smuggling. Eddie is a heroin addict himself, a wisecracking troublemaker who nonetheless tried his best to help his disturbed older brother. Eddie is the first person to help Roland open up and act like a human being for the first time since he left Gilead, and he eventually falls in love with and marries another member of the ka-tet, Susannah. Whoever plays Eddie has to be soulful, a little snarky, and capable of emoting tremendous pain.
While both Aaron Paul and Norman Reedus would have been perfect as Eddie a decade or so ago, they have unfortunately grown too old to play the character. Finding someone with their exact vibe is nearly impossible, but one amazing contender to play Eddie is Alex Wolff. Wolff starred in Ari Aster's shocking horror film "Hereditary," conveying worlds of emotion through the tiniest facial movements, and he can play a smart-aleck as well. Wolff would make a great Eddie, a sweet, sad man who got lost as a youth.
Odetta/Detta/Susannah – Rutina Wesley
The next member of Roland's ka-tet is Susannah, a woman from the 1960s with split personalities caused by a traumatic brain injury. She was born as Odetta Holmes and her main alternate identity was named Detta, though how exactly Flanagan adapts that part of the story will be interesting to see. Detta is like the worst stereotypical idea of an angry, uneducated Black woman in existence, and while that's likely because of Odetta's own internalized racism, it's still really messy. Eventually the two halves meld together into Susannah, a kind of middle-ground between them, but whoever tackles this role has to be able to play three characters in one body.
Rutina Wesley, who first burst into people's awareness with her role as the exceptionally feisty Tara on HBO's "True Blood," is nearly the perfect Susannah. She's just a hair older than the character, but could easily play a little younger. Besides, she has the performing chops to tackle this kind of role, as she has demonstrated by always bringing the thunder to her many characters across television in shows like "DMZ," "Queen Sugar," and "Hannibal." Susannah is a deeply complex character and helps hold the ka-tet together, and I think Wesley would do a killer job at portraying her divergent personalities.
Jake Chambers – Roger Dale Floyd
The youngest member of the ka-tet, save maybe the raccoon-dog-esque Oy, is Jake Chambers, who is the last to join the team and help them on their way. When reading the novels, I always pictured Jake as Haley Joel Osment circa "The Sixth Sense," but that ship has long since sailed. Similarly, Canadian actor Jacob Tremblay, who did phenomenal work in the films "Room," Wonder," and "Doctor Sleep" is just a bit too old now to play the character. Five years ago? He was perfect.
To portray Jake, I looked to Roger Dale Floyd, who portrayed young Danny Torrance in "Doctor Sleep." He did a great job with that role, which similarly had a lot of nostalgia wrapped up in it, and he's already got practice working with Flanagan. Jake begins the novels around the age of 11, so 10-year-old Floyd should be perfect. They'll just have to film all of those seasons Flanagan has planned out before puberty sets in.
The Man in Black – Ian McShane
Of course, you can't have "The Dark Tower" without the Man in Black. He has many names: Randall Flagg, Rudin Filario, Walter O'Dim, Marten Broadcloak… but many also just call him "The Walkin' Dude." In King's "The Stand" he is the Antichrist, but in "The Dark Tower" he's one of several truly evil entities, working for the terrifying Crimson King. Flagg is Roland's ultimate adversary and he is one twisted but ultimately charismatic character. He was played by Jamey Sheridan in the 1994 "The Stand" miniseries, Alexander Skarsgard in the 2020 "The Stand" miniseries, and Matthew McConaughey in the "Dark Tower" film. Skarsgard and McConaughey are both great casting, but it might be interesting to see a slightly older, scarier, more book-accurate version of the ancient evil.
No one plays an unstoppable force with a bad attitude quite like Ian McShane. The veteran actor has starred in everything from "Deadwood" to "Game of Thrones," and even portrayed the Norse god Odin in Starz's "American Gods." Seriously, just picture him facing off against Olyphant. They're two of the most recognizable contemporary cowboys in pop culture, and they would devour these roles.
Flanagan's "The Dark Tower" is still in very early development, so we'll have to see how it all pans out.