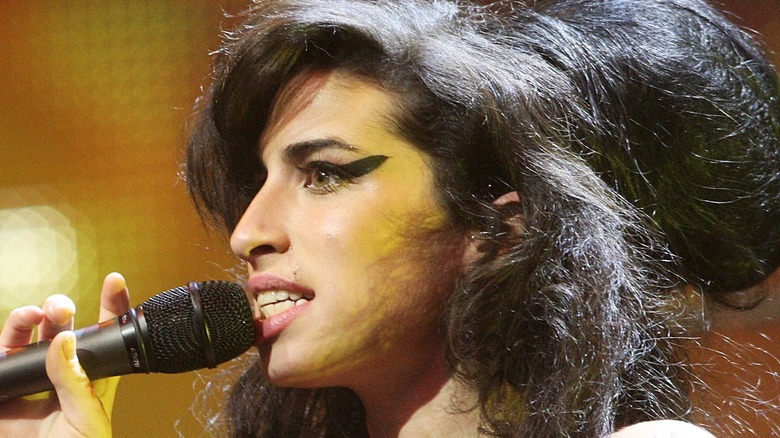 Some rock stars are as known for their illustrious careers as for their outrageous, untimely, or simply bizarre deaths. Sadly, a rock star's lack of privacy tends to follow them beyond the grave, as pictures, inquests, and theories about their death flood the internet as soon as they pass away. Social media access paired together with humans' age-long morbid fascination with death means that, today more than ever, fans will dig deep into the stories behind their rock idols' deaths.
Even in the case of unsuspicious rock star deaths, there can be a fair amount of discussion. When David Bowie died in January 2016, his social media accounts announced (via BBC): "[Bowie] died peacefully, surrounded by his family." However, subsequent articles picked on the matter. The Guardian suggested that Bowie's 2016 song "Lazarus" is not a hint at his imminent death, as the video was created before his terminal cancer diagnosis, despite rumors that Bowie knew it would be his swan song. NME went as far as uncovering a moment in the 1970s when a psychic told Bowie he would die aged 69. So imagine the attention and speculation a rock star's death gets when the cause is not as obvious, or when there are drugs involved. Let's explore some of the strangest things found at rock star death scenes.
The following article contains references to substance abuse, eating disorders, and suicide.
Kurt Cobain
In 1991, Kurt Cobain, along with Dave Grohl and Krist Novoselic, made rock history and practically led the grunge movement with their revolutionary album "Nevermind." But as per Rolling Stone in 1992, Cobain was already tired: "All I need is a break and my stress will be over with." According to The New Yorker, Cobain struggled with heroin abuse and suffered from deep depression.
But Cobain's heroin addiction, tumultuous relationship with Courtney Love, and fame-induced stress sent him down a rabbit hole. As Rolling Stone reports, Cobain tried to take his life in March 1994. Love checked herself into rehab, hoping to convince Cobain to join her. But in April, Cobain borrowed a gun from a friend (saying he wanted to protect himself from trespassers) and took his life inside his Seattle home greenhouse.
He was found four days later after his mother had filed a missing person report, and several of his friends became worried about his absence. Two decades after his death, police released images from Cobain's death scene, in order to debunk murder conspiracies (via CBS) — at the scene were Cobain's borrowed shotgun, a cigar box containing drug paraphernalia, his famous sunglasses, a wooly trapper hat, and his suicide note, which he left in a plant pot with a pen struck through the middle.
Amy Winehouse
As Grammy reports, Amy Winehouse won a staggering five Grammys in 2008 — she was only in her 20s. Her 2006 album, "Back to Black," topped the charts worldwide. But the singer became famous both for her incredible singing and her drug use and eating disorder. Her brother, Alex Winehouse, told The Guardian he believes it was her bulimia, not her rampant drug use, that brought her demise: "You knew just by looking at her … She would have died eventually, the way she was going, but what really killed her was the bulimia."
Amy Winehouse was severely affected by her fame and the pressures of the music industry, as her best friend Tyler James confessed to The Times. The lack of anonymity and pressures of being a star increased her drug abuse and eating disorder. In June 2011, BBC announced she canceled her tour to solve personal issues. On July 23, her bodyguard found her fully clothed, face-down on the bed of her North London home — she had died of alcohol poisoning, as the Daily Mail confirms through two official inquests. Next to her body was a laptop, where she'd been watching videos of herself. On the floor were two empty vodka bottles — the scene is symbolic of just how deadly fame was to Amy Winehouse.
If you or anyone you know is struggling with addiction issues, help is available. Visit the Substance Abuse and Mental Health Services Administration website or contact SAMHSA's National Helpline at 1-800-662-HELP (4357).