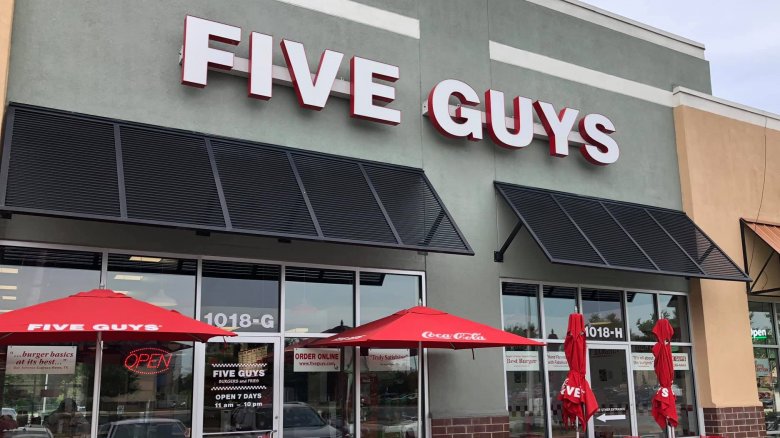 What started in 1986 as a small, family-owned burger joint in Arlington, Virginia has grown into a massive fast-casual chain with legions of loyal supporters. In 2017, Five Guys won the title of America's favorite burger chain, and as of 2019, there are almost 1,500 locations across the world, with another 1,500 in development.
At Five Guys, the food is so fresh they don't even have freezers on the premises at any of their restaurants. It's coolers all the way, baby. From fresh beef to fresh-cut fries, Five Guys does not skimp when it comes to delivering the best iteration of a favorite American meal.
Whether you're a longtime enthusiast who satisfies your double burger craving once a week, or one of those people who finds yourself saying, "I still haven't tried Five Guys," there are definitely some things you should know about the chain before your next (or first) visit to ensure the best (and tastiest) Five Guys experience possible.
You can order online and skip the line at Five Guys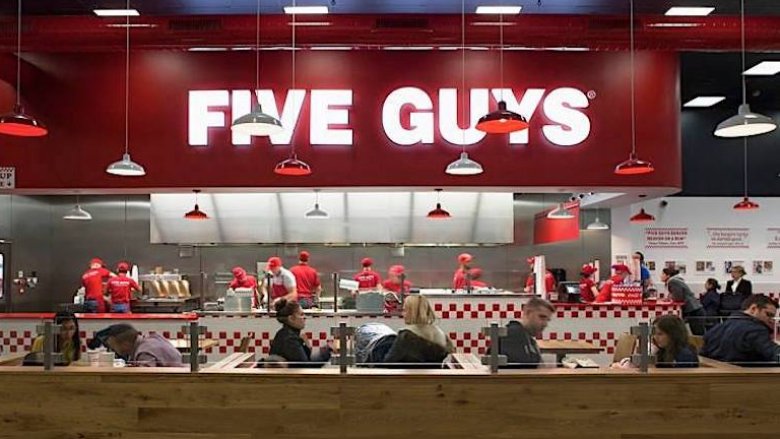 If you can't foresee yourself having the patience to wait in line for the Five Guys cheeseburger and fries you've been craving all week, you always have the option to order online. That way, when you get to the restaurant, your food is ready and waiting for you — and you can happily pass by all the chumps waiting in line because they didn't take advantage of the amazing technology of this century. Some locations even have an advanced order option where you can order online to pick up at a later time or date. Another bonus: When you order online or in their app you can also pay in advance with a credit card so you don't have to hassle with that when you pick up your food. The goal is to stuff your stuff with that burger as quickly as possible, isn't it?
For the ultimate in convenience, some locations even offer delivery. You can order a car instantly with your phone these days, so ordering a hamburger prepared just the way you like it seems like a logical next step.
If you've got a severe peanut allergy, Five Guys might be a little risky
If you or someone in the crew you're planning to hit up Five Guys with has a peanut allergy, you might want to take some extra precautions. For starters, the chain cooks all of its french fries in pure peanut oil. According to FARE, "highly refined peanut oil is not required to be labeled as an allergen," and studies have shown that most people with a peanut allergy can safely eat foods fried in highly refined peanut oil, but it's always a good idea to check with your doctor first. Aside from the fries, the breakdown of potential allergens in their menu indicates that peanuts or peanut oil might be present in the milkshake base and some of the add-ins.
If you're okay with peanut oil, and you're planning on skipping the milkshakes, there's one more potential concern: The free peanuts that are available as a snack to those waiting on their order to be prepared. There are ginormous boxes of peanuts sitting in the middle of the restaurant, and the shells can make a bit of a mess.
So, needless to say, there's a lot of peanut action happening in each Five Guys restaurant. While there are definitely menu items that do not have any trace of peanuts, depending on how severe the allergy is, all that peanut essence floating around could be a deal breaker for some potential diners.
There are over 250,000 ways to customize your Five Guys burger
When it comes to Five Guys burgers, there are 15 toppings to choose from, and there isn't a limit on how many of those you can add to your burger. You could add all 15 toppings and not be charged any extra. The combos are so endless, in fact, that there are actually over 250,000 different ways you can order a Five Guys burger. It's a little overwhelming, yet so wonderful — it almost makes you tear up a little, right? They've got grilled onions and raw onions; A1 Sauce and barbecue sauce; and of course, your standard lettuce, tomato, ketchup, mustard, and mayo — just to name a few of the delights.
Did we mention they're all free? There is no "first two toppings are free" followed by a different extra price for each added topping. You simply order a burger, cheeseburger, bacon burger, or bacon cheeseburger, then get to customizing. There are also "little" versions of all those base burgers on the menu, which means you'll only get one patty instead of the standard two. A visit to Five Guys is definitely a chance to get creative and not have to stress about what that creativity is going to cost you.
Don't expect a rare Five Guys burger
If you think you're gonna roll up to Five Guys asking for a medium-rare hamburger, think again. While there are lots of different ways to top your burger, there is only one way it can be cooked, and that's well done. This is apparently an across-the-board Five Guys policy that every location must enforce. It's alleged that they maintain this protocol mostly for food safety reasons (nobody wants their burger with a side of E. coli or salmonella), but it could also be because they know this will make for a uniform taste at every location.
It also makes the whole cooking process that much more efficient since cooks aren't waiting on the various burger temperatures in your order to be executed to perfection. If you're looking to customize the temperature of your ground beef to something below the FDA's recommended 160 degrees Fahrenheit, you should probably hit up a steakhouse, not your local fast-casual burger joint.
Five Guys' fries are plentiful, in portion size and calories
A lot of folks balk at the idea of sharing their fries. If you want fries, get your own order. However, in the case of Five Guys, if you're looking at just one to two additional dining companions, you might want to opt for just one of you getting an order of fries. One "regular" size order of fries yields a heaping tall cup o' the fried potatoes, and usually some more tossed into the bag for good measure.
Of course with giant portions come giant numbers. There are a lot of calories in a large Five Guys fry order. According to their website's nutrition information, it's 1,314 to be exact (with 57 grams of fat). An order of large fries from McDonald's has 510 calories, though to be fair it does contain fewer fries than the Five Guys version. Five Guys' regular size fry, which is probably the most commonly ordered, weighs in at 953 calories and 41 grams of fat.
It's not rocket science to deduce that heftier portions of fried food translates to heftier amounts of fat, calories, and sodium. It's just something to keep in mind when ordering, even if it's just to avoid wasting food. If a regular size order is enough to feed the whole group, it might make more sense for your wallet and your waistline.
You can order your Five Guys fries well done
Most fast food lovers can probably agree on one thing: There is nothing worse than a soggy french fry. And if the thought of soggy fries makes you shudder with dread, you can always order your fries well done when you go to Five Guys.
Getting the perfect french fry is very important to the Five Guys brand and they go through a meticulous process of making sure they always deliver on the delicious fries front. Beyond their usual recipe though, they're happy to fry their signature Idaho (or sometimes Washington) hand-cut potatoes slightly longer in the peanut oil order to ensure plenty of crunch.
It's not necessarily something they advertise but it definitely falls in line with one of the many ways you can customize your order at the chain. It might take a little bit longer to get your food, but for someone passionate about the art of the crispy french fry, it seems like a perfectly reasonable sacrifice to make.
You might get Insta-famous if you share your Five Guys meal on the 'gram
Did that delicious burger you enjoyed at Five Guys even happen if you didn't make its presence known in your corner of the Internet? And if you did, did you hashtag the photo to your full advantage?
If you post a photo of yourself chowing down on some Five Guys on Instagram, and use the hashtag #FiveGuysFans, they just might feature you on their social channels. If you're trying to build your own following, it couldn't hurt since the chain has over 1.2 million likes on Facebook; around 225,000 followers on Instagram; and over 82,000 followers on Twitter (as of July 2019).
Look, are burgers the route to fame and fortune? Maybe not, but getting a shout-out on their social media might just be a fun distraction for the day. Live your life, and take pictures of your food — you never know what could happen. Also, don't be a monster — make sure you actually follow the Five Guys Instagram account before you hashtag. No one likes a tag without a follow.
Milkshakes aren't available at every Five Guys location
Can you imagine finally giving in to that burger, fries, and a shake craving you've been having for weeks, getting in your car and driving to Five Guys, only to discover that this particular Five Guys location does not serve milkshakes? The horror is unspeakable, but it could happen to you. Make sure you check before you head to the Five Guys in your area because as their website confirms, they do not serve milkshakes at all of their locations.
This just seems important to note, especially for a first time Five Guys-er. Because if you're gunning to get the full experience and are thwarted by a lack of shakes, you may never recover. For those locations that do serve up the tasty treats, you can look forward to adding in whatever mix-ins you choose, like bacon, salted caramel, and coffee, to name a few.
You can stick to your low-carb diet and still eat at Five Guys
If the words "burgers and fries" are in the actual name of the establishment, you should know what to expect, and it's not going to be raw, vegan, dairy-free, gluten-free grain bowls. Having said that, at Five Guys there are a couple options in line with some of the trendy diets of today, like paleo and keto, for example.
The burger-centric chain offers bunless burger bowls to all the low-carb eaters of the world. You can order everything that you would put on a hamburger, but it comes without the bread. Another reason you might need to skip the bun at Five Guys is because they don't offer a gluten-free bread option. While you can order your patty wrapped in lettuce, their only bun choice comes packed full of flour.
So, if losing the bun doesn't make you lose your mind, you can definitely keep your low-carb and/or gluten-free goals intact and enjoy a meal at Five Guys.
A Five Guys hot dog may not be the best deal compared to other chains
Most folks hear Five Guys and automatically think burgers, but the chain also has hot dogs on their menu. The kosher style dogs are cut lengthwise and grilled, which isn't your typical hot dog protocol. So, points for creativity but maybe no points for price point. Why not? The basic dog comes in at a little over $5. That's pretty steep for a tube of processed meat on a bun (but don't forget, you can customize your order with any of the usual burger toppings, so that might help quell the sticker shock).
In 2016 Business Insider did a side by side comparison of hot dogs from some popular fast food chains — Five Guys, Burger King, Shake Shake, and Checkers — and Five Guys didn't really measure up when it came to price. The Checkers dog was less than a buck, while the Burger King hot dog came in under $3. The Shake Shake dog sets you back $3.59, and they dole it out plain and make you add condiments yourself like some sort of savage. While the comparison indicates that the Five Guys dog was slightly heftier than the rest, it still seems like you can find something similar for much less elsewhere. Do we even have to remind you that for $1.50 you can get a giant hot dog and soda at Costco? Maybe stick to what always works at Five Guys: burgers and fries.
You can make your Five Guys burger In-N-Out animal style
If you are a die-hard, ride or die, hard-core, loyal (lots of hardness and death involved in loyalty) In-N-Out Burger fan, Five Guys might have a solution for when you find yourself miles and miles from the nearest In-N-Out location (so basically anywhere that's not Oregon, California, Nevada, Utah, Arizona, or Texas).
If you are able to dine at a Five Guys wherever you are, you can make your own infamous In-N-Out "animal style" burger. Just order a Five Guys cheeseburger with lettuce, tomato, pickles, and grilled onions as your topping, and ask for a side of mayo, ketchup, and mustard. Mix all those side condiments together and spread it onto the burger (or dip the burger in the mixture — you do you). The Five Guys animal style burger might not be exactly the same as In-N-Out's, but it's about as close as you can get when you're not on the western side of the country.
You can get a Five Guys burger with two grilled cheese sandwiches as the bun
Yes, it seems that unicorns do exist and Five Guys' ultra cool secret menu is proof of that. Secret menus have become sort of an underground sensation in the fast food world, and Five Guys' doesn't disappoint, particularly when it comes to the burger/sandwich mashup that is the Double Grilled Cheeseburger.
This divine sandwich uses two grilled cheese sandwiches in place of what would normally be the bottom and top of a traditional hamburger bun. In between the grilled cheese sandwiches (two of them!), you choose the number of beef patties, and, of course, the toppings are also all up to you. The bread they use for the grilled cheese is inverted burger buns that taste like Texas toast when they're grilled, so if you mouth wasn't already watering, well, there you go. It doesn't really get any more delicious than that.
The Five Guys patty melt is a secret menu all-star
The Five Guys tantalizing secret menu has another stand-out item, and that's the patty melt. This is definitely not your grandmother's patty melt (we have no idea if your grandmother actually makes a patty melt but if she did, this one's probably better).
The Five Guys version of the classic sandwich uses the inner (white, fluffy) sides of the hamburger bun turned out, so you've got that inverse-burger-buns-that-taste-like-Texas-toast-when-grilled situation happening. The patty melt, which is essentially a grilled cheese with a beef patty in it (no Swiss, this is all American on the cheese front), is delicious with grilled onions and mushrooms, in addition to any other toppings of your choice, of course. While this decadent sandwich might not be on display on the regular Five Guys menu, it's definitely holding a place in our hearts as a secret menu champion.