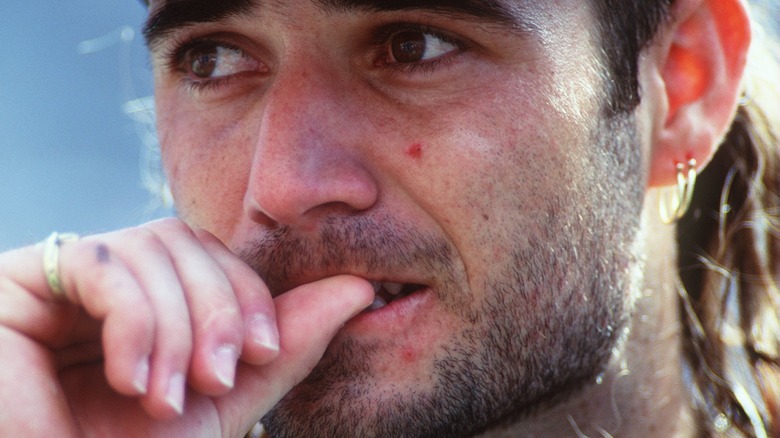 After an athlete loses a game, they will often admit to poor play, whether that person talks about their performance or the team's. And that admission is certainly nothing to be embarrassed about because the saying "you can't win them all" couldn't be more accurate. What's more, such a confession usually doesn't raise an eyebrow since it's so common. But people react differently when an athlete admits to doing something super embarrassing, whether that act was committed during a game or in everyday life. Remember all of the talk surrounding Mike Tyson gnawing a piece of Evander Holyfield's ear off when they fought each other in 1997 and Tyson's confession afterward? Both the act and confession were big news.
Although none of the athletes in this article confessed to biting anyone, they still admitted to doing pretty embarrassing things. Some of these humiliating moments would force a non-famous person to hide in bed under a nice thick comforter, so imagine how it felt for those celeb athlete's who built a superhero-like rep. So, with no further delay, here are the most embarrassing athlete confessions ever. Let's get into it.
Carlos Boozer went with a shoe polish look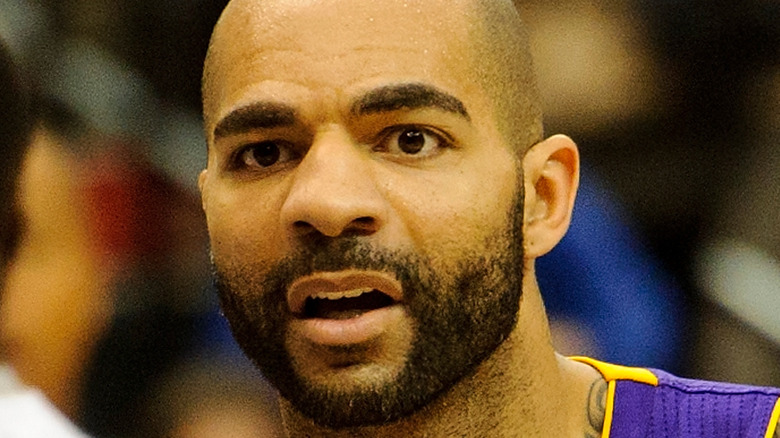 If you were to do a quick Google search, you would find a bevy of spray-on hair products for men going bald. In some ads, the spray isn't noticeable after being applied, but it sure was on retired NBA player Carlos Boozer, who had a scalp full of the stuff in a 2012 game. To put it simply, his head gave off an awkward black shine, and there wasn't a hair follicle in sight. Boozer kept quiet after photos of his "hair" landed on social media, but that changed when he stopped by ESPN's "Highly Questionable" in 2015.
"I started losing my hair a little bit," Boozer explained. "They came out with this, it's like a hair dye, whatever, for men called the 'Bigen.' Well, I had one guy that was like, 'Yo, have you ever thought about growing your hair out?' And I was like, 'Yeah, I was thinking about it until I saw some of these little bald spots on my head,' … And so he was telling me that he could, you know, grow your hair out. I could cover it up a little bit and make it look like you got a regular haircut. So I tried it, and he just made myself look like shoe polish up there … This is like five years later, and I'm still hearing about it." Boozer will probably be hearing about his spray-on hair job until his final days on Earth.
Paul Pierce had to go potty
Before we get into Paul Pierce's confession, let's set the scene: It was Game 1 of the 2008 NBA Finals between Pierce's Boston Celtics and the Los Angeles Lakers. The game was in the third quarter, and the late legend Kobe Bryant scored on a two-handed fadeaway layup. After the basket, Pierce fell to the floor, but it didn't look like he was knocked down or hit. He then grabbed his knee in excruciating pain before being taken to the locker room in a wheelchair.
What was strange, though, is that Pierce left the locker room before the quarter was over, hopped down the tunnel in dramatic fashion, and checked back into the game. And no, the "Karate Kid"'s Mr. Miyagi wasn't in the locker room to give the retired hooper one of his hand-rubbing healing jobs. So what was the deal with Pierce seeming to be badly injured and coming back as if nothing happened?
For years, there's been a rumor that he pooped on himself while playing and had to make an emergency exit. Pierce didn't confirm or deny it but he set things straight in 2019, on the eleventh anniversary of the wheelchair game. "I have a confession to make," he said on "NBA Countdown." "I just had to go to the bathroom … Something went down." So the mystery, despite it being rather disgusting, has been solved, folks!
Tiger Woods came clean
It's safe to assume that Tiger Woods was embarrassed when he was heard on a recording asking a woman named Jaimee Grubbs to cover for him with his then-wife Elin Nordegren in 2009. "I need you to do me a huge favor," the golfer said on the voicemail. "Can you please take your name off your phone? My wife went through my phone and may be calling you. If you can, please take your name off that and just have it as a number on the voicemail."
A few days before Woods left that message, he crashed his SUV in Florida near his home, and that was two days after the National Enquirer ran a story that he supposedly had an affair with another woman named Rachel Uchitel. Eventually, the jig was up, and Woods confessed on his website that he strayed from his marriage. "I have not been true to my values and the behavior my family deserves," he wrote, per WBUR. "I am dealing with my behavior and personal failings behind closed doors with my family."
Then in a press conference held on February 19, 2010, Woods did some more confessing, and apologized for his actions. "I was unfaithful, I had affairs, I cheated," he stated. "What I did is not acceptable … For all that I have done, I am so sorry. I have a lot to atone for," he added. And that was the end of the golfer's squeaky clean image.
Andre Agassi fooled many
Here are a few facts about tennis great Andre Agassi: He was born in Las Vegas, Nevada, he's an eight-time Grand Slam winner, and he used to wear a wig. Yes, you read that last part correctly. In his 2009 book "Open," Agassi — known for his long hair — explained that he wore a wig because he was going bald. "Every morning I would get up and find another piece of my identity on the pillow, in the wash basin, down the plughole," he wrote for the Daily Mail. "I asked myself: 'You want to wear a toupee on the tennis court?' I answered myself; what else could I do?"
Agassi then wrote about having problems with the wig, which happened one night before his French Open match in 1990. In short, the wig came off in the shower after Agassi used the wrong rinse, so his brother kept it in place with 20 hairclips — something that worried Agassi.
"During the warming-up training before play I prayed. Not for victory, but that my hairpiece would not fall off," he wrote. 'With each leap, I imagine it falling into the sand. I imagine millions of spectators move closer to their TV sets, their eyes widening and, in dozens of dialects and languages, ask how Andre Agassi's hair has fallen from his head." Agassi lost that French Open final and ended up ditching the wig.
Nick Young was supposedly caught red-handed
In 2016, former Los Angeles Lakers player Nick Young had two embarrassing moments that made headlines. He then confessed. In March of that year, a video surfaced that showed Young admitting that he cheated on his ten-fiancée, rapper Iggy Azalea. He was talking to his former teammate D'Angelo Russell at the time, who was secretly recording him. Azalea sent a message later that year and claimed that Young cheated on her and she had cold, hard evidence. Plus, the "Fancy" performer addressed reports that Young's ex-girlfriend was pregnant with their second child.
"I broke up with Nick because I found out he had brought other women into our home while I was away and caught them on the security footage," wrote Azalea in the since-deleted tweet, later published by People. "This is just like a second shot to the chest. And I feel like I don't even know who the hell it is I've been loving all this time," she wrote in a separate tweet. Afterward, Young seemed to confess to the cheating allegations on Twitter. "If you perfect then be perfect. I live in a world where ppl f*** up learn from it and move on," he wrote. "That's life … hate me or love me I'm still going to love life man," added the retired NBA player.
Jameis Winston was accused of having sticky fingers
NFL quarterback Jameis Winston confessed to an embarrassing moment in 2014 when he was playing for Florida State University. What happened? He got caught stealing $32 worth of crab legs and some crawfish. Reportedly, the then 20-year-old Winston walked into a Tallahassee, Florida supermarket, ordered the shellfish but failed to pay. He was later nabbed by the authorities, given a civil citation, and had to do 20 hours of community service. Per the Los Angeles Times, Winston received a suspension from the university's baseball team.
"I went to the supermarket with the intent to purchase dinner but made a terrible mistake for which I'm taking full responsibility," he said in a statement (via ESPN). "In a moment of youthful ignorance, I walked out of the store without paying for one of my items." But afterward, while on ESPN's "Draft Academy," Winston said that he didn't steal the crabs, and they were given to him by a supermarket employee, who occasionally gave him free stuff.
Ryan Lochte told a tale
Ryan Lochte was all over the news during the 2016 Olympics in Rio de Janeiro. — but it wasn't for swimming. The talk was about Lochte's claim that he, and three of his teammates, Gunnar Bentz, Jack Conger, and Jimmy Feigen, were robbed at gunpoint. But after local authorities said Lochte was lying, he decided to come clean. Police also said Lochte and the other men destroyed a gas station bathroom and urinated on the wall. Some might remember "Today's" Al Roker and Billy Bush getting into a spat over the swimmer's tale.
"I did lie about that one part, and I take full responsibility," Lochte told "Good Morning America," referencing his initial claim that a gun was pointed to his head. "I'm human. I made a mistake, a very big mistake, and it's something that I learned from. And I know that will never happen again … The past two weeks have been like the lowest point of my life." The Rochester, New York native was suspended by USA Swimming and United States Olympic Committee for lying and spoke about the Rio drama in 2022. "I had, like, rude awakenings being where everyone loved me and I was on top of the world, I felt like. And then in one stupid night gone. I was like the worst guy in the world or something at one point," he said on "Uncut."
Ben Simmons just should've dunked it
There's a good chance that NBA guard Ben Simmons will forever be haunted by a play during Game 7 of the Eastern Conference Finals between the Philadelphia 76ers and Atlanta Hawks. But really, this is more of a non-play we're talking about here because Simmons, who played for the Sixers at the time, passed up a wide-open dunk at a crucial part of the game and series. The Sixers were down by two with a little over three minutes left on the clock then, and a strong dunk would've tied the game and ignited the home crowd.
Instead, Simmons passed the ball to teammate Matisse Thybulle, who got fouled and made just one of two free throws. Simmons was criticized mercilessly afterward, with sports announcers and reporters blasting him. He was traded to the Brooklyn Nets in early 2022 and talked about the non-dunk while on JJ Redick's "The Old Man and the Three" podcast.
"In the moment, I just spun, and I'm assuming Trae's [Young] gonna come over quicker," Simmons explained. "So, I'm thinking he's gonna come for the ball and I see Matisse and Matisse is athletic and can get up, so I'm thinking 'OK. Quick pass, he's gonna flush it,' not knowing how much space there was. It happened so quick that you just make a read."