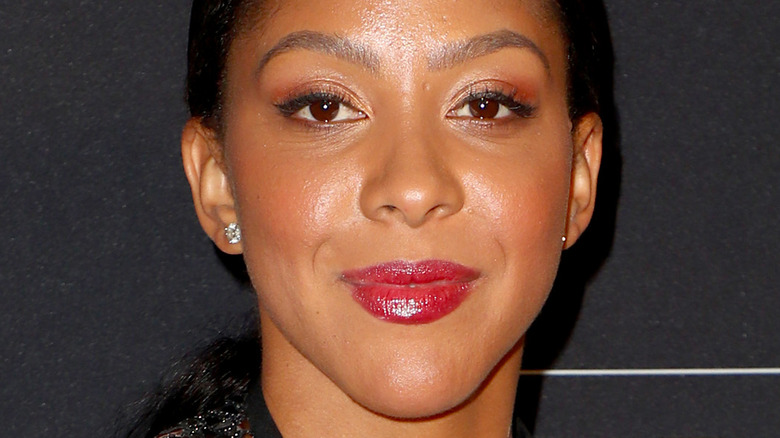 A wife, a mother, and a basketball star, Candace Parker has the world in the palm of her hand. At only 22, she started her professional career, going on to become one of the greatest female basketball players of all time. A six-time all-star, two-time WNBA MVP, and two-time Olympic medalist, the Chicago Sky power forward has proved herself a legend over and over again.
But none of this came easy to Parker. She knew what she wanted, and gave her goals her all. "When I started doing stuff with purpose, I think that's when things started changing both on the court but also off the court," she told Forbes in November 2021. "Sometimes we do things and we may just do them for monetary benefit—and obviously early on in people's career that's what you have to do—but I wanted to reach a point where I was doing things for purpose and for a bigger cause."
Of course, now Parker is indeed doing bigger things, and she has become an inspiration to many across the world. "Candace Parker is a cultural icon and professional athlete who dominates in whatever she does—on or off the court," Harman CMO Ralph Santana said in Forbes. "She's a respected idol who inspires young women and aspiring athletes everywhere to break boundaries." And those aforementioned achievements are only part of what make her such an icon. Hope you're warmed up, because we're about to hit the court and dribble our way through some essential Candace Parker facts.
Candace Parker comes from a basketball family
Born on April 18, 1986, in St. Louis, Missouri, Candace Parker pretty much was destined to give basketball a try. Candace's father Larry Parker was a college baller who played basketball for University of Iowa, and his kids followed in his footsteps. Larry coached his older sons Anthony and Marcus Parker, and as Candace got older, it was no surprise that she too was drawn to basketball.
At the same time, however, Candace nursed a fear of living in her brothers and father's shadow — so she tried out other sports. "She had options to do a number of things and we had to tell her, 'You are a good athlete. You are going to be pretty good at most of the things you do," her mother Sara Parker recounted to "Court-Side Moms." "She loved volleyball just as much. Volleyball, basketball, and soccer she played all the time."
By the time junior high rolled around, Candace was all in on basketball. Her brother Anthony had just been drafted into the NBA, so if she was going to have as much chance as she did, there was only one person to turn to — her father. Initially reluctant to coach Candace, Larry eventually agreed to take on his only daughter. "It was probably the best decision he ever made," Sara told Grantland in 2013.
Her career kicked off in high school
Long before she was the first overall pick in the 2008 WNBA draft, Candace Parker kicked off her career as a high school student at Naperville Central High School. There, Parker made history, becoming the first female athlete in Illinois to hit a slam dunk. Per the Olympics website, as captain, Parker championed the Naperville basketball team to victory, snagging two Class AA state titles for two consecutive years. Through her time on the team, Parker would go on to garner even more recognition and accolades. Per Forbes, while still with Naperville, she made history when USA Today awarded her High School Player of the Year two years in a row. She remains the only high schooler to ever get that award twice.
Despite her impressive run, Parker had her share of challenges. During the 2003 summer league, Parker suffered an ACL injury in her left knee, forcing her to undergo surgery. Looking back on recovering from her torn ACL, the WNBA star told ESPN that coming back post-injury was one of her favorite memories from high school. Clearly, the WNBA superstar doesn't take her high school experience for granted. "I just miss the overall feeling of everybody being in class and extracurricular activities together," she told the outlet. "It was neat to see all the different ways people chose to go."
Candace Parker had a successful run in college
Following a successful run in high school, Candace Parker headed to the University of Tennessee in 2004. However, intense swelling in her left knee left Parker redshirted in her first season with the Tennessee Lady Vols — but not even this could hold her back. Upon her return to the 2005/2006 season, Parker made history as the first woman to slam a dunk twice in the NCAA tournament. A year later, Parker and her team won the SEC tournament, a feat that presumably earned her the SEC Rookie of the Year award. When she was captain of the Tennessee Lady Vols, the team snagged two consecutive NCAA championships, first in 2007 and then in 2008.
Parker's stellar skills landed her on the squad sent to Brazil for the FIBA World Championship for Women in 2006 — when she was still in college. Per Our Tennessee, Parker earned SEC Player of the Year, was a two-time recipient of the John R. Wooden Player of the Year award, and was a one-time Naismith Player of the Year. A star on and off the court, Parker sure ruled college basketball in her time. "She's what a Lady Vol should be," Holly Warlick from Tennessee Lady Vols told the outlet.
She made history in her first year in the WNBA
One day after winning her second NCAA championship, Candace Parker was selected first overall by the Los Angeles Sparks in the 2008 WNBA draft. "These last 15 hours or so have been just amazing," the basketball star told The Seattle Times at the time. "To win a national championship and then switch gears and come to the WNBA draft and be surrounded by my peers that I've played with ever since I was in junior high school has been amazing."
When she made her WNBA debut in May 2008, Parker brought her A-game to the court, racking up a total of 34 points. With this, she set the record for most points by a rookie in a debut WNBA game. That same year, Parker made WNBA history, becoming the league's first-ever player to be named both Rookie of the Year and Most Valuable of the Year.
In the years that have passed, Parker has won two WNBA championships as well as two Olympic gold medals for the US women's basketball team. Though retirement is not so far away for Parker, she remains in pursuit of another WNBA championship — but only for her love of the game. "I don't think I have anything else left to prove to myself and to the game. I don't play for that," she once told ESPN.
Candace Parker has been married twice
On November 13, 2008, Candace Parker got married to NBA star Shelden Williams. A year later, the couple welcomed their daughter Lailaa Williams. "Shelden and I are thrilled," Parker said in a statement to People. "We are very excited to be expanding our family. This is such a life changing moment for us, we feel blessed to have a healthy and beautiful baby girl." Sadly, after eight years together Parker and Shelden called it quits. Per TMZ, the NBA star filed for divorce in 2016, citing irreconcilable differences. The WNBA star did not give up on love.
In December 2021, Parker announced on Instagram that she was expecting a baby with her wife Anna Petrakova, whom she married in 2019. Alongside a carousel of their wedding photos, she wrote, "Thanks for constantly challenging me and telling me when I'm wrong 🙄. I LOVE YOU🐞 I appreciate you, I value you and what we have." In February 2022, the couple welcomed their son, Airr Larry Petrakov Parker.
Petrakova would later reveal that despite knowing there was a spark between them, it took them a long time to accept it. "We literally denied it to ourselves for three years I think," she told Time. "Then we just finally accepted it. That was a long, hard process."
Motherhood is her 'favorite job'
While she relishes her achievements in sports, being a mother to Lailaa and Airr remains Candace Parker's most fulfilling role. "Being a mom is my number-one favorite job," she once admitted to Parents. Though only 22 when she welcomed Lailaa, Parker wouldn't have had it any other way. "I like to say my daughter chose me," Parker gushed to The Undefeated (via Andscape). "I feel like I'm lucky from that aspect that she's in such an important part of my career."
Though juggling a pro basketball career and raising a child isn't without its challenges, Parker remains grateful for the memories she has been able to create with her daughter. Through the years, Lailaa has seen her mom win championships, watched her mom play at the Olympics, and was by her mom's side while she played in Russia during her WNBA off seasons. All of these, the little one holds dear in her heart. "So those are all things I feel fortunate to have shared with her, and I wouldn't have if I hadn't had her at such a young age," Parker added.
And even on days when basketball does not go as planned, Parker can always go home to her kids. "Whether I win, whether I lose, whether I do well on air, you know, broadcasting, analyzing, whatever – I'm mom at home," she told CBS 2 in April 2022.
Candace Parker has a successful broadcasting career
During the 2018/2019 season, Candace Parker launched her broadcasting career, working as an analyst and commentator for NBA. "I just really love basketball. And I've always loved TNT's 'Inside The NBA' show," Parker told The Athletic of her transition to broadcasting. "From the time I was young, I remember watching it. It was one of those things where things ended up being at the right place and right time in terms of me not wanting to go overseas anymore and trying new things."
In 2019, Parker landed yet another broadcasting gig, this time as an analyst for the NCAA Division I Men's Basketball Championship Game. That same year, she signed a multi-year deal with Turner Sports to work as an analyst on some of their CBS broadcasts. "I cannot wait to resume broadcasting with Turner Sports and to be a part of what I consider the best basketball coverage out there," Parker said in a statement, per Sports Illustrated. "I love broadcasting because it allows me to share my passion for basketball with viewers, and I look forward to sharing my analysis and commentary in a variety of formats."
She's played in multiple international leagues
Outside of her time in the WNBA, Candace Parker also had a successful career playing in international leagues. Between 2010 and 2015, Parker took her talents to Russia's UMMC Ekaterinburg, winning a total of five championships with the team. Per ESPN, it was during her time in Russia when she first connected with her future wife, Anna Petrakova. In 2016, Chinese club Guangdong Dolphins announced that Parker would be on their roster during their playoffs that season, replacing Belarusian pro basketballer and former WNBA star Yelena Leuchanka.
In addition to playing for the Russian and Chinese leagues, Parker also had a short stint in the Turkish Super League. "I enjoyed my time with Fenerbahce and learned a lot," Parker wrote on Twitter following the end of her contract with the team. "I respect the team and although we fell short this year we played hard every night." For the 2017/2018 season, Parker played on China's Xinjiang Magic Deer.
Candace Parker is part owner of a women's soccer team
In October 2020, Angel City FC, a Los Angeles-based NWSL team, announced a new set of investors, a star-studded list that includes Billie Jean King, Jennifer Garner, Eva Longoria, the mother-daughter duo of Serena Williams and Alexis Olympia Ohanian Jr., and the duo of Candace Parker and her daughter Lailaa. "We need everyone to invest in women's sports and Ilana [Kloss] and I are proud to stand with the Angel City FC ownership group and help make new history in Southern California sports," King said of their new investors, per ESPN. Suffice it to say, there are a lot of powerful women behind the soccer club, and they've already made new history: The team's ownership group is the largest majority female ownership group the pro sports world has ever seen.
Angel City FC seeks to champion important causes affecting American female basketballers and those in other sports who are largely underpaid compared to their male counterparts. An activist for gender pay gap equality, it is hardly a surprise that Parker is a part of Angel City. "It's about opening doors, fighting and battling through things that you may not reap the benefits of, but you know you made it better," the WNBA star once told The Chicago Sun-Times. Now that's a slam dunk.