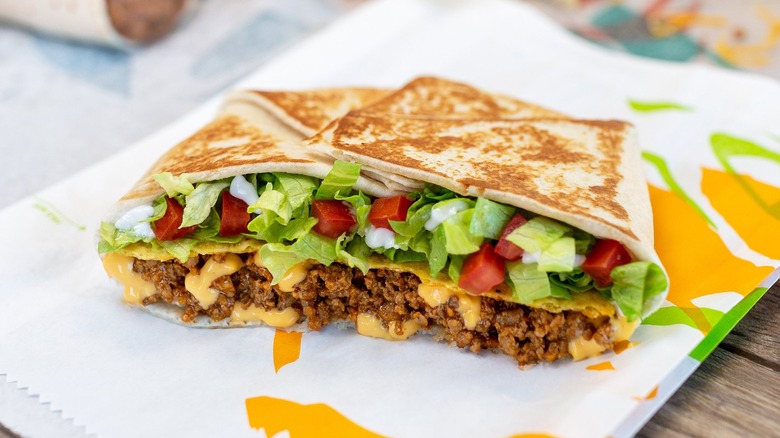 Seasoned beef, nacho cheese sauce, sour cream, lettuce, tomato, a tostada shell, and flour tortilla. Alone, these ingredients don't sound like anything too extraordinary. But when they're combined and perfectly arranged, they form the magical creation known as Taco Bell's Crunchwrap Supreme. Now a menu staple, the Crunchwrap Supreme made its nationwide debut in 2006 (via QSR Magazine). Since then, it has gone on to become one of the most beloved Taco Bell offerings, arguably even reaching the rarefied air of an iconic dish in the fast food world.
But no matter how many Crunchwrap Supremes you've eaten over the last 15-plus years, there is probably a lot you don't know about this tasty, handheld dish. From its unprecedented product launch and potential alternative names to its immense popularity across the country and the latest Cheez-It version to hit the menu, here are 11 facts about Taco Bell's delicious Crunchwrap.
The Crunchwrap was Taco Bell's most successful product launch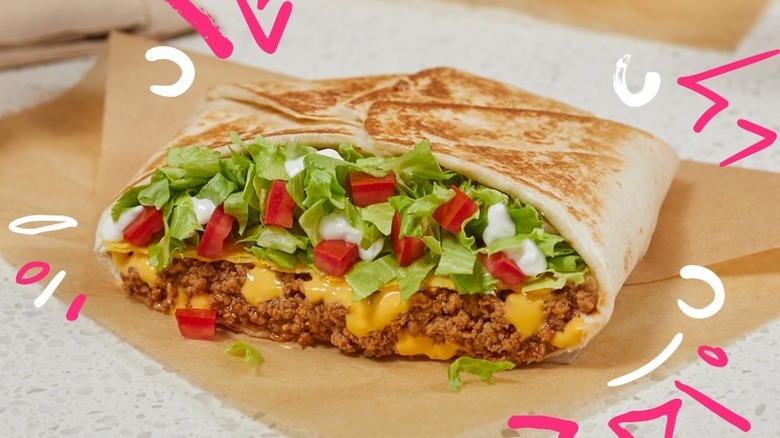 Fast food history was forever changed in the summer of 2005 when Taco Bell first brought the Crunchwrap Supreme into the world (via QSR Magazine). To say the new item was a hit is an understatement. Promoted with the tagline "Taco Bell classic taste made modern," these handheld delights were eaten up by customers (literally and figuratively) at an unprecedented level. According to Taco Bell, the Crunchwrap Supreme quickly became the chain's most successful product introduction ever.
The fun was short-lived, however. Taco Bell released its newest creation as a limited-time offering, ending sales at the close of the summer. But the people had spoken and Taco Bell listened. Just a few months later, in January of 2006, the Mexican food chain announced it was adding the Crunchwrap Supreme as a permanent menu item. "We have always been innovators in taste here at Taco Bell while also creating breakthroughs in presentation and portability," Bill Pearce, the Taco Bell Corporation's chief marketing officer, said at the time. "Crunchwrap Supreme is the latest incarnation of our popular grilled products, such as our Grilled Stuft Burritos and Quesadillas, designed to be 'good to go.' Crunchwrap's combination of taste and convenience connected so strongly with our consumers, that there was an outpouring of support for us to bring it back" (via QSR).
At the time of its elevation to permanent menu item status, the Crunchwrap Supreme cost just $1.89.
The Crunchwrap Supreme almost had a different name
Hearing the words "Crunchwrap Supreme" usually elicits a Pavlovian drooling response for most of us. But would we have the same reaction to "Mexagon?" Because believe it or not, that was one of many names Taco Bell considered before ultimately settling on the Crunchwrap moniker, according to the Huffington Post.
"We had to choose what aspect of the dish we wanted to emphasize," Stephanie Perdue, Taco Bell's marketing director, told the news outlet. "What really stood out for us was the texture, the combination of a crunchy and soft shell. But the shape was also unusual. Who's ever eaten a hexagon?" The end result of that brainstorm was "Mexagon," a portmanteau of "Mexico" and "hexagon."
But that was far from the only name Taco Bell tried on for size for its newest menu item. Other potential monikers left on the cutting room floor included "Crunchwich," "Crunchilada," and our personal favorite, "Origami Tostada." During testing, the chain's executives found the texture of the dish resonated more with customers than its shape. "Consumers were really responding to Crunchwich," she said. "But they told us, 'You're not about sandwiches. You're Mexican!' So we changed the 'wich' to 'wrap.'" And that, Taco Bell fans, is how the now iconic "Crunchwrap Supreme" name came to be.
The Crunchwrap might be Taco Bell's most popular item
In case you couldn't tell by now, we here at Mashed are big fans of the Crunchwrap Supreme. In fact, it even finished atop our ranking of Taco Bell menu items, beating out other popular dishes like the Nacho Cheese Doritos Loco Taco and Cheesy Gordita Crunch.
But we are far from alone in our love for the Crunchwrap. In fact, this fan-favorite offering might just be Taco Bell's most popular menu item. Based on Google Trends data from October 2020 to October 2021, in which "most searched" was deemed "most popular," the Waycraft apartment group determined that the Crunchwrap is the most popular Taco Bell offering in the country. It topped the preference list of 17 different states. (The next closest menu item was the Quesarito, which polled the best in 10 states. No other dish won more than four states.) The Crunchwrap was found to be most popular in the West, Northeast, and in Alaska.
It's one of the unhealthiest items on Taco Bell's menu
As beneficial as the Crunchwrap Supreme is to your taste buds, it may be equally as harmful to another part of your body: your waistline. Very Well Fit lists the popular menu item has one of Taco Bell's least nutritious items, a claim supported by the nutrition facts label. For starters, a single Crunchwrap Supreme has a whopping 540 calories, according to the Taco Bell nutrition guide. Only three other dishes in its "Specialities" category have more: the Quesarito, Black Bean Quesarito, and Nachos BellGrande.
On top of the massive calorie count, the dish also comes packed with 21 grams of fat, roughly one-third of the recommended daily amount based on a 2,000-calorie daily diet from the USDA. Speaking of nutritional guidance, a Crunchwrap Supreme also has roughly 24% of your daily recommended intake of carbohydrates (73 grams), and about 50% of your recommended sodium consumption (1,210 milligrams).
Those looking for a healthier take of the Crunchwrap won't find much in the vegetarian version. The Black Bean Crunchwrap Supreme comes with just 20 fewer calories, 3 fewer grams of fat, 110 fewer milligrams of sodium, and 4 additional grams of carbohydrates.
The Crunchwrap comes in breakfast and vegetarian varieties
Many would agree that the Crunchwrap Supreme tastes equally delicious in the morning as it does in the afternoon and evening. But if you find yourself craving something slightly more traditional for the first meal of the day, Taco Bell still has you covered with breakfast versions of the irresistible meal. The Breakfast Crunch Bacon and Breakfast Crunch Sausage combine the handheld convenience of the Crunchwrap Supreme with the delectable flavors of a hot breakfast. Consisting of eggs, cheese, a full hash brown, and the eponymous meat of choice, all wrapped in a warm flour tortilla, these menu items are Taco Bell's answer to the breakfast sandwich.
But Taco Bell doesn't stop concocting new versions of the popular Crunchwrap once the clock strikes noon. The chain also has a vegetarian option for its non-carnivorous customers. In this version of the Crunchwrap, the seasoned beef is swapped out for black beans. Everything else remains the same. It's important to note that the vegetarian Crunchwrap is not vegan, as it still contains reduced-fat sour cream and nacho cheese sauce.
Taco Bell has rereleased the Triple Double Crunchwrap several times over the last few years
Taco Bell has never been a company to rest on its laurels. The chain is always in innovation mode, consistently coming up with bigger and better menu items. Both of those adjectives could be used to describe the Crunchwrap upgrade Taco Bell devised a few years ago. In 2016, the restaurant chain upped the ante by unveiling the "Triple Double Crunchwrap" (via Business Insider). This mammoth meal contained not one, but two layers of beef to go along with a layer of lettuce, tomato, and sour cream. (The chain simultaneously launched a spicier version featuring fresh jalapeños and spicy ranch sauce.) The name, according to Taco Bell, is a reference to the double servings of three main ingredients: seasoned beef, nacho cheese sauce, and the crunchy tostada shell.
The "Triple Double Crunchwrap" was not a permanent menu item. However, Taco Bell has rereleased the offering several times over the past six years, most recently in 2021 (via Brand Eating). It was during this last reintroduction that the Mexican chain unveiled a slightly less convoluted (and confusing) moniker: the "Grande Crunchwrap." The name change apparently didn't stick, as the menu item is currently referred to by its original title on Taco Bell's website.
Taco Bell introduced a Cheez-It Crunchwrap in 2022
Just when customers thought the Crunchwrap couldn't get any more delicious, Taco Bell unveiled a cheesier version of the iconic dish with the help of an equally famous snack. In June 2022, the Mexican chain announced the arrival of the Big Cheez-It Crunchwrap Supreme, (alongside the Big Cheez-It Tostada). In this new Crunchwrap creation, the tostada shell is replaced by a giant Cheez-It cracker.
"There are few things that everyone can agree on … but the iconic flavors from Taco Bell menu items and Cheez-It snacks appeal to all," Liz Matthews, Taco Bell's chief food innovation officer, said in a statement. "We're thrilled about this new concept with Cheez-It, which gives our fans the chance to experience the real cheese and crunch they love from both of our brands in a whole new way." The Kellogg Company, which produces Cheez-Its, was equally enthusiastic to show their product in a new light. "We're excited to incorporate Cheez-It—made with 100% real cheese—into Taco Bell favorites and deliver customers a bold, cheesy twist on the iconic chain's go-to menu staples," said Stefanie Miller, president of the Kellogg Company's Away From Home division.
Unfortunately for Crunchwrap and Cheez-It fans, the item was only sold for a limited time at one Taco Bell location in Irvine, California. According to the chain, both the Cheez-It Crunchwrap and Tostada were so popular that they sold out less than a week after hitting the menu.
Taco Bell has some Crunchwrap menu hack suggestions
Menu hacks are all the rage these days, like the hot dog chicken bake at Costco, the chopped cheese at Five Guys, and the sourdough bread burgers at Carl's Jr., just to name a few. The task of discovering these menu hacks usually falls on the shoulders of intrepid, innovative diners. But not at Taco Bell. The Mexican food chain has come up with its own menu hacks for its customers to enjoy, including two ways to elevate the Crunchwrap Supreme.
The first hack is the Chicken Bacon Ranch Crunchwrap. Getting your hands on this delectable creation requires little work, just some ingredient swapping when you place your order. Simply order a Crunchwrap Supreme and replace the seasoned beef for chicken and the nacho cheese sauce for avocado ranch sauce. Then ask for the reduced fat sour cream to be removed and bacon added and voilà—a Chicken Bacon Ranch Crunchwrap.
The second menu hack, the Crunchwrap Pizza Supreme, takes a little more work (but not much more) and must be done at home. Take your Crunchwrap Supreme back to your kitchen and assemble the following ingredients: 1/2 cup of shredded cheese, sliced green bell peppers, sliced red onion, and sliced black olives. Spread the cheese across the top of the Crunchwrap, then top it with the bell peppers, onion, and olives. Stick the dish in the oven for 10 minutes at 350 degrees Fahrenheit and enjoy your Crunchwrap Pizza Supreme.
Chefs across the country have come up with their own versions of the Crunchwrap
The Crunchwrap Supreme is such an ingenious dish, it has made its way onto high-end eateries menus across the country. Portland chef Gabriel Rucker used his French technique and Chinese ingredients to concoct a Double Duck Crunchwrap Supreme (via Portland Monthly). This handheld treat featured duck, XO sauce, Oregon marionberry hoisin sauce, Japanese miso paste, ginger-stewed black beans, sausage, and pickled coleslaw with ginger sauce.
Rucker isn't the only Portland chef with the Crunchwrap on their mind. The Northwestern city has seen a number of high-end versions appear on menus recently, according to Eater Portland. Birrieria PDX had a braised beef Crunchwrap, Nacheaux offers fried chicken-stuffed "Crunch Wraps," while cocktail lounge Palomar has the Cuban sandwich-inspired "Crunchwrap Cubanos."
On the other side of the country, in Durham, North Carolina, you can grab yourself a "Chicken-Wrap Supremo" from Ex-Voto Cocina Nixtamal (via Eater Carolinas). This delectable creation includes roasted chicken, chipotle crema, pico de gallo, queso blanco, and pickled jalapeño slices, all enclosed in a flour tortilla and sealed with grilled hoop cheese.
In the Central Time Zone, Big Kids sandwich shop in Chicago had a "Veg Crunchwrap" consisting of Vietnamese pickles, cilantro, jalapeño, Duke's mayo, tostada, and provolone cheese (via Eater Chicago). Speaking of plant-based food, in Dallas, the food truck Vegan Vibrationz makes a vegan Crunchwrap featuring Beyond Meat, dairy-free chipotle sour cream, vegan cheddar, and mango pico de gallo (via Eater Dallas).
So have some celebrities
In November, the digital restaurant chain Man vs. Fries announced that it was partnering with DJ Khaled on a remix of the classic Crunchwrap (via Eater Chicago). In this rendition, dubbed the "Khaled Krunch," the tortilla is filled with chicken, cheese, and waffle fries, and covered in a Cheetos dust coating. Bill Bonhorst, the founder of Man vs. Fries, told Eater it took nine tries to perfect his new take on the Crunchwrap.
But DJ Khaled isn't the only celebrity to put their famous name behind a new take on the Crunchwrap. In July, "The Office" star B.J. Novak's pop-up restaurant Chain unveiled an upscale version of the popular Taco Bell menu item (via Food & Wine). Named the "Cruncho Perfecto," it featured premium Wagyu beef, cheddar queso, guajillo-spiced black beans, and a house-made taco sauce. The dish was also pan-fried in order to achieve an extra level of crunch. So good was the Cruncho Perfecto, it drew praise from the Crunchwrap's originators. "[Chef Tim Hollingsworth] was on point, just left of center enough that it was his own spin on it," Taco Bell chef Rene Pisciotti said. "But ultimately, when you're eating this thing, you're like, this is a Crunchwrap. I was genuinely concerned that he wasn't going to be able to get the texture right because our tostada shells are so crunchy, and he figured out a way to do it. It's a pretty magical thing that they've done."
You can make your own Crunchwrap
We're all happy to suffer through long drive-thru lines if it means getting our hands on a delicious Crunchwrap. But what if we didn't have to? Well, dreams do come true. With our copycat Crunchwrap Supreme recipe, you can enjoy the delectable dish without ever leaving home.
The geniuses at Taco Bell managed to stuff just about everything inside a Crunchwrap that can fit into a handheld meal: meats, cheese, toppings, etc. With that in mind, you will need a fairly long list of ingredients to make your own — 15, to be precise. Fortunately, you probably already have most of these at home, like lettuce, tomato, sour cream, and seasonings.
Once you're ready to get to work, your first step is preparing the beef. To do so, combine meat, oats, garlic powder, onion powder, chili powder, smoked paprika, cocoa powder (yes, cocoa powder), water, and cornstarch in a pan. Bring this to a boil, then simmer for three minutes. Once the beef is ready and other ingredients are prepped, it's time for the most important step: building your Crunchwrap.
To properly assemble a Crunchwrap, add a spoonful of meat to the tostada, top with nacho cheese, and lay a burrito tortilla on top. Flip the whole thing over so the tortilla is on the bottom. Add the sour cream, lettuce, and tomato to the top side of the tostada. Then just fold up the tortilla to enclose the Crunchwrap and dig in!