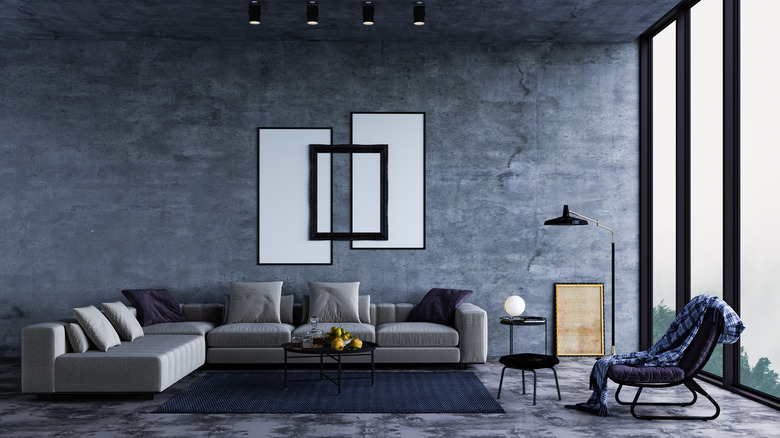 When you decorate your home, there are endless options for styles, vibes, and themes. At the same time, whatever direction you decide to head when it comes to your interior design, you may want to aim for something that truly reflects who you are as an individual and perhaps a family. In "The New Southern Style: The Interiors of a Lifestyle and Design Movement," via People, "Home Town" star Erin Napier explained, "We should let our homes be a little bit weird, like the people who live in them. I wish people wouldn't worry so much about how other people are styling their homes. It removes the individualism, which is what makes home so comforting. You can really be you there, you know?" Napier said.
With that in mind, you might be inspired to go all out when adding accents to your living space that show off who you are and what you like. One way to embrace some wonderfully individualistic style in your abode is to put up arguably unusual wall art. Choosing the perfect artwork for your home may seem tricky, but it can be a simple and super-fun task if you let yourself pick pieces that pique your interest and make you smile. For instance, check out these fantastic examples of unusual works of wall art that will add a unique touch to your home.
1. Cool tone felt wall art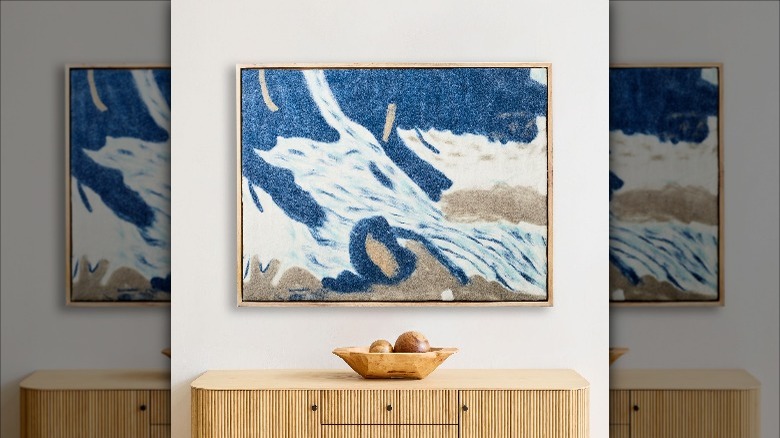 This art from West Elm may feature a cool tone felt; however, it can add a warm touch to any home thanks to the soft texture. Made of 100% felted wool and set in a sustainable mango wood frame, the piece that costs $359 measures 43 by 33 inches and can be hung horizontally or vertically.
2. Metal woven wool wall art
Diego Olivero is the artist behind this metal woven wool wall art. While the frame boasts a brass finish that adds a hint of elegance, the wool is woven between the metal in a way that creates an eye-catching design and depth. The piece comes from Honduras, is 25 inches square, and costs $299.
3. Textured arch papier-mache
This textured arch papier-mache piece (yes, papier-mache and not paper mache) is created by artisans who work in Haiti and use recycled materials to produce unique treasures. Spanning 24 inches high and 42 inches wide, it's also 4 inches deep and weighs 8 pounds. Surely the artistic centerpiece of a stylish space, this is sold for $349.
4. Brass finish starburst wall art
While this starburst wall art is meant to have a minimalist look, there's no doubt it has a striking design. Inspired by gorgeous celestial bodies, the mild steel piece has a polished brass finish that gives it a perfect shine. Stretching 24 inches high and 53 inches wide, it's listed for $229.
5. Petalo dimensional wall art
When viewers first check out the petalo dimensional wall art, they may assume it's purely abstract. Although it may give off that impression from afar, a closer look will reveal that the hand-cut pieces of stainless steel are meant to be flower petals. Sold for $219, it measures 22.5 by 36.25 inches.
6. Geode fiber wall art
A home with a boho-chic aesthetic would surely benefit from this Geode fiber wall art. Made of natural cotton rope woven into curves, the work that costs $499 is 38.25 inches high and 57.25 inches wide. Although it would look good when seen from any angle, it can only be put up horizontally.
7. Wavy wood and horsehair piece
This wavy wall piece is the work of Steph Trowbridge, an artist that can be found in South Jersey. While Trowbridge tends to work with wood and ceramics, this item is made of wood and horsehair, which is unique. At 8 inches by 24 inches, it's sold for $450.
8. Wood abstract rattan weaving set
Available from Target for $144.99, this wood abstract rattan weaving set by Olivia & May comes with two pieces that feature the same kind of look in their own creative way. Both pieces are 23.5 inches square and are made of a material that will offer a natural touch while the design is visually engaging.
9. Face planter decorative wall sculptures
An artistic collaboration between the creative forces at Opalhouse and designer Justina Blakeney's Jungalow, these face planter decorative wall sculptures come together as two for $30 at Target. Made of iron with a golden finish, the sculptures span 9.5 by 11 inches and are 2.7 inches deep.
10. Metal sun art
Another piece that's the work of Opalhouse and Jungalow, this metal sun art will shine brightly thanks to the brass finish. Available for $30, it reaches 14.2 inches by 30 inches and comes with a pair of hooks on the back of the piece that can be used to secure it where it will be displayed.
11. Metal sunburst semi-circle wall art
An artistic interpretation of solar rays, these handmade semi-circle sunbursts are the work of Olivia & May. The various sections that make up the artwork are metal that's been given a golden sheen and soldered together to keep them in place. Delicate and bold, it's 36 by 54 inches and can be purchased for $113.99.
12. Metal bird foiled flying flock
A charming creation that initially appears to be separate pieces representing a feathered friend, the metal bird foiled flying flock by Olivia & May is acltually a single artwork. Created using an iron but given a golden surface, the item, 21 inches high and 47 inches wide, will cost art-loving shoppers $176.99.
13. Little Love 3D Fox
Little Love 3D Fox by NoJo has been created with layers of wood left in the material's natural color. That is, other than the painted gray nose. Designed for a nursery, the 12 by 12.5-inch artwork for $19.99 would also suit any room with a playful vibe or nature theme.
14. Iron bike wall art
With an aged look meant to make it seem like an antique, this iron bike wall art is unusual and functional. Once the piece is suspended on a wall, the front basket can display plants, books, or other intriguing items. Spanning 30 by 17 inches, it's sold for $64.80.
15. Vättlösa black heart
With dynamic shapes that make up the interior of the Vättlösa black heart and the powder-coated metal exterior, this piece also curves out, giving it a three-dimensional aspect. Found for $19.99 at Ikea, it's 17.25 inches in length and width and 15.75 inches high, and 2.75 inches deep.
16. Live edge wooden wall art
Taking full advantage of the beauty that nature can provide, the $119 live edge wooden wall art from Pottery Barn is handcrafted and given either a natural or darker brown finish. Made of chamcha wood and each carved from a single piece, it's 14 inches in diameter and can be put up horizontally or vertically.
17. Smoke swirls
While these smoke swirl prints do, indeed, look like they're the result of a candle being blown out, they're slightly deceiving. They are, in fact, prints of paintings that aim to capture the same smoky effect. Sold separately for $169, they are both 16 by 21 inches and come in a bombacaceae frame that's matte black.
18. Block wooden handcrafted wall art
Another creative item made of chamcha wood, this block wall art is made by hand and put together in a way that gives it an abstract style. Although the pieces have been placed in seemingly random positions, the smooth and natural finish keeps them almost serene. Measuring 15 inches square, this artwork costs $179.
19. Dried woven botanical shadow box
Pottery Barn's dried woven botanical shadow box boasts natural floral pieces kept in place with linen rope weaving. Despite its dainty display, the rather bulky item that costs $399 and is 29 by 37 inches weighs 17.5 pounds. Fortunately, the hardware needed to install it on a wall is included.
20. Faux succulent wall art
Aeonium, agave, echeveria, sedum, and tillandsia are the vibrant plants that make up this faux succulent wall art — all of which are safe from anyone who doesn't have a green thumb. Each adds a unique element to the item that creates a stylish combination. The larger option is 20 by 30 inches and costs $399.
21. Frosted seaglass hanging discs
This frosted seaglass hanging disc wall art uses the material often found on a beach along with cotton string and a rod made of mango wood to create a piece that's 34 by 47 inches and costs $399. Invoking the tone of soothing water, each part of the sea glass has been given a light blue finish.
22. Pets Rock Spots
With a style that may or may not have been inspired by Yayoi Kusama — famous for wearing a red bob wig, funky sunglasses and outfits with her signature dots — Pets Rock Spots is an artistic image of a super-hip pup. Made on canvas that spans 16 by 20 inches, it's sold by Macy's for $49.
23. Analog Jungle Typewriter
The work of artist Michael Mullan, Analog Jungle Typewriter, is a canvas piece with a retro touch thanks to the typewriter and a hip vibe due to the animal print as well as an inspirational message, telling anyone who sees it to let their imagination run wild. A 12-inch square artwork, it's available for $170.
24. Toilet Paper Patent Blueprint
Surely ideal for a bathroom, there's no doubt that the Toilet Paper Navy Blue Patent Blueprint is a quirky piece of art. At the same time, the image has been created with fade-resistant ink and canvas that's conveniently waterproof. Also kept sturdy with pine bars, it's 18 by 26 inches and is sold for $71.
25. Metal abstract wall art
Sold by Lowe's for $66.98, this abstract metal art by Luxen Home may be a permanent fixture on a wall; however, its scattered and layered curves keep a viewer's eyes moving around the piece, which creates a sense of movement. Featuring a silver finish over iron, the artwork spans 25.25 inches round.
26. Metal abstract wall sculpture
While some art lovers may appreciate the idea of contemporary and somewhat hardcore items in a chic way, not all spaces will accommodate a sizable circular piece of art. In that case, there's this pair of Grayson Lane metal abstract wall sculptures. They're sold as a pair for $94.32, each 20 inches square.
27. Cutlery wall sculpture
It's not quite silverware, and these pieces aren't ordinary knives, forks, and spoons. The oversized cutlery wall sculptures have an aluminum body that's been given either a silver or copper finish. Each 23 inches high, the set of three that would suit a kitchen or dining room costs $59.
28. Chicken with a Pearl Earring
While you may be aware of the famous artwork of a girl with a pearl earring, this is The Chicken with a Pearl Earring. Available as a wall hanging from Heather Qualtrough, it's printed on linen cotton canvas 16 by 24 inches and can be found at Spoonflower for $59.
29. Cracked Up Egg wall hanging
Not all art is filled with serious subject matter, sentimental messages, and realistic images. For instance, the Cracked Up Egg wall hanging from Long Beach-based artist Emelizza Lim — which is 16 by 24 inches and can be purchased for $59 — offers cute cartoonish egg characters and a silly joke about eggs.
30. Broccoli Treehouse wall hanging
You may have heard of candy-covered gingerbread houses, but what about a Broccoli Treehouse? This 16 by 24-inch wall hanging from Germany's Wiebke, sold for $59, turns a simple veggie into a whimsical piece of art. Frankly, it might spark both a person's imagination and appetite simultaneously.