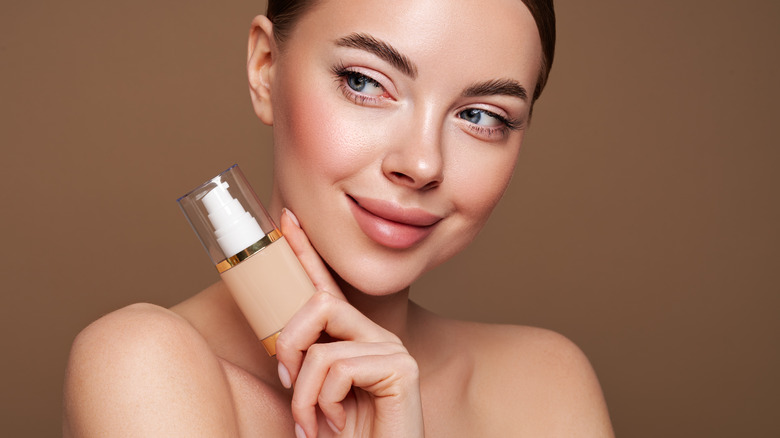 While it can be hard to discern which makeup brands are worth the money, some can be so cost-prohibitive that the average makeup lover might never have the chance to test them out. When we think of makeup's most expensive brands, Swiss skincare and makeup brand La Prairie is one of them. The brand screams luxurious: its collections are named after precious metals like gold and platinum, and their Skin Caviar Complexion Concealer Foundation is infused with Swiss caviar extract, said to be a potent anti-aging and moisturizing product. While the foundation also has an SPF of 15, it also costs $275.
Like us, you might be intrigued by this foundation, but simply cannot afford to drop hundreds of dollars on caviar that is not even edible! All jokes aside, the foundation is highly acclaimed with a "naturally dewy finish," according to Byrdie beauty expert Jenna Igneri. And for those who are curious, the foundation smells like powder, not the sea.
Should you be looking for a foundation that has all of the beautiful qualities of this one, but without the high price tag, we used the SkinSkool search engine — a tool that allows users to compare duplicates of products based on their ingredients and ingredient lists — to discover several comparable products to La Prairie's foundation.
Estée Lauder's Futurist Hydra Rescue Moisturizing Foundation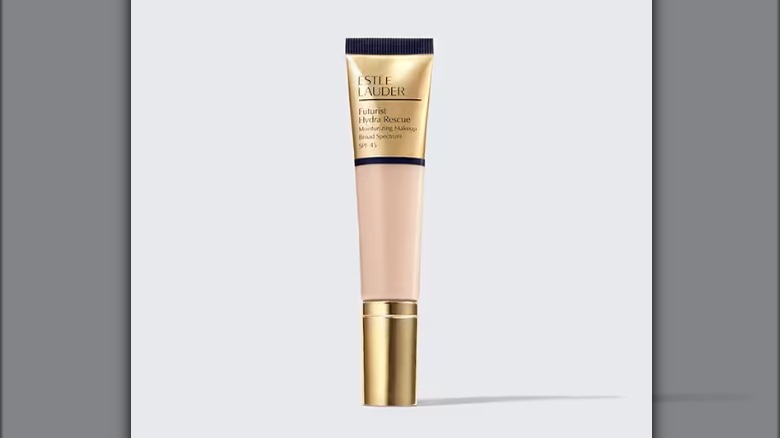 With a match of 44 points, the most comparable was Estée Lauder's futurist hydra rescue moisturizing foundation. There are several things we like about this foundation when compared to La Prairie's: first, with a price of $50, this foundation is much more affordable than the product it dupes. Second, it features a wider shade range. While La Prairie's foundation is offered in 13 shades, and is rather sparse when it comes to deeper skin tones, this Estée Lauder foundation comes in 28 shades for a perfect skin match. The Estée Lauder foundation also has an SPF of 45, higher than La Prairie. Sephora describes its finish as "radiant."
La Mer Soft Fluid Long Wear Foundation
The next dupe, with a match of 41 points, is none other than the La Mer soft fluid long wear foundation. La Mer, like La Prairie, is another skincare and makeup brand known for its priciness, and while this foundation is still significantly less expensive than its dupe at $140, we would still consider this a splurge as far as foundation goes. Nonetheless, this La Mer foundation has several notable qualities. Sephora describes it as a "weightless, natural-looking foundation" with medium coverage.
But what you might not know is that La Mer's formula, like La Prairie's, offers a unique feature: its original Miracle Broth. The broth — which is a special ferment of "sea kelp, vitamins and minerals, citrus oil, eucalyptus, sunflower, wheat germ, and alfalfa," per Byrdie — is the secret to La Mer's products. Should you gravitate toward interesting ingredients, this could be the perfect dupe for you.
Rimmel London Lasting Radiance Foundation
Next, the lasting radiance foundation from Rimmel London had a match of 39 points. Priced at just around $11, depending on where you get it, this is the cheapest dupe yet compared to La Prairie. While this foundation has eight shades, fewer than La Prairie's, and none of the rather fanciful ingredients that other foundation products might have, if the price is your main concern, then this is the product for you. The foundation has an SPF of 25, and is described as having a "radiant glow."
Chanel Vitalumière Aqua Hybrid Fluid Foundation
Another foundation akin to the La Prairie foundation is the Chanel vitalumière aqua sunscreen and foundation combination product (via Byrdie). Like the original product, the Chanel foundation — which appears to be more of a skin tint – has an SPF of 15, and features a "water-light texture," according to its product listing. It is oil-free, comes in 14 shades, and with a price tag of $50, comes in at a considerable discount. While it doesn't offer the full coverage of the La Prairie foundation, nor does it feature the same skin-loving benefits, the product does contain hyaluronic acid, which helps skin maintain moisture, as Elle reported.
Peau Vierge Anti-Aging Complexe
Should you be looking for a makeup product with powerful anti-aging benefits, the peau vierge anti-aging complexe from Le Metier de Beaute contains 1% Retinol, while also delivering buildable coverage and a "luminous glow." Retinol is known to smooth wrinkles and mitigate acne. However, it is important to understand how retinol could interact with your skin before use, as its potential side effects are well-documented.
This product is a tinted moisturizer and skincare product all in one for $150, though it does only come in six shades. Reviewers shared their thoughts on the product: "Fabulous complexion tint! My skin has never felt more luxurious! The fine creamy texture contains the perfect amount of hydration, brightening the skin giving my face a remarkable healthy glow. A total game changer!" While it does not have the full coverage that the La Prairie foundation may offer, it does have potent skincare benefits.
Chanel Sublimage Le Teint Cream Foundation
Another Chanel product similar to the La Prairie Foundation is the sublimage le teint cream foundation. As the name suggests, this foundation is not liquid but a soft, buildable cream. Like the La Prairie Foundation, this Chanel cream comes with tools — a spatula and a brush. The finish is described as "glowing" and "luminous," and glycerin in the product helps to moisturize the skin. One reviewer raved: "Oh my goodness, I was glowing . . . It isn't greasy, not matte." YouTuber Stark Official included both this foundation and the La Prairie foundation in her video "10 Best Luxury Anti-Aging Foundations." For $135, this foundation is still considered a high-end product, but the included tools add extra value.
Dermacol Caviar Long Stay
As it happens, there is also another foundation on the market that features caviar extract, if that is the must-have ingredient on your foundation list. But this time, the price tag is under $30. The Dermacol caviar long stay foundation and concealer was tested by Youtuber My Pale Skin, who found that, while the La Prairie foundation had a dewier finish, the Dermacol foundation lasted longer. The foundation also contains alaria esculenta extract, a kind of seaweed, which can be used as an antioxidant, per Paula's Choice, and it is alcohol-free.
Haus Labs Triclone Skin Tech Medium Coverage Foundation
Lady Gaga's makeup brand Haus Laboratories, launched in 2018, also carries a foundation full of beneficial ingredients, like La Prairie, but for a fraction of the cost. Its triclone skin tech medium coverage foundation is a product to sing about. It features more than 20 skincare ingredients, and a unique blend of fermented arnica — a potent skin-healing ingredient derived from the flowering arnica plant.
The product also has a host of other fermented ingredients, including fermented green tea and fermented licorice root meant to dispel inflammation, protect from environmental stress, and nourish the skin with antioxidants. The foundation also contains marine algae, which has several skin benefits, including keeping the skin hydrated and vitalized. It costs $45 and comes in a whopping 51 shades (via Sephora).
Chantecaille Future Skin Gel Foundation
The Chantecaille future skin gel foundation is another cream foundation product and features skincare ingredients like La Prairie. Its coverage is medium to full and comes in 14 different shades. This foundation is oil-free and features green tea extract, algae extract, aloe extract, and rosemary leaf extract. It is also formulated without parabens, phthalates, and other ingredients.
Reviews show that buyers are thrilled with the foundation: "The texture is so lightweight and blendable — this product is what all foundation should be," one reviewer wrote. For $82, this product is less than half of the price of the La Prairie Foundation, and comes with considerable benefits, though it does not feature SPF.
Tom Ford Shade and Illuminate Soft Radiance Foundation
And last but not least: the Tom Ford shade and illuminate soft radiance foundation. Per Vogue, this foundation is fantastic for those whose skin tends to be a bit drier, as it contains hyaluronic acid. It also contains several antioxidant ingredients and a powerful SPF of 50.
One review captures the benefits of the product: "The best foundation ever. I bought this last year and only use it when I want to impress and impress I have. I get more compliments about how great my skin looks when I wear this fabulous treat. I will be 75 in a month and have always taken great care of my skin but this makeup is a game changer . . . well worth the splurge."
For $150, the foundation is indeed a bit of a splurge. But healthy skin and a self-confident smile might always be worth the price.