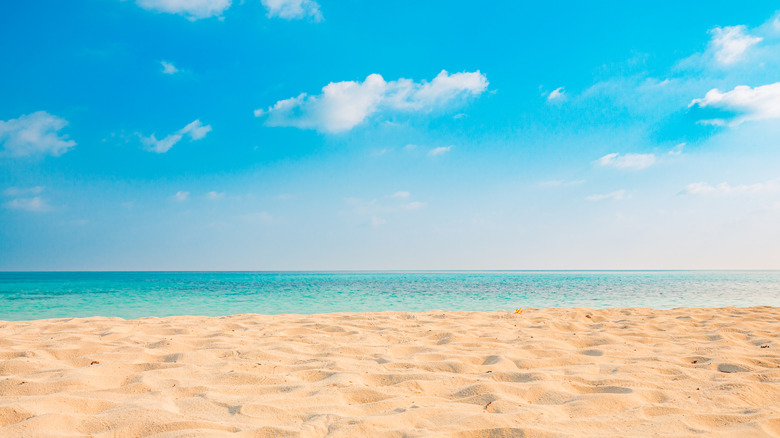 Sometimes, you just want to take a trip somewhere you can truly relax — and there's no better place to do so than the quietest places on Earth! There's plenty of information on the web about where to go to have a relaxing vacation. But, what many of these think pieces don't always cover is that these spots (resorts, beach destinations, etc.) are full of things — unlimited alcohol, sunny beaches, and a certain aesthetic that gives the illusion of tranquility, while in reality, are far from it. According to a 2021 study published in Nature Reviews Cardiology, heightened noise can lead to increased stress and more negative health impacts down the line.
According to Noise Awareness, most places we spend the day (offices and home) range from 40 to 60 decibels. In comparison, most destinations we suggest tovisit for a quiet getaway are, on average, 30 decibels or below. Also, not by chance, most are located in beautiful natural spaces, but we've included a balanced round-up. So no matter your weather, climate, or geographical preferences, you'll find somewhere to relax on this list for your next vacation.
Hoh Rainforest, Washington, USA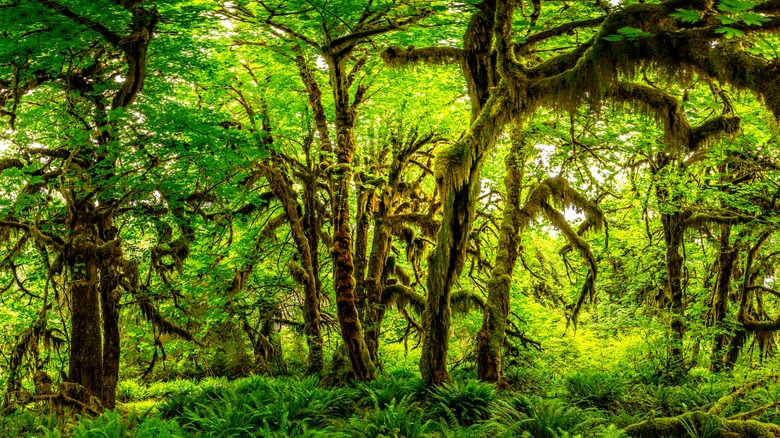 All of Olympic National Park provides an ideal nature soundtrack, from water dripping in the old-growth rainforest to waves crashing on ocean beaches and the peaceful solitude found in the alpine peaks. This is why local, Gordon Hempton, an award-winning acoustic ecologist who traveled the world in search of quiet, awarded a tiny spot in the Hoh Rainforest (located in Olympic National Park) the title of "quietest place in the U.S." The noise-control project, One Square Inch of Silence, is part of a series protected by a foundation Hempton created to prevent noise in many parks around the world.
It is marked by a red stone on top of a log, just over a 3-mile hike from the Hoh's Visitor Center along the Hoh River Trail. However, it's not just that small spot that stays quiet, protecting it from noise benefits the rest of the park. You can certainly feel that whilst hiking, camping, or swimming throughout the park. The rainforest itself is expansive, stretching from the ocean beaches next to the Hoh, through the rainforest along quiet trails and natural hot springs perfect for a relaxing soak post-hike in the Olympic mountains. You can camp on the beach or in the forest, not far from the One Square Inch. All sans urban noise polluting your zen.
Explore wants to acknowledge that this is the traditional territory of the Hoh.

Most Scandinavian Countries
The majority of this list consists of national parks and wild locations. However, if you dream of a European getaway, don't fret. You can still find tranquility in the land of croissants, espresso, and no tipping. Your best bet will be to head north, to the continent's most sparsely populated countries: Finland, Iceland, Norway, and Sweden. The low population density and transport infrastructure contribute to less man-made noise and allows for natural sounds like bird chirps, rustling leaves, and crashing waves to flourish. All of this, according to a 2016 EEA report, is conducive to creating a quiet space.
Additionally, Scandinavian cities are some of the quietest places in Europe, according to Expatriate Group. For example, in Bergen, people opt to cycle or walk due to its smaller size, which adds very little noise pollution from traffic. Stockholm has a lot of green space, which provides calm areas. It's also surrounded by nature and the coast, which helps cut down on urban noise. Reykjavik's smaller population means quiet is the norm.
Explore wants to acknowledge that this is the traditional territory of the Sàmi People (Northern Norway, Sweden, and Finland)
Switzerland
The only non-Scandinavian country in Europe to be located in a quieter zone, thanks to lower population density and unique topographical situation, is Switzerland. Per a 2016 EEA report on noise pollution, the high slope gradients and its numerous mountain peaks are favorable environments for quiet areas. The Swiss Alps are a haven for nature lovers of all types. Whether you want to ski in winter, hike in summer, or paraglide in the fall, do it in relative silence compared to other noisy mountain areas around the globe.
If you're simply looking for a more peaceful city break, head to Zurich, which beats out even the northern neighbors in this 2017 study for the top spot as the city with the least amount of noise pollution. This can be attributed to the nearby lake and mountains, which help dissipate societal sound. Additionally, like the rest of the country, Zurich has a lower population density than comparable cities on the rest of the continent.
Yellowstone National Park, Wyoming, USA
Despite being one of the most popular parks, Yellowstone has noise levels that are akin to stepping back in time — before colonization. According to a 2015 noise level map displayed in Science Magazine, most cities are well over 40, most often 50 to 60 decibels, but Yellowstone is often below 20. The nature sounds many species use varies over the seasons from spring bird songs to spring elk migrations and the quiet of winter hibernation. No matter what you fancy, Yellowstone is the place to be. Per High Country News, many initiatives in National Parks are encouraging people to be mindful when visiting of how they contribute to noise — phone calls, cars, and voices.
Sure, public transport isn't well-known in the American wilderness, but instead of driving to all the sights, enjoy some of the best nature and wildlife viewings in the U.S. from the trail and hike one (or more) of the numerous paths in Yellowstone. You'll appreciate the geysers, wolves, rainbow hot springs, and bears even more after a bit of effort. Not to mention that reducing the noise level (being out of cell service for most of the park will also help with that) and putting in some physical exercise is almost always a recipe for reducing stress, according to Harvard Health.
Explore wants to acknowledge that this is the traditional territory of the Blackfeet, Bannock, Cayuse, Coeur d'Alene Nez, Crow, Perce, Shoshone, and Umatilla, among others.
Great Sand Dunes National Park, Colorado, USA
According to the same map published in 2015 in Science Magazine that deemed Yellowstone a silent area, the Great Sand Dunes National Park is also magnitudes quieter than most cities. Just like that well-known neighbor to the north, efforts are being made to preserve the Great Sand Dunes' quiet. So make sure to leave the phone silenced or in the car during your hikes, stargazing quest, or overnight camp adventure.
You'll appreciate the beautiful Alpine lakes, clear skies, and 750-foot namesake dunes even more amongst the lack of intrusive ruckus. It's already been designated as an International Dark Sky Park to fight light pollution. Thus, many are pushing for the same limitations for noise pollution, so be a mindful visitor.
Explore wants to acknowledge that this is the traditional territory of the Cheyenne, Diné Bikéyah, Ute, and Jicarilla Apache, among others.
Yangmingshan National Park, Taiwan
While Taiwan is certainly a dream destination for many, it doesn't always come to mind when you think of a place you go to relax. According to a 2020 study published in Environment and Planning B: Urban Analytics and City Science, the quiet found here is likely thanks to the island's small size and population density. However, just north of Taipei, Yangmingshan National Park is a surprisingly calm and quiet destination and is actually classified as the world's first Urban Quiet Park by Quiet Parks International (QPI), a nonprofit founded by Gordon Hempton whose goal is to preserve the world's quiet space.
Thanks to a government decision that aimed to limit noise pollution (by prohibiting acts such as shooting off fireworks, blasting music, etc.), the quietest parts never exceed 30 decibels, per the Taiwan Times. It's now held up as a shining example of how governments can improve the quality of their parks and make them more enjoyable for visitors, even close to major cities. You can now enjoy the sounds of native birds, frogs, and insect life less than 30 minutes from the capital city!
Zabalo River, Ecuador
The Brazilian Amazon may be the most famous, but the Ecuador portion is where you should head if you're in search of some zen. Not only is it one of the Designated Quiet Parks by Quiet Parks International (QPI), a nonprofit founded by Gordon Hempton that hopes to preserve quiet areas around the world, but as the world's first Wilderness Quiet Park, Zabalo is truly a peaceful escape. It's one of the most relaxing destinations in the world for adventure enthusiasts. The first place of its kind to be so protected from noise pollution, along with Yangmingshan in Taiwan, Hempton's goal is to pave the way for more global protection. The Amazon is the heart of one of the largest natural wonders on the planet. Often referred to as "the lungs of the world," it is now, more than ever, threatened by wildfires and deforestation. Per Vox, this threatens places like Zabalo and is a huge motivator for Hempton.
For the moment, the lack of man-made noise means things like howler monkeys and the namesake Zabalo River come to sound like never before. Nature is at the forefront of the park's soundtrack. You can relax in the World's First Wilderness Quiet Park with native Cofan guides and stay at their EcoLodge to trek, fish, canoe, or just enjoy the native flora and fauna with guides who have generations of knowledge.
Explore wants to acknowledge that this is the traditional territory of the Cofan Nation.
Boundary Waters Canoe Area, Minnesota, USA
According to the Mesa Tribune, after the First World War, many soldiers and pilots wanted to escape the noise of the city that reminded them of the conflict they'd just left. Combined with the ceasing of logging, the opening of roads in northern Minnesota and southern Ontario made the area attractive to those looking for a wilderness escape. They developed fly-in fishing camps and resorts. However, various wilderness and environmental groups pushed, and finally in 1978, President Jimmy Carter signed the Endangered American Wilderness Act which granted Boundary Bay wilderness status and consequently added 50,000 acres to the park.
The act also forced logging to cease, outlawed mining, banned motors on the water, and restricted most snowmobile use, save for a couple of connective routes between the U.S. and Canada. This makes the region, which spans two countries, the perfect off-grid destination for anyone who wants to get away. A lot of recreation is banned or restricted, but you can still canoe, hike, and camp in one of the few truly wild places left in America.
Explore wants to acknowledge that this is the traditional territory of the Anishinabewaki and Očhéthi Šakówiŋ.
Wadi Rum, Jordan
The inspiration for many adventure movies, this protected area is a perfect place to camp, enjoy the night sky, and feel a world away from the noise and light pollution of the city. In the small country of Jordan, it can often feel like you're never far from the lights of Amman, one of the best-kept destination secrets in the world.
But just a four to five-hour drive away, per Jordan Traveler, is Wadi Rum, where you can have a truly unforgettable and zen experience. The sandstone and red rock desert are like another world, which is why it's been a popular destination for movies. You can hike, bike, or ride horses or camels in this bucket list destination with native Bedouin guides. There's even the Wadi Rum Quiet Village Camp, dedicated to peaceful visits for all their guests.
Haleakala National Park, Hawaii, USA
Hawaii is known as one of the most relaxing destinations for retirees, but there's plenty of tranquility to go around for those of us yet to hit our golden years. Haleakalā, on the island of Maui, is, according to Gordon Hempton, home to one of the quietest places on Earth — the park's crater. Tropical islands and beaches might fit traditional labels of places to relax, but this park is so much more than quintessential dreamy white beaches and crashing waves. The crater, unlike much of Hawaii's landscape which was formed by volcanic activity, is the result of erosion that now just happens to sit at the base of the Haleakalā volcano. As explained by IFL Science, the crater creates a unique pocket of silence, which clings to the sides of the giant hole.
Keep in mind a visit to the crater requires effort in the form of hikes through varied terrain. You have the choice of short or long hikes (depending on your preference), to reach the summit, just above the visitor center. You can also spot endangered species like the Maui parrotbill, Hawaiian hoary bat, and Blackburn's sphinx moth. Additionally, like Sand Dunes on the mainland, Haleakalā is absent of light pollution, thanks to a protection ordinance put in place by the State of Hawaii. This makes it popular for star gazing as well as scientific study. If you'd like to explore the surrounding area more, spend a weekend camping, or stay a night to stargaze in the pristine skies.
Explore wants to acknowledge that this is the traditional territory of the Kānaka Maoli.
Grasslands National Park, Saskatchewan, Canada
The prairie provinces are often thought of as "flyover country," but if you're looking for some peace, Grasslands National Park makes for a beautiful location to experience it. The aforementioned Gordon Hempton measured the noise level here at just above 20 decibels, unheard of in even the most remote prairies and grasslands elsewhere on the continent. This is due to the lack of industry and transport. These aforementioned major noise polluters do stretch across a lot of similar terrain in the U.S. Grasslands National Park is also one of Canada's least-visited National Parks, with the annual visitors topping out at the tens of thousands as opposed to the millions that head to Banff and Jasper each year.
This is great for you, as you'll be able to enjoy the peaceful sound sans crowds. However, it's not devoid of life. Prairie dogs, buffalo, and foxes among other creatures roam the area. Oh, and if a part of you is a little remorseful for trading a beach vacation for the prairies, take solace in knowing it's part of Canada's "sun belt."
Explore wants to acknowledge that this is the traditional territory of the Blackfoot/Niitsítapi, Ĩyãħé Nakón mąkóce (Stoney), Métis, and Očhéthi Šakówiŋ.
Negev Desert, Israel
This large desert isn't always on visitors to Israel's radar, even though according to Israel Travel, it covers a little over 60% of the country. Maybe it just doesn't hold the same appeal as cosmopolitan Tel Aviv or historic Jerusalem. However, as with many on this list, the lack of popularity or overlooking means a tranquil visit for those who do make the trip. The towering geological formations and red dirt mirror the nearby and fellow quiet space, Wadi Rum. Thus, many of the same experiences are on offer, with this one offering a bit more water in the form of waterfalls.
The Negev Desert has varied terrain with a mix of a lot of the places already mentioned on this list — sand dunes to the north, east looking more like the Sahara with sprawling savannas and red desert to the south resembling Wadi Rum, all with the Ramon Crater at the center. As detailed in Elal Magazine, native Bedouins still inhabit the area and, for those looking for tranquility, you can hike to waterfalls, explore their villages, or relax in solitude at one of the many water holes.
Tak Be Ha Cenote, Quintana Roo, Mexico
Natural swimming holes are popular all over Mexico and dot the Yucatan peninsula, drawing ever-growing crowds in recent years. However, as explained on Mexico Cenote and Ruins' website, Tak Be Ha Cenote is particularly good for those looking to get away from it all, as it's quieter than other locations, with the drip of water often the only sound you'll hear while visiting. If it's important to you, the area is also climate controlled, which is not a common feature at other locations. Just half an hour from Tulum and Playa del Carmen, you can swim, snorkel and dive in a quiet enclave managed by the local community. Although we should warn you that there are bats, which perhaps explains why this cenote has remained one of the quietest places on Earth.
Explore wants to acknowledge that this is the traditional territory of the Maya.