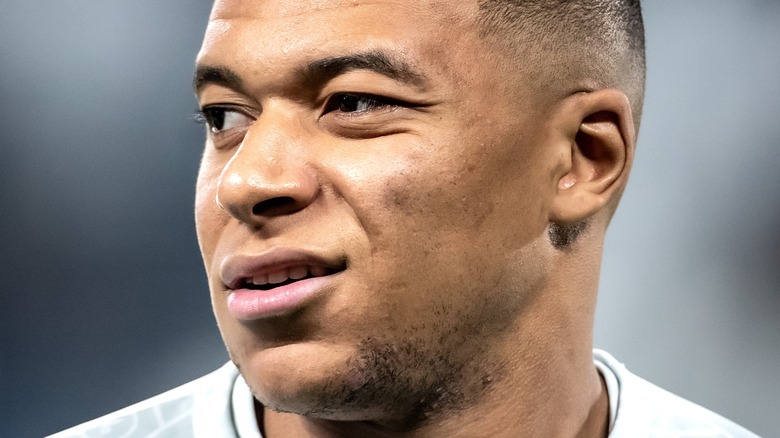 Soccer — football, to the rest of the world — is undoubtedly a global affair. The World Cup, in particular, is a viewer magnet if a report by the Federation Internationale de Football Association (FIFA) is anything to go by. According to the organization, a record 3.5 billion watchers tuned in to catch the 2018 World Cup Final. France emerged as the tournament's winner, taking home a $38 million prize. The then-19-year-old Kylian Mbappé, representing the French national team, managed a total of four goals. The striker won the hearts of fans and eventually bagged the Hyundai Best Young Player Award.
2022 would be a re-run of Mbappé's exemplary performance. A defending champion, the player put on a stellar showcase at the final World Cup match against Lionel Messi's Argentina. With a reported 24.1 million observers glued to the screen, he scored a hat trick that was one of its kind. By the 90-minute mark, Mbappé had leveled the playing field, quite literally.
To the French fans' disappointment, however, the game went into a penalty shoot-out that handed Argentina a 4-2 win. An obviously disheartened Mbappé won the Golden Boot award. He may have lost, but he's got the world's attention. There isn't a better time to unpack the life of the soccer star. Let's dig in!
Kylian Mbappé comes from a sports family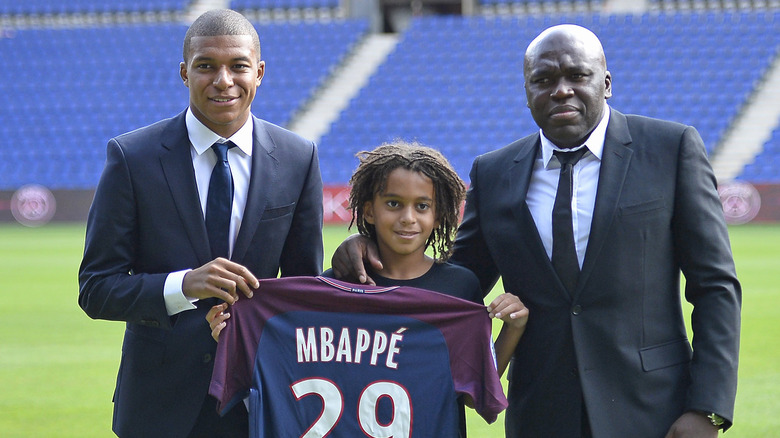 Born to Wilfried Mbappé and Fayza Lamari, Kylian Mbappé is an apple that didn't fall far from the tree. According to the French publication, Le Parisien, Wilfried and Lamari are well-known ex-players in their commune, Bondy. The former made a name for himself as a footballer turned coach and sports agent, while the latter was an AS Bondy handball player in the late '90s.
"She was an emblematic player of Bondy," recalled Jean-Louis Kimmoun, the club's former manager, and later, president. Kimmoun would further reveal that Lamari was aggressive during matches and gentle off the field. Although her bubbly sporting days are gone and her son has taken center stage, Lamari is an active Twitter user who often retweets news about Kylian.
Wilfried is the inspiration behind Kylian's soccer career. Speaking to The Wall Street Journal, Kylian recollected his first encounter with the sport: "He was [the] coach [in] the club of my city and he was coaching my big brother. And all the time I went to the stadium, I was there and I was, like 'Yeah, I wanna do like them.' The passion [started] there."
He stood out as a child
According to Wilfried Mbappé, his son was a star in the making from the very beginning. At the age of three, he persistently asked for the chance to play. Wilfried would hold back on having him on the pitch until he was sure of his passion. A young Kylian Mbappé eventually got so skilled, he'd often floor his peers. Wilfried knew he'd struck gold. "Kylian dazzled in front of kids 2 or 3 years older than him. After Clairefontaine, he joined Monaco and I told him: you are going to become a pro," said Wilfried in an interview with Le Parisien.
As a coach, he worked with Kylian in his formative years, often staying true to one golden rule: "What happens on the pitch stays on the pitch or the locker room." Theirs was a sturdy professional affair during the day, while the evenings were laid-back. "At home, I became the dad again and there was no more coach or briefing," Wilfried told Le Parisien.
The father-son duo maintained a scrupulous working relationship, so intense that the people around them only picked up on their kin connection a year and a half later. "He never called me dad and since I worked at the stadium from 10 am to 11 pm, it was my wife who would bring him and then bring him back," Wilfried disclosed.
Kylian Mbappé's World Cup hat trick made history
When Kylian Mbappé pulled off a hat trick at the 2022 FIFA World Cup final, he earned the admiration of many a star, including basketball legend LeBron James, who tweeted, "WOW!!!!!!!! MBAPPE."
Mbappé became part of the tournament's history. His was one of the only two hat-tricks exhibited at a World Cup final. The last time such an adrenaline rush had been seen was 56 years back, when England's No. 10, Geoff Hurst led his country to a win against Germany. "Nobody said we would win the World Cup," Hurst told FIFA TV of the historic moment, "But I think we knew we were a very difficult team to beat." Mbappé, on the other hand, had set his eyes on taking the trophy home. "I built my season on this competition physically and mentally," he said at a press conference (via RMC Sport). "We're still a long way from the goal we've set for ourselves and which I've set for myself, which is to win."
Although the efforts he'd put in surpassed the team's overall strength — going by the missed penalties — France president Emmanuel Macron was proud of his squad. "There will undoubtedly be regrets after this match," he said in a post shared via Instagram. "I don't think there's any other team that could have done what you've done so far."
He owes his success to hard work
In a conversation with former England player and Inter Miami CF co-owner David Beckham (via beIN Sports), the elite soccer players agreed that there was no substitute for putting the hours in. "The only answer you have is to work. Hard work is the only way to success for me," Kylian Mbappé said. "Hard work in our stadium today," he captioned an Instagram post in 2018. That he has razor-sharp focus is a no-brainer. So buried is the soccer star in his job, that he missed a number of press conferences during the 2022 World Cup, even when he was named the Man of the Match.
"I know that there were a lot of questions about why I did not speak. Already, for all the journalists who are there, it was nothing personal against the journalists, nothing against people," Mbappé eventually let out, per RMC Sport. "It was just that I always have this need to focus on my competition and when I want to focus on something I need to do it 100% and not waste energy on anything else."
Mbappé agreed to be fined by FIFA, a punishment that is not so uncommon in the world of sports. Tennis sportswoman Naomi Osaka was also fined in a similar fashion back in 2021.
He ties with Pelé as a top 10 World Cup scorer
As of this writing, Kylian Mbappé is well on his way to becoming one of the greatest World Cup scorers of all time. At the 2022 tournament, he scored a total of eight goals, which brought his overall World Cup cumulative to twelve. Mbappé ties with football legend Pelé in the number of scores (12), placing the pair in the sixth position overall.
In his congratulatory message to the winning team, Argentina, shared on Instagram, Pelé also paid homage to Mbappé. "My dear friend, Mbappé, scoring four goals in a final. What a gift it was to watch this spectacle to the future of our sport," the former Brazilian sports minister wrote.
As it stands, ex-German forward-turned-manager Miroslav Klose is the reigning top World Cup scorer with a record 16 goals. The Rheindorf Altach executive made his first appearance in 2002, and his last in 2014. Asked whether Mbappé was likely to break his record, Klose told Le Parisien: "Given his age, he should be able to play four World Cups. He has a chance of equaling or even surpassing my record."
He had a number of soccer idols in his childhood
Growing up, Kylian Mbappé was inspired by the best players in the game: Portuguese footballer Cristiano Ronaldo and Lionel Messi, both of whom share a respectful relationship, and Brazil's Neymar da Silva Santos Jr. Speaking to beIN Sports, Mbappé disclosed that the single goal that blew him away the most was by Ronaldo. "The goal of Ronaldo against Gigi (Buffon)," he said. "I had the chance to play with Gigi and he talked to me about it and the feeling he had when it happened." The word idol, a crown emoji, and a goat emoji feature in the caption of a post by Mbappé on Instagram, accompanied by a picture of himself and Ronaldo.
Now that he's established himself as a force in the world of soccer, he is in the same space as his role models. When Lionel Messi joined Paris Saint-Germain in 2021, he became Mbappé's teammate. On working alongside Messi, Mbappé told BT Sport, "It's easy to play with Lionel Messi." The pair's face off at the World Cup landed Messi his first trophy, which led him to break an Instagram record.
Only a few years prior to Messi's Paris Saint-Germain debut, Mbappé and Neymar Jr. had joined the team. Asked whether he still had an admiration for the trio, Mbappé shared with beIN Sports, "For sure. When you have the chance to play at the top, you need to take inspiration from the best."
Inside his bromance with teammate Neymar
Prior to being signed by Paris Saint-Germain, Neymar Jr. was already onto Kylian Mbappé. He had a hunch that working with him would be terrific. "I remember Kylian's matches," he recollected in an interview with beIN Sports. "You could see the quality he had in that last season with Monaco."
Just like working with Lionel Messi is a walk in the park, Mbappé maintains that being on the same team with Neymar Jr. is a breeze. "We have a natural feeling together," he told beIN Sports. The chemistry on the pitch extends itself to the locker room, where Mbappé and Neymar Jr. are pranking masters. In a since-expired Instagram story (via Daily Mail), Neymar Jr. sneaked up on Mbappé and splashed water on his face.
Pranking seems to be a big part of Paris Saint-Germain culture, given the amusing Christmas presents a handful of players, including Mbappé and Neymar Jr., received in December 2020. The pair thought they'd been gifted a new car and guitar, only to end up with a toy Mbappé could barely fit in, and a chocolate instrument.
He didn't spend his money for three years
According to Forbes, Kylian Mbappé is the world's most bankable soccer player in 2022. The publication projected that the Paris Saint-Germain forward would make an annual $128 million in gross sales, rendering him the youngest player to do so. Mbappé's soaring income is in part due to his parents' meticulous management style, conducted with the aid of a legal firm.
Despite being one of the highest-paid athletes in the world, Mbappé spent a good chunk of his early years as a paid professional living frugally. "For three years we did not touch the money. We had the syndrome of the poor," his mother Fayza Lamari said in an interview with Le Parisien. Now that he is a first-class earner, Mbappé's penny-pinching habits haven't wavered. "His relationship to money is special. For example, he never has a credit card or money on him," Lamari told Le Parisien.
Mbappé is likely to spend on a good pair of sneakers if his shopping experience with Complex is taken into account. His style is, to a degree, influenced by the Parisian suburb he hails from. "Where I come from, we often say that the suburbs have an influence on Paris, and Paris influences the world," Mbappé revealed in his chat.
He speaks three languages
When Lionel Messi made a move to Paris Saint-Germain, he thought he'd be starting all over. The transition from Barcelona FC to a French team was surprisingly smooth, thanks to his Spanish-speaking teammates like Kylian Mbappé. "It was very easy to settle, especially because there are many players who speak Spanish," Messi said in an interview with France Football (via beIN Sports). Of Mbappé's Spanish, Messi thought he was fluent. "With a player like [Mbappe], it's easy to get along. Also, Kylian speaks perfect Spanish, so we have good exchanges off the pitch as well," he said.
Mbappé's knowledge of the language was sharpened during his time in Monaco. A video of Mbappé and singer J Balvin speaking Spanish did rounds on the internet for a while, confirming Messi's revelation.
As a primary French speaker with roots in Cameroon, Mbappé's English is also way above average. He's conducted interviews in the three languages, wowing fans with his versatility.
What's the one routine Kylian Mbappé can't do without?
When he is not displaying his prowess In the field, Kylian Mbappé has a ritual he abides by, as he disclosed in The Wall Street Journal. "I cannot take my shower without music," he admitted. "I cannot. If not, I stay in my bed."
Mbappé also gave away that he is most likely to have a French singer named Chocolat on his playlist. Music seems to have a huge impact on the soccer player's life. If he were to have a meal with anyone, dead or alive, "We Are the World" singer Michael Jackson comes to mind.
Mbappé is not all about work, according to his conversation with ESPN. A night out goes a long way. "Sometimes I go to pop clubs and sometimes I go to electronic ones, depending on where I am at the time," he informed the media outlet. Still musically speaking, as far as the Drake-Kanye debate goes, Mbappé is with the Champagne Papi. "Obviously Drake…I listen to more Drake," he shared.
Is he headed to Real Madrid?
In his comic book, "Je m'appelle Kylian," Kylian Mbappé describes a visit to the Santiago Bernabéu Stadium as his happiest day. Mbappé, who has posters of Cristiano Ronaldo in his room, is hoping to meet the then-Real Madrid soccer star. The pair cross paths and take a picture, photographed by Zinedine Zidane. "The best of my life!" declared Mbappé.
The dream — playing for the La Liga team — turned out to be mutual, but Real Madrid's attempts at signing a now-high profile Mbappé have often hit a wall. According to Fayza Lamari who was part of 2021 negotiations with Paris Saint-Germain, Mbappé's back and forth with the club was going the right way. "We are currently discussing with PSG and things are going well," she said in an interview with Le Parisien. In May 2022, it was announced that Mbappé would be extending his Paris Saint-Germain contract until 2025.
However, Real Madrid wouldn't give up on the pursuit of the iconic player. At the time of this writing, the soccer club is eyeing the skilled talent for the umpteenth time. In a conversation with The New York Times, Mbappé revealed that he's likely stuck with Paris Saint-Germain at President Emmanuel Macron's request. "I never imagined I'm gonna talk with the president about my future," he told the publication. "He told me: 'I want you to stay. I don't want you to leave now. You are so important for the country.'" His future with Real Madrid remains in question.