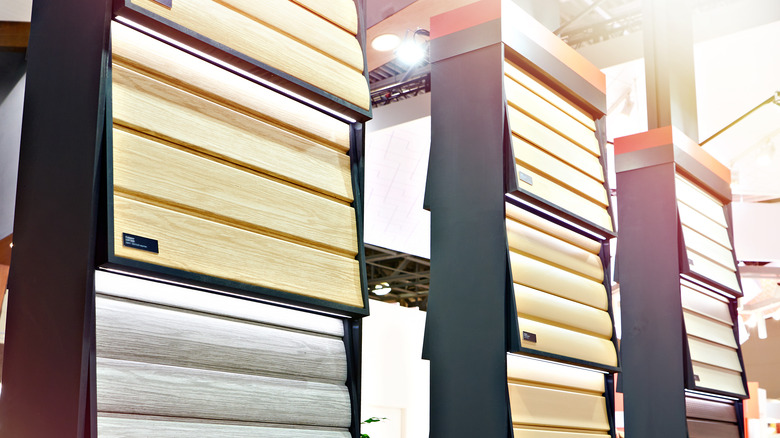 The siding on a house can be expected to last up to twenty and forty years, and eventually, it does need to be replaced (via A1 Everlast). When you reach the point where you must replace your home siding, you should take careful consideration before settling on any installation. The siding you choose impacts your house's structural integrity and physical appearance. The material and its design should protect your home from climate changes, weather, moisture, pests, and other dynamic factors (via Midwest Roofing, Siding, & Windows Inc.). You also need to consider the aesthetic impacts of your decision, for the style of your exterior walls sets the tone for your property. Dark exteriors may seem dramatic and posh, while bright whites and pastels can seem cheerful and welcoming. The color and design you choose should also complement other features of your home, such as the roofing, doors, windows, and surrounding landscape.
Getting new siding is an expensive investment, but it's imperative you rely on professionals to get the job done. This is the only way to ensure every part of the process is done correctly, including the materials, colors, insulation, waterproofing, hardware, and overall installment. It's crucial that the finished work boosts your curb appeal, giving your home lasting value long after the renovation is finished. Being confident in this house project requires that you have some knowledge regarding the materials, process, and overall implementation of this home redesign. Ensure that you're happy with your finished siding by learning more about how to avoid common mistakes.
Choosing inadequate materials to save money
It may be difficult to resist discounted material, but when you're investing in your home siding, you shouldn't be cutting corners. It's highly recommended that you choose high-quality materials since they save you money in the long run. Better materials better protect your home, last longer, and are more reliable over the years, making them a worthwhile choice.
Many professional contractors recommend LP SmartSide, Hardie Board, and Everlast Composite, which are very durable materials. However, these three types also run a very high price (via First American Roofing). LP SmartSide is engineered hardwood and has a fifty-year warranty that proves its long-lasting qualities. Hardie Board is made of cement, and Everlast Composite is constructed from crushed rock, polymers, and resins. Due to their composition and fine-tuned production process, these three options are recommended if you have the budget for them.
Even if you have financial limitations, try to avoid buying the cheapest option on the market. Cheaper materials are likely not skillfully constructed and won't hold up long-term against weather and natural wear and tear. This is especially important to remember when browsing vinyl siding options. Vinyl can be very durable and affordable, but you need to do your research to find a heavy-duty premium brand. Cheaper alternatives to premium vinyl fade faster, provide poor insulation, and can even promote the spread of mold and mildew in your home (via Ram Exteriors).
Not considering the local climate
You should also consider your local climate when settling on the type of material for your siding. Certain materials are better for coastal environments, while others are more fitting for drier areas. If you live in a humid, rainy area, such as the Southeast or Northwest United States, you should avoid metal and wood materials. Wood shingles are susceptible to rot from mold and mildew, while metal is vulnerable to rust and corrosion (via First American Roofing). Instead, you should lean towards manufactured materials, such as premium vinyl, engineered wood, fiber cement, or other durable blends for your siding. The materials used in these exterior wall materials are durable like their natural counterparts but are built with additional protection and sealants against moisture and corrosion (via Kebony).
Areas with extremely hot or cold seasons should also consider certain types of siding. Fiber cement is ideal for hot locations because it doesn't shrink or expand due to temperature and can easily be installed over insulation (via Home Wizards Remodeling). Fiber cement is also good for extremely cold climates for the same reason. You should keep in mind that you can make any material more resistant to fluctuating temperatures, wind, and rain with sealing and maintenance.
Using a high-maintenance material when you can't keep up with the upkeep
If it isn't already clear how important it is that you choose the right material, here is another consideration to make before you settle on a decision. Different types of siding require varying methods for upkeep. Some types are more expensive, more work, or more consistent. You should consider your time constraints, budget, and personal history of keeping up with home maintenance.
According to Semper Fi Exteriors, natural wood siding needs the most maintenance out of all exterior wall materials. It must be re-stained as the color fades, and you must be alert of any signs of damage from rot, mold, and pests. Most metal sidings only require you to power wash your home twice annually since they are not as naturally vulnerable as wood slats. Vinyl might require pressure washing slightly more often than metal siding options but is still less work to upkeep than natural wood. No matter what type of exterior you proceed with, you should routinely evaluate your walls for signs of natural wear and damage. Over time, all siding types are vulnerable to problems, no matter how hardy and low-maintenance the manufacturer claims the material to be.
Forgetting to add insulation
Some siding materials provide better insulation than others, and most contractors recommend adding insulation to increase your home's energy efficiency. There are several kinds of insulation that you can install beneath siding, including foil-backed, fiberglass, and board insulation (New Home Source). These types of insulation are installed under the siding, meaning the best time for this installation is before exterior walls are put in place. Fiberglass is more common in new home builds because it is easier to install before both interior and exterior walls are built. You can also opt for spray foam insulation. The more you have sprayed between your siding and interior walls, the more insulative its properties will be. This type can be installed through a sprayer or injection foam (via Retrofoam).
Depending on your location, current home properties, and the type of siding you want to install, a professional contractor may have personalized recommendations as to what type of insulation you should use. Many contractors also recommend using flashing tape to help seal weak spots around your windows, doors, and other openings. This is an affordable method for plugging spots where moisture and cold or hot air could enter your house in between gaps in walls and insulation (via Echo Tape).
Not adding waterproof features
There are specific waterproofing methods that should be kept in mind when you order a siding installation. Although exterior walls should generally keep your home safe from rain and moisture, you can use additional features to improve the barrier. Gambrick explains how contractors can use house wrap, sealant tape, caulk, and flashing in siding to better protect against rain and humidity. Sealant tape and caulk are commonly installed to block gaps in window sills and door frames, barricading seams where moisture is most likely to seep inside. House wrap and flashing provide more all-encompassing protection, as these installations are added as additional panels to your walls. Layering these panels in between siding improves water resistance and makes it harder for moisture to penetrate.
You should also consider alternative forms of waterproofing that are commonly found in houses. A gutter system is very effective in redirecting rainwater from your roof and siding, as long as you keep it clean and clear of debris. Puro Clean advises keeping trees trimmed away from your roof, so their branches don't rub against your shingles and trap moisture. Gardens should also never be placed directly next to your home siding because your regular watering could cause excess moisture build-up on your house exterior.
Keep in mind that one of the best waterproofing methods is simply being diligent in your home maintenance. Keep an eye on your house's exterior and interior for cracks in its structural assets. When there is noticeable wear and tear on your walls, you should have the panels replaced or repaired as soon as possible to prevent further damage. Remember that many waterproofing methods can be added over time. You may come to realize you need to make new or higher-quality investments depending on how your house withstands the outdoor elements.
Utilizing incorrect hardware
It's imperative that contractors use the correct hardware when fastening siding material to your interior walls. They should only use nails that are resistant to rust and corrosion since these metal fastenings will likely be exposed to moisture during their time outdoors. Certainteed recommends aluminum, stainless, or galvanized nails for exterior wall building and replacements.
Inspectapedia, explains that there's a very specific way of properly installing the nails at the right depth. There should be a little wiggle room between the nailheads and the flexible siding material so it can move slightly. Not hammering the nails correctly can cause buckling, with is a fatal mistake with certain types of siding. When siding is placed incorrectly, it can warp and create bulges that cannot be repaired. Instead, you'll have to pay for completely new pieces of siding, which means you'll have to dish out money for a second installation (via DryHome).
Not following your homeowner's association rules
If you live in a community with a homeowner's association (HOA), you should be aware of the strict regulations that often follow. According to V. Nanfito, many of these organizations require that homeowners have house projects approved by the board before being completed. Getting siding redone is a massive renovation project, and your HOA likely needs to be informed of your plans. HomeLight warns that many boards dictate exterior appearances, such as siding colors and trims. You don't want to settle on a material or color that isn't approved by your board because you will likely delay your remodeling project.
Hiring an industry professional is already the advised course of action since they have the education, experience, and insurance that ensures higher quality work, but you should know that many HOAs require you to use a certified contractor. They also stipulate that homeowners follow local laws and regulations regarding renovation work. These requirements may seem arbitrary, but they can work to your benefit. They'll ensure the job is done professionally and to localized state standards. Many boards also hand out fines to homeowners who disregard their rules and start construction without following neighborhood guidelines, meaning you'll have to pay for your project and cover an additional fee.
Picking non-complementary colors
Many home siding materials have a wide array of colors to choose from. In reality, you can pick any color you want, but it's recommended that you decide on a shade that fits your house and property. The exterior appearance greatly impacts your property's value and your home's curb appeal, and you want to make a decision that is considered aesthetically pleasing to most people.
Sunshine Contracting recommends that homeowners start by figuring out what their house's style is since certain colors are better suited for specific designs. As a general rule, craftsman, farmhouse, and contemporary homes often look better with neutral or earth-toned colors. Colonial homes usually have white or off-white siding but can also look stunning in the reds or blues common to their historical era. Victorian homes are unique and can pass with bold colors like baby blue or bubble gum pink.
You should also consider the accent colors on your house — the colors used for windows, doors, columns, and fences. You should choose a complementary shade for your siding that contrasts well or matches with your accent colors to create a tasteful color combination. Many people stick to the original color when redoing their siding, but this is also a great opportunity to try something new. Keep in mind that many contractors provide visualization tools that allow you to test different colors on an image of your current home. This can save you the pain of choosing a hue that ends up clashing and not meeting your expectations.
Picking an unsuitable pattern
The siding pattern you choose is just as impactful as the color. Peak Construction Roofing describes several common designs used in siding, including horizontal, vertical, shake, and geometric patterns. These forms are primarily aesthetic choices but also have functional consequences.
All About Siding also refers to horizontal siding as clapboard or traditional lap, and they claim this style has been around for hundreds of years. It comes in varying textures, lengths, widths, and thicknesses but is the standard appearance that most people imagine when they think of siding. Vertical siding is less common and more expensive to install but has an advantage over horizontal siding. Due to the boards being laid vertically instead of horizontally, rain is less likely to get trapped in the crevices, leading to less potential for moisture damage over time (via Twin Cities Siding Professionals). Shake patterns overlap and have rounded ends, and are great for adding texture to a home's exterior design.
With a professional's help, you can mix and match designs to create a more textured appearance. Many homeowners combine shake and geometric designs with horizontal siding to give their homes a unique touch. Going with a combination look helps you attain a specific style while also serving your home's practical needs.
Not hiring a certified professional to do the job
Even if you make all the right design choices, a siding installation can still go wrong if you don't hire the right contractor to get the job done. John McCarter Construction highly recommends finding a professional with insurance and licensing to legitimize their work. Contractors should have coverage for liability concerns, property damage, and worker well-being, and they should have the proper licensing for contractors in your state. In addition to your contractor's proven expertise, you should also vet their online reviews. Testimonials from former customers provide great insight into a company's customer service history. You can see how they treat their clients, how fast they complete jobs, and whether they meet their acclaimed quality standards.
All legitimate contractors will draw up a contract for you to sign and agree to. According to a template by Guardian Home Improvements, this contract should include the scope of the work area, installation type, weatherproofing details, color specifications, and warranty details. There are several crucial aspects that you should explicitly watch for in your contract. There should be a guaranteed statement that the contractor will acquire all necessary permits, licenses, and approvals before starting the job (via House Logic). They should also include estimated start and end dates, projected payments, and a clause for cancellations. Certain U.S. states have legal requirements for renovation contracts, and you should check your local statutes to ensure your contractor is following all concordant laws.
Overpaying for a job
Exterior remodeling jobs often venture into the tens of thousands of dollars range and it can be easy to be taken advantage of by contractors with dishonest practices. The first tip for avoiding this situation is to do your research to find a reputable contractor. John McCarter Construction states that honorable siding professionals provide written estimates of projected renovation costs. However, you shouldn't commit to a contractor after receiving only one estimate. You should follow the same rule of three that many people follow when approaching other large investments — get a siding estimate from at least three companies to compare their rates. Your house's size, location, exterior wall material, and any requested additional features can greatly alter the total price of the job, but most siding jobs average between $5,000 and $25,000 (via Hansons).
The final note to keep in mind is that most legitimate contractors do not request full payment upfront. They should request an initial downpayment that is only a fraction of the full price. Depending on how they run their business, a contractor may request the rest of their dues after the job is finished or in incremented payments throughout the process.