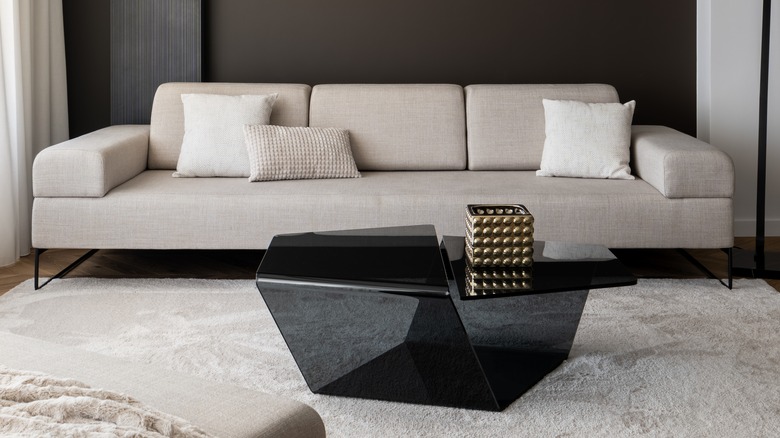 When you walk inside a Pottery Barn store, you can tell right away that it's a high-end furniture and home décor retailer. Shoppers often use adjectives like "farmhouse" and "cozy" to describe the store's offerings, which sounds pretty appealing. A good number of the products are made from natural woods and fibers, and many of the colors used are neutral, which can lend warmth and comfort to your home. Besides furniture, Pottery Barn has bedding, curtains, rugs, and practically anything else you can think of related to home decor. Some of the store's customers are looking to upgrade their furnishings, others want all new things for a recent home purchase, and many are just browsing (and wishing they could afford to buy something).
Pottery Barn is part of Williams-Sonoma, Inc., which also owns West Elm, Rejuvenation, and Mark & Graham. According to Dun & Bradstreet, Pottery Barn has about 200 stores, plus Pottery Barn Kids and PB Teen outlets. Many of Pottery Barn's items can certainly be seen as expensive. Some can even be described as overpriced, but there are bargains to be found. So even if you aren't able to shell out big bucks at PB, don't feel too bad, since there are ways to avoid paying top dollar. These insider shopping hacks can help you make the best of your Pottery Barn shopping experience.
Create an online registry for 10% off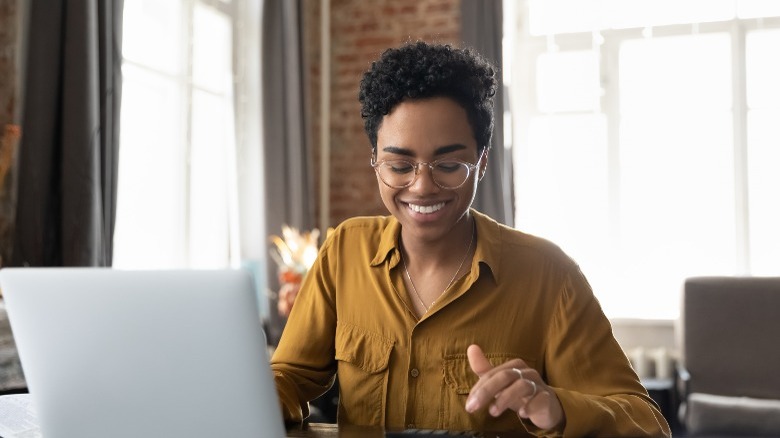 Whoever said that wedding registries were only for engaged couples? Okay, they might be, but there's no reason why you can't turn things around and use a wedding registry for your own purposes. For example, use it as a baby registry if you would rather focus on getting furniture for the nursery, or house warming registry if you bought your first abode. You can do this by going to Pottery Barn's online registry. Set up an account by entering your name and password, which will prompt you to choose an event. You'll receive a 10% Newlywed Discount on items purchased up to six months after the date you entered for the wedding. Shipping is also free for registry purchases. The Williams-Sonoma wedding registry has the same 10% discount available.
The Pottery Barn Kids baby registry also has a nice discount. If you sign up for this, you'll get a 20% discount code two months before the due date entered. This is good for up to six months after that as well. You'll need to click "redeem" in your registry when the time is right, and it will then need to be verified. The code is good on regular-priced items, and there are some other exclusions as well.
Shop at the right time of the year
Most people know that it is rewarding to get insider prices when paying less than retail, and it's hard not to agree. You can get a lot of value by waiting until that Pottery Barn item you have your eye on goes on sale, but how do you find out when the price will drop? First Quarter Finance posts that Pottery Barn has sales that revolve around major holidays like Memorial Day and Labor Day. And like other retail outlets, Pottery Barn also participates in Black Friday and Cyber Monday sales. You can also save as much as 70% off retail prices at its end-of-the-season sales, which occur towards the end of August and after the winter holidays.
According to Offers.com, Pottery Barn's end-of-season sales are the best times to save, with prices slashed by as much as 80%. Shoppers can also save up to 60% on Black Friday, Cyber Monday, and President's Day.
Visit a Pottery Barn open box outlet
That Outlet Girl claims that Pottery Barn outlet stores offer up to half off retail prices, but you might already know about these outlets. Here's another secret you may not be aware of: If you don't live near one of these discount warehouses, PB also has an online Open Box outlet. Consumers are free to explore these deals, which feature resale items that can't be restocked for various reasons. These returned items are not offered to shoppers at full price, and some of PB's deepest discounts can be found here. Just be aware that the packaging will not look new, and all the items are final sale — they cannot be returned.
The Open Box webpage's prices will grab your attention, with some being as much as 50% off. This sleeper sofa is a perfect example, reduced from $2,549 to $1,274.99. The Open Box product pages show the guidelines for these deals, so become familiar with them. Basically, the items are repackaged and may have slight imperfections like minor scratches. You might also need to grab a screwdriver or hammer to retighten a few things but remember, you'll be saving a lot of money.
Use Pottery Barn credit card rewards
The new Pottery Barn Key Rewards Visa credit card is worth looking into and can be used at the store's sister brands. There's no annual fee, and you'll get 10% in rewards for the first 30 days and 5% after that. Here's an example: During the introductory period, you could spend $1,000 and receive $100 in rewards to use at any one of the brand's stores. Afterward, you'd get $50 in rewards for spending that same amount.
Other home decor stores offer similar credit cards that also operate on the buy now, save more later theory. The Crate & Barrel version gives 10% back in reward dollars to be used on subsequent purchases. The second choice is a Crate & Barrel Mastercard, which offers 10% rewards plus 2% back at grocery stores and 1% back for other purchases.
Pottery Barn's Key Rewards Visa card has the advantage of 4% rewards for groceries and dining (excluding fast food restaurants), but the 10% is only good for 30 days. Keep in mind that you'll only earn the extra rewards at stores that accept your credit card brand (Visa or Mastercard, in these cases). And if you are approved for a PB Key Rewards Visa, you'll also get a $25 store credit on your birthday. If your application for this Visa gets declined, you could get approved for a Pottery Barn Key Rewards Card instead. This one also has the new cardholder bonus, no annual fee, and in-store rewards, but you won't be able to accrue rewards anywhere else.
Investigate free shipping options
Pottery Barn's shipping fees get added onto the deliveries, and the costs can be considerable on more expensive items and next-day deliveries. It normally takes up to five days for regular shipping, and you'll pay an extra $26 for the next-day service. Sometimes you have no choice (like when you forget mom's birthday, shame on you), but why pay shipping fees when you don't have to? You might have to substitute an item, but as long as it's acceptable, opt for the free ride.
The fastest way to find these deals at Pottery Barn is to click on the website's free shipping category in the Sale section. The page gets populated with different categories to explore, and you can filter your choices by price. Look for discounted items to save even more. And if you can't find what you want, the next option is to search for free shipping codes. Offers.com and similar sites post these sometimes. There could also be a free-shopping offer if you sign up for texts or emails. And if you get approved for the Pottery Barn's Key Rewards Visa, you'll get free standard shipping at Williams-Sonoma.
You can find bargains at PB Apartment
According to Club Furniture, apartments with limited floor space can require smaller-sized pieces designed to serve more than one purpose. Examples include sofa beds, bookshelves with drawers, and benches with hidden storage space. You'll want to measure your space first to see what will fit, keeping in mind that you'll need enough room to move about comfortably.
Luckily, Pottery Barn's apartment furniture line is made by an in-house design team and designed to fit into smaller spaces. Since they're more compact, the collections are often more affordable than the standard PB lines. This doesn't mean that people living in larger spaces are excluded from shopping here and saving money, though. You can order this PB Apartment Collection 4-drawer Pescadero dresser for $1,099, and its dimensions are 34 inches by 18 inches by 34.25 inches. Compare this to the Sausalito 4-drawer dresser shown in PB's regular collection. It's priced at $1,599 and is larger, measuring 39 inches by 20 inches by 36 inches.
You can use West Elm and Williams-Sonoma gift cards here
This deal goes both ways: Pottery Barn gift cards can be used at the six sister brand stores, and you can redeem cards for those other stores at Pottery Barn. How great is that? If you give a card to someone who prefers one of the other stores, they have the flexibility to shop elsewhere. Of course, the same holds true for you! So instead of letting that Williams-Sonoma gift card gather dust in a drawer, take it over to Pottery Barn and snag some pillows, a sustainable rug, or even some wall art. Pottery Barn gift cards can be purchased in-store, mailed out in pretty gift envelopes, and emailed. The store lets you add custom messages, too. If you have a PB gift card, you can also check your online balance before shopping.
CashStar partnered with Pottery Barn to offer the cards, which are available in denominations from $25 to $2,000. There are no expiration dates on the cards and no fees for buying them. And if you spend $5,000 or more through the corporate discount program, you may be entitled to additional discounts. You'll need to email them to find out the specifics, though.
You can get $15 off Sherwin-Williams paint
Pottery Barn has also partnered with Sherwin-Williams to create 21 neutral, earthy, and bold paint colors that go specifically with PB furniture and decor. The shades are inspired by natural fall and winter tones, which meld with its rustic, minimalist aesthetic. You can browse through the virtual Pottery Barn paint swatches on this page. There's also a $15 off a $75 purchase coupon, which you can click to have emailed, texted, or printed. So rather than buying Sherwin-Williams paint at full price at a home improvement store, save yourself some money by shopping this collection instead. The fine print on the coupon shows that you can apply other discounts before getting the deal, but you cannot use more than one dollars-off coupon at a time.
Sherwin-Williams.com also has swatches available, and you can order up to 10 and have them shipped to your house for free. There are additional paint colors for Pottery Barn Teen and Pottery Barn Kids, too. Choosing a paint color is a big decision, after all, so you'll want many options.
You get 15% off when you move
Pottery Barn's New Mover Program offers a 15% off coupon to anyone who changes their address for Pottery Barn catalog mailings, and the form can be filled out online in a few minutes. This will help you spruce up your new home at a discount, incentivizing you to fill those new gaps in the floor plan. Just enter your old and new addresses, and provide your moving date. And if you're not moving, no one will be the wiser.
If you don't receive your coupon within a reasonable amount of time, you can call Pottery Barn customer service at 1-866-395-8597. While waiting for your catalog to arrive in the mail, you can get a good idea of what it looks like by browsing the site's New Arrivals page. This will show the latest offerings. The next secret on this list can also be a big help if you're planning to move soon.
Pottery Barn has a free design service
Don't be embarrassed if your interior decorating skills leave much to be desired, because Pottery Barn has a free design service that can be used to your benefit. You can book an appointment online and bring along any fabric swatches or other ideas for inspiration. According to the Pottery Barn blog, you can even use the service for help with smaller projects like holiday decorating — it doesn't have to be a whole room or house. This service also offers help with choosing items for registries and party planning. You should know that the people you will be working with aren't necessarily certified interior designers; they are store associates who have received specialized training. Still, the service is free, and you can get some great tips without needing to buy a new sofa.
The PB Design Crew staff consists of designers and other experts from across the seven brands. You can start small with an online chat or book an online, in-store, or at-home appointment. There's also a virtual room planner that you can do on your own. You can enter the dimensions of a room and then drop your chosen Pottery Barn items in there to see how they will look.
Check the outlet store floor models
That Outlet Girl posts that Pottery Barn stores mark down floor models even further, but you need to be extra careful. Some of these discounted pieces might have damage that isn't immediately visible. To locate floor models, search for tags that read "special savings" or something similar, with prices that end in 97 or 99 cents. See if there is a model number, look it up on the PB website, and read the description. Then, go over the item with a fine-toothed comb.
According to McElheran's, floor models get transferred and put on sale for various reasons, like product discontinuations and the need to move pieces out of showrooms to make room for new ones. This doesn't always mean that the piece has a defect or damage, so you could get an incredible deal. Floor models get handled a lot, so it's a good idea to clean your treasure well once you get it home. You can save upwards of 70% off retail prices on Pottery Barn floor models, and that's nothing to sneeze at.