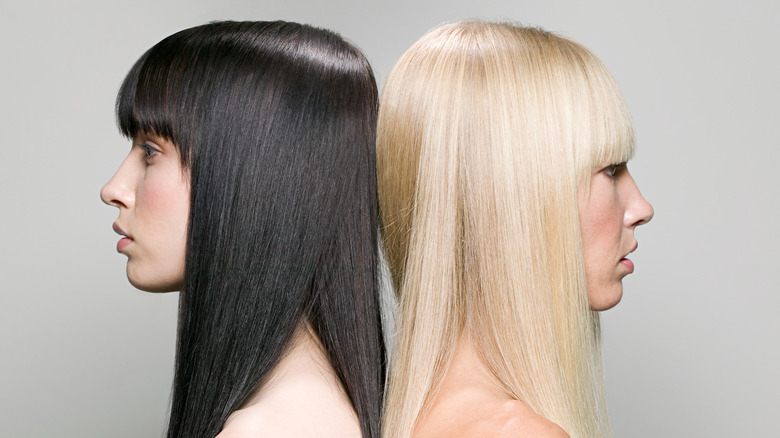 We may receive a commission on purchases made from links.
The upcoming winter may dictate our moods, routines, and the number of hours we sit in front of a SAD lamp. But there's another element of nature that inevitably finds its way into our psyche: the trend cycle. Every click on our online shopping carts, smudge on our smoky liner, and tear in our denim is the insidious (but often, welcome) influence of runways, designers, and the TikTok algorithm.
And it's no different for hair. Hair is an integral part of the runway production, and a lot of those styles and colors predict our next salon appointment. For example, renowned hairstylist Guido Palau explained his work on the Marc Jacobs Spring 2019 show, where he colored the hair of 35 models. "That show is a pure fantasy about colour; antique colours. Peaches, greys, and wrung out blues and greens. … They're more like old lady colours, things, not from a past but, somewhere where they look very modern as well," Palau told Dazed. Soon, pastels became the trending colors for 2020 (via PopSugar).
For the fall and winter of 2022, expert colorists predict that we're gravitating towards darker and deeper tones — a lot of copper, reds, and "mushroom colors" (via The Zoe Report). The good news is a lot of these looks are achievable without the hefty price tag of a salon. Find some of the best box hair dyes below to participate.
How we selected products
We scanned fashion runways, trending TikToks, and the stocked shelves at CVS to curate a comprehensive list of box hair dyes you're going to want to bring home. That means that we've listed colors and looks that you can easily recreate at home — and save a couple hundred dollars from repeated salon appointments. From root touch-ups to wild semi-permanent colors and warm to cool tones, this is a comprehensive list of box dyes for those who like to change their hair like a girl changes clothes. But before you browse through, make sure you check the hair coloring number system. Usually, a box marked with a low number (1-5) contains a darker shade than one marked with a higher number (via StyleCaster).
We've also made sure that every box dye comes recommended by expert colorists or a few thousand customers (or both); all of these box dyes take the top place on Amazon and Sephora review boards. Prioritizing ones with ingredients that condition and add shine to your hair, we've picked box dyes that your hair won't mind a little damage from.
Best overall
Over 12,000 customers on Amazon have given the Garnier Olia Permanent Hair Color 4.3 out of 5 stars. We've hypothesized that its popularity is three-pronged: an intensely moisturizing formula coupled with zero ammonia and a wide shade range. A blend of olive, avocado, and natural flower oils make up 60% of the box dye, according to the brand, which replenish your strands while boosting the appearance of shine and color.
One reviewer on Amazon called it "the best at-home color I've used!" They continued to share their experience after washing off the product: "Immediately noticed my hair felt soft and not at all like it had just been colored – it didn't have that dry, Brillo-pad feel that you get before conditioning." Finally, the results were exactly what they wanted, and they said, "No flat, ugly one-dimensional color here, it's truly beautiful." Many other customers mirrored this review, saying that the box dye was moisturizing, easy to use, and yielded impressive results.
It's no wonder that the color's still popular since winning the Allure Best of Beauty award in 2013. "This is a breakthrough for women who do their own color because this technology is far gentler, reduces fading, and is odorless," cosmetic chemist Jim Hammer told the publication.
Type: Permanent
Ingredients: Ammonia-free, natural flower oils
Best splurge
Yes, a splurge-worthy box dye may feel like an oxymoron, but we believe eSalon can convince you otherwise. The custom hair dye brand has won the Allure "Best of Beauty" award and "Reader's Choice" award six times, attesting to its popularity amongst beauty enthusiasts and editors alike. The brand's tech-driven approach to hair color is its unique selling point; a color mixing machine dubbed Pollychrome finds colors in and out of your imagination to create the perfect, personalized formula for your hair. Expert colorists are also available to guide you through the entire process, to make sure you get the results you were Pinterested in.
Over 96,000 reviewers gave the custom hair color brand 4.2 out of 5 stars. "The coloring process was simple with the custom instructions and everything I needed in one package. The color came out so consistent and radiant! It combined the colors I was looking to combine perfectly. I have been dyeing my hair for two and a half years now, and I have never have had such results with an at-home dye. Absolutely incredible," one reviewer said on the brand's website. Another said, "I love my custom color! It's shiny and just the color I had envisioned …The results are so good, who needs to spend $200 at the salon!!"
Type: Permanent, Demi-permanent available
Ingredients: Ammonia-free options available
Best brunette
As the seasons and leaves change, we follow suit. We're trading in the iced coffee and cold brew hair colors for deeper, warmer, and richer blends. Taking cues from the brown-but-almost-black hair looks from Lily James and Nicola Peltz, the newest hair color that's trending doesn't add cream or sugar to its espresso tones. "This autumn, we'll see super high-shine solid brunettes taking the stage with dark mocha brunette," Lead Educator Shvonne Perkins at Madison Reed told Glamour UK.
John Frieda's Precision Foam Colour, in the shade 3N Brilliant Brunette, might be all the ammunition you need to tap into this trend. But if that's too dark, the brand has many other shades and undertones in the brunette section. According to the 11,955 reviewers that gave it 4.5 out of 5 stars on Amazon, the box dye's foam formula is very easy to use and the color lasts for a while. One reviewer said, "I used to be asked if my hair color was my natural hair color because it's a beautiful chocolate shade that looks natural, but has a beautiful sheen when the sun shines on it. I noticed that my hair sheds less with this product and my hair seems to be healthier and less damaged as well." Another called it: "Best DYI paint."
Type: Permanent
Ingredients: Not ammonia-free
Best black
With Katy Perry still keeping us in her "Teenage Dream" black hair era since the end of 2021, it's no surprise that jet black is another hair trend that's carried over from spring 2022 (via Instagram). "Gingers, coppers, and one-dimensional dark brown and black hair will dominate spring 2022," colorist Brittaney Danyel had said to The Zoe Report earlier this year. For fall, "We're going to see inky black with a shiny warm glaze," colorist Richy Kandasamy confirmed to Vogue. "Natural warmth-infused red undertones will help make the black hair turn into a multi-tonal look."
Whether you want to bring in undertones or go bold with a one-dimensional black, the L'Oreal Paris Superior Preference has a shade for you. The 1 Ultimate Black gives you a jet black reminiscent of "The Incredibles'" Edna Mode while shades like 1BL offer inky, deep blue undertones. Infused with a shine serum that keeps your hair moisturized, the box dye is popular on Amazon for its anti-brassy formula. "I used the ultimate black and I loved the results from day 1. My hair looked soft and real without the plasticky look other brands give," one reviewer said, and added an update: "I dyed my hair in February! It is now May and it is still black!!!"
Type: Permanent
Ingredients: Not ammonia-free
Best blonde
Who could forget Kim Kardashian wearing Marilyn Monroe's dress at the 2022 Met Gala? Critics and fashion conservators were as aghast as Twitter users. But there was a less controversial moment that debuted along with the outfit: Kardashian's platinum blonde hair. Cool-toned colors seem to be complementing the change in the weather, and platinum blonde is a sleek trend that seems to always be spearheaded by Kardashian. "I'm a totally different person … I'm sassier. I'm more confident as a blonde … As soon as I go back to brunette, I'm a boss," the reality TV star had said to Allure.
Of course, a dark-to-blonde transformation would require more than a box dye. But if you're hoping to touch up or add undertones to your already light hair, the Garnier Nutrisse gives you results that are long-lasting and nourishing. The crème based formula has shea, avocado, and olive oils to moisturize your strands and hold onto the color. Over 14,000 ratings have given the box dye 4.5 out of 5, with one reviewer saying, "I love 111 Extra-Light Ash Blonde. Everyone thinks it is my natural color and it is easy to use and the odor is not as bad as some others. Color looks natural and my hair is soft and shiny after coloring. I highly recommend for use if you have light to dark blonde hair."
Type: Permanent
Ingredients: Not ammonia-free
Best red
Reds have been lifted off the runway this fall; Kendall Jenner debuted a coppery red for Prada earlier this year (via Instagram) and it was only the beginning of the color's takeover. All the shades of red, from Megan Fox's shocking dark cherry red to Kaia Gerber's glossy auburn, are now shades you can't go wrong with. Colorist Laura Gibson's prediction borrows a bit from them all: "Mahogany merlot will be a hot trend for this fall … It's perfect for anyone looking to see more tonality and warmth on darker base colors" (via Real Simple).
The Revlon ColorSilk box dye ranges from Burgundy to Vibrant Red, tapping into every kind of merlot, rosé, and orange wine. The ammonia-free color is infused with keratin and amino acids so that your reds aren't going to look like actual, stiff copper. One reviewer calls it "my reliable box color for that warm, coppery shade of red that nobody else has matched." They continue to explain their experience: "No lie, it's bright when freshly colored and in natural light (as shown). But it still looks great, and the long fadeout is perfect and natural looking."
Type: Permanent
Ingredients: Ammonia-free, has keratin
Best colorful
Ever since celebrity hairstylist Chris Appleton posted Jennifer Lopez's transformation with fruity pink hair, the color's risen back into popularity. "Pink to make the boys wink," Appleton captioned his Instagram post, encapsulating the flirty, summery vibes we're all missing right now. "Hot pink will be super trendy since clients are looking to express themselves, and bright pink makes such a statement," hair colorist Kristen Stuke had predicted to InStyle earlier in the year. But Stuke also mentioned, "Bright, bold hues are all the rage for 2022."
To express your longing for anything brighter than a sunset at 5 p.m., Lime Crime is a semi-permanent solution that might last four cycles of seasonal depression. The brand has a few iterations of pink (bubblegum rose to fuchsia) if you're into J-Lo's look but it also has a bold palette of shades for every mood. On Amazon, the box dye was awarded 4.4 out of 5 stars by over 11,000 ratings around the world. One reviewer said that it "is right on par with the best professional dyes out there" and continued, saying, "I truly love this dye and I'm so happy I found it. Besides being a good quality the color is just SO BEAUTIFUL! Strangers cannot help but comment on it every time I go anywhere and I can't blame them. I would too! Highly recommend!"
Type: Semi-permanent
Ingredients: Ammonia-free, vegan
Best demi-permanent
Demi-permanent hair dyes are great for anyone with commitment issues because they last only a few weeks. They're the options that meet you halfway between permanent hair dyes, which open your hair cuticles to deposit color, and semi-permanent hair dyes, which deposit color over strands and don't contain ammonia. "It's safe if you're using semi/demi-permanent color at home because they fade away much more softly than permanent color and are also way less damaging as they usually deposit only and don't alter the natural hair shaft," hair colorist Mahshid Baghaei explained to Byrdie.
One product that's marked Amazon's Choice is the Clairol Natural Instincts, a vegan formula that claims to use 80% naturally derived ingredients for healthy hair. It's made without ammonia or parabens and includes coconut oil to thoroughly condition your strands. One reviewer said that it was "Gentle, easy to use, no chemical smell, no itching or burning scalp and it left my hair feeling extremely conditioned! It came out the exact color on the box. It doesn't get better than this!" They also mentioned that they tend to lose a lot of hair when using box dyes but that "this does not cause hair fall at all, and that is impressive to me because I was actually scared to use it at first. Now it's the only dye I will ever use again."
Price: Get a three-pack of Clairol Natural Instincts for $17.39 on Amazon.
Type: Demi-permanent
Ingredients: Ammonia-free, vegan
Best for highlights
Coloring your hair and giving yourself highlights requires entirely different skill sets; you're going to need precision and a whole lot of foil. You should also make sure you're picking colors that aren't too far from your hair color. Colorist Bridgette Hill advised: "Most at home highlighting kits don't offer lightening agents that have the controlled power to achieve the lighter tones … So I don't recommend going more than two shades lighter than your natural hair color otherwise you could end up with brassy, unflattering orange colored highlights," (via Women's Health).
Reviewers on Amazon are obsessed with the L'Oreal Paris Professional Techniques Frost and Design. It comes equipped with a pull-through cap that has holes in it for you to get the parts of your hair out for highlighting. It also has a toner for after to give you a professional look at home. One reviewer swears that it's better than the salon, "I used to go to the salon and pay $300+ for highlights before a cut … Believe it or not, it looks better then the salon." Another said, "Everyone thought I get my hair done at the salon. I love this product so much that I actually purchased extra because I'm worried if they discontinue it or something. I have never done highlights it looks so good until I bought this product."
Type: Permanent
Ingredients: With ammonia
Best for damaged hair
It's no secret that coloring your hair takes a toll on your hair's health. "The cuticle is the first line of defense in protecting the integral structure of the hair fiber, much like the shingles on the roof of a house protect inside the home. The pigments responsible for natural hair color are below the cuticle, so to get to those natural pigments and deposit new color, the cuticle needs to swell to allow hair color to get in," hair chemist Valerie George told Bustle. Altering the structure of your hair and having hydrogen peroxide strip the moisture is obviously traumatic for your strands.
And while it's impossible to find a hair dye that doesn't damage your hair at all (the science won't allow it), Schwarzkopf's Simply Color box dye might be the next best affordable thing. The permanent formula is made with 0% ammonia and alcohol. It's also infused with nourishing oat milk, soy protein, and argan oil to soothe the scalp and rehydrate your hair. A reviewer with scalp psoriasis attested to it's gentle formula, "This stuff ROCKS. It lasts for me like 2 months, it smells wonderful, and my hair feels healthy after using it. I never have to worry about it aggravating my psoriasis or making my hair fall out. Perfect stuff."
Type: Permanent
Ingredients: Ammonia-free, oat milk, argan oil
Best for hair dye allergies
Most permanent box dyes include ammonia as it's an alkalizer that helps open up your cuticles to allow color in. This can be a damaging experience for your scalp and hair, and many brands have opted to use an alternative chemical — MEA or Monoethanolamine — which isn't necessarily less damaging but may be better in smaller quantities (via National Library of Medicine). PPD is another chemical that is most often the root cause of allergic reactions to hair dye. The oxidation of PPD can leave you with a stinging or burning sensation, along with a host of other symptoms (via Healthline).
Madison Reed's Radiant Hair Color Kit is not only free of PPD and ammonia but also parabens and resorcinol, which are strong irritants. The cream-based formula also includes keratin and argan oil to condition your hair while it undergoes its transformation. It's also super convenient since it comes with everything you need to color your hair, including gloves, a cap, and shampoo and conditioner. The kit's won Allure's Best of Beauty award for a reason. A customer lists a few, "I decided to try Madison Reed and I have to say I am pleasantly surprised at the result. My hair feels healthy and has the shine I've been missing. It smells great!"
Type: Permanent
Ingredients: Ammonia-free, PPD-free, argan oil
Best for root touch-ups
Most of us would prefer to save a trip to the salon for root touch-ups — they seem simple enough until you actually have to do them. But if you choose the right product and follow a few tips, it should be easier. "The No. 1 rule when touching up your own color is put color only where it's needed — on the roots," colorist Jaxcee told the New York Times. "If you keep putting dye where there's already color, your hair will look opaque and less natural…Imagine the guys who use spray-on color in a can," she continued.
To avoid that nightmare, follow Jaxcee's advice but also pick a product that's meant for touching up roots. The Clairol Root Touch-up is a popular option, with almost 13,000 reviewers raving about it on Amazon. It comes with a brush and color-activating cream that makes the process a cakewalk. One reviewer took us through their experience, "It was incredibly easy to use. And I was thrilled to be done in 20 minutes from start to finish. In the end, I could not believe the results. My grey hair is completely covered. Not a faded color, no orange, just a real, solid dark brown!! It blended perfectly with the color of the rest of my hair!"
Type: Permanent
Ingredients: Not ammonia-free