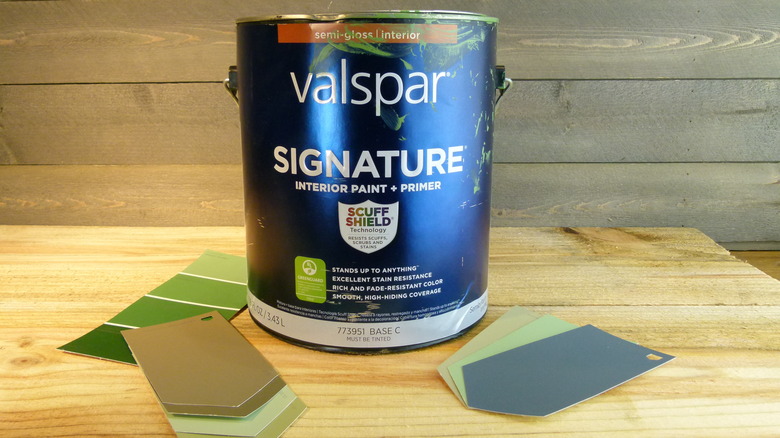 To paraphrase Henry Ford, any Lowe's customer can have paint in any color that he or she wants so long as it is Sherwin-Williams. It's true — all the major varieties of interior wall paint offered at Lowe's are manufactured by this brand. This includes HGTV Home and the entire Lowe's-exclusive Valspar line, as well as Property Advantage Maintenance Paint (a product targeted at property management companies and packaged like a mildly corrosive chemical that you should be aware of, but not necessarily run from). But we went in search of Lowe's most popular interior paint, which was at the other end of the spectrum from landlord options: Valspar Signature Semi-gloss Tintable Latex Interior Paint + Primer at $48.98 per gallon.
Choosing a shade is always a little bewildering, however much online research you do. Lowe's paint colors are grouped into palettes and by hue and brand. The trouble was that some of the names matched Sherwin-Williams' online names, but their numbers didn't match, and others didn't seem to exist at all at Lowe's. It's difficult to understand how a color, which exists independent of a particular line of paint, would need more than one product ID.
After much confusion, we settled for a hue called Dill over such green alternatives as Au Naturale (a misspelling of au naturel implying you are green when nude), Privilege Green (surely an unpopular choice), and both smoked olive and smoky olive.
A quick look at Valspar Signature paint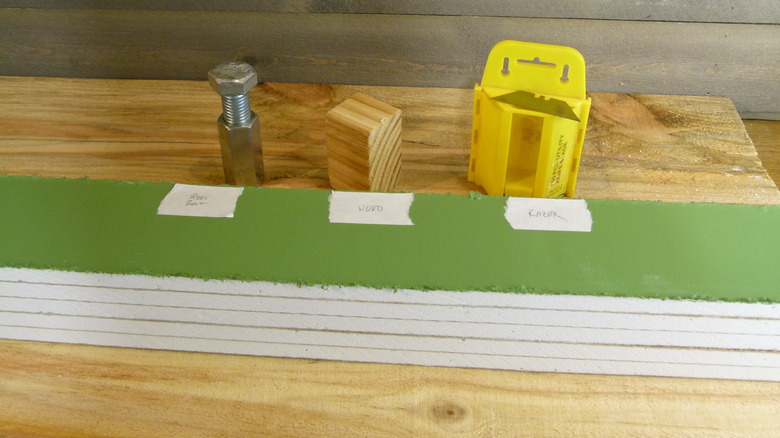 Valspar Signature paint is in the upper-middle range for Lowe's options, whose names seem to comment on your economic class. Signature falls between Ovation and Reserve, while being nowhere near as luxe as Infinity ($65.98/gallon), nor as lamentably ordinary as a $26.98 can of 2000 … a name that might have once suggested an impossibly cool future but is now redolent of decommissioned amusement park rides.
Valspar Signature Semi-gloss Tintable Latex Interior Paint + Primer's label and online promotional blurbs make some claims that are worth investigating. It appears to have something called Scuff Shield Technology, which boasts of resisting "scuffs, scrubs and stains." The paint, or at least its label, believes that it "stands up to anything" and provides "high-hiding coverage," which suggests Patchouli oil but actually refers to paints that are pretty opaque and good at concealing marks on your walls and trim.
Reviewers generally agree with all of this. Valspar gets 4.5 stars on 3,444 reviews at the Lowe's website, with 89% of users recommending the product and only 7% offing one-star reviews. The Valspar site offers similar results, with 4.5 stars on 3,330 ratings. A great majority of purchasers have no complaints about Valspar Signature, but among the one-star reviews one can discern a few trends: They claim the paint offers poor coverage, it is either ridiculously thick or ridiculously thin, and it is prone to bubbles in its surface, peeling, and a rubbery texture.
How we tested the paint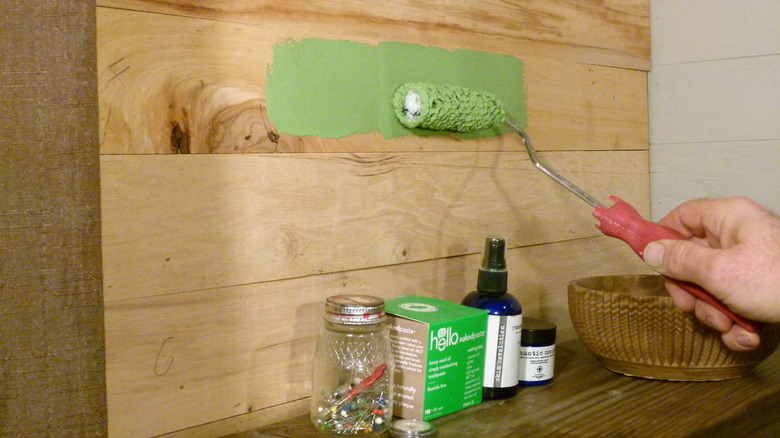 We set out to test three things: what you want to do with paint, the things Valspar Signature claims to do well, and what detractors claim it doesn't do well at all. To this end we devised a few simple tests to evaluate ease of use, coverage, scratch resistance, and resistance to scuffing. We painted a wall of unsealed hickory in a rustic bathroom using a roller, a brush, and an edger to see how each handled the Valspar. Unfinished wood surfaces should generally be primed before painting. But since we were testing a paint/primer combination, and since the bathroom's owner didn't want the wood grain completely obscured with a high-solids primer, we decided to see how well the paint did with the wood's surface.
We also marked stripes on a piece of unprimed drywall with black, blue and red Sharpie Pro markers; 2B pencil graphite; darker colors of Signature and Ovation paint; and unused motor oil. We gave the entire strip a single coat of Valspar Signature to see how well the paint covered the marks, and to see if removing the tape between them caused the paint to peel over any of those areas, as some reviewers complained.
We then painted one 4-foot strip of drywall with one coat and another with two coats and tested the paint's resistance to scratching by a number of materials known to cause scratching easily, and tested scuffing and light abrasion by various materials.
How it exceeded expectations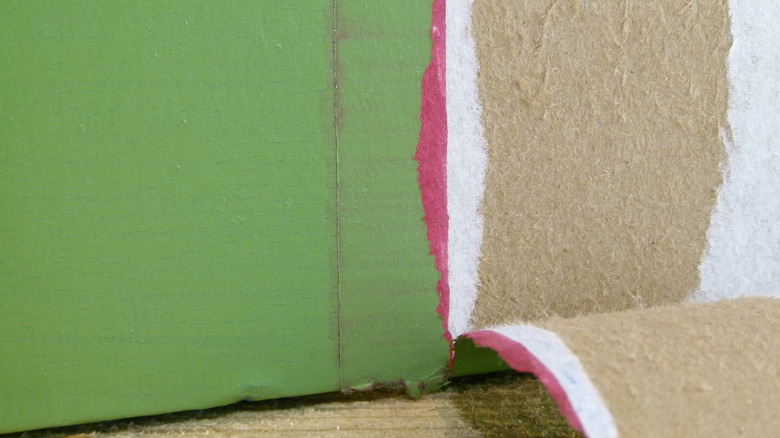 The Valspar Signature performed well in every regard. It was easy to paint with irrespective of the tool used, which suggests that the viscosity was about right. The paint also didn't run much, even when we overloaded the roller. Coverage seemed quite good, too. After drying, the one-coat drywall didn't need a second coat, though Valspar recommends two. The substances (marker, graphite, paint, motor oil) we painted over mostly didn't hinder the paint, though the blue and red Sharpie Pro would have required a second coat to cover completely. Those were also the only two marks that separated from the paint in our tape-peeling test. In every other case, the bond between the drywall's paper layers failed before the bond between the paint and the paper did.
Scratch tests are a bit subjective without standards to apply or comparisons with other products to make, but our impression was that the Valspar Signature did well. We tested scratch-resistance by using increasing amounts of pressure to damage the paint with a center punch, a guitar bridge pin hole reamer, and Gator sandpaper in 60, 100 and 150 grit. The center punch basically caused an indentation rather than a scratch. The reamer, a device meant for removing tougher material than paint, still required a substantial amount of force to scratch the surface. And the sandpaper, predictably, removed a little paint … but only a little. Our impression was that you wouldn't want the job of sanding this stuff off.
How it could be improved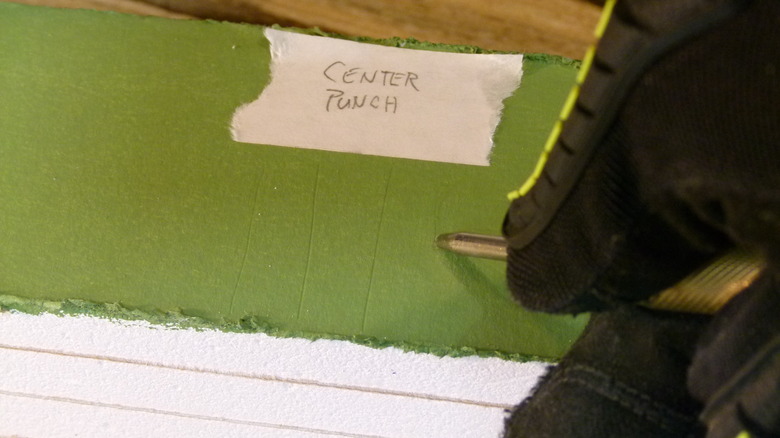 The complaints among Valspar Signature's reviews are too consistent and detailed to be entirely mistaken, but we didn't experience any of the problems. The biggest issue we had with the paint was its name. It's like trying to remember all the words to a pop-klezmer tune you heard a decade ago at a bar mitzvah. But all the claims appear to be true, even the made-up words like "tintable" and "high-hiding." Granted, you expect paint to be tintable, especially one clearly marked "must be tinted."
If you were going to pick a word to be critical of it might be "scuff." We applied various amounts of pressure when attempting to scuff the surface with a rubber strap, a rubber O-ring, a bicycle inner tube, a steel bolt, a block of wood, and a utility knife razor blade. It occurred to us that we weren't quite sure what "scuffing" means in this context. In the automotive industry, scuffing refers to "paint transfer" — marks that sit on top of a car's clear coat, like you might get from minor contact with a neighboring car's door. By that definition, our only scuffing came from the rubbery items we used, and that cleaned away fairly easily.
Our theory about the consistent criticisms in some reviews is that some aspect of manufacture or shelf life must occasionally cause the paint to become either too thick or too thin along the way, but it's not something we experienced.
So, what to paint with next time?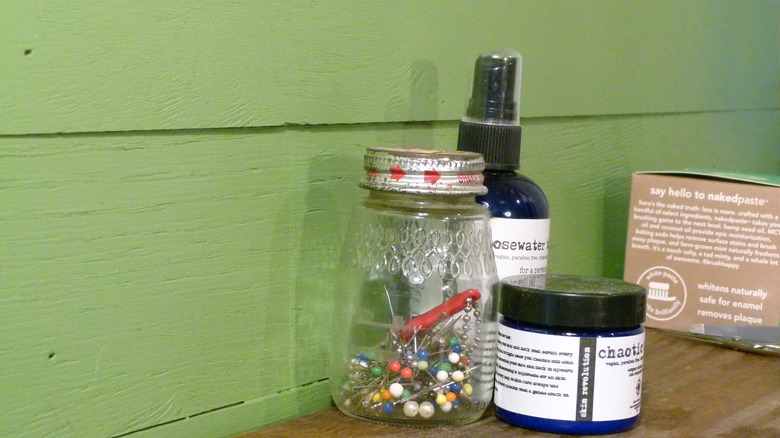 We were impressed with Valspar Signature Semi-gloss Tintable Latex Interior Paint + Primer (Oy Vey), and would buy it again. "Stands up to Anything" is an oddly-capitalized exaggeration, but it did very well. After all, standing up to the bad guys, especially Sharpie Pro, doesn't mean you're going to win.
If you don't buy paint often, a $50 gallon can seem extreme — and it would be if it didn't work so well. We were mostly concerned about coverage, given some of the reviewer complaints and our skepticism about the "paint + primer" concept. Testing by giving unfinished hickory a single coat was about the worst we could throw at it. (Well, that and the motor oil … but it appears that the drywall soaked up the oil and the paint had no trouble covering it.)
Unfortunately, if you need something to cover that patchouli smell, you'll have to look elsewhere. Finally, Valspar Signature, which is GREENGUARD Gold Certified, indicates it has some of the lowest VOC emissions in the industry — another reason to go with Valspar Signature Semi-gloss Turntable Whatever It Was.