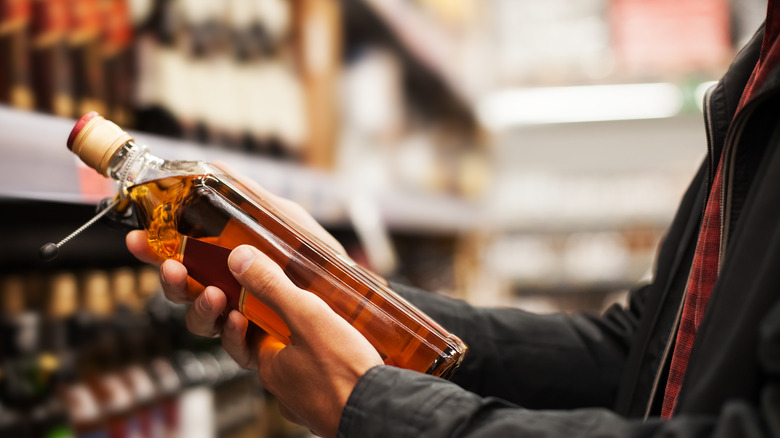 Costco is well known for its wide range of goods and competitive pricing and Costco liquor is no exception. In fact, the chain of discount stores shines when it comes to its diverse selection of spirits, wine, and beer. Not only does the retailer stock some of the world's leading brands of booze, but it also has its own Kirkland Signature alcohol label named after the location of its headquarters. As such it's not uncommon to find Costco's popular home-branded tipples right alongside premium brands such as Dom Pérignon and The Macallan.
With so much on offer — not to mention the great deals — Costco's liquor sales have doubled in the last decade, with the retailer reporting alcohol sales of $5 billion in 2020. One of the world's top purveyors of spirits, wines, and beer, Costco has also been known to stock limited edition bottles of the caliber that would thrill even the most ardent collectors. So what's the deal with booze shopping at Costco and more importantly, how do you go about getting the most bang for your buck on alcohol? Read on to find out.
In some states, you don't need a membership to buy liquor at Costco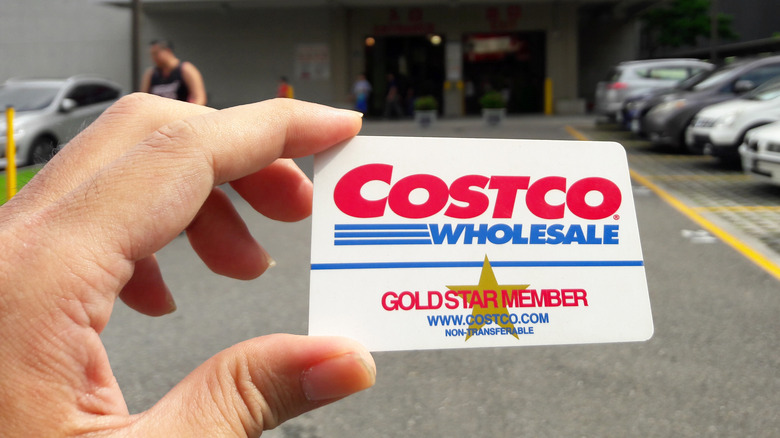 While a Costco membership can definitely save you cash if you're buying products in bulk or regularly stock up on groceries for the entire family, it may not be worth the money for occasional shoppers. Particularly, if you're only looking for a place to score the odd bottle of wine or spirits. The great news is that you may not actually need a Costco membership to fill your bags with discounted booze. However, this depends on the state you live in, or rather the state you shop in.
Different states have different laws regarding whether an establishment that sells alcohol has to make it available to the general public. Currently, this is the case for 14 states but since regulations change all the time, it's best to call your local Costco to get the lowdown on the current situation.
Those living in one of the states where membership is a prerequisite to buying Costco liquor need not despair because there is a way around this dilemma. And it is all thanks to the Costco cash card — an equivalent of the traditional gift card. The caveat is that a Costco cash card can only be purchased by Costco members so you may need to get a friend involved in the deal or buy one on Amazon or eBay.
Costco's liquor product price tags may tell you more than just what something costs
Costco's strange pricing isn't random. And knowing the chain's secret price codes can help you take advantage of their best liquor deals. Just like in many other stores, many Costco price tags end in $0.99 but there are definite exceptions. And while most have no special meaning, there is one price tag that definitely does — the one ending in $0.97. According to Len Rapoport from ToughNickel, a $0.97 price tag is a sure indication that a bottle has been marked down from its original price.
But that's not all. Another thing to look out for on the price tag of your favorite liquor is an asterisk. To sum a long story short, an asterisk on the right top-hand side of a price sticker signals that a product will not be restocked. Whether this is due to the fact that the bottle has been discontinued or Costco no longer wishes to carry it, an asterisk is often synonymous with massive discounts.
Costco has a lower price mark-up on liquor than most other stores
Costco is well-known for passing savings onto its customers. Unlike most other retailers that mark up their goods by between 25 and a staggering 50%, Costco liquor mark-ups are significantly lower. In fact, the chain store has capped them at 15% for its home Kirkland brand and 14% for all other brands (the average mark-up at the store stands at 11%). Inc. gives an example of Costco's pricing, explaining that if the retailer buys ink cartridges for $50, customers will typically pay around $55.50 for those ink cartridges on store shelves.
So how does Costco make money, you may ask? The chain of discount stores makes its profits by buying products in bulk. We have also learned that it stocks less inventory than other retailers. The bulk of Costco's profit, however, comes from its memberships. For example, in 2018, around 75% of Costco's yields came from its membership fees. Costco offers two types of memberships. A $60 Gold Star Membership that opens access to any Costco store worldwide and a $120 Executive Membership that gives members 2% cashback on certain goods.
Costco alcohol may come from well-known distilleries/wineries
If you've ever tried a Kirkland Signature product and thought it tasted like a name-brand counterpart, that might be because the products were made by the same manufacturer. The same goes for alcohol. Many of Costco's Kirkland Signature labeled bottles of booze actually come from major retailers. For example, Alexander Murray & Co. is a Scotch company based in California that provides private-labeled bottles of scotch to retailers like Trader Joe's and Costco. Since 2007, they've produced the Kirkland Signature blended scotch and it's estimated that Costco sells upwards of 100,000 cases a year of the stuff (via Market Watch Magazine).
Additionally, its tequila is the real deal because it comes from Mexican-based distilleries. As of 2022, Kirkland Signature tequila is produced by Corporate Distillery San Lucia in Tesistán, Mexico. The brand has previously used other distilleries across the country that are certified to make the blue agave-based spirit (via Forbes).
As you might expect, the same goes for wine. One of the more obvious examples is Kirkland Signature Côtes du Rhône Villages, France 2021 bottle, which is produced by French winery Patrick Lesec (via Decanter).
Costco's Kirkland French vodka is made from the same water as Grey Goose
The rumor that Kirkland's French vodka is made by the manufacturers of Grey Goose has been doing the rounds for a while now. This, however, doesn't necessarily make it true. The fact is that the two brands are not made by the same distillery. Nevertheless, there is some basis for this pervasive rumor because both Kirkland French vodka and Grey Goose are made with water obtained from the same source — more specifically, the Gensac Springs in France's Cognac region.
While Grey Goose representatives have confirmed that the brand sources its water from "an exclusive well" in Gensac-la-Pallue, this is probably where the similarities between the two products end. Grey Goose representative told MUNCHIES in an email that "since its creation in 1997, Grey Goose has been produced with the finest French ingredients, using a proprietary recipe and process that was designed by our Cellar Master, Francois Thibault." (via Vice). To some, however, the pedigree doesn't make much difference. Spirits-tasting expert Fred Minnick told Business Insider, "Vodka is purely marketing — there is nothing special about it. It is meant to be thrown in with something else and take on the character of whatever it is mixed with."
Considering that Grey Goose is a premium vodka three times the price of Kirkland French vodka, however, it may come as a surprise that the Costco liquor has apparently scored better in a number of blind taste tests.
Under the Label compared rankings from various industry competitions that put the two vodkas head-to-head and found Grey Goose lacking. According to the company's research, Kirkland came out a clear winner with an aggregate score of 88 compared to Grey Goose's 82 (via Vice). Similarly, a blind taste test of six vodka brands by The Kitchn placed Kirkland French Vodka first and rated Grey Goose sixth. When the two vodka brands were compared, Grey Goose was described as more "silky and weighty" than Kirkland's French Vodka.
Costco is the largest wine retailer in the U.S.
Costco is a successful business in many ways, and arguably one of their biggest wins is in the business of selling wine. Costco is the biggest wine retailer in the U.S. and one of the biggest on the entire globe. To put it into perspective, the company saw $4.4 billion in liquor sales in just 2019. Of that amount, more than $2 billion of that was just in wine alone. The success has only been growing, as the brand saw $5 billion in liquor sales the following year (via Shaken News Daily).
It's even more impressive when you break down Costco's approach to selling wine. They always have a rotating selection of blends that represent the range of the global wine market at any given moment. However, they don't overstock their shelves with all of the discount bottles they can get their hands on. In fact, compared to other liquor retailers, Costco has a significantly smaller selection of wine. The brand will typically sell about 100 bottles at a time, while other massive retailers can offer more than 1,500 blends (via Wine Economist). The exclusivity is part of the fun of hunting down special bottles at the store with a reputation for selling everything at a great value.
Costco offers wine and beer Advent calendars
Nothing quite encapsulates the countdown to Christmas as an Advent calendar. And they come in all shapes and sizes, from traditional chocolate versions to more unusual options such as Lego Advent numbers. Imbued with the festive spirit, Costco is doing its bit to keep the Christmas spirit alive with their hugely popular Wine Advent-ure Calendars and Brewer's Advent Calendars. Both make a great addition to eggnog and Christmas-themed liqueurs.
Costco's Wine Advent-ure Calendars come with 24 375-milliliter bottles of wine from across the globe including Italy, Spain, Bulgaria, and Hungary. "Each year we taste hundreds of wines in order to reach the final assortment. It's our goal to make the pack a fun and interactive discovery of wines from around the world," wine buyer for Costco's Midwest Kirk Johnson told Costco Connection.
Meanwhile, Brewer's Advent Calendars come with 24 cans of German craft beer, ranging from hefeweizen to Bavaria's Märzen. Beer buyer for Costco's San Diego region Tony Rizzo told Costco Connection, "I love that each year there are about six new beers in this pack based on feedback we receive from our members."
Costco stocks some of the most expensive liquor in the world
Since Costco is usually associated with cheap hot dogs, enormous bottles of mayonnaise, and bulk toilet paper, it may come as a surprise that the retailer's Washington, D.C. outlet is offering a $30,000 (or $29,999 to be more exact) bottle of Scotch (via Reddit). Originally priced at $34,999, the 750-milliliter bottle of Balvenie 50 Year Single Malt Scotch could be considered a bargain. The rare gem has been produced under the watchful eye of Malt Master David C. Stewart MBE, who began working for Balvenie in 1962 and is Scotland's longest-serving Malt Master.
This isn't the first time Costco's liquor section has stocked a rare collector's item. In 2011, the chain's Arizona outlet offered a $17,000 bottle of Macallan Lalique 60 Year Old Single Malt Scotch. With only 400 bottles ever made, of which 72 went for sale in the U.S., the rare find was released as a part of Macallan distillery's Lalique Six Pillars Collection. Housed in a striking crystal decanter designed by the French crystal house, the Scotch marked the fourth decanter in the collection.
Depending on where you live, you may not be able to return your Costco liquor purchase
The word on the street is that Costco's customers are often extremely hopeful about the store's return policy. From stories about customers trying to return dead plants to tales of a woman trying to get a refund for a 13-year-old fish, there is plenty of anecdotal evidence to keep this myth alive. While in reality, the chain's return policy may not be quite this liberal, the discount chain does accept most returns. However, Costco liquor can be an exception to this rule.
Regardless of whether your bottle is sealed or not, Costco's liquor return policy is regulated by state law. As such, if you are not satisfied with your boozy purchase, it is best to call your local Costco to find out exactly what their stance is on alcohol returns. In the states where liquor returns are allowed, Costco offers refunds up to 90 days after purchase if the product is unfit for consumption, spoiled or expired, or you have bought it by mistake (via DoNotPay).
Depending on where you live, you may be able to have Costco alcohol delivered
Depending on where you live in the U.S., it's even possible to have Costco bring the booze to your front door. As of 2019, Costco expanded its alcohol delivery to 200 of its club stores in 12 different states. Customers who live in California, Florida, Washington, D.C., Hawaii, Idaho, Illinois, Massachusetts, Minnesota, Nebraska, Ohio, North Carolina, and Missouri can select their bottles of choice through Instacart and get it delivered to their door along with their other groceries (via Supermarket News).
It's important to note that you have to be 21 or older to order Costco's booze delivery, and they do make sure to check. A customer is expected to enter their birthdate upon placing the order and show a valid government ID to the courier to brings their order. Besides that, it's almost too easy to spend a night in making drinks out of your favorite bottles of Kirkland Signature liquor and beyond.
Fans love the Irish cream, añejo tequila, French vodka, and Canadian whisky
Not all bottles of liquor with the Kirkland Signature label are created equal, and dedicated customers have noted a few products that stand above the rest. One clear winner in the bunch is the Kirkland Signature Irish Cream liqueur, which u/phoenixchimera on Reddit says is just as good as Bailey's Irish cream. Other stand-outs include the añejo tequila, which is aged and typically meant for sipping.
The French vodka also seems to be preferred by most Costco customers to the American version. u/LongtimeLHVLurker wrote on Reddit that in a blind taste test of Kirkland Signature French vodka, Kirkland Signature American vodka, SKYY vodka, and Tito's that the French bottle came out on top as it was smooth without too strong of a burn. Another international favorite is the Kirkland Signature Canadian whisky, which is comparable to the ever-popular Crown Royal blend. "The Canadian whiskey is my well/nightcap choice of beverage for normal weeknights," u/HNL2BOS wrote on Reddit.
The silver tequila and spice rum may not be a great buy
Of course, when customers have their absolute favorite Kirkland Signature bottles of alcohol, there also are the bottles that some people warn others to stay far away from. Most of the Kirkland Signature products, especially the alcohol, are great quality for a bargain price. However, the spiced rum and silver tequila are two bottles that don't fit the bill.
Spiced rum is difficult to balance as there are a lot of flavors going on in one bottle. It's also an acquired taste in and of itself, which is amplified more when a bottle doesn't stand-out for its flavors. "The spiced rum was pretty nasty. I gave away a basically full bottle," u/tutukittyf–k wrote on Reddit. As for silver tequila, it's more of a bar staple. When you consider the popularity of the añejo tequila, it's hard to believe that the silver tequila is a least favorite for so many. "The 1.75L of Silver Tequila and the Rum were absolutely horrible. Other than that I really haven't had a bad Costco liquor," u/Nardelan wrote on Reddit.
Some varieties of alcohol you won't find at Costco
It may seem like Costco literally has anything you could ever want or need, alcohol included. As previously mentioned, they keep their selection small and ever-changing. There are a few popular kinds of alcohol the brand doesn't carry at all. For example, while they keep plenty of tequila in stock, they also don't sell its agave-based sibling mezcal. That could change in only just a matter of time as the spirit grows in popularity. Additionally, the availability of certain liquors might depend on the location of the Costco warehouse where you're doing your shopping.
Costco also keeps it pretty plain and doesn't offer many flavored spirits, especially popular flavored vodka or flavored whiskey varieties. It's also unlikely that you'll find any other liqueurs aside from the Irish Cream in stock, meaning you might have to shop at a traditional liquor store to complete your home bar (via Instacart).
The best booze bargains you can find at Costco
Some deals on Costco liquor are better than others, and some dedicated Costco customers are ready to let everyone know the best bargains. One of the most-mentioned deals on Costco booze is the Kirkland bottles of vodka — u/gone-wild-commenter on Reddit even proclaimed it to be the best deal in all of the warehouse store's inventory. "Kirkland vodka in Michigan is like 14 dollars for a handle, but its quality is on par with vodka that's over 20 dollars a fifth," u/robotsonroids also wrote on Reddit.
Another underrated bargain is on hard seltzer. Name-brand seltzers are usually pretty pricey for a 12-pack, but not the Kirkland Signature label. U/no-stores on Reddit pointed out that the 24-pack variety pack of hard seltzers was one sale for $17.99. "To put it in perspective a 12 pack of the name brands like White Claw or Truly goes for about $13.99 so for just several dollars more you get double the amount," they continued.