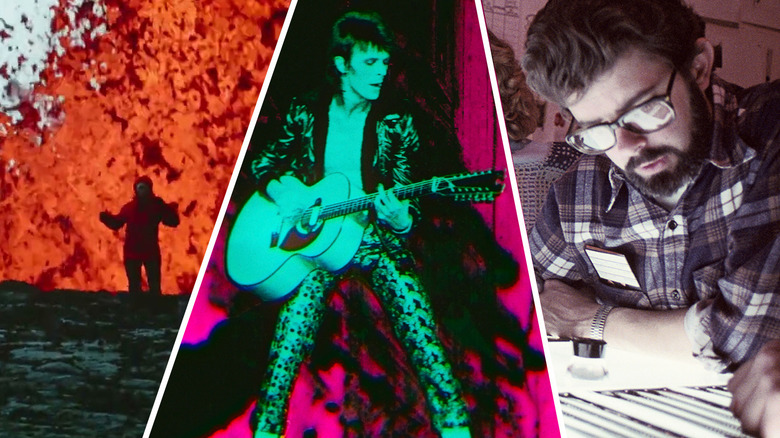 The documentaries released in 2022 are a versatile mix. Sure, the year saw the expected Netflix true-crime series (including the return of the hit "Unsolved Mysteries" reboot) and celebrations of trailblazers ("Say Hey, Willie Mays!"), but we also got the light-hearted, high-spirited stories of unbelievable fraudsters ("The Tinder Swindler"), deeply disturbing stories of human evil ("Our Father"), and scandalous stories of corporate evil ("White Hot: The Rise & Fall of Abercrombie & Fitch").
The genre is in undergoing a bit of a boom. For lovers of non-fiction filmmaking, it feels like we have more options now than ever. Last year's critical hit "Flee" redefined what a documentary film looks like, paving the way for the critically acclaimed Canadian animated documentary, "Eternal Spring (長春)." Apple TV+ released a speculative nature documentary series depicting an imagined cretaceous period with "Prehistoric Planet." Neon's trippy indie hit "Moonage Daydream" celebrates David Bowie in a manner wholly unique and fitting for the experimental pop star. Sure, we got some of the expected, good-old-fashioned documentaries in 2022 — but we also got a slew of films and TV series pushing the limits of what the genre looks and feels like.
The best documentaries of 2022 are the ones that balance factual content with exceptional execution. I personally feel that one should walk away from the viewing experience with a newfound understanding or appreciation for a subject. It's not enough to just tell an interesting story — it needs to be told particularly well. There are lots of great documentaries that are released each year, but it takes something special to be the best.
12. Light & Magic
The Disney+ docuseries "Light & Magic" is essential viewing for film nerds history buffs like myself. The six-series tells the story of one of (if not the) most influential special effects studios in the world: Industrial Light & Magic. ILM revolutionized the movie-making industry with the visuals it created for "Star Wars: A New Hope" in 1977 (then just titled "Star Wars"), and continued to up the ante with groundbreaking, mind-melting set pieces in films like "Raiders of the Lost Arc" (Nazi face melting!), "Poltergeist" (a house implodes!), and "Jurassic Park" (realistic dinos!) — all accomplished with cutting-edge techniques.
"Light & Magic" covers the history of ILM, from George Lucas' founding of the studio to the present-day innovations. The documentary uses a combination of talking head segments, archival footage, and old photos to celebrate the men and women who put ILM on the map. Big names like Steven Spielberg and James Cameron lend a level of prestige to the content, while less widely known creatives — like stop-motion specialist Phil Tippett and artist and supervisor Dennis Muren — provide fascinating, behind-the-scenes insight into some of Hollywood's most famous special effects sequences.
There's a reason why "Light & Magic" is at the bottom of this list: as interesting as the documentary is, it often feels biased. The series struggles to obfuscate the fact that the ILM's glory days are past; sure, the special effects studio still produces great work, but they aren't untouchable industry leaders anymore. Disney owns Lucasfilm, which in turn owns ILM — making the objectivity and motives behind this Disney+ original "a bit sus" (as the kids say). It reads as slightly dishonest, putting a bit of a bitter aftertaste on an otherwise fantastic docuseries.
11. Web of Make Believe: Death, Lies & the Internet
Netflix does true crime well — but with "Web of Make Believe: Death, Lies & the Internet," the streaming giant offers something a little different. The docuseries is a horrifying exploration of the "dark" side of internet culture (but not too dark! At least not yet), looking at everything from virtual sex crimes to the rise of white nationalist groups. The first episode offers a really brutally honest look at the danger of swatting and also the kind of narcissism and immaturity that encourages and rewards that kind of behavior online. The third episode, "I'm Not a Nazi," presents an eye-opening look at the insidious ways alt-right groups operate online. The final episodes, a two-parter called "The Stingray," begins as a general story of two hackers but transforms into an investigation of the ethical problems with the tech used by law enforcement.
Netflix's "Web of Make Believe" is a strong collection of documentaries with a unique angle. Even those who live online far too much (like myself — I'll need to touch grass once the snow melts) will likely be surprised by the major reveals and twists herein. Not every episode is perfect; I personally found "A Murder in D.C." a bit boring, and the "Sextortion" episode, although interesting and tastefully done, did feel tonally inconsistent with the rest of the series. Still, though, I turned this Netflix docuseries on at random and found myself unable to pull away.
10. All the Beauty and the Bloodshed
One part artist biography, one part social issues exposé, and two parts unapologetic celebration of queer subcultures, Laura Poitras' documentary "All the Beauty and the Bloodshed" is easily one of the most personal documentaries of 2022. The film centers on photographer Nan Goldin and her advocacy work challenging the Sackler family — particularly, their role in creating the opioid epidemic.
The Sacklers controlled Purdue Pharma, which produced the highly addictive painkiller OxyContin. Knowing how dangerous the drug was, the company heavily marketed it regardless, then used that money to buy public prestige in the form of large donations to cultural institutions in exchange for getting a building or scholarship named after the family (often museums). It makes sense for someone like Goldin to take them down: not only is she a reputable artist well-known in the global art community, but she a recovering opioid addict herself, thanks to OxyContin.
Like with "Casa Susanna," "All the Beauty and the Bloodshed" benefits from a high level of historic photographs. Goldin's portfolio serves as an unapologetically gritty backdrop, showing viewers the lives of gay, lesbian, and transgender New Yorkers in the early 80s, and the unique community they created — along with Nan's transition into activism during the AIDS epidemic. The film reverberates with a punk rock energy that is irresistible and inspiring.
Unfortunately, Poitras' documentary bites off a bit more than it can chew. The opening shots of the Sackler protests are dramatic and compelling, but the film struggles to keep up that momentum. What's more, not much time is spent on explaining the wrongdoing of Purdue (and by extension, the Sackler family) — so those interested in that topic will need to supplement that elsewhere.
9. Downfall: The Case Against Boeing
Netflix's "Downfall: The Case Against Boeing" is a chilling look at how a company's reputation can flip almost overnight. Boeing was once one of the most respected American manufacturing companies, known for its engineering excellence and commitment to best-in-class quality. However, following the merger with McDonnell Douglas in the mid-90s, the company's culture changed internally, leading to a slip in those once-leading standards. As the documentary presents, the resultant cost-cutting measures led to the tragic Boeing 737 MAX crashes in 2018 and 2019.
In October, 2018, Lion Air Flight 610, a domestic flight in Indonesia, crashed shortly after takeoff, killing everyone onboard. Then, in March 2019 — less than six months later — Ethiopian Airlines Flight 302 also crashed, just minutes after the plane became airborne. Both planes involved were the brand-new MAX 8 designs. Although the manufacturer did its best to skirt responsibility and maintain the safety of its planes, eventually, Boeing did ground its fleet of 737 MAX airliners — but not before hundreds of innocent people tragically lost their lives.
"Downfall: The Case Against Boeing" documents the company's history, from its trailblazing beginnings to its public fall from grace. For those interested in understanding why the 737s crashed, the film presents an easy-to-follow investigation into the faulty system responsible for the planes' malfunction, as well as the contributing factors — namely, some money-saving shortcuts that had disastrous repercussions. This is one of those cautionary tales about corporate greed that will make you think twice about putting faith in a brand name.
8. Disney Channel's Theme: A History Mystery (Defunctland)
I bet you weren't expecting to see a YouTube documentary on here! Defunctland's most recent upload, "Disney Channel's Theme: A History Mystery," is a bonafide documentary, complete with archival images and interviews with people involved. As a 30-something Canadian woman who spent her teen years listening to Led Zep and learning to play Nirvana songs, I don't have much nostalgia for the Disney Channel nor its theme — but Defunctland's earnest fascination with the subject had my rapt attention.
Defunctland is a YouTube channel created by Kevin Perjurer with videos that document "defunct" amusement park rides and other related lost media (mostly old TV shows). The videos are, essentially, a fond exploration of '80s, '90s, and early aughts nostalgia, with an emphasis on history and cultural studies. Fitting with the rest of the channel, "Disney Channel's Theme" is essentially an investigation into an influential pop culture relic that went under-recognized at the time. Despite how iconic the short channel ID sequences were, the origins of Disney Channel's sound signature is unknown — or at least it was, until Defunctland busted that mystery wide open.
"Disney Channel's Theme: A History Mystery" is a really heartfelt, passionate exploration of what is admittedly a pretty niche topic. It's also just very well done. As is often the case with Perjurer's videos, the production itself is a step above most of what's on the platform. The 90-minute documentary is well-paced, using compelling visual segments to great effect. There's also a message at the end and a real, genuinely unexpected twist at the end — both great elements that make the viewing experience that much more satisfying. The video is not without flaws — it is severely limited by clear budget constraints, as well as access to "star" talent and general resources. Still though, being able to take what could easily be dismissed as an irrelevant or frivolous bit of trivia and turning it into an engaging story is impressive for any documentary, let alone something self-produced for YouTube.
7. The Janes
HBO's 2022 documentary "The Janes" is a brutally honest portrayal of life before Roe v. Wade. The film tells the story of "The Janes," a network of activists who defied American law to help women find safe and affordable access to abortions. It's a retrospective that serves a purpose: reminding us all what's at stake if the laws are changed. Whether you're personally pro-choice or pro-life, "The Janes" forces the viewer to confront an uncomfortable reality: when abortion access is limited, women die.
HBO is known for its documentaries, and "The Janes" lives up to the network's reputation. While nothing groundbreaking is happening here, the documentary is solid (if conventional). The subject matter isn't exactly ripe for exploration (the film isn't eye-opening like "Paradise Lost" or "Beware the Slenderman," nor is it personal and intimate like "Jane Fonda in Five Acts" or "Robin Williams: Come Inside My Mind"), but it is particularly relevant at this moment in history, especially for American audiences.
What's impressive though, is how empowering "The Janes" feels. Women have a right to bodily autonomy, and "The Janes" doesn't waste anyone's time by arguing that perspective as though there's a counterpoint — it's not up for debate. Without ever feeling preachy or needlessly provocative, the documentary simply presents the facts openly and honestly, then celebrates the women who dedicated their lives (and risked their freedom) to help people in need.
6. Eternal Spring (長春)
"Eternal Spring (長春)" is Canada's official entry for the 2023 Oscars — and not just in the Documentary Feature Film and Animated Feature Film categories, but also in the International Feature Film category. That, more than anything, speaks to how special this documentary is.
"Eternal Spring" tells the story of an infamous hijacking — and the subsequent fallout for those involved. In 2022, members of an outlawed spiritual practice, Falon Gong, took over the feed for a government-controlled TV broadcast in Changchun, China, using the equipment to directly contradict the government's messaging and set the record straight about their religion. For comic artist Daxiong (best known for his work on "Justice League" and "Star Wars"), this move meant he had to flee his home. For many of his fellow practitioners, the consequences were far, far worse.
Daxiong largely leads the story, using his artwork — rendered in 3D animation — to recreate the events. The style really emphasizes the hand-drawn aspect, including textures evoking the streaky, imperfect look of marker fill. The aesthetic this creates in "Eternal Spring" is really unique; I was actually reminded of the Wii game "Mad World," which I'm sure no one except me remembers (I loved it!) but essentially was like gritty illustrated action brought to life. Daxiong has a personal stake in the story, making the inclusion of his artwork additionally meaningful. The movie draws comparisons to "Flee," but here the animation has a more integral role in the story rather than just being the medium used to tell the story.
5. We Need To Talk About Cosby
"We Need To Talk About Cosby" is by no means fun to watch — documentaries concerned with uncovering uncomfortable truths very rarely are. And, of course, Bill Cosby's shocking release from prison in 2021 only adds another layer of frustration and disgust to an already horrendous, nauseating story of abuse, exploitation, and assault. Yet, writer/director W. Kamau Bell composes his four-part docuseries with such care that this hard-to-talk-about topic becomes impossible to ignore.
Showtime's "We Need To Talk About Cosby" is what the title implies: a necessary conversation about "America's Dad." Comedian and bonafide pop culture fixture Bill Cosby was virtually untouchable for decades, and even today has supporters, despite overwhelming evidence of his misdeeds. Bell responds to this with an honest and frank discussion; rather than wallow in the horrific actions and lingering trauma (something true crime is far too often guilty of), the director presents a case for how the man became such an important role model, especially for Black communities in America. After laying the groundwork for Cosby's celebrity status and infallibility, he empowers women to tell their stories of abuse — as well as the ways in which Cosby's fame and reputation made them doubt their own experiences. These combined forces created a perfect storm for sexual predation to flourish.
We are living in a post #MeToo age, but we should not rest on our laurels. "We Need To Talk About Cosby" is essential viewing for anyone who can stomach the topic because it does such an excellent job of investigating the ways that social power and celebrity can warp critical thinking. Those who still are unable to accept that the gentle Jell-O-selling, sweater-loving father figure is a monster are not stupid or evil — they're just trapped in an ideology that was designed to trap them.
4. Prehistoric Planet
Did you know that the mighty Tyrannosaurus rex could swim? Or that the terrifying Carnotaurus — the primary antagonist in Disney's "Dinosaur" — may have used his itty-bitty forearms for an adorable mating ritual? These are just some of the theories I learned from watching Apple TV+'s "Prehistoric Planet," a five-part series produced by BBC Studios. Following in the footsteps of the BBC's landmark nature documentary "Planet Earth," "Prehistoric Planet" pushes the envelope for the subgenre: Unlike most dinosaur-based documentaries, this series uses photorealistic CGI to depict its subjects interacting with their environment, achieving a degree of realism unlike anything audiences have seen before.
With Jon Favreau as showrunner, David Attenborough as narrator, and Hans Zimmer as one of the composers, there's a ton of talent behind "Prehistoric Planet" — and it shows. Sure, dinosaurs have become more prevalent onscreen over the last few decades, thanks to the "Jurassic Park" franchise and movies like Disney's "Dinosaur," but it's still genuinely very fun and gratifying to watch these giants stomp around the cretaceous period. Seeing a T-Rex stomp through suburbia in "The Lost World" is cool and all, but it's ultimately fantasy. The sequences in "Prehistoric Planet" are equally as manufactured, but the appeal is that we might be seeing something that really did happen. And this is the highest quality visuals we have so far when it comes to scientifically accurate CGI renderings.
While this is a truly excellent offering and easily one of the best documentaries of 2022, the docuseries does suffer from a few minor shortcomings. By adhering to the general formula of other BBC nature docs (i.e. "Planet Earth, "Life," etc.) "Prehistoric Planet" robbed itself of much-needed context that could have aided the viewing process, such as subtitles (to keep track of names like "quetzalcoatlus" or "kaikaifilu") or talking head segments with paleontologists to explain what evidence the theories are based on.
3. The Colour of Ink
Brian D. Johnson's "The Colour of Ink" is a Canadian documentary that had me enthralled from beginning to end. I never expected to love this film — but the topic was mildly interesting and I like to support Canadian filmmakers. What I saw, however, absolutely blew me away.
"The Colour of Ink" is a beautiful, vibrant celebration of art throughout the ages, with a focus on ink itself. The documentary follows Toronto artist and small-batch ink-maker, Jason Logan, as he interviews other artists who work with the medium. What begins as a personal journey into Logan's world gradually spreads out to a much larger, and more philosophical, discussion of the role art plays in human history, and the pleasure to be found in working with the ephemeral. The artists he talks to all have their own fascinating stories, which contribute to the documentary's overall celebration of unique perspectives and individuality. Industrial ink today is manufactured to be consistent and permanent. The ink Logan creates, however, is much more natural and organic — it is made from items he encounters out in the world and is not intended to last forever. As he tells Margaret Atwood in one scene, that's the whole point.
The best documentaries are those that take unassuming, niche ideas and manage to craft a compelling film exploring the topic. The Colour of Ink" achieves this in spades. Johnson's direction in " is mesmerizing; the cinematography is gorgeous, presenting the art and nature at its center as impossibly grand. This is one of those films that demands to be seen on a large screen in 4K Ultra HD — not because it's exciting or action-packed, but because there's just so much to see.
2. Moonage Daydream
I never really got into David Bowie. Apart from the odd standout — "Heroes," "Space Oddity," "Rebel, Rebel," etc. — his albums just didn't speak to me. I'd put them on occasionally (I had his complete discography on my iPod Nano, an ancient device teens used back when cell phones were less commonplace and looked a bit like TV remotes), but the music never really grabbed me. I'd think it was good, just not great.
The 2022 documentary "Moonage Daydream" taught me something: it's not that I never got into David Bowie, I never got David Bowie. His music isn't meant to be the background soundtrack to every day. It's visual, it's performative, and it demands to be seen. His art is daring, expressive, and — weirdly — kind. There's an inclusivity to his work that I didn't appreciate until now.
Written, directed, and produced by Brett Morgen, "Moonage Daydream" is a trippy, vivid, and vibrant story of who David Bowie was, told through clips of old interviews, performances, and more. But unlike last year's "Get Back," "Moonage Daydream" is more than just pure historical footage: Morgen artfully combines music, interview audio, and archival footage with original video imagery — some of which is very abstract — to communicate ideas. We the audience are not passive observers — we're being told Bowie's story told through his own words, but like we've never seen before. An extra-sensory montage that is highly effective and endlessly compelling.
It's about the best posthumous tribute imaginable, but my God — I am devastated every time I reflect on how this bright, beautiful human being was taken from the world too soon.
1. Fire of Love
I've never seen a film quite like "Fire of Love" before. The National Geographic documentary is the story of Katia and Maurice Krafft, two volcanologists who fell in love and dedicated their lives to pursuing their shared passion: the science of volcanoes. These bold French researchers chased volcanic activity around the world, getting up-close-and-personal footage of eruptions, lava flows, and other related phenomena. It was a pursuit that contributed to our understanding of the natural world, but one that would ultimately cost them their lives.
Throughout their careers, Katia and Maurice Krafft became minor celebrities in the relatively small world of volcanology, thanks to the somewhat unorthodox nature of their partnership and their undeniable onscreen chemistry. The two were able to fund their expeditions through selling their findings in the form of documentaries, books, lectures, etc. — which means that Katia and Maurice left behind not only a rich archive of on-site materials, but also footage of themselves doing publicity circuit interviews. Director Sara Dosa uses these various resources to celebrate the volcanologists, using the material to investigate who they were as scientists, explorers, and lovers.
"Fire of Live" makes best use of the visual medium, combining various strategies to engage audiences. The documentary uses subtle tricks to meld the contemporary elements with the 4:3 screen ratio footage, giving the film a retro quality throughout. There's a playfulness to the couple that is echoed in the Dosa's direction, which is frank, dignified, and respectful. Dosa does not manipulate the couple's image but rather attempts to show them as fully realized human beings, warts and all. The narration provides much-needed context — and at times, is reading directly from personal writings, providing an audience a glimpse at Katia and Maurice's inner lives. It's a deeply personal documentary and a truly magnificent entry in the genre.