Content warning: The following article contains mention of domestic violence and sexual assault.
Musicians project a powerful persona while performing on stage in front of millions of fans. They're often idolized and admired from afar, but a times, when their personal lives are evaluated more closely, their flaws make them appear imperfect and in some cases, altogether frightening. Behind the scenes, when the lights are off and the crowds disappear, some musicians show a very different side of themselves to their significant others.
Some of the most legendary stars lose their shine when fans learn about how they treated the people they claimed to have loved. Iconic men — including John Lennon, Marvin Gaye, and Elvis Presley — were harboring dark secrets in their personal lives. Other stars like Ozzy Osbourne and Chris Brown displayed violence toward their partners. Although some names on this list have faced criminal charges and jail time, for others, while there have been no legal repercussions for their actions, their reputations are forever tainted.
Adam Levine and R. Kelly aren't the only musicians who've treated their significant others terribly, as you'll soon see.
Ike abused Tina Turner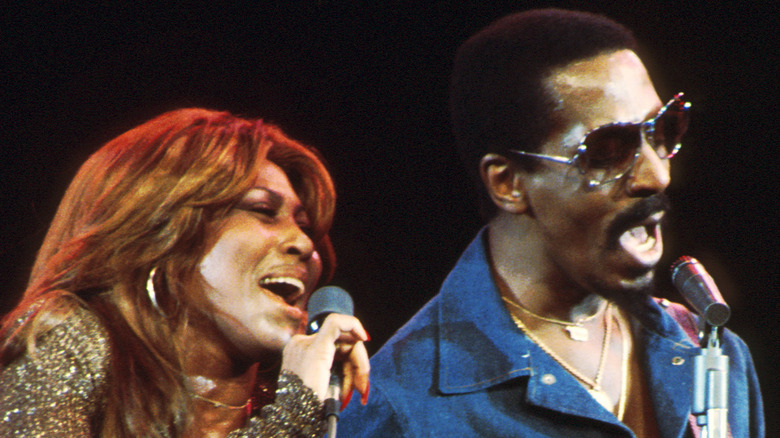 Tina Turner's struggles with husband Ike Turner were widely publicized, and Ike himself not only admitted to being abusive, but also showed absolutely no remorse. In an interview, a reporter said, "If everything Tina says about you is true, then you're a bad man." To which Ike replied, "Well, I would say this, maybe so, if it was true, but if that's what it took to make her what she is today, then I have no regrets. There's no scars on Tina."
The reporter spoke to Tina in that same interview, and she said, "Yes, Ike was a violent man when I met him. I knew he was a violent person, I also knew that he had a mental problem." The abuse wasn't just physical, according to her. "My relationship with Ike was doomed the day he figured out I was going to be his meal ticket, his moneymaker," Tina wrote in her autobiography "My Love Story," adding, "Ike needed to control me, to own me, economically and psychologically, so I could never leave him." It was Ike's idea to change her stage name to Tina Turner. Per Vanity Fair in a report on the 2021 documentary "Tina," other details emerged, including how controlling Ike reportedly was over her money, as well as how abusive, with Tina saying he beat her when she was pregnant.
If you or someone you know is dealing with domestic abuse, you can call the National Domestic Violence Hotline at 1−800−799−7233. You can also find more information, resources, and support at their website.
Bobby Brown's tumultuous relationship with Whitney Houston
Bobby Brown and Whitney Houston's relationship crumbled over time. During a 2009 interview with Oprah, Houston opened up about her experiences and describes the night that Bobby Brown allegedly hit her in the face. Houston said she had already been slowly moving out some of her furniture and items at the time, alleging that they got into an argument and she told Brown she was leaving, but he told her that she wasn't going to do that. "Then he slapped me, but he was on probation for traffic violations," Houston said. The police became involved, but Houston was unwilling to attend court as she didn't want to see him go to jail. Brown claims it was the drugs that were to blame, and claimed that he and Houston were routinely getting high while nannies tended to their daughter, according to ABC News.
Brown was charged with battery against Houston in 2003, but he denied the allegations. He claims he was fighting Whitney's drug dealer and accidentally cut her lip. "A big misconception on me [was that I was] physically abusing Whitney," he said in A&E's "Biography: Bobby Brown," via Yahoo!. "I never, ever physically hit her — intentionally. Whitney got in the way. My hand went back, smacked her. That was the worst time in my life."
Ozzy Osbourne almost killed Sharon Osbourne
Legendary star Ozzy Osbourne cheated on his wife and revealed he nearly killed her in a "60 Minutes" interview. "I've done some pretty outrageous things in my life. I regret cheating on my wife," Ozzy said during an interview with GQ. "I don't do it anymore. I got my reality check and I'm lucky she didn't leave me. I'm not proud of that." Ozzy was known for his intense on-stage performances, but his boldest action unfolded off the stage, in 1989, in his own home.
"I had no idea who sat across from me on the sofa but it wasn't my husband," Sharon said during A&E's "Biography: The Nine Lives Of Ozzy Osbourne." "He goes to a stage where he gets this look in his eyes where you can't, um, there's shutters. You know, shutters were down on his eyes, and I just couldn't get through to him." Sharon revealed the haunting words Ozzy said to her moments before the incident. "He just says, 'We've come to a decision that you've got to die.'"
"He was calm, very very calm and he lunged across at me," she remembered. "I felt the stuff on the table and felt the panic button and just pressed it. Next thing I know the cops were there." Ozzy was charged with attempted murder. "It was probably the most frightened I've ever been," Sharon said.
If you or someone you know is dealing with domestic abuse, you can call the National Domestic Violence Hotline at 1−800−799−7233. You can also find more information, resources, and support at their website.
Chris Brown punched Rihanna
Celebrity couple Chris Brown and Rihanna failed to attend the Grammys in 2009, and the world quickly discovered it was because they were in a physical altercation while making their way to the awards show. Images of Rihanna's bruised and battered face soon took the internet by storm. Rihanna opened up about the experience during an interview with Oprah. "It happened to me in front of the world. It was embarrassing it was humiliating, it was hurtful," Rihanna said.
Rihanna spoke about how dramatically her entire life changed in that moment. "Everything I knew switched in a night, and I couldn't control that," she said. She recalled the media swarming to pick up every detail of the assault. She described the myriad emotions she felt after being assaulted and said, "It's not easy to interpret on camera, with the world watching."
Brown described his recollection of the night's events during a Radio.com Interview. "She grabbed [me], and when she do that, I actually bite her arm," Brown said. "I remember she tried to kick me, I was like it's just her being upset, but then I really hit her, with a closed fist, like I punched her. I busted her lip and when I saw it I was in shock." Brown was charged with felony assault and making a criminal threat, but that wasn't the end of his troubles. He had numerous other incidents over the years, and in 2021, he was accused by another woman of a similar assault.
If you or someone you know is dealing with domestic abuse, you can call the National Domestic Violence Hotline at 1−800−799−7233. You can also find more information, resources, and support at their website.
Adam Levine's womanizing ways
Adam Levine has dated a long list of women. His dating history reads like a who's who in the world of supermodels. He was known to be such a playboy that when it came time for him to settle down and marry model Behati Prinsloo, Levine stepped up to the plate and contacted several of his exes to apologize for his womanizing ways, and for not treating them properly during the course of their relationship, according to Us Weekly.
In September 2022, headlines erupted, revealing a cheating scandal involving Levine and several other women. As this was all unfolding, Levine's wife was pregnant with their third child. It all began when a woman named Sumner Strohl released a TikTok video, alleging she slept with Levine within the past year, meaning this was both before and during Prinsloo's third pregnancy. Strohl also claimed Levine asked her if he could name his child after her.
Many other women have come forward with cheating allegations against Levine while he was married. Levine posted a story to his Instagram, which acted as an apology for his actions. "I did not have an affair, nevertheless, I crossed the line during a regrettable period in my life. In certain instances it became inappropriate; I have addressed that and taken proactive steps to remedy this with my family," he wrote, via Newsweek.
R. Kelly's decades-long abuse
Disgraced R&B singer R. Kelly has been convicted of multiple sex crimes dating back to the '90s including racketeering and trafficking. In 2022, he was sentenced to 30 years in federal prison, according to the CBC. Many of the victims were his "girlfriends," and some spoke out about their experiences.
Dominique Gardner was Kelly's girlfriend for nine years and says she had to live under very strict rules while dating the singer. "I couldn't even have a drink without his permission," Gardner told The New Yorker. "Everything you do, you have to ask him. That's not living, that's not normal. I've got to ask to use the f**king bathroom? I'm about to pee on myself if I can't get in contact with you." She also lived under threats of violence, which were executed many times. Gardner said disobeying R. Kelly led to punishment like spankings and beatings. "He grabbed me and he pulled my hair out, and I had, like, patches torn from my hair," Gardner said.
Another of Kelly's victims, Azriel Clary, spoke to Fox Soul's Jason Lee about the manipulation she experienced, and said other adults aided Kelly in ensuring she remained under his control. Kelly's live-in girlfriend, Joycelyn Savage, claimed she was urinated on by Kelly, told to call him "Master" or "Daddy," and was choked until she blacked out. She says she was forced to make sex videos, according to WGN News.
If you or anyone you know has been a victim of sexual assault, help is available. Visit the Rape, Abuse & Incest National Network website or contact RAINN's National Helpline at 1-800-656-HOPE (4673).
John Lennon's views about women were concerning
John Lennon's songs might preach about love and peace, but behind closed doors his personal life reflected the opposite. His attitude toward women was evident in his interviews and in the way he spoke about females as being subordinate, and he openly admitted to being violent to the opposite sex. In an interview with Playboy, Lennon insisted that his violent tendencies made way for the calls to love and peace that his career is founded on. "I used to be cruel to my woman, I beat her and kept her apart from the things she loved," Lennon said. He casually went on to add, "I was a hitter. I couldn't express myself and I hit. I fought men and I hit women."
"I am not a violent man who has learned not to be violent and regrets violence", Lennon admitted. "I will have to be a lot older before I can face in public how I treated women as a youngster."
Lennon also cheated on the women he was with, according to a letter penned by his former housekeeper, Dorothy Jartlett, and quoted by The Times. She claimed that throughout his marriage to Cynthia Powell, Lennon slept with other women and carelessly left drugs lying about. Jartlett said that during a drunken rant, Lennon told Powell he had an affair with the Japanese artist Yoko Ono. Lennon cheated on Yoko Ono, with their assistant, May Pang.
Tommy Lee's reported rage and jealousy were too much
Tommy Lee and Pamela Anderson's whirlwind romance was solidified by a quickie marriage on the beach just 96 hours after their very first date, according to Us Weekly. They would go on to show the world their raunchy attraction to one another with a series of sexually explicit videos and public encounters. Their frisky and very public relationship quickly spiraled out of control in 1998 when Lee allegedly attacked Anderson while she was holding their 7-week old son, Dylan. Anderson's interview with Biography detailed that she was allegedly kicked in her backside and left with red marks on her body.
She filed for divorce, and Lee served six months in jail for spousal abuse. Anderson discussed the abuse in her relationship in a blog post titled "Alcoholism is the Devil." "Nobody understands the lifetime of disappointment this man has brought our family," Anderson wrote. "Consistently the center of sadness, drama and confusion. Jealous of his sons' talent and beauty from the day they were born. He is sick. The definition of narcissist/sociopath."
Lee was angered when Anderson discussed their relationship issues with Piers Morgan, and reacted by blasting him on social media. "Think she'd find something new to discuss instead of rehashing old s*** but I guess she has nothing else going on & needs attention," Lee wrote on Twitter. He controversially signed off as "The abuser" in that message.
Vanilla Ice was arrested for domestic battery multiple times
Robert Van Winkle, known to fans as Vanilla Ice, was one of the hottest music sensations of the '90s. His hit single "Ice Ice Baby" was an instant chart-topper, but as the star rose to incredible heights of fame, his personal life began to show signs of trouble. He allegedly struck his wife Laura in January 2001 as the couple drove on Interstate 595, according to Rolling Stone. Vanilla Ice denied striking his wife, but told police he placed his hand over her mouth "to shut her up," and admitted to ripping out some of her hair. He was arrested and charged with disorderly conduct in a domestic violence incident, and was forced to attend family therapy, according to the Daily Mail. He was later released on bail, but this wouldn't be his last run-in with the law.
Vanilla Ice was arrested again in 2004 and once more in 2008. His 2008 arrest involved charges of domestic battery after an alleged altercation with his wife in their Palm Beach County, Florida home. Laura filed for divorced in 2016 and celebrated her new, official single status. "I gave myself a birthday present," Laura said, according to Daily Mail. "I wanted to file for divorce for a long time but I was scared to do it." Divorce documents revealed that Laura requested an injunction against the disposal of assets, fearing Vanilla Ice would dispose of his assets in lieu of their relationship breakdown.
If you or someone you know is dealing with domestic abuse, you can call the National Domestic Violence Hotline at 1−800−799−7233. You can also find more information, resources, and support at their website.
Elvis Presley reportedly liked underage virgins
Elvis Presley's legendary status and iconic image are so powerful that they often conceal the deeply concerning relationship he had with wife Priscilla Presley. The two met at a party in 1959 when Priscilla was just 14 years old, and Elvis was a full 10 years her senior. Priscilla recalled her relationship in her memoir "We Have Plenty of Time Little One," and as quoted by People, she wrote that she was a young virgin at the time, and was often instructed by Elvis to wear clothing and makeup that would make her appear to be older.
It appears that Elvis was obsessed with young women, and was said to seek the company of very young girls frequently. One of the young women he spent time with, Frances Forbes, told Daily Mail, "He didn't pay any attention to me [when I was 13], but when I was 14, he noticed me. Fourteen was a magical age with Elvis. It really was."
Priscilla revealed that Elvis refused to have intercourse until their wedding night, and she became pregnant. After she gave birth, Elvis refused intimacy. During a 1985 interview with Barbara Walters, Priscilla admitted Elvis played more of a father-role to her, and she described what it was like to leave Elvis in pursuit of her own dreams. She recalled the stifling relationship she shared with Elvis, and described having to succumb to his lifestyle in every way. She described herself as being "Elvis's doll, his own living doll, to fashion as he pleased," Priscilla wrote in her memoir, according to Geo News.
Marvin Gaye reportedly abused his wife
Marvin Gaye was 34 years old when he married 17-year-old Janis Hunter. He had a strong reputation as one of the most successful men in music, but Jan described a different man behind the scenes. Marvin was reportedly a heavy drug user with a wild sexual appetite, and he would often put Jan in situations that would involve sex with other couples, only to then belittle her for engaging in the sex act, according to the New York Post. Just prior to one of Marvin's planned orgies, Jan says things took a violent turn. "He took a kitchen knife and put it to my throat," she wrote in her memoir, "After The Dance, My Life With Marvin Gaye." "I was petrified, paralyzed. I thought it was all over."
He then reportedly pushed her to participate in the orgy. "A small intimate orgy is just what the doctor ordered," Marvin Gaye said to her, according to her memoir, via The Detroit News. Jan says Marvin was heavily under the influence of alcohol and drugs. "It made us all paranoid," Jan said. "I think a lot of us who survived those years had a different way of looking at life, looking at it through a coke spoon or smoking too much weed." Although she was only in her early 20s when the pair had two children, her husband criticized her post-baby body, telling her that her youthful beauty was gone.
Marilyn Manson's horrifying alleged sex abuse
Marilyn Manson's goth image was designed for the stage, yet he seems to have lived up to his scary persona. More than 16 women accused Manson of abuse and criminal charges are pending. Manson's ex-girlfriend, Evan Rachel Wood, spoke out. "It started slow but escalated over time, including threats against my life, severe gas-lighting and brainwashing, [and] waking up to the man that claimed to love me raping what he believed to be my unconscious body," Wood testified to the Judiciary House Committee. "And the worst part: Sick rituals of binding me up by my hands and feet to be mentally and physically tortured until my abuser felt I had proven my love for them."
Another woman, opting to be referenced simply as Jane Doe, sued Manson, claiming he expressed controlling behavior, according to NBC News. She alleges Manson denied her food and forced her to have sex. She claims Manson raped her, threatened to kill her, and bragged that he would "get away with it." Other women claim they were locked in rooms and forced into sex acts, according to BuzzFeed News.
The Los Angeles County Sheriff's Department concluded a 19-month-long investigation into sexual assault allegations against Manson. As of this writing, criminal charges are pending.
If you or anyone you know has been a victim of sexual assault, help is available. Visit the Rape, Abuse & Incest National Network website or contact RAINN's National Helpline at 1-800-656-HOPE (4673).